Audemars Piguet introduces three highly complicated pieces into the 2021 collection
Zach Blass
Holy trinity is a term that gets tossed around a fair bit. Its origins and usage are debated by some within the community, but I personally recognise the three holy trinity brands as the manufacturers who have had the longest, most prestigious and continuous production: Patek Philippe, Audemars Piguet, and Vacheron Constantin. Lately, the marketplace has become distracted with each of the aforementioned Maisons' sports watches – time and date pieces that have become status symbols around the world. For some these coveted brands have become overhyped and examples of manufacturers resting on the laurels of scarce supply and a narrow-focused marketplace. But then AP hits us with three highly complicated entries into the Audemars Piguet 2021 collection all within the span of a weekend, reminding enthusiasts everywhere what the Piguet name and brand has been built upon – fine watchmaking and high-complication. Forget holy trinity as it pertains to brands, in the realm of complication AP has served up the holy trinity of the bunch: a perpetual calendar, supersonnerie minute repeater, and an openworked tourbillon executed to the highest of standards.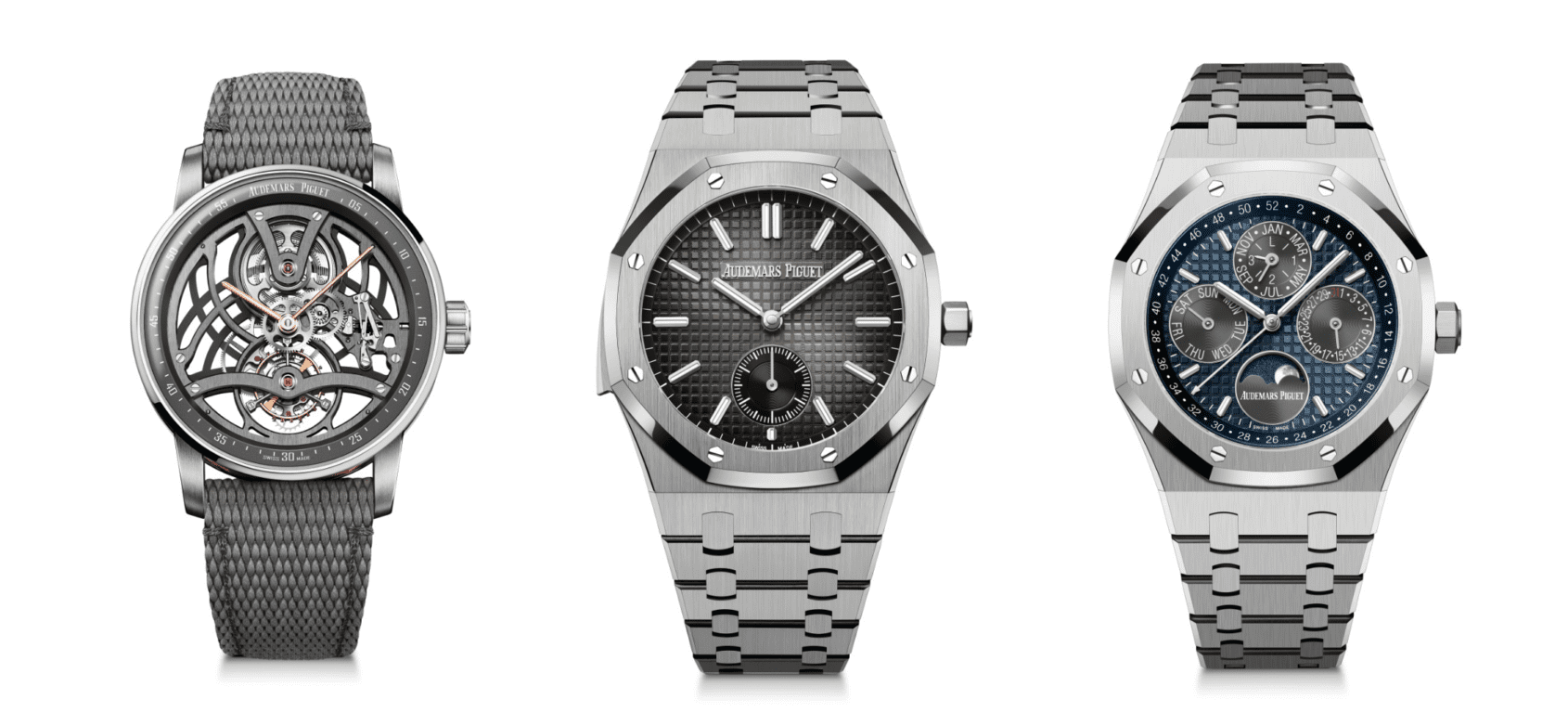 Audemars Piguet Royal Oak Perpetual Calendar ref. 26574TI.OO.1220TI.01
The Royal Oak birthed the luxury steel sports trend back in 1972, its faceted porthole-inspired design tough in build but dressed in elegant hand finishes to the externals. The familiar symphony, of vertical brushing and mirror polish throughout the case, bezel, and bracelet takes hours to complete by hand and its intensive labour clearly translating into its sheer beauty in the metal. This new Perpetual Calendar entry into the Royal Oak family is crafted completely in grade 5 titanium, 41mm in diameter and a slender 9.8mm in thickness. Its 20 metres of water-resistance means swimming with the watch is not advisable, but you can at least feel comfortable wearing this beaut without fear of splashes or rain. The blue "Grande Tapisserie" patterned dial is smartly paired with contrasting grey subdials, tying into the tone of the case while also making the leap year, month, day, date, and moon phase complications that much easier to discern. Within the inner bezel, a stepped week of the year indicator is neatly tucked in – tied to the central arrow hand. The applied hour indices and hours and minutes hands are also filled with SuperLuminova® to ensure the utmost visibility in darkness.
Inside the watch is the selfwinding caliber 5134, which is only 4.3mm even though it is comprised of 374 parts. The openworked and chamfered solid gold winding rotor allows you to get a good view of the movement with its perlage decorated manipulate and bridges exquisitely decorated with bevels and Côtes de Genève. It has a minimum power reserve of 40 hours, and ticks away with a slower classic beat rate of 2.75HZ or 19,800 vph.
Price: $80,000 USD. This timepiece is being launched in September exclusively for the United States, with limited availability in other countries as of October.
Audemars Piguet Royal Oak Minute Repeater Supersonnerie ref. 26591TI.OO.1252TI.03
Another Royal Oak forged in titanium, the Supersonnerie Minute Repeater is 42mm in diameter and 14mm thick. Larger than most Royal Oak watches, the bigger dimensions are forgivable considering the grand complication within. Previously we have seen this reference with a collector favorite salmon dial, but this go around we are treated to a smoky grey black dial that speaks to the modernity of the brand. The usual "Grande Tapisserie" pattern graces the dial, only interrupted by a running seconds sub-dial at 6′. The register has a nice contrasting texture and pure black tone that ever-so slightly contrasts against the brighter centre of the dial. While an elegant watch and complication, it remains faithful to its sporting roots with 50 metres of water-resistance and central hours and minutes hands, along with applied hour indices, filled with SuperLuminova®.
Beneath an acoustic driven solid screw-down caseback is the in-house hand wound caliber 2953, a movement protected by three patents related to its sound delivery. Firstly, the gongs are not attached to the mainplate, but to a new device acting as soundboard, which improves sound transmission and boosts sound amplification. Secondly the device that sets the pace of the hours, quarters and minutes chiming sequence, known as the striking regulator, has been redesigned with a more flexible anchor system which absorbs shocks and eliminates unwanted noise. They have also enacted an astute mechanical modification of the chiming sequence that mitigates the quarter hour pause between the chiming of the minutes and the hours, when the watch does not strike the quarter hours. In simpler terms it removes the potential awkward pause as the chiming is delivered. Last but not least, a security function prevents the wearer from activating the hand-setting function while the minute repeater mechanism is striking – a desirable safeguard as this is not a complication you want to have a costly repair due to wearer error. The 362 part caliber also offers a minimum power reserve of 72 hours, a solid three days without having to worry about topping of its power.
Price: Upon Request
Audemars Piguet Code 11:59 Openworked Tourbillon
While some have pushed back on the Code 11:59's design, the watch has continued to evolve and find its footing since its original introduction. The Code 11:59 Openworked Tourbillon case clocks in at 41mm in diameter, 10.7mm in thickness, and a 30 metre depth rating to ensure it can take splashes. One aspect the collection has done really well this year is tastefully incorporate two-tone designs. It is no secret more uniform colour/metal schemes have become more desirable, but it is becoming a bit stale to see collectors taking fewer risks. Thankfully AP is creating opportunities for buyers to wear something different, which in this instance is a watch with a pink gold case but white gold bezel, lugs, crown, and push pieces.
According to Audemars Piguet: "Two-tone gold cases are rare at Audemars Piguet yet an integral part of the Manufacture's history. Out of the 550 complicated wristwatches produced and sold between 1882 and 1969, only eight examples combined two types of gold. The blend of white and pink gold was exceptional, with only one wristwatch recorded in the Manufacture's archives before 1978. Although, this combination has become more prevalent in recent decades, it remains a distinct symbol of refinement."
The contrasting pink gold hands against the white metal tones of the openworked bridges makes them that much more legible to the wearer and its heartbeat, the balance, is that much more noticeable in its pink gold tone as well. Here AP's trademark quality of hand-finishing is on full display, with each metallic component meticulously brushed and bevelled to create harmonious light and shadow play that surely catches the eye with each gaze of the time. To put the level of finishing in context, AP artisans have to hand-finish 70 angles in this caliber – a very labour intensive process.
The in-house hand-wound caliber 2948 utilizes a flying tourbillon design architecture. This means the tourbillon is strictly anchored from the bottom – no upper bridge present – creating an aesthetically pleasing floating or flying effect that results in little obstruction or clutter to the complication. Considering it is what buyers are really paying for here, it is nice to know that AP has worked to make the star of the show as beautiful as possible. But the 2948 isn't just a pretty face, it packs a lot of technical prowess as well. Like the Supersonnerie, it packs in 72 hours of power reserve so you will only need to wind this manual caliber every three days.
Price: Upon Request