My 5 favourite watches of the last 12 months
Fergus Nash
Editor's note: Sometimes you want an informed opinion. You have a problem with your knee – you speak to a doctor. You urgently need to get bail after some unfortunate "misunderstanding" lands you in jail – you put a call into your trusty lawyer. But if you want to get a subjective overview of the best 5 watches of the last 12 months, you should probably speak to Fergus Nash. The reason Fergus is your go-to in this area is that they were responsible for writing almost every one of the 283 watch reviews in our latest issue of NOW magazine. In short, if a watch was released in the last year or so, then Fergus is almost certainly across it. Over to you, Fergus…
After months of hard lockdown ensued, 2021 was a hard year. But that won't stop me from looking back at the last 12 months of so and trying to think of the positives. It just so happens that some of those positives were watches.
My top 5 new watches of 2021:
5. Oris Cotton Candy
The Oris Diver 65 has always caught my eye in display cabinets, with its vintage charm and enchanting set of dimensions, but I've never quite found a reference that I could truly fall in love with. I'd never been particularly enamoured by the bronze watch craze which swept 2020 either, but the combination of Oris' pastel pink dial within a solid bronze case and bracelet just hit some spot that I didn't know I had. Not only would it look complimentary to my relatively small wrists, but I'm extremely fond of the colour pink in any circumstances, especially when my hair is dyed.
The combination of pink and bronze is, for me, the perfect amount of over-the-top, being ridiculous enough to command any outfit and yet doesn't make me feel like I'd be embarrassed at wearing such a loud watch. The solid bronze bracelet also appeals to me, with solid gold being much too expensive to consider and gold PVD coatings looking a bit disappointing to my eyes. I'll be the first to admit I love a weird watch, and it seems that in this case the majority of watch fans agree that this reference defies its oddities in its widespread popularity.
4. Seiko Sharp Edge GMT
As Seiko continues their move upmarket, there's a very noticeable loss of bargains in their $100-200 AUD price bracket. There was a time when you could even pick up a brand new Seiko SNK809 pilot style watch with the non-hacking, non-handwinding 7S26 movement for just $79 on Amazon, and you'd have been sorted for Christmas shopping. Although the updated NH35-powered Seiko 5 range is definitely an upgrade, the conversation has changed from Seiko providing good value for money options, rather than outright bargains.
Now, you may be yelling at your screen that the Seiko Sharp Edge GMT range can't be a bargain when the RRP is over $2000AUD, but I really think that it is. The design of the watch is inherently detail-oriented, involving the wearer with a level of reverence that is usually carried by the luxury arm Grand Seiko. Plus, the calibre 6R64 is a pretty unique offering among any traveller's GMT watch at this prices if you needed any other reasons than the pristine finishing and diamond-pattern dial.
3. Rolex Datejust 36 Palm Dial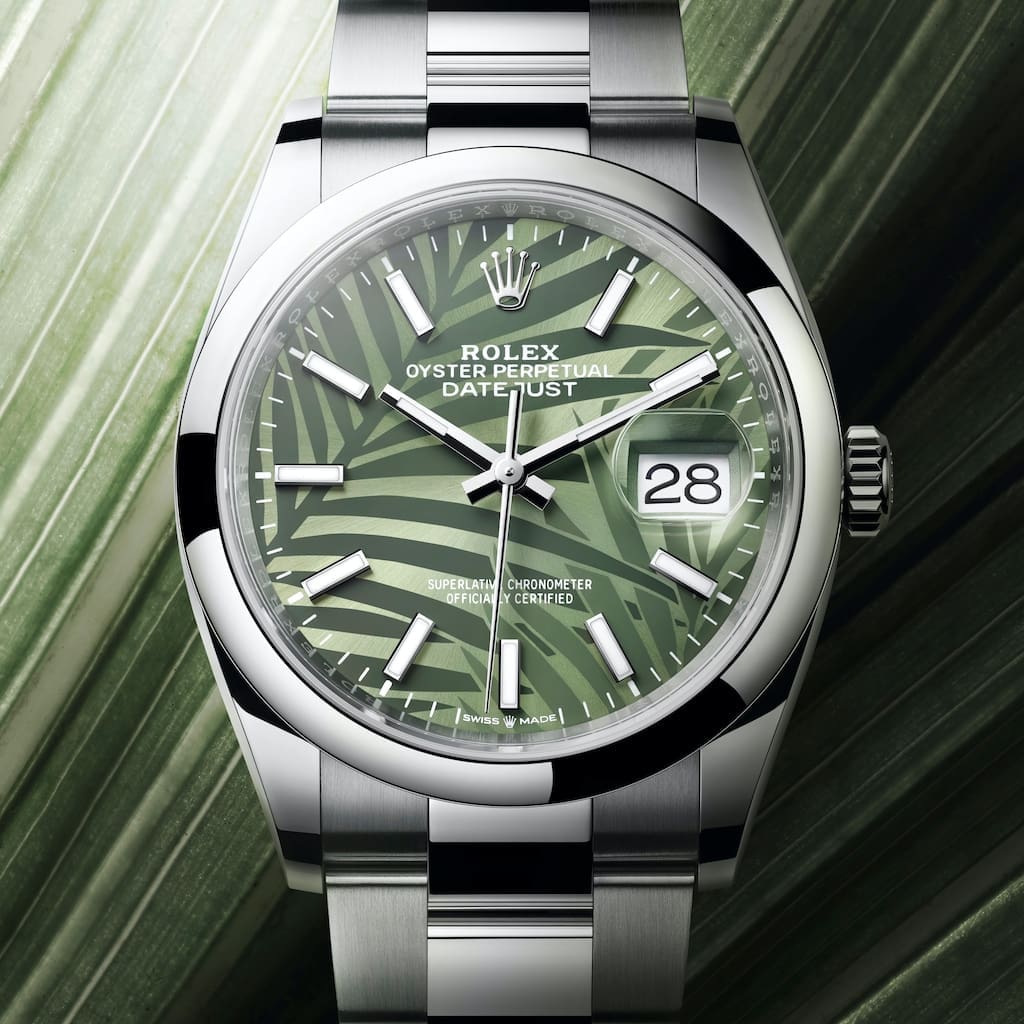 I'm definitely guilty of wanting to go against the grain in many aspects of life, and generally speaking that includes my complete and utter lack of interest in anything to do with Rolex. I understand the hype, I understand the quality, and I understand that level of brand awareness which rivals the likes of Cola-Cola, McDonalds and Ferrari, but when I go into the city and spot ten black Submariners within an hour or two, my attention is drawn elsewhere. Occasionally I'll browse some of the weirder vintage offerings, like the Air-Kings, the Turn-O-Graphs and the 'Stella' dial Oyster Perpetuals, but it's so hard to be sure of authenticity with vintage Rolex.
What does grab my attention though, is when Rolex break their own shackles and release something that leaves most people scratching their head. The 2021 Datejust 36 has an interesting take on the green dial craze, and that's one covered in palm leaves evoking some tropical safari and plenty of beige khaki clothes. Similarly to the Milgauss, this is a modern Rolex which is rare because not many people want them, rather than because people can sell them for a 50% profit on Facebook Marketplace, and that is why I want one.
2. Bulgari Octo Finissimo S Chronograph GMT
I've been lucky enough to review several different versions of Bulgari's Octo Finissimo, and it's an unparalleled joy each time. It almost doesn't matter what the dial looks like, because I'm so enamoured with the architectural-inspired case design that I can enjoy it. This Chronograph GMT is fairly special though, because not only is the sunburst blue dial particularly rich and shimmery, but its azure glow is enough to overcome my unpopular dislike of most dark blue dials.
While the case design is supposed to echo certain classical buildings in Rome, I tend to get more of an art-deco vibe from the watch that's more reminiscent of the Chrysler Building, and as a fan of most 1920s and '30s aesthetics, I'm inescapably drawn to it. I'm also fascinated by the operation of the ultra-thin, peripherally-wound in-house movement, with a dedicated pusher for advancing the hour hand incrementally and a pusher that changes the crown's function between time-setting and hand-winding.
1. Grand Seiko SBGJ249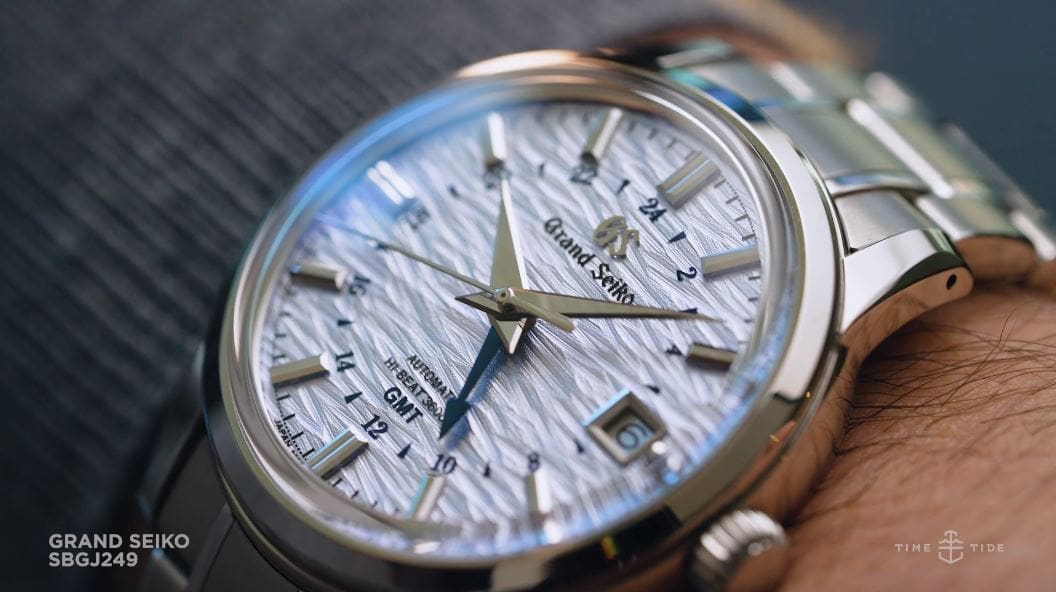 I've always carried a strong affinity for the ocean, with a portion of my childhood even spent dreaming of being a marine biologist, and it seems that the rest of the watch world shares this passion. Dive watches are absolutely everywhere, and their connection to the sea is undoubtedly important if not world-changing in historic terms, but there aren't many watches out there which honour the water in its own right, without the need to explore its depths.
The Grand Seiko SBGJ249 uses a silvery blue-tinted version of the crazy popular "White Birch" dial, tilted horizontally to make the wood pattern appear like scattered ripples across a lake's surface. But, as with all wonderful works of art, it's open to interpretation. When I first came across this dial, my heart melted, and I pictured myself wearing it while staring out into the choppy waters of Port Phillip Bay. It has an incredible high-beat GMT movement, a Zaratsu-polished Elegance case, and a lovely 39.5mm diameter, but I honestly don't care about anything past that dial which captured my love at first sight. I almost regret including it on this list, purely because it hurts that I can't yet buy one.