IN-DEPTH: The new Zenith Chronomaster Sport has earned the right to take a trick from a rival
Andrew McUtchen
Ok, here's a fact: The Rolex Daytona owes a debt to the Zenith El Primero. A modified version of the El Primero movement powered the Daytona for 12 years, and marked the first automatic Daytona models. This all happened when I was merely 12 years old, in 1988. And now, Zenith is taking that debt back with a black ceramic bezel twist that dawns a new era and a new name, in the Zenith Chronomaster Sport. There's some pretty nifty mechanical trickery going on with the new 10th of a second caliber, too, but we will get to this once the initial impression wears off, and is – in my opinion – thoroughly justified.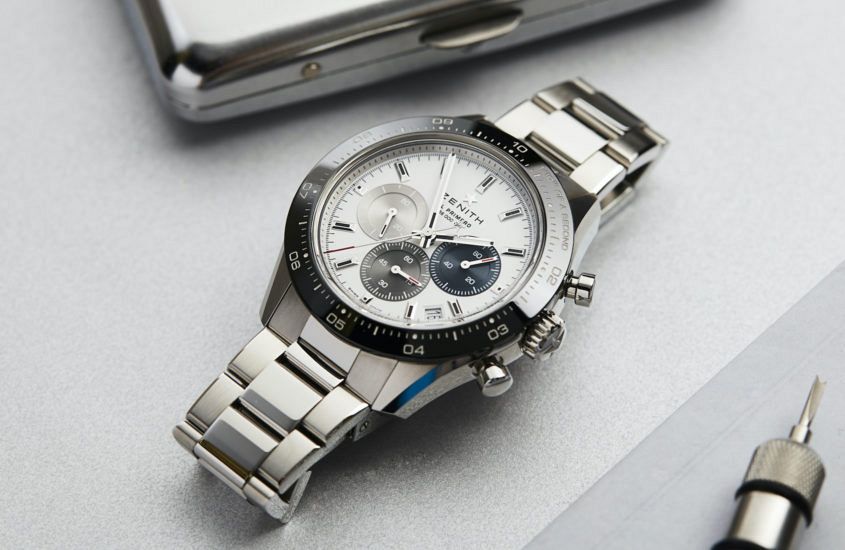 The Zenith El Primero is famous for two reasons. One, as a watch that deserves to be called iconic even amongst the most towering icons, and that holds various important claims in the pantheon of 20th Century watchmaking, including, but not limited to the first fully integrated, Swiss made, self-winding automatic chronograph, hence the name, El Primero. The second is the El Primero's fame as a movement alone. Even 19 years after its release in 1969, the movement was so reliable, robust and well regarded that it made its way into the Rolex Daytona for a period of 12 years, from 1988 to 2000.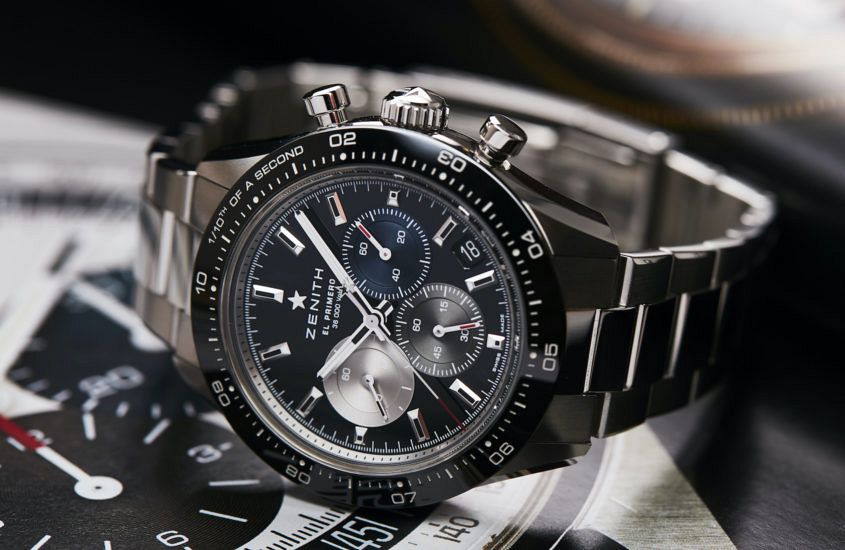 And this is where we start our tale, proper. Because, if you're a watch lover with more than a passing knowledge of popular current designs, it's likely n the black ceramic bezel with etched scale on this model has drawn a likeness that is hard to ignore. In both its black and white dial variations, this new Zenith El Primero Chronomaster Sport looks at a glance very much like what is probably the most popular and coveted chronograph on the market and for all time, the Rolex Daytona reference 116500LN, which is by and large unattainable at its retail price. Of course at closer inspection, many differences emerge, both aesthetically and mechanically.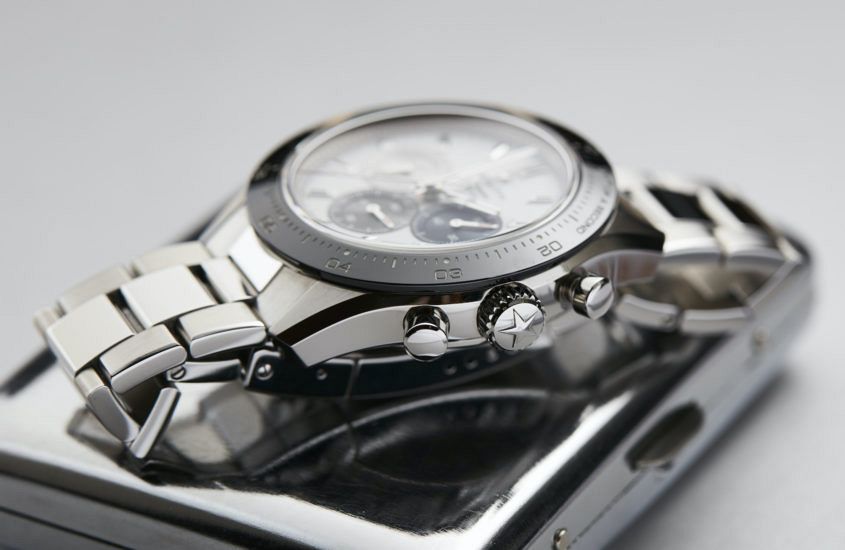 The dial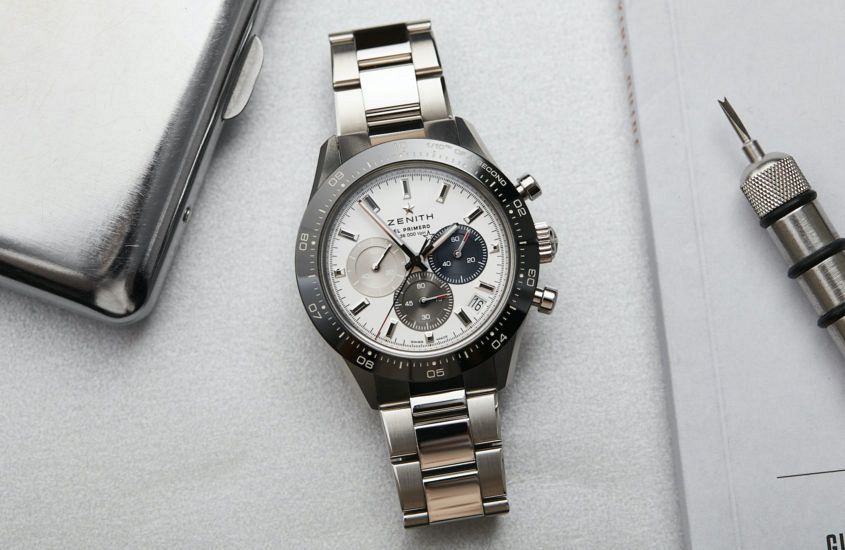 If we start with aesthetics and the dial, firstly, this ain't no panda – or reverse panda if we're talking about the black dial. Unless you're describing a mardi gras panda, because the three applied dials at a closer look are not black, or white, but multi-coloured. The second counter at three is a petrol shade of blue / grey, at the minute counter at 6 it's anthracite and at 9 for the running seconds, it's silver. Any sticklers for subdial symmetry will be delighted by the running seconds and second counter at 3 and 9 sharing identical dial layouts, with the anthracite minute counter positioned perfectly between the two at 6.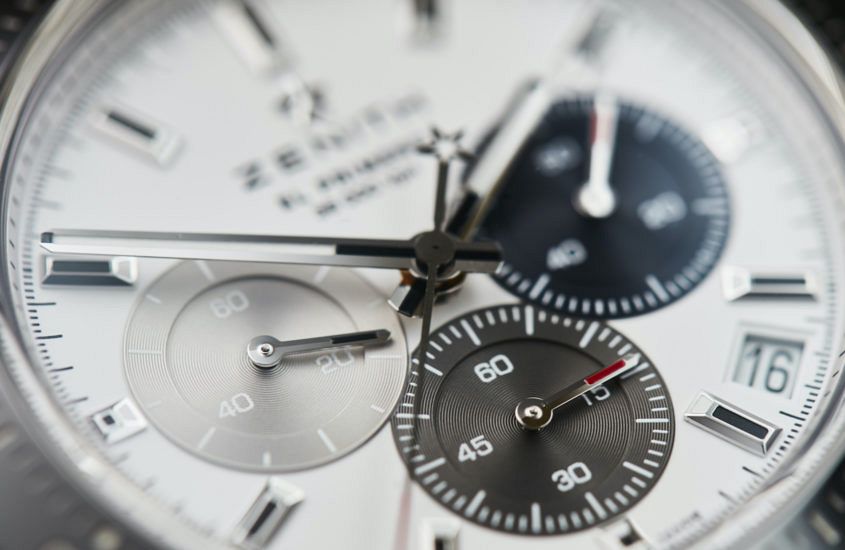 Coloured subdials are a design code that have always differentiated the El Primero, and here – on the bone white dial, they create quite a visual treat, especially with the chronograph activated and three of the counters perceptibly moving. The hero of the show of course is the chronograph hand that counts 10ths of a second – and 10 seconds in a full rotation of the dial. 10 seconds are marked on the bezel along with the text '1/10th of a second', which is a distinctive feature that Zenith are claiming to be yet another first. Another El Primero.
The bezel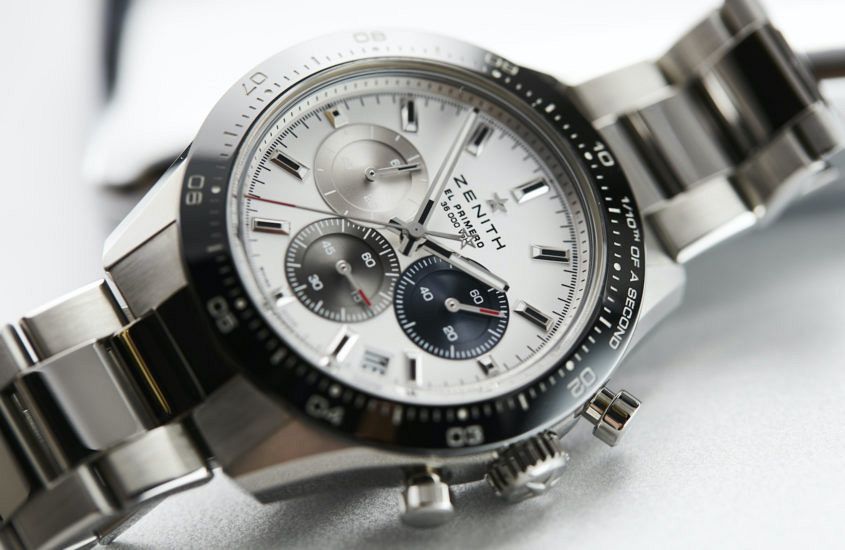 However, returning to the aesthetics, the game changer for many is a much more humble and static component – the bezel. It's crafted from ceramic, which is rapidly becoming the material of choice for this buffeted part of the wristwatch, so chosen for its ability to resist scratches and take hard knocks without marking. It's amazing what a difference this move has made – my reaction at first look was, oh man, why didn't I think of that! Bravo to the Zenith team for this masterstroke hiding in plain sight.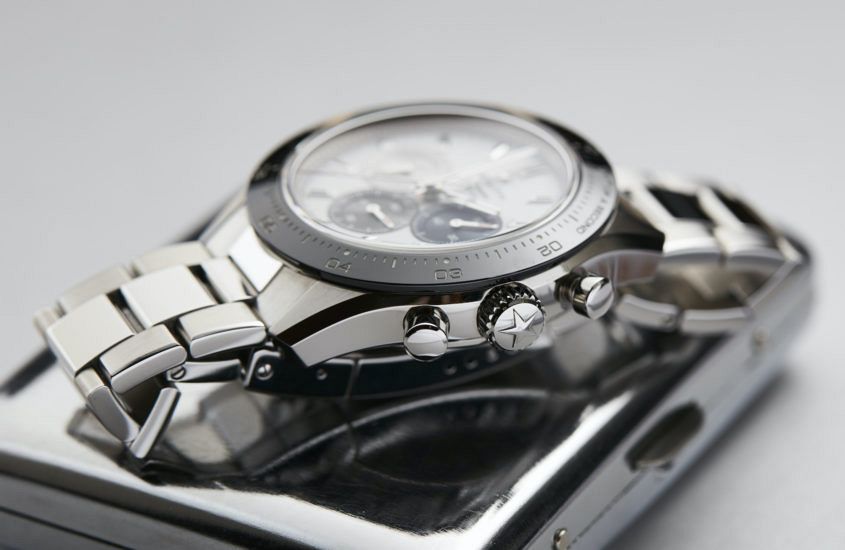 The finishing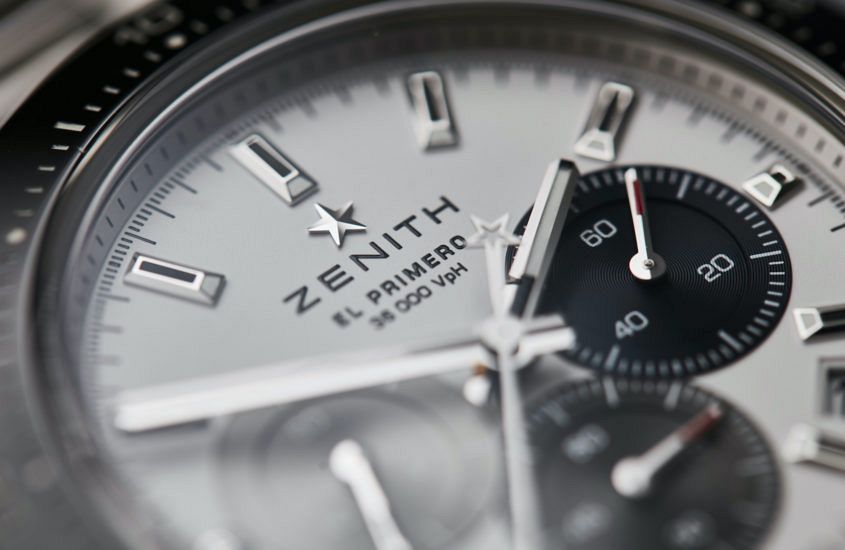 On the wrist, the first thing you'll notice is how well finished and how finely faceted this watch is. No matter which angle you glance at it from, you will get a reflection back. Whether it's a high-polished slope of an index, or a flaked side of the Zenith star, there's always some play happening with the light around you. The polishing work on the watch and bracelet is par excellence – and it continues to the case, where we have satin polishing to the top of the lugs, and to the centre link of the integrated bracelet.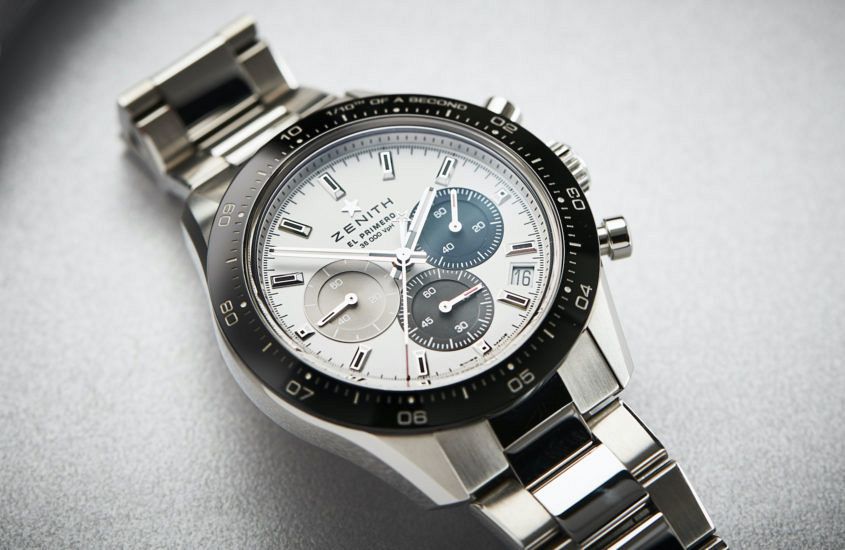 Note the very slight concaving of this centre link that makes the light bend. This contrasts nicely with the mirror polished chamfering and mirror polished case sides. The bracelet has polished centre links, and will also remind many of the Oyster bracelet, with its polished centre band on the deployant and raised Zenith star on the folding clasp. Personally, I would have preferred that Zenith maintain their regular Chronomaster bracelet, especially given the numerous likenesses better earned on the watch. Size wise, the watch is 41mm, but wears a great deal smaller – provably even 39mm – thanks to its compact lugs.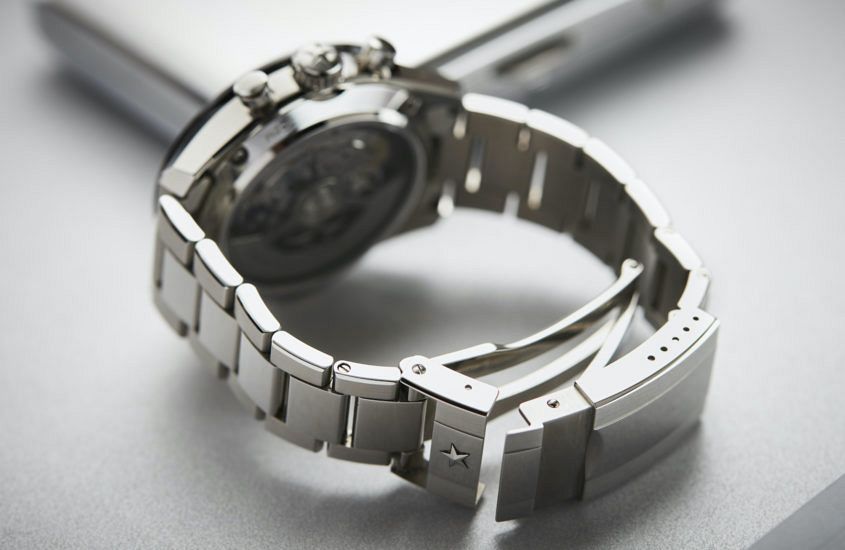 The movement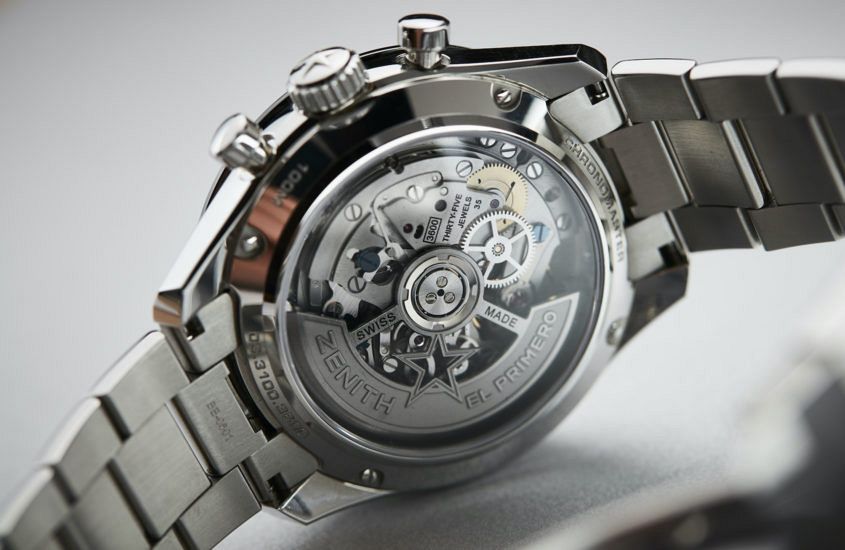 Flipping the watch over, you're going to gain an eyeful of utter mechanical beauty, the new Zenith calibre 3600 – a view that is heightened by a full extent sapphire crystal caseback – this is a widescreen open caseback if ever I've seen one, and you can tell its designers have not wanted to have a single wheel or screw obscured from the eye, apart from when the rotor hovers over it, in its work winding the watch.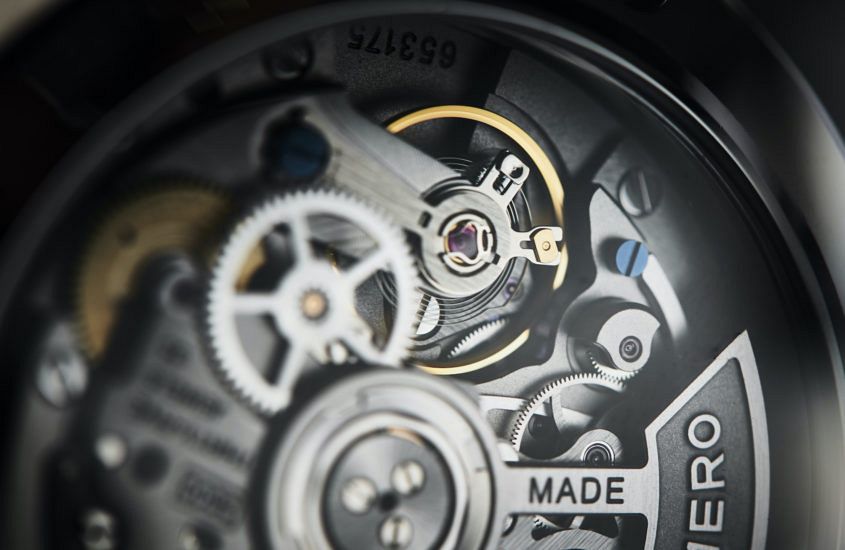 Now, this is a high-beat chronograph meaning it ticks at 36,000 vibrations per hour, which explains its buttery smooth running seconds melting time in a liquid sweep. To the naked eye, this register could be a spring drive, it's that smooth. The high-beat movement is not at the expense of practicality, though, the watch has a 60-hour power reserve and is water resistant to 100 metres, making it a true sports watch in its versatility.
The verdict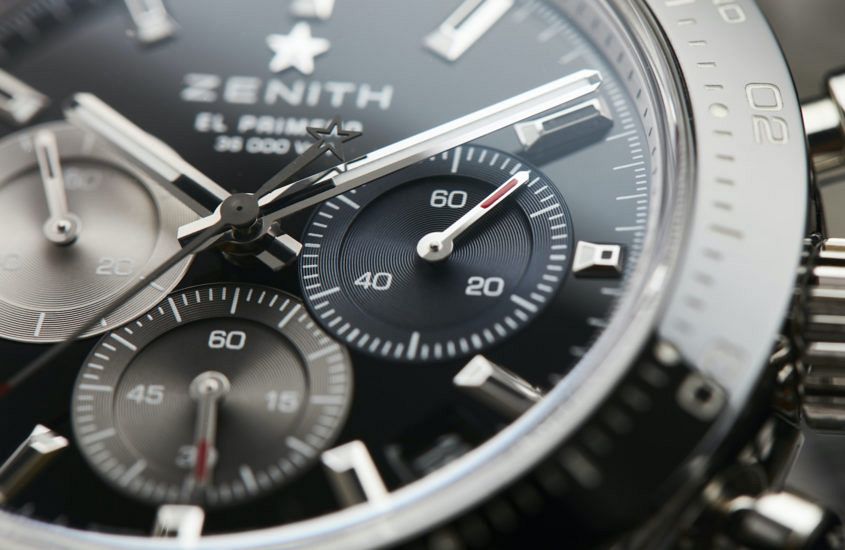 So, in closing, what is this watch? It's a show of watchmaking force from the brand that few would debate are the king of modern-era chronographs, especially with its 10th of a second hyperactive jumping chronograph hand trick to add another Primero in 2021. And Zenith is not shy about it, with a huge open caseback to show off how the magic happens. It's also a step in a thoroughly contemporary direction, with the ceramic bezel twist that puts it shoulder to shoulder with a sibling watch in the Daytona, who may be the more famous brother, but who 100% owes the big bro El Primero a debt dating a few decades back. If you've had it in your mind that you'll get a Zenith El Primero-powered model one day, this might just be your moment. Few watches are as ready for whatever the world is going to throw it.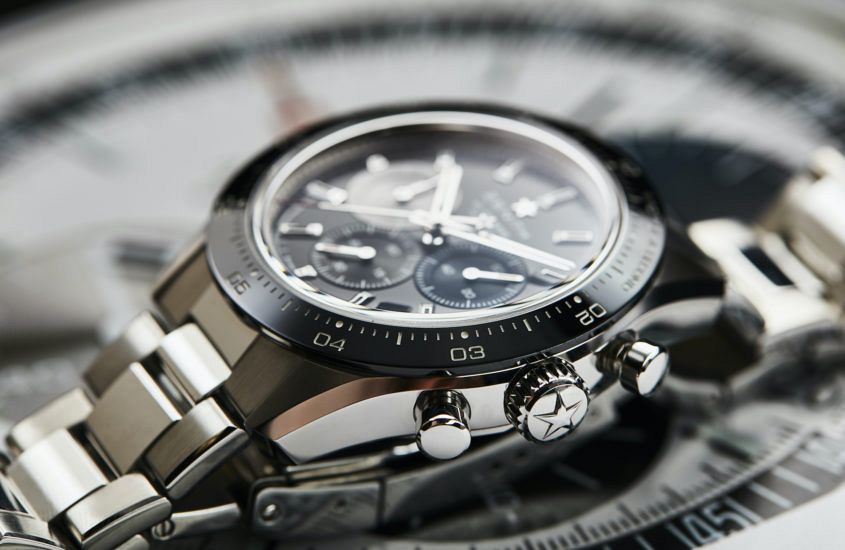 Zenith Chronomaster Sport pricing and availability:
The Zenith Chronomaster Sport is 9900 CHF on bracelet and 9400 CHF on cordura effect bracelet. For more details, visit Zenith right here.
Made in partnership with Zenith. However, the opinions expressed in this article are our own in accordance with our Editorial Policy.