Paw prints, Celtic bands, bows on thighs, pretty much anything inked on the face… There's no shortage of tattoo choices that are questionable at best and watch tattoos represent yet another baffling sub-category. After all, if you want to visibly declare your passion for a particular brand or model, there's a straight-forward way to do it. You simply wear that watch on your wrist.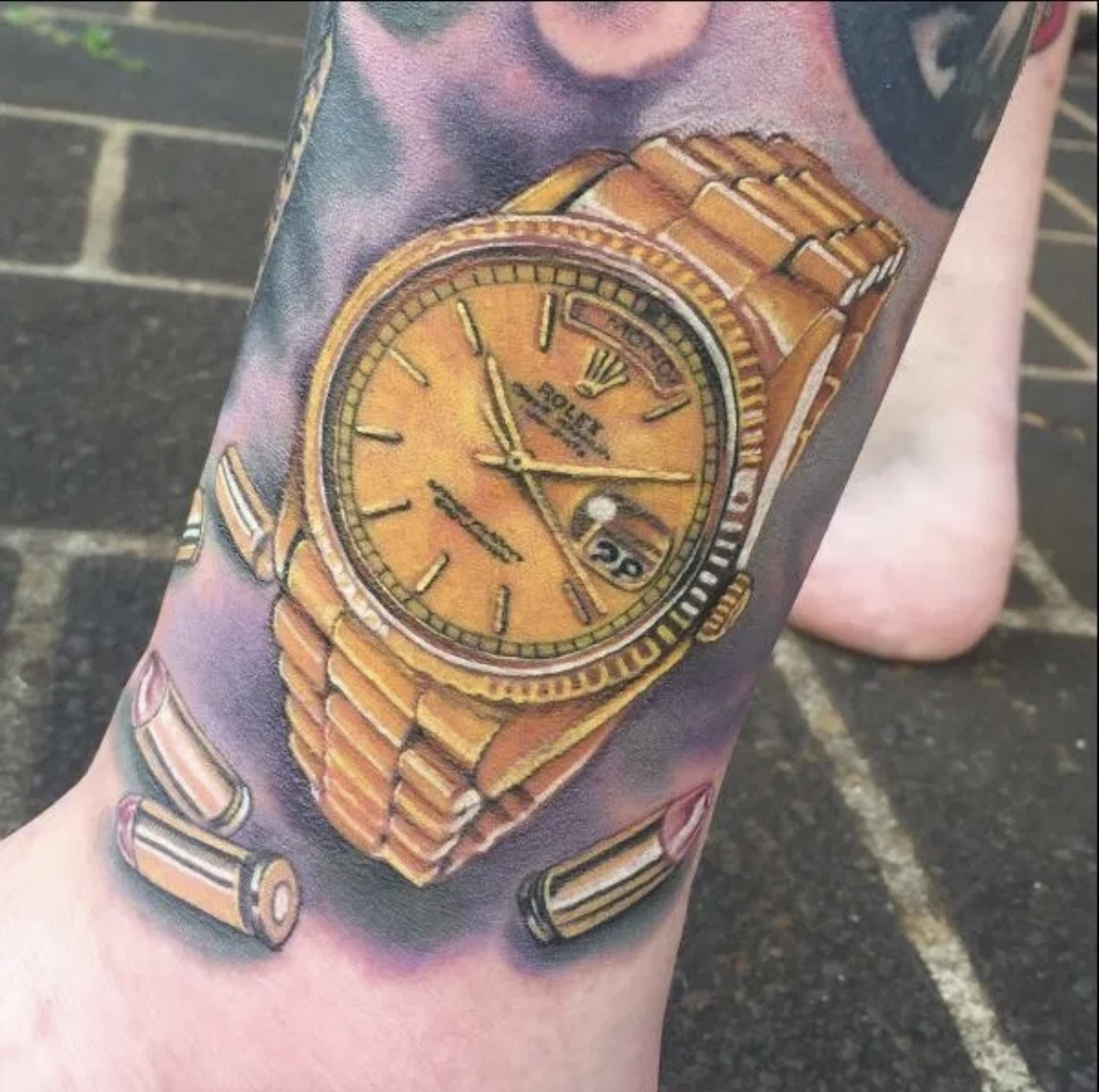 But this doesn't cut it for some people. Presumably, they think it's all a bit fickle – the way you can take your watch off one day and swap it for another piece from your collection the next. Instead they want to go further and declare their commitment with a horological statement that's more than skin-deep.
Searching for positives here, I suppose watch tattoos do have certain advantages over the real McCoy. They're ultra-thin (eat your heart out Piaget Altiplano Ultimate), they require zero servicing fees and they're far cheaper than the actual timepiece. They may also prove instructive if you're a degenerate watch flipper, too. A watch tattoo isn't something you can trade-in on a knee-jerk whim for the latest shiny release on an integrated bracelet.
In addition, it should be noted that tattoos and timekeeping have a long history. Depictions of the passing of time have always been in heavy demand from the tattooist's gun. From the hourglass to the pocket watch, such images are used to convey the significance of the passing of time or commemorate a momentous life event. Watch tattoos could be viewed as a continuation of this long tradition.
This relationship cuts both ways, too. Watch brands have repeatedly collaborated with tattoo artists on limited–edition pieces whether it's Swatch working with the French tattoo artist Tin-Tin, Romain Jerome hooking up with London's Mo Coppoletta or Hublot colluding with the Swiss tattooist Maxime Plescia-Buchi. Then there's the Linder Werlin Oktopus Tattoo, which gets its name from the case engraving that resembles an ink tattoo.
Yet the watch tattoos pictured throughout this story also fit into the strange phenomenon of corporate brand ink. It's fair to say this would've been an unexpected development back in the day when tattoos were still edgy and carried a whiff of danger and counter-cultural vim. Those times, of course, are now passed with tattoos having long gone mainstream. Today, even your bank manager can have a half sleeve peeping out from beneath his tailored cuff.
Getting inked has, in fact, become so conventional, that we have entered what one academic has described as "the supermarket era" of tattooing. And what do you do at the supermarket? You buy products. Little wonder then that people are getting brand logos and consumer products inked on their skin whether it's Harley Davidson or Apple, Volkswagen or Nike, Rolex or Patek Philippe.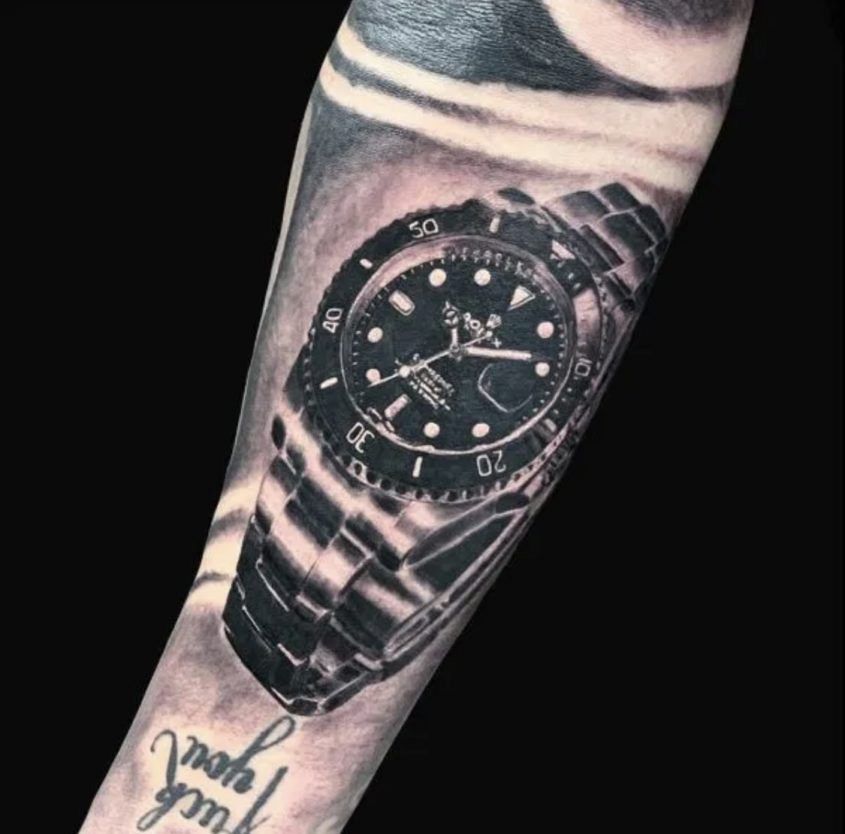 Benjamin Voyer, an Associate Professor of Marketing at ESCP Europe, reflected upon this trend on The Conversation website. "One simple way to explain this phenomenon is the changing perception people have of tattoos," he wrote. "They have been 'de-marginalized' and have gone from being a sign of rebellion to acceptance by the masses. They are now an almost ubiquitous part of pop culture, just like the brands that have worked so hard to get there. The widespread popularity of tattoos among all social classes reflects the fact that body art is increasingly seen as a product like any other. In this context, why would consumers limit themselves?"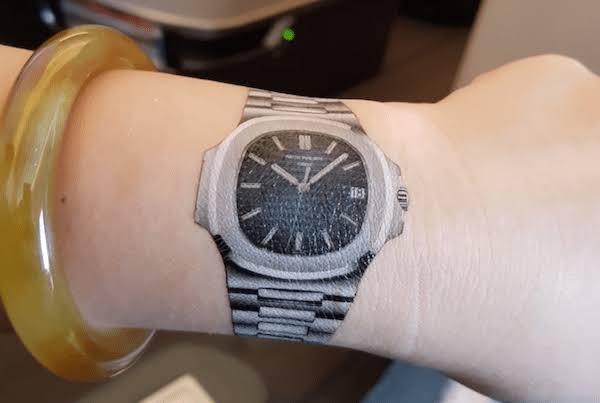 If body art is indeed a product then why not get one that reflects your lifestyle and social identity? But the indelible nature of a watch tattoo it far more of a statement than wearing the actual timepiece itself. Watch tattoos feel like the ultimate brand affirmation, a supreme act of customer loyalty that lasts an entire lifetime.
How does a brand stir up such a profound connection with a consumer? In his book, Legendary Brands, Laurence Vincent unpacks how some brands manage to ignite that emotive bond. The best brands, he suggests, express consistent values and create their own stories and mythologies. Viewed through that prism, it's instructive to consider the watch brands that inspire the most tattoos.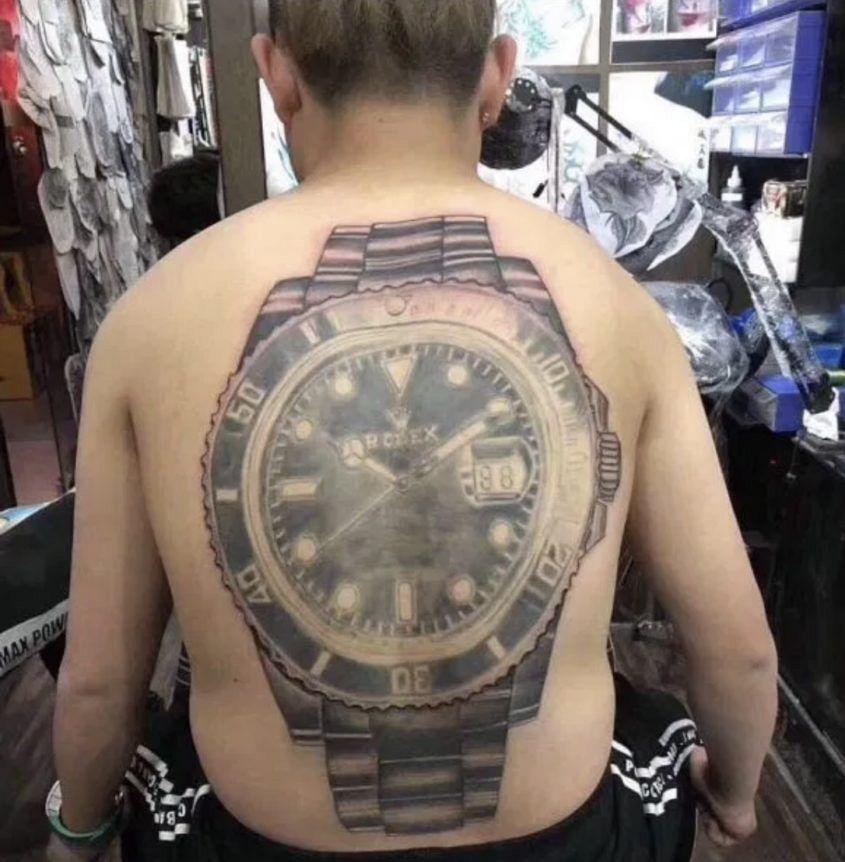 A random trawl of the internet reveals the same brands popping up time and again. Way out in front, of course, is Rolex that is presumably aligned with notions of status, luxury and innovation. But Rolex is also the watch brand that's marketed its history most effectively whether it's Mercedes Gleitze swimming the English Channel or Sir Edmund Hillary conquering Everest. Omega has pedigree in that area, too, with the Speedmaster (AKA the first watch on the moon).
The other watch tattoos seem to resonate more for the powerful associations they evoke. Patek Philippe would stand for expertise, tradition and quality. While G-Shock is linked more with toughness and the youthful energy that inspires their endless pop cultural collaborations.
A 2009 study from the University of Louisville places brand tattoos in a wider context. Corporate Logo Tattoos and the Commodification of the Body was based on interviews with 21 people with tattoos of brand logos. "The majority of the sample was motivated by brand loyalty and self-identification with a brand philosophy or lifestyle," the researchers wrote.
Yet the conclusion of the study offered an understandable note of caution. While the subjects interviewed felt like they were exercising self-expression and power by getting their tattoos, the study suggests their decision may, in fact, be slightly less autonomous. Whether consciously or not they've fallen under the spell of their corporate capitalist environment "that has appropriated human bodies as uncompensated billboards".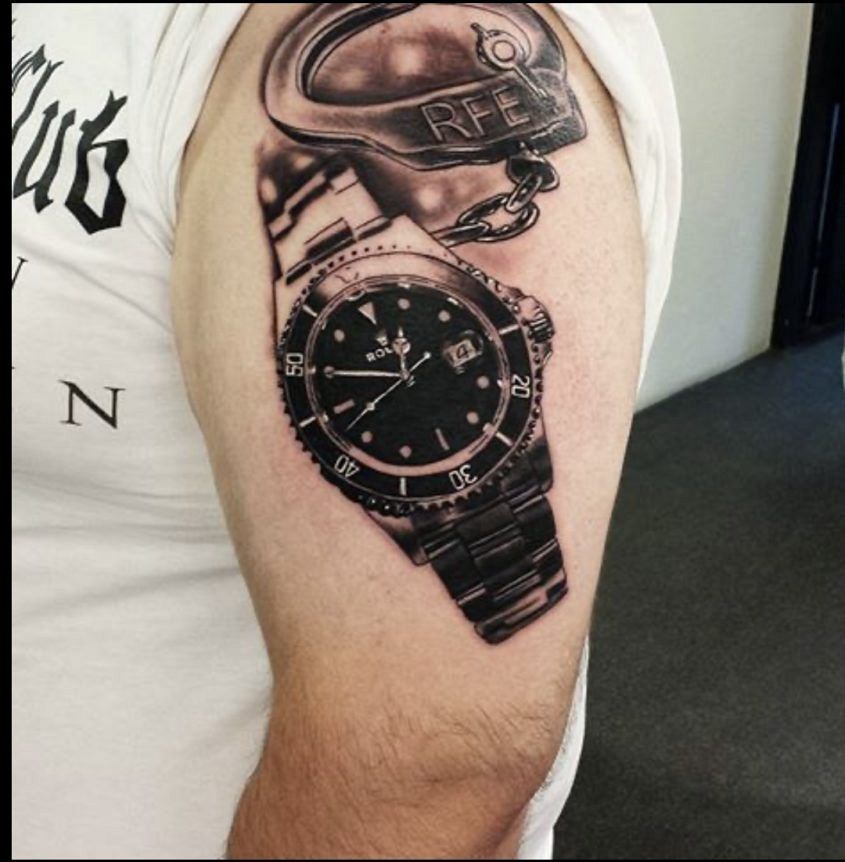 A tattoo is always a personal decision and one that's inevitably fraught with potential regret. Reading the study, however, a watch tattoo seems particularly high-risk. Even if it does tell the right time twice a day.