VIDEO: You'll get lost in the spellbinding dial of the H. Moser & Cie. Pioneer Centre Seconds Swiss Mad Red
Thor Svaboe
H.Moser have become central to the revival of deep fumé or degradè dial finishing. Their deep colours captivate your attention like no flat black dial ever could. In this video we check out the the H. Moser & Cie. Pioneer Centre Seconds Swiss Mad Red, which certainly lives up to its colourful name.
This luscious cherry cocktail offers a tasty take on the everyday sports watch. We know Moser watches from ironic haute horlogerie with their Swiss Alp series and some of last year's most hypnotising dials with their unexpected collaboration with MB&F. But can they really do everyday?
The first impressions of the Pioneer Centre Seconds Swiss Mad Red tick my boxes in a big way. I am a dial man, always have been, and prefer coloured faces to monochrome minimalism – I just can't help it. I also have a marked preference for three hand watches and the calm state of mind they put you in. There is something soothing about the slow cycle of the seconds hand doing its simple job and not telling you there is yet another email to process.
It's no secret that Moser have mastered the abyss-like depths of fumé and I have lavished praise on their work on many occasions. But they still manage to surprise us with their cheeky brand of modernity. There's inherent comfort here and a tougher look than expected in the rally-like vented rubber strap, which is a great fit to the thick-lugged tool case.
At 42.8mm this is actually larger than I would usually expect to enjoy, but the design dynamics of the Pioneer case imbues it with smooth comfort plus THAT candy dial could seal the deal. The case itself is no breakthrough design, but a sporty presence that sits snug on the wrist with its short smooth lugs. This is a counterpoint to the usual fanciful Moser fare of everything from ironic cheese cases (yes, really!), Apple watch pranks, and last year's otherwordly  Streamliner creations inspired by aerodynamic '20s design.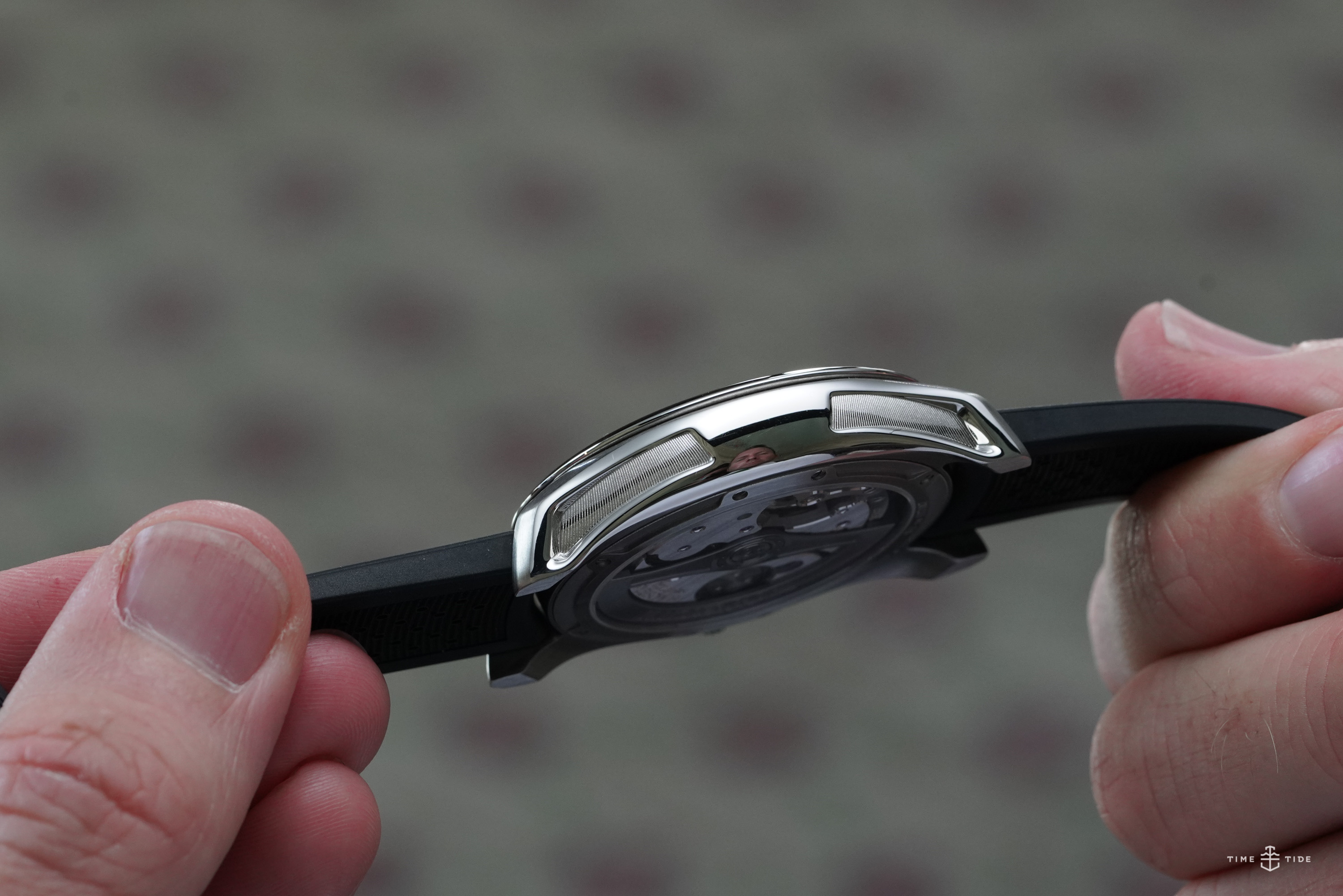 While hardly groundbreaking, the case is a near perfect combination of brushed steel, slim scalloped sides, polished details and a just-so lug length. The simple and pebble-smooth bezel frames what is the entry ticket to the fascinating world of H.Moser & Cie.
Once again with the dial, Moser is bringing the eye candy with a capital "C". This is a cherry lollipop red that to me is almost erotic in its depth and saturation – a real treat for a dial fetishist like me.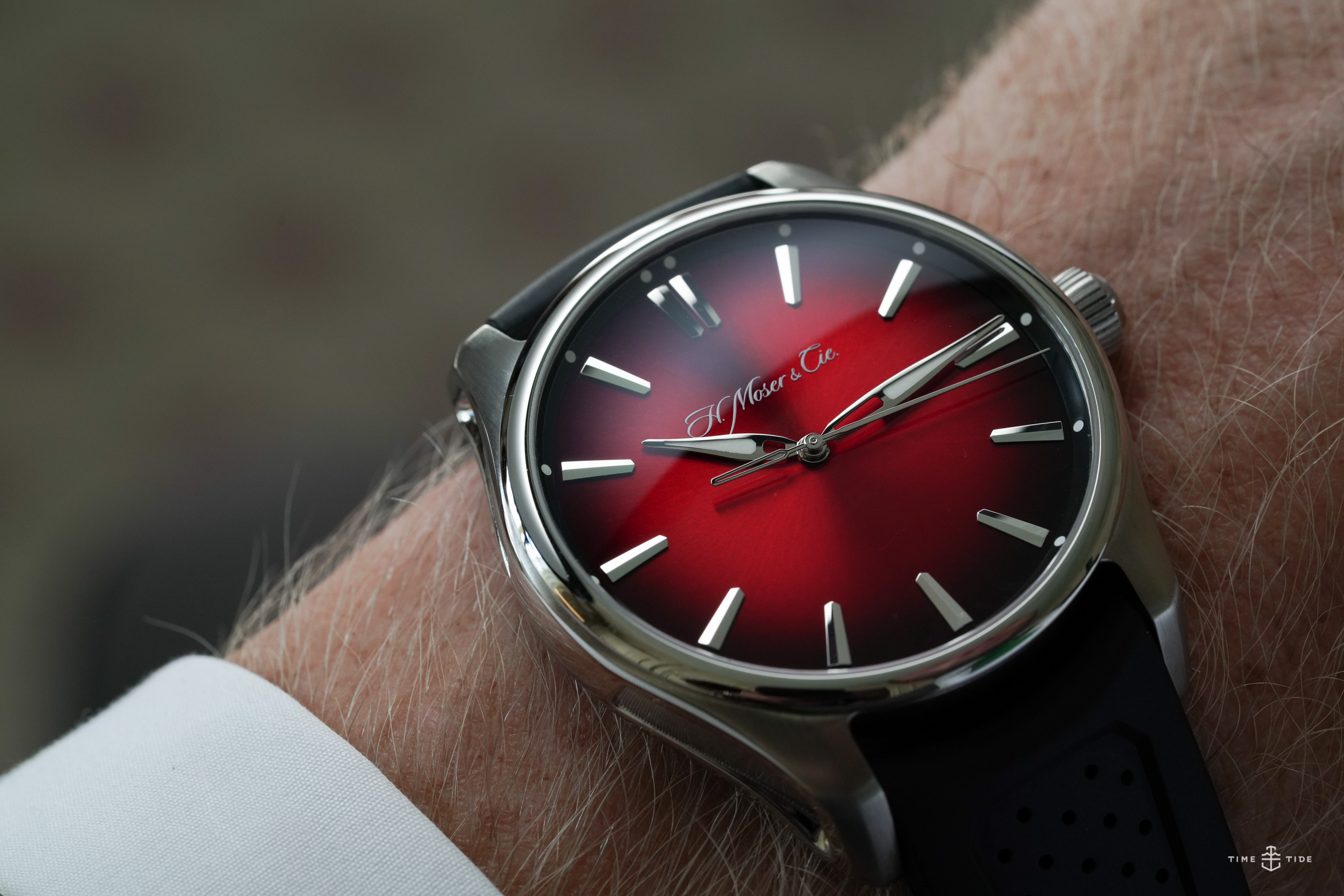 Minimalism with a classical edge is what they do best in the Pioneer series. A smooth black rehaut frames that deep red, drawing you into the centre of the dial. The intricately polished hands have a swoopy leaf shape with inset lume, complimenting the sweep of calligraphy in the logo.
The strong arrowhead indices and absence of a date window underline the overall feeling of cohesion. Turn the watch around and my dial worship has its mechanical counterpoint in the automatic HMC200 movement from their sister company Precision Engineering AG. If you're not drawn to dial art, put your loupe on to enjoy the traditional craftmanship of this in-house movement.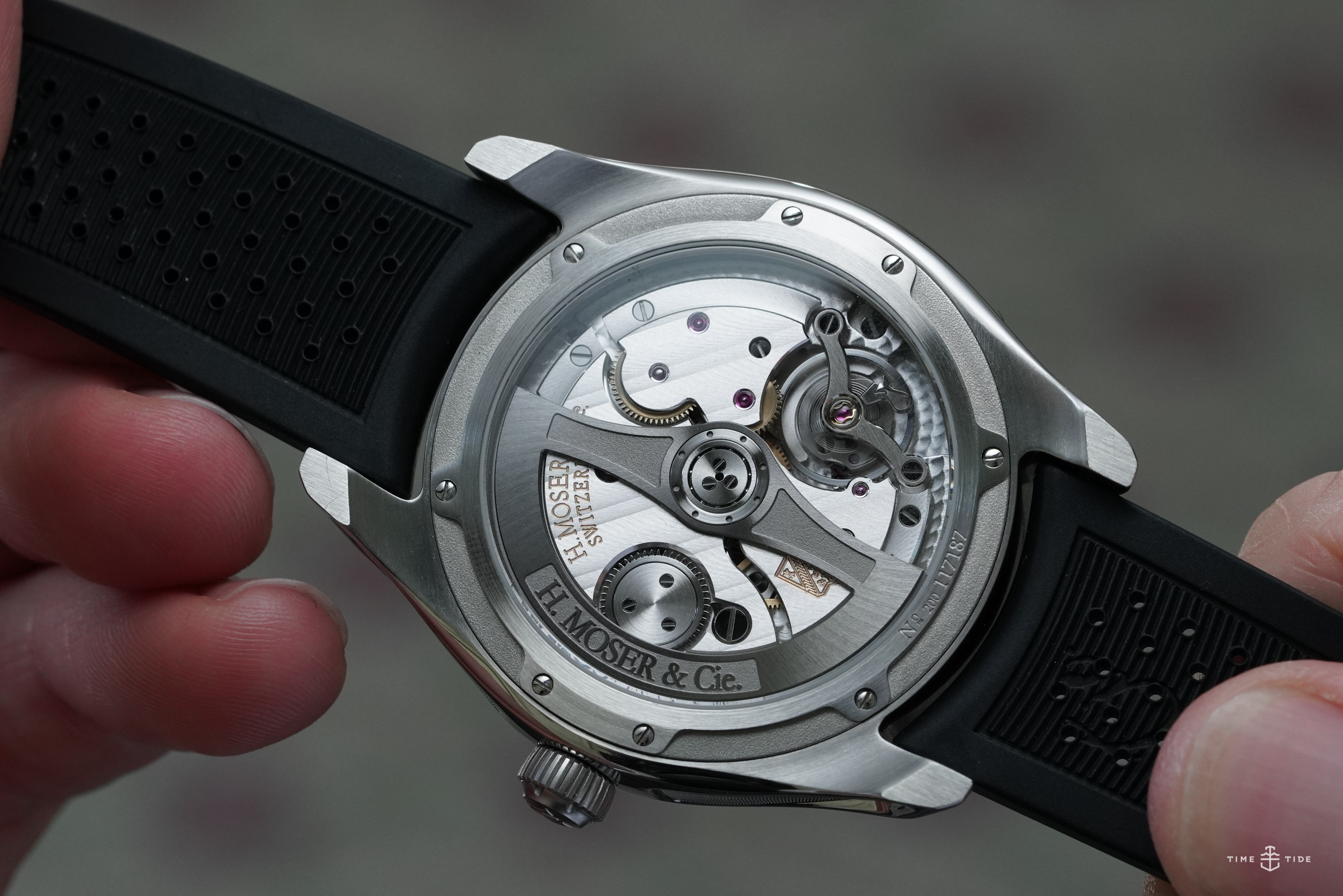 Traditional Geneva striping accentuates the bridges and mainplates with all the details as traditional as the case is modern at heart. The standards of craftsmanship are superb, right down to razor-sharp anglage, seen through a skeletonised 18K gold rotor.
That movement might distract me for a moment, but I'm still lost in that cherry cocktail abyss. That dial is only one of the details that actually makes this a great everyday sports watch – there's also the 120m depth rating and a long power reserve of 72 hours. Yet with an H.Moser, "everyday" is never a term that entirely fits. Truth be told, there's nothing remotely ordinary about this watch.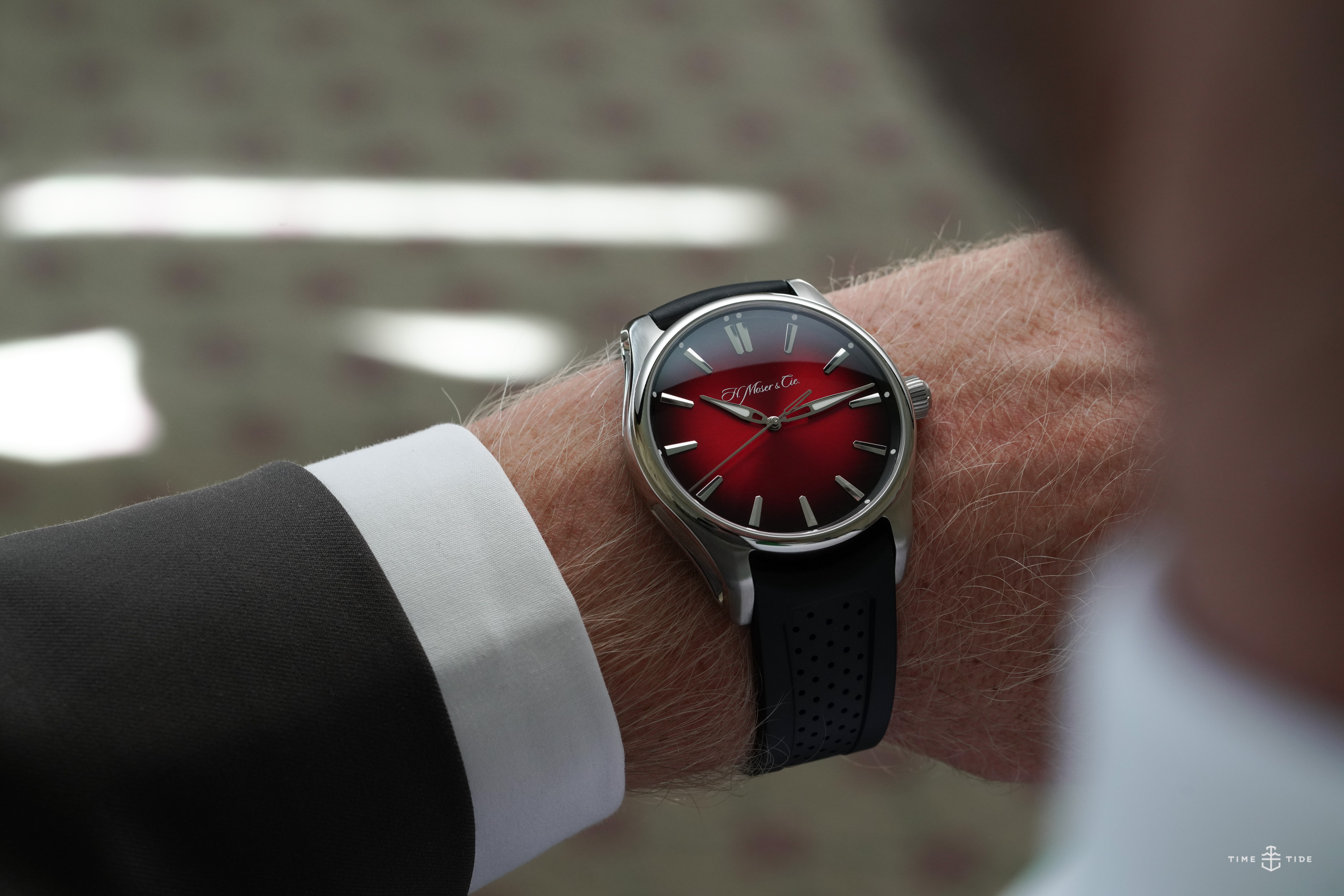 The H.Moser & Cie. Pioneer Centre Seconds Swiss Mad Red, price and availability:
The H. Moser & Cie. Pioneer Centre Seconds Swiss Mad Red is CHF 12,900. For more details, visit H.Moser & Cie. right here.
Made in partnership with H. Moser & Cie. However, the opinions expressed in this article are our own in accordance with our Editorial Policy.