Tom Cruise adds a RLX Titanium Rolex Yacht-Master to his already strong collection
Zach Blass
Regardless of how you feel about the man off-screen, Tom Cruise is irrefutably one of the greatest action movie stars of all time – if not the greatest. His dedication and innovation within the action film space is unrivalled, with him training for incredibly dangerous stunts and co-developing the means to perfectly shoot and capture them. The latest film to showcase Tom's talents is the upcoming Mission: Impossible – Dead Reckoning Part One. Now, Tom already has a strong repertoire of watches in his collection. But while promoting the upcoming seventh entry into the Mission Impossible franchise in Korea, it appears Tom was sporting the new Rolex Yacht-Master 42 RLX Titanium.
Rolex Yacht-Master 42 RLX Titanium
View this post on Instagram
Well-spotted by Nick, the Sherlock Holmes of watch-spotting, a trained eye will catch the Rolex Yacht-Master 42 RLX Titanium throughout his visit in Korea. As Nick points out, based on the bezel and case it is clearly a Yacht-Master. But, the giveaway is the spanking-new configuration is the bracelet. Other white metal (steel, white gold, platinum) Yacht-Master watches only have the matte ceramic bezel on the rubber Oysterflex bracelet. So, by the power of deduction, it is safe to say Cruise has the titanium model on his wrist. The watch was a very big deal, as it was the second-ever production RLX Titanium watch after the 50mm Sea-Dweller Deepsea Challenge (but definitely the first wearable titanium Rolex). With his star power, surely no AD would ever deprive Tom of such a prize. The watch really suits Tom, and will make a great tool watch for his inevitable action-packed adventures – at least off-screen.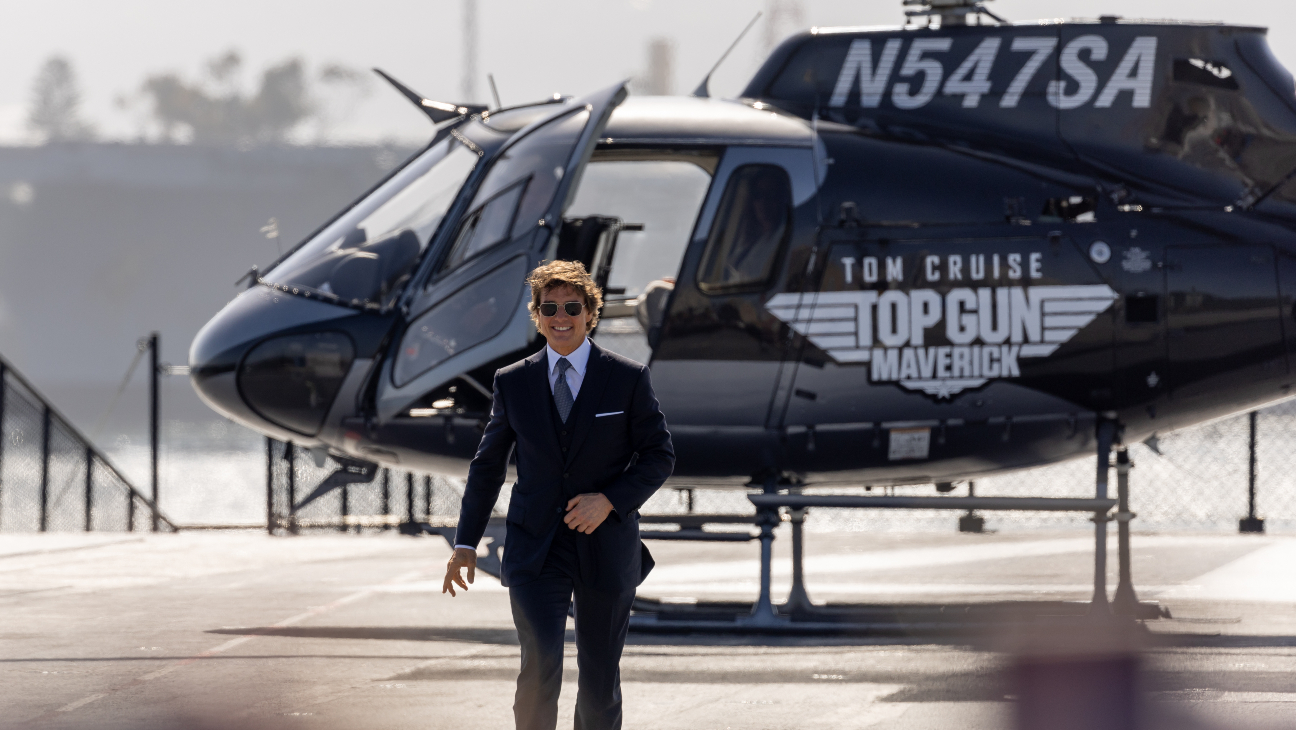 Back when Tom Cruise was on the mother of all press trips for Top Gun: Maverick, he obviously had the watch roll to back it up throughout his travels – with everything from Cartier to Vacheron to Rolex and back to Cartier – it's a wild ride in itself.
Calibre de Cartier Chronograph
View this post on Instagram
Tom Cruise was spotted riding the wave of insane Cartier popularity by strapping on a Caliber de Cartier Chronograph for the Late Late Show with James Corden – except he's not. Because Tom chose one of only a handful of Cartier models that the world isn't going completely nuts for. Hailing from an era when Cartier were trying to be all things to all people, the Calibre de Cartier has not found resounding success within the watch community. But kudos to Tom for going against the grain, sporting the since discontinued reference regardless.
Vacheron Constantin Overseas Perpetual Calendar
View this post on Instagram
After the release of the film, high on life from gushing reviews of Top Gun: Maverick and smashing through the world's most intense press tour, Tom was seen wearing his Vacheron Constantin Overseas Perpetual Calendar in white gold with a solid blue dial – a watch of near perfect proportions and pedigree. Internally, we joked that Cruise wanted to atone for the Cartier Calibre de Cartier misstep from a week prior with a holy trinity strength comeback.
Cartier Santos de Cartier Automatic Large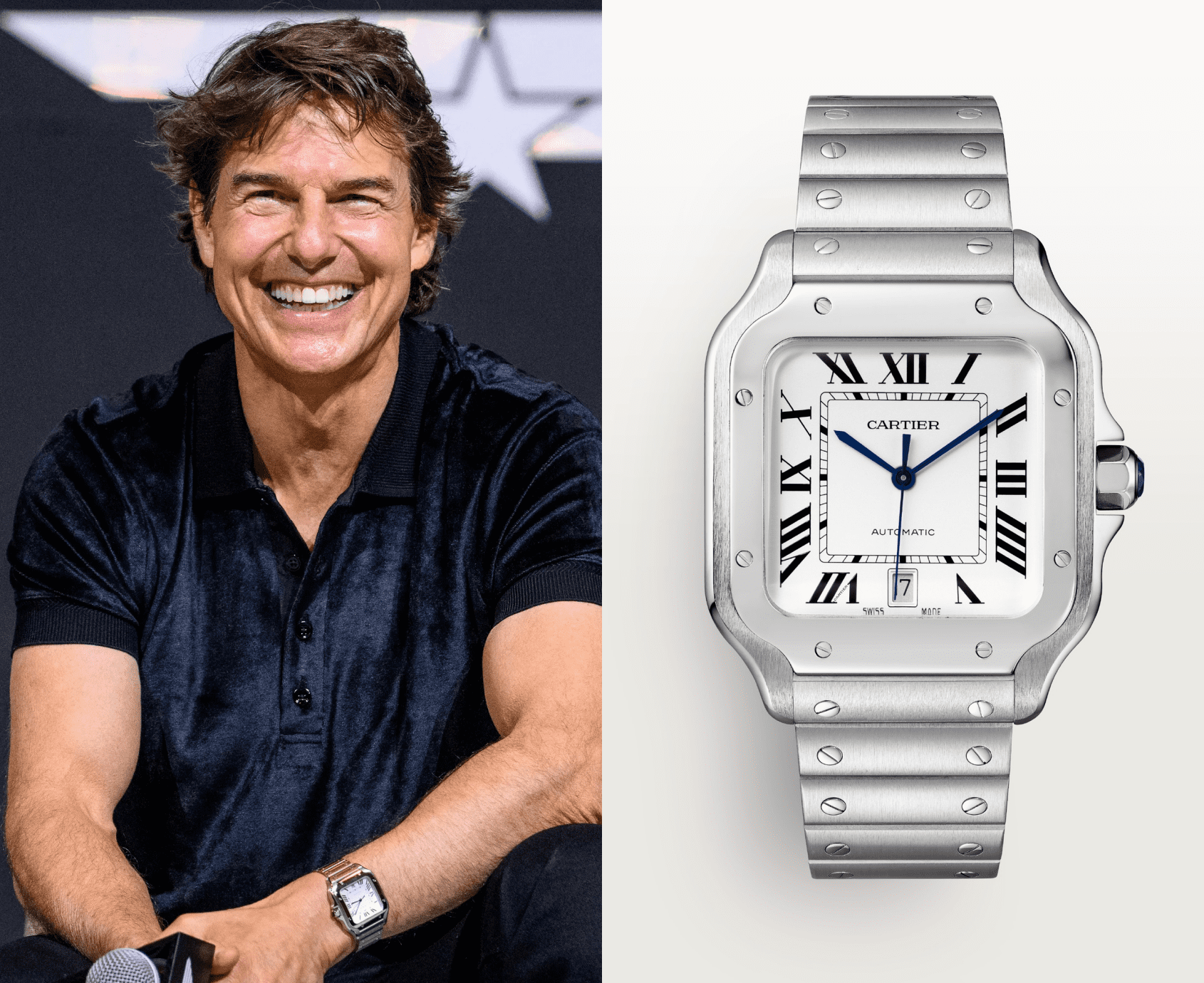 Like a Datejust, a Santos de Cartier is another highly versatile watch perfect for any collection. Tom was seen sporting the large, where I would personally go for the more traditional medium size. But, the large model has the advantage of having a date complication – and every watch he has been spotted wearing features this complication in some form. One notable advantage the Santos de Cartier has over his Datejust is the fact that it has an interchangeable strap system, so he can switch between the bracelet and included leather strap whenever he wants.
Rolex Sky-Dweller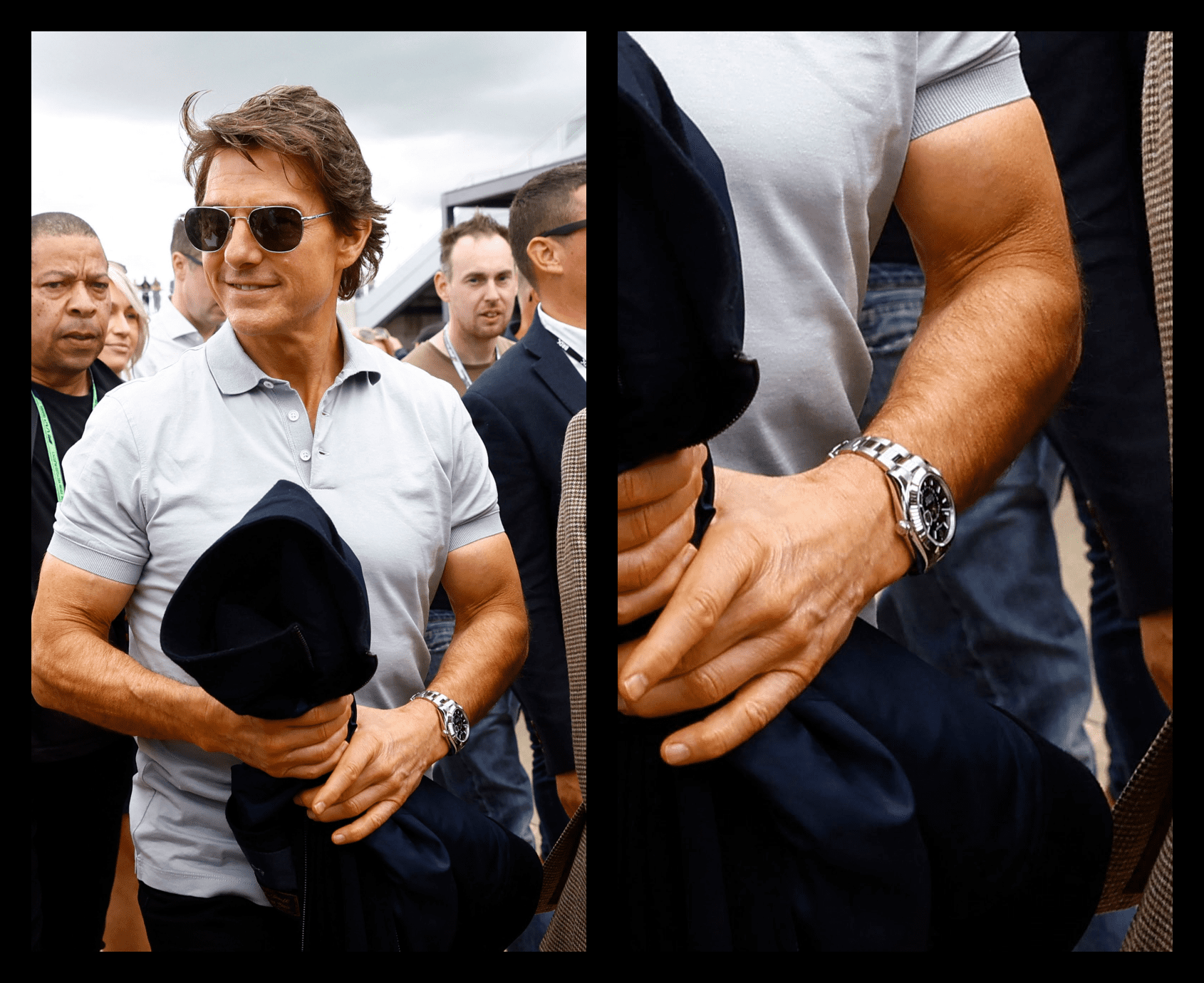 It is almost inevitable that every famous actor eventually adds a Rolex to their collection, but, as an avid pilot who takes to the skies both on and off-screen regularly, the Sky-Dweller is arguably Rolex's ultimate pilot's watch. It not only displays a second time zone, but also the calendar date and month as well. It is arguably the most complicated Rolex watch in the modern catalogue today. Tom wore his when he visited the British Grand Prix while celebrating his 60th birthday.