For generations, the business of buying and selling watches has remained remarkably stable. But all that's changed in the digital age. This is your guide to watch buying in the 21st century, which originally appeared in our buying guide NOW, which you can download here.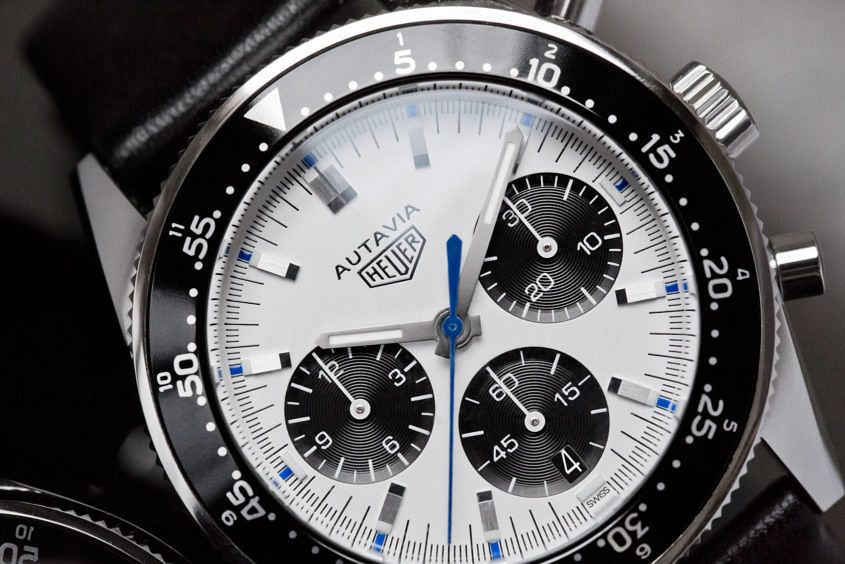 You can't buy the above watch. It was made in a limited edition of 100, and sold out in a matter of hours. It was made for, and sold by, a TAG Heuer news and review site. Ten years ago this online-only watch would have been unthinkable, in another 10 it might be the norm.
So where better to explore the rapidly changing world of buying and selling watches online than in the inaugural print publication of a watch website? And when better to do it than now?
Mechanical watches have been around for hundreds of years. They've survived, and thrived, under war, economic hardship and even the invention of the iPhone. In many ways these old-fashioned, outdated machines are the epitome of the analogue, offline world – an authentic artisanal object created by craftspeople who trace the lineage of their skills through generations. Few things could be further from the digital now than the traditional watch on your wrist.
That's the common perception at least – one supported and amplified by the global marketing departments. The truth is, as always, a little more complex. Because while the watch industry itself has been traditionally cautious, and even anxious, about the complex web of platforms, technologies, systems and communities amorphously called 'digital', the online world has been instrumental in allowing an industry that, in Switzerland alone, accounted for some 20 billion dollars worth of exports in 2017.
The story of watches on the internet really begins not with the brands that make them but with the people who buy and passionately evangelise about them. Of course, this community existed in the pre-internet era, through trade press, local retailers and the like, but the internet brought these disparate groups together, allowing people to share knowledge, and amazingly lo-res images of their latest watch on a worldwide scale. The first of the big online communities was timezone.com, which was online as early as 1996. While they aren't the thriving hubs of watchnerdy chatter they once were, they're still important repositories of knowledge and lore, as well as established and trusted sales communities, seen as providing a safer way to selling your expensive watch than, say, eBay.
Just because the forums are quiet, that doesn't mean that people who love watches aren't connecting online, and meeting up offline. Adam Craniotes is one of the founding fathers of the popular RedBar group – one of the highest-profile 'collector communities'. Given how active the group is both on and offline, Craniotes is well placed to speak about the pros and cons of both. "Social media is the very definition of a double-edged sword," he says. "On the one hand, much like when the internet finally came to the fore in the early-to-mid naughts, it's been an equaliser, giving a voice to any and all. The flip side is the ugliness that can come with a bully pulpit, which we can see every day with the proliferation of crass, critical, 'hater' accounts." Craniotes goes on to discuss the impact this explosion of interest and opinion has had on how and what sort of watches people buy. "Has it had an impact? Most definitely. The herd mentality has never been granted a larger cudgel to wield, which means that watches that might have flown under the radar, or are otherwise unremarkable, become instant must-haves." If this all sounds a little doom and gloom, don't be too concerned, as Craniotes definitely sees the upside of online; "now, with respect to physical communities, like the one that RedBar fosters, I'd have to give social media two big thumbs up. When you're meeting face-to-face you don't have the cover that's afforded to a typical keyboard ninja. As such, you actually have to find common ground and wind up getting along, even if it is just over a drink. I call that the RedBar Effect."
In the mid 2000s, a new platform started to gain traction. Taking advantage of user-friendly publishing, enthusiasts like Robert-Jan Broer founded Fratello Watches in 2004, with sites like Hodinkee, aBlogToWatch and Calibre 11 following soon after. These sites and others like them ushered a new, passionate voice into the closed and often insular world of horology. One that would, over time, play a major role in how watches were marketed, and even made. Calibre 11, which bills itself as the home of TAG Heuer and vintage Heuer collectors, was amongst the first digital publications to attend the Baselworld watch fair (the industry's major exhibition of new watches). And while now it's a space full of influencers and Instagrammers, in 2009 founder David Chalmers describes a very different scene. "The late 2000s was the first time the brands were willing to sit down with people who weren't accredited print journalists," he explains. "But watch brands getting on board with digital has been a huge push forward in terms of adding credibility and legitimacy to both parties. For example, early on there was a bit of controversy around a then-new TAG Heuer movement. I was able to go to the CEO directly and report back proper, open answers, as opposed to everything else online, which was pure speculation."
How to remake an icon, according to Calibre 11's David Chalmers

Earlier this year, Calibre 11 announced they were selling a limited edition of 100 'Siffert' Collector's Edition Autavias, based on a model worn by the legendary racer, but designed very much with collectors in mind. Ten hours later they were all gone. David Chalmers tells us how to make a hit limited edition.

So why the Siffert Autavia?
Initially, it wasn't an Autavia. I kept coming back to it, though, as it was their new model at the time. I loved that blue and white 'Siffert' colour scheme, but I was worried it wouldn't work for the passionate Heuer guys, as the current Autavia is based on a '60s model and the Siffert was only ever a '70s design. I guess I was concerned that by putting the two together it would be seen as an inauthentic mashup.

And this watch is special because it bears Jo Siffert's signature. The Siffert name has never been officially associated with the original watch – it was just a nickname. I realised that it would be impossible for me to not talk about that blue and white colour scheme without using the name, and I thought, well, if I'm using the name I ought to talk to the family and do it properly, rather than take liberties. It took a while to get in touch with them, and they're obviously very cautious about the use of Jo's name and signature, but fortunately Jo's son loves watches and has his own brand of Siffert watches. We talked it through and he was happy to support us. Being able to officially use the name was the cherry on the cake for me.

And I understand one of the 100 watches is on the wrist of a guy who likes cars and watches – Mr Jerry Seinfeld?
Yeah, from early on I knew that Jerry was interested in buying one, along with Spike Feresten, which I thought was cool. I didn't talk about it at all because I didn't want anyone to think I was trading off their names. They both love their watches. I didn't really talk about it publicly until Spike did on his show. It's been a nice little ending to the story.
While these nascent sites were starting to provide a different perspective on watches to traditional print media, brands and retailers were starting to recognise the importance of the internet to their business. The model for buying luxury online had already been proven by Net-A-Porter, which was founded in 2000. And luxury brands have experimented with online retail for some time; for example, Cartier trialled e-commerce in Japan way back in 2008. By and large, though, the traditional luxury players were very slow to the party.
It turns out that while the major brands were taking the slow and steady approach, a host of other players in the watch ecosystem were very busy indeed. Crowdfunding platform Kickstarter launched in 2009, allowing a host of 'disruptive' brands to circumvent the traditional business model, ensuring the popularity of watch-based projects. One of the most famous is the Pebble watch – an early entrant into the smart watch category. Pebble broke records in 2012, raising more than one million dollars in 28 hours. Daniel Wellington burst onto the scene in 2011, showing that influencer marketing combined with simple looks and colourful nylon straps equals big business. But it's not just big volume brands making digital inroads at the more accessible end of the market, as so-called 'microbrands' make the most of more accessible global supply chains and production facilities to make small runs of mechanical watches designed with the enthusiast in mind. Halios, the brainchild of Canadian Jason Lim, is a case in point. Founded in 2009, Halios is a veteran in the space. Since his first release, Lim has made, first and foremost, watches he wants to make – this means that designs have evolved over time, from massive dive watches, to sleeker, more svelte modern sports watches like the Seaforth. Along with the watches, it's Halios' online engagement that stands out. Though Lim is uncomfortable categorising it as marketing, saying: "I'm fortunate in that I have solid connections with customers. I think marketing as we know it today was originally based on genuine human impulse, emotion and behaviour. Larger companies tend to reduce all that to buzzwords on a whiteboard."
Though Halios is enjoying more success and recognition than ever before, Lim is keen to keep it sustainable, to keep producing watches that he likes, free from the pressures of margins, quotas and the like. It's almost like wearing a Halios is akin to having a personal relationship with the man who created it. And isn't that feeling and experience at the heart of modern luxury?
How to handle hype, with Jason Lim from Halios

How does it feel to be a hyped watch brand?
Hype can be a bit of a dirty word, but as long as folks are talking about my watches, it's a good thing.

You've been in this game for a while now, what was the tipping point?
The first Seaforth was the breakout model. I had just gotten onto Instagram, and the watch was receiving great coverage from you guys, as well as Worn & Wound and Hodinkee.

So the Seaforth sold out pretty quickly. What happened with the follow up, the Seaforth II?
The Seaforth II sale was a circus. My server crashed twice, and I sold out in a matter of minutes. Network engineers suspect I was hit by bots.

In the aftermath of that sale I got a lot of feedback, mostly people unhappy that it was even harder than usual to buy a watch they were excited by, and pissed at technology. I've got to say, all the comments on Instagram were fair and true … having lots of people wanting to buy something and failing is really only my fault.

What have you learned from that?
Well, I've now got a much more stable platform to start with. I'm also trialling pre-orders which are open for a short time, trying to make it a bit fairer.
Another aspect of the watch industry that's moving online with a vengeance is the second-hand and vintage markets. At the top level, big auction houses, such as Christie's, have dedicated online-only watch portals to complement their headline auctions. Marketplace style platforms, like Chrono24 and Watchbox, have received millions in investment in recent years. High-end brands, including F.P. Journe and MB&F, are now actively selling their own pre-owned pieces online. Buying second-hand watches online has traditionally been a nerve-racking process – there are just so many ways it can go wrong. But with high stakes and razor-thin margins, it's in everyone's interests that things go well. One example of the process done right is Bob's Watches. We chatted to Founder and CEO Paul Altieri about his perspective on the rapid change in the sector. Mr Altieri thinks that the industry is reaching a digital tipping point, saying: "We're just now starting to see the Swiss watch brands begin to explore online sales … it's an interesting time. Many have long-term relationships with established retailers that make the challenge even more difficult – there will be winners and losers, so making the right decision is critical. The paradigm shift is already happening, and the brands' biggest challenge is to sell their watches online while preserving a relationship with their authorised dealers. These guys are manufacturers first, not retailers, so it's vital they get this correct."
Altieri's recipe for success has been honed since 2010, when Bob's Watches was relaunched as a dedicated online marketplace with transparency at its centre: "Our goal has always been to build a trustworthy brand that offered complete, open pricing, so folks could see the value of each watch model, whether buying or selling." Clearly, this formula works for Bob's Watches, with overwhelmingly positive customer experiences and 40 per cent sales growth in the last year. But, perhaps surprisingly for someone so entrenched in the online, Altieri still thinks physical retail has a place. "Yes, you can conveniently buy and sell watches on our site, but you can also see us in our showroom. This mix of physical and digital is becoming more popular. We're seeing big retailers like Nordstrom launch concept stores that hold no stock, but have stylists on hand for consultations and serve as a place to pick up your online orders. It's just a matter of time before manufacturers work out how to harness the powers of the internet in a way that ensures a win-win for them and their retailers."
It's a code that Omega has already cracked with two phenomenally successful limited editions, the Speedy Tuesday Speedmasters. The second edition of 2012 pieces, announced with no hype or fanfare on the second Tuesday in July, 2018, was gone in less than two hours, beating the already impressive record of just under four-and-a-half hours for the initial 2017 release.
Developed in collaboration with Robert-Jan Broer of Fratello Watches, who coined the #speedytuesday hashtag, the Speedy Tuesday watches are both savvy marketing and a brave new frontier for big box brands like Omega. Both were very fan-focused, smart interpretations of popular heritage models, sure-fire hits regardless of whether they were sold online or instore. Interestingly, though, this approach wasn't strictly an online sale, as the reserved watches were delivered to the Omega retailers, and the final transaction took place there. A perfect storm of digital hype translating into bricks and mortar sales.
What's it like to design a watch with Omega, featuring Fratello Watches' main man Robert-Jan Broer

What is Speedy Tuesday?
It started out as a feature on Fratello, covering an Omega Speedmaster every Tuesday. It soon turned into a hashtag.

Is it a popular one?
There's about 111,000 #speedytuesday Instagram posts, with another 1500 or so every week.

How did the hashtag turn into a watch?
In 2016 I had dinner with Omega President Raynald Aeschlimann and he asked about the tag. I bluntly asked him if we could work together for the 5th anniversary of Speedy Tuesday … he was enthusiastic about a watch right away.

What was it like making the first watch with Omega?
Really collaborative. We presented them a design and developed it together. It makes sense, this was 100 per cent aimed at collectors, and we're collectors ourselves, so we know what we like.

And people liked it?
In 2017 all 2,012 watches were reserved within 4.5 hours. With zero ads, zero marketing. That day was
nuts. The phone kept ringing, people were nuts.

How about the second?
All gone in one hour, 53 minutes and 17 seconds.

Do you think this is what the future of online watch sales looks like?
I don't know. I have imagined how it would be if there weren't retailers anymore, perhaps only a pick-up point, or mono- brand boutique. What Omega did here, where you order online and pick up at a retailer of your choice, that's a great model to work with for limited editions. But I think that doesn't work for luxury. You will always have people that need to hold a watch in their hands before they swipe their cards.
One of the major players making the biggest digital moves is Richemont SA – parent company of heavyweight luxury brands such as Cartier, IWC and Montblanc – which has been investing heavily in online sales avenues. Firstly, there's Mr Porter (part of the wholly Richemont-owned Yoox Net-A-Porter, YNAP, group) which has been rapidly expanding its portfolio of luxury watch brands, and the Luxury Watch Guide, described by Managing Director Toby Bateman as an important next step for their growth in the category, and "delivers an engaging platform for both novice and enthusiast watch customers". Mr Porter is a formidable force in the world of e-commerce, with sales and service that's hard to beat, and they're well placed to succeed in selling high-end watches online. Customer trust is key here too, as YNAP reports that two in three high-end watch and jewellery sales come from their most loyal customers, and that one in four sales use the services of personal shoppers. So, rather than trash the traditional intimate boutique experience, Mr Porter are translating this experience to an online setting.
While the Richemont group's main priority is, unsurprisingly, the sale of new watches, they're not neglecting the secondary market either – in June they announced that they were buying Watchfinder.co.uk, a UK-based pre-owned retailer with a very strong online presence and a fully fledged, in-house service centre. It's not yet clear how Richemont plans to integrate Watchfinder into its wider operations, but have no doubt, integrate it will.
Not everyone thinks the future of watch sales is so clear-cut. While David Chalmers sees a place online for limited releases, or those with a unique experiential angle, he is unconvinced that, outside of a very savvy and confident buyer, the Mr Porter approach will work. "I don't think this approach will be successful. My view is that there's no compelling consumer proposition to buy a standard production watch online. For someone who might buy a watch every 10 or 15 years, spending what might be their third biggest expense after a house and car, to do that without going into a store is hard."
There's no doubt that the internet is changing how watches are bought and sold. It's simultaneously making it more exclusive through extremely limited editions like the Siffert Autavia and Speedy Tuesday, but it's also making the process more democratic, allowing people to circumvent that often intimidating boutique experience in favour of shopping through secure portals from the comfort of their own home. What's clear, though, is that the digital will not replace the physical. Be that as it may there is a need for passionate communities of watch lovers to turn online friendships into physical ones, as well as somewhere to physically try on these precious objects. Of course, watches, and watch lovers, have existed for years, but until the digital age they've been isolated, separate from each other. Now, thanks to the omnipresence of social media and the digital world, we are, through a few taps, linked into a powerful global community, and empowered to communicate directly with the brands we love. We don't know where the world of watches is going in the coming years, but based on what's happening now, it's going to be an exciting ride.