Rediscovering the Rolex GMT-Master II "Pepsi"
James Robinson
Editor's note: Almost two years on from its release at 2018's Baselworld, Rolex's GMT-Master II 126710 BLRO or "Pepsi", as it's colloquially known across the globe, is still an incredibly desirable timepiece.
And it's pretty easy to understand why – 904L steel or "Oyster Steel" construction, Jubilee bracelet, bidirectional Cerachrom bezel, chronometer certification with an accuracy rating of +2/-2 seconds a day, waterproof to 100 metres, GMT complication – this watch has just got so much to offer.
A first of its kind, Rolex's Pepsi GMT is also steeped in an incredibly rich history, and dates back to the mid-1950s, when Rolex worked with Pan American Airways on creating a wristwatch Pan Am pilots could use to track two different time zones at once while flying intercontinentally.
So it's not hard to fathom why this fabled timepiece still commands such a high price tag in the secondhand watch market, very often achieving more than double its recommended retail price of $12,250 AUD.
Anyway, we were lucky enough to go hands-on with the watch late last year, and it's definitely worth the read.
HANDS-ON: The Rolex GMT-Master II Pepsi (ref. 126710 BLRO)
Anticipation was high for a GMT-Master II release at Basel 2018; however, almost everyone in the business of speculating was predicting a rival carbonated beverage with near certainty, since the Pepsi flavour was already representing the solid white gold variant of the Rolex traveller's watch. I can only imagine their surprise when the hall gates opened and the first eager show-goers laid their eyes on the all-new stainless steel GMT-Master II with a blue and red ceramic bezel and a Jubilee bracelet. Rolex does know how to have a good time, don't they?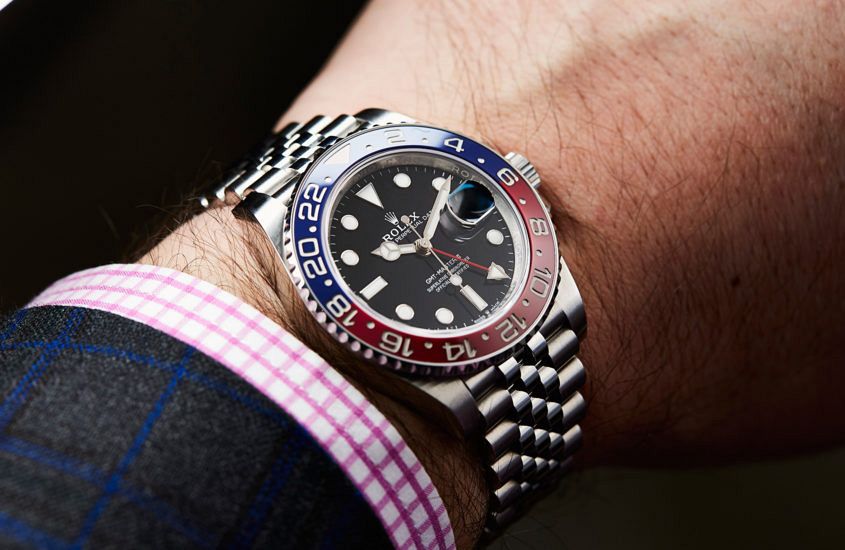 All new? How is it a game changer?
Yes. As far as Rolex updates go, this GMT-Master model is all new. Check out the reference number. It has been 13 years of the 1167xx version. This was the first Rolex to usher in the era of chunky cases, ceramic bezels and bracelets that felt super robust. Putting the cosmetics aside for now, it is important to talk about the very heart of this watch: a brand new movement. Years ago, a mentor of mine told me that a car without an engine is no longer a car, but a very nice-looking large flower pot. Well, this GMT-Master II has an engine, and what an engine it is.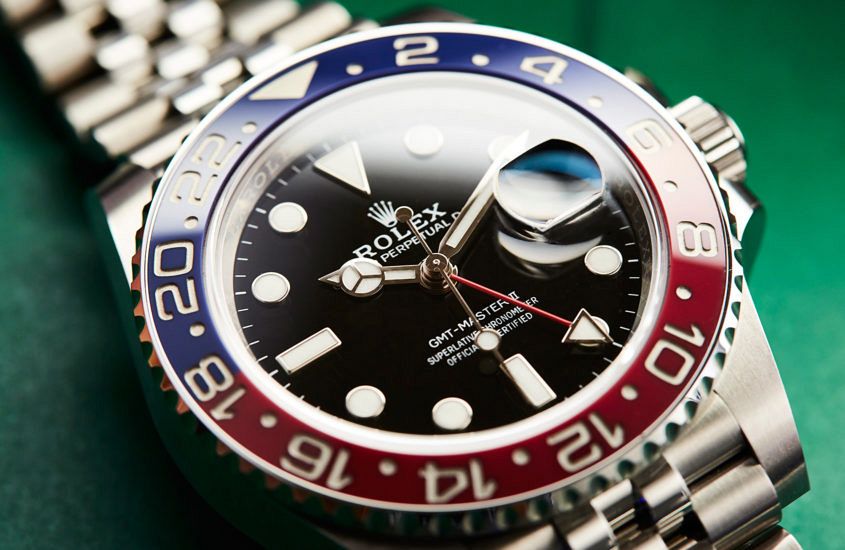 The 3285 movement will bring the GMT-Master hurtling towards its 65th anniversary with a 70-hour power reserve, an updated Chronergy escapement (which is 15 per cent more efficient) and all the other Rolex innovations from the past decade or so, like the Parachrom hairspring and, of course, chronometer certification. If you're not sure how great the 70-hour power reserve is, let me tell you, as someone who rotates between two and five different watches on a weekly basis, it is a blessing. Numerous times when coming back to the 126710, I was completely surprised to see that it didn't require winding after sitting for a couple of days. It will quickly become your "grab and go" watch for those rushed mornings.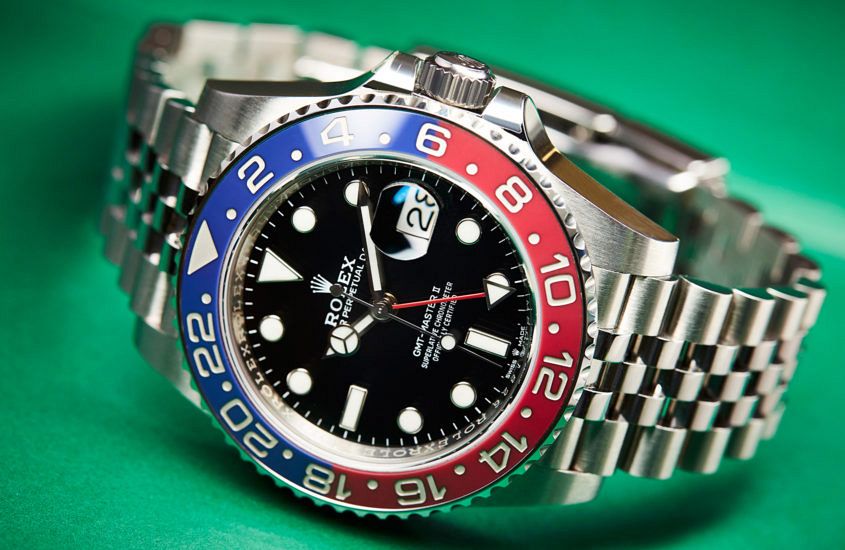 OK, so it has new insides. Tell us how it looks.
This GMT-Master II has a stunning wrist presence. I don't think I was fully prepared for how different it looks with the Jubilee bracelet. This is the first Rolex professional model of the six-digit reference era to wear the classic Jubilee design and it has been executed flawlessly. Fans of the industrial-look tool watch should search elsewhere (check out the Black Bay GMT or Explorer II), because the 126710BLRO is bright and flashy. It announces every bit of its Rolex-ness with lots of beautiful polished contrasts and light-reflecting surfaces to the point of actually being difficult to photograph.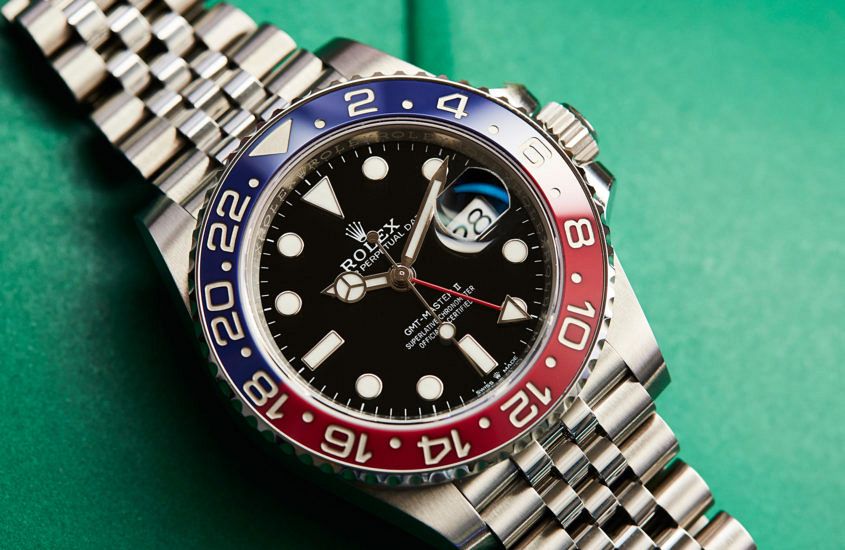 When I read the initial information that came out on the new GMT earlier this year, which stated that the case lugs had been slightly reduced in width, I was sceptical and wondered if it would be that much of a difference. It turns out the re-shaping of the case is noticeable after only a few hours on the wrist. Perhaps most enhanced is the roundness of the dial and bezel, which had previously played second fiddle to the muscular squared-off lugs in the 116710. Now, the face of the watch is the primary focus point and makes it an entirely new experience. The 126710 is much more balanced and well-proportioned in profile while still maintaining its contemporary heft.
Grab a Pepsi and stay awhile …
I think it would be very cool to take this new GMT-Master II back in time to the late 1950s and show it to Pan American pilots who were just getting used to using their 6542 models with blue and red bezels (then made of relatively fragile Bakelite and later aluminium) and GMT hand to reference different times zones while flying internationally. They would find it hard to believe that the ceramic bezel and sapphire crystal of the new GMT are virtually scratchproof. The pilots would also appreciate the larger non-radioactive luminous indexes on the dial. One thing they might ask would be why the red and blue bezel colours have now become more subdued. The "daytime" red side is as dark red as you can get without risking burgundy. The "night-time" blue side is also inky dark blue and can look slightly purple as your eyes draw toward the meeting point with the red side.
These colour choices conspire to create a watch bezel that is one of the more restrained aspects of the new GMT in anything other than direct daylight. For a brighter colour-pop, go with the black and blue BLNR variant. The BLRO plays the elegance card as hard as it can with these two primary colours. If you do get it in the sun, however, be prepared for the blue and red to put on a dazzling show. It is also important to note that the process of making a one-piece but two-colour ceramic bezel is an extreme feat of engineering on the part of Rolex, and could also be a contributing factor to the tones being what they are.
Jubilee bracelets are for old Datejusts, right?
Up until the early 1990s you could specify a Jubilee bracelet with your GMT-Master, which meant that this style of bracelet is no stranger to multiple time zone action. Speaking of action, one of my favourite models, the 16700, was worn in a gold and steel variation with a Jubilee bracelet by Clint Eastwood, portraying a US Secret Service agent in the 1993 thriller In the Line of Fire. It could be my only argument that if it's cool enough for Clint, then it's cool enough for the rest of us, but I won't stop there.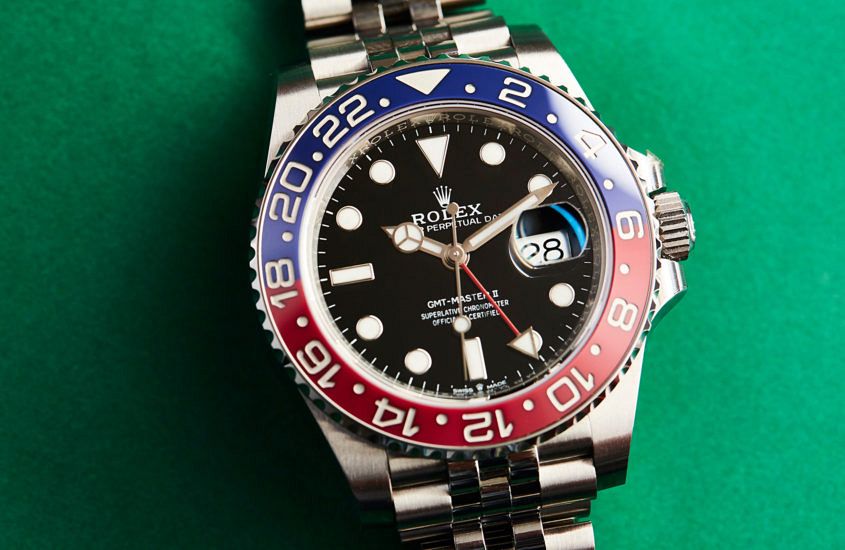 Rolex re-engineered the Jubilee bracelet for the revamped Datejust 41 model a few years ago. A long-time comfort and luxury oriented option, the Jubilee now had more built-in solidity and strength, therefore making it worthy once again of a professional application. For the 126710, the bracelet features brushed outer links with highly polished centre links, which create a very premium-looking two-tone effect. Adding to the comfort and security of this bracelet is the flip-lock clasp as seen on previous GMT and Submariner models. It operates with the bank vault confidence you would expect and integrates the extendable Easylink bracelet extension for those hot and humid days. All said, the Jubilee integrates very well with the GMT concept.
So you like it then?
It is difficult to find anything I would change about the new GMT-Master II. Perhaps a slightly brighter blue and red colour splash (if possible) and maybe an easily swappable brushed Oyster bracelet option for the days when you want to fly a bit more under the radar. I'm nitpicking here of course. From a value standpoint, make sure you look at a few options. The GMT-Master II in this form is more than double the price of a Tudor Black Bay GMT and many would argue that it isn't double the watch (same 70-hour power reserve!). With modern and vintage Rolex re-sale prices trending into some absurd territory, though, I doubt purchasing the BLRO would ever trigger buyer's remorse.
The Rolex GMT-Master has a 10-year longer pedigree than the revered Porsche 911, and Rolex protects that legacy fiercely with only the most subtle and beautiful enhancements. The new 126710 BLRO proudly takes its place as one of the best modern incarnations of the quintessential traveller's timepiece. The Pan Am pilots would wear it proudly.
Rolex GMT-Master II Pepsi (ref. 126710 BLRO) Australian pricing
Rolex GMT-Master II Pepsi (ref. 126710 BLRO), $12,250