MICRO MONDAYS: The Keris from Keaton Time Co. is a futuristic diver with a hypnotic dial
Thor Svaboe
Keaton Time Co. is another new brand from Singapore, that's fast becoming a veritable hotbed of horological innovation with the likes of Zelos and BOLDR already making waves. Keaton's debut watch Keris is unlike anything I've seen in a long time. You can forget about slim vintage, forget about creamy lume, hell, forget about the 3 o'clock crown! The latter is cheekily placed at 12 o'clock, and on the Keris, takes on the look of an all-seeing guard tower on a chiselled steel fortress.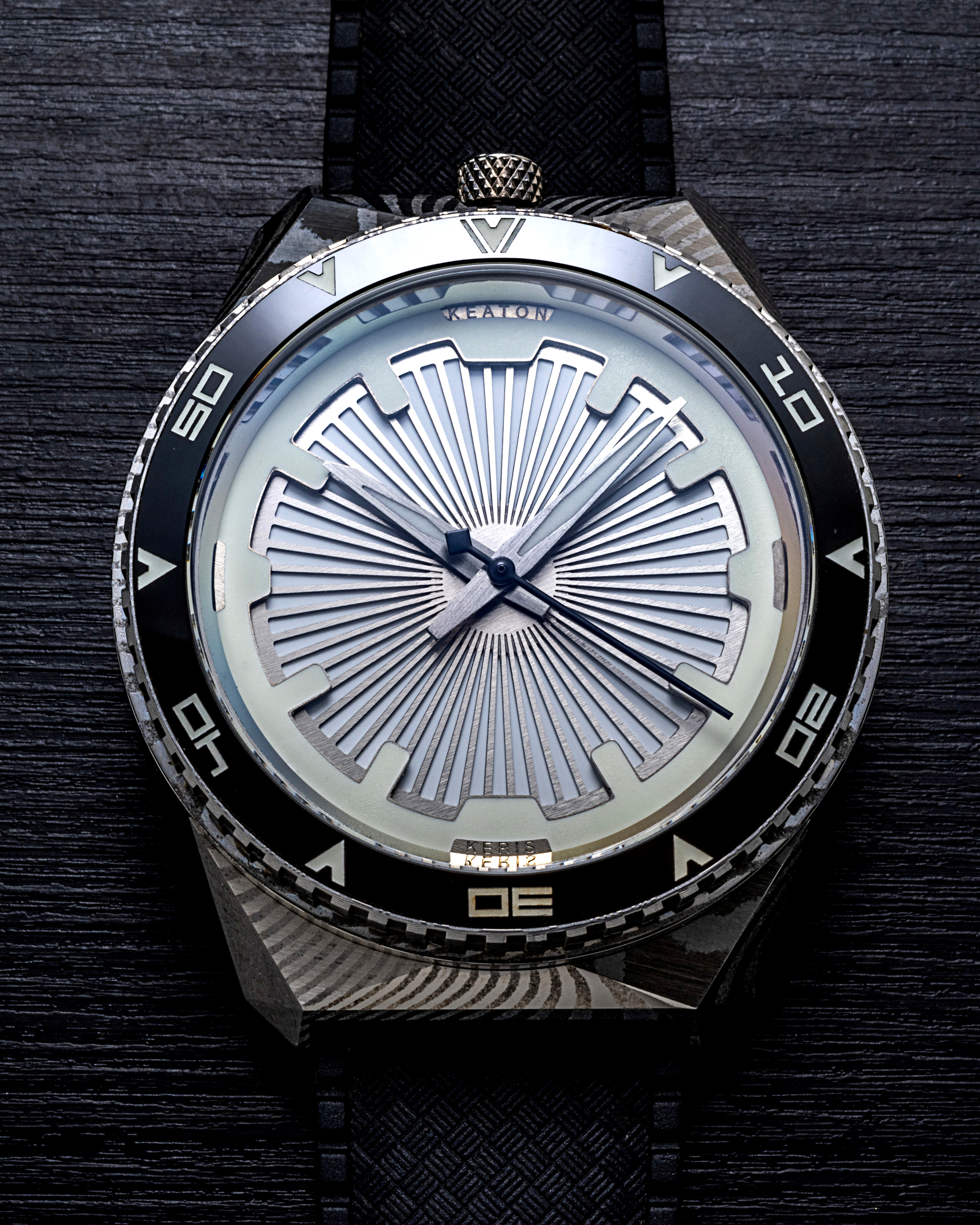 The case body is vaguely reminiscent of the delectably angled facets of the Orlinski pieces from Hublot, yet feels very different.  The tough, compact case is a comfortable-sized 41mm, serving as a base for a wild choice of dials, and it doesn't end there. The razor-sharp numerals on the diver's bezel strike a fierce note of futurism, with the rehaut on the minimalist dial resembling the control wheel of some sort of fusion reactor, indices jutting out from its floating frame. Beneath a discreet logo at 12 lurks a choice of dials that would give a Bauhaus minimalist a heart attack.
The blunt, tough case itself with its 48mm, short-lugged comfort comes in steel, titanium, or the very tempting wood-like grain of Damascus steel. This is a costly material that's hard to work with – it's folded and milled in a way comparable to the ancient art of folding and forging sword blades. If you think this is a lot to take in for a diver's watch, then the dials will blow you away.
Variations include a sharp, full lume sun-ray pattern from Singapore supplier Chrono.AMR, celestial patterns in grey or vivid blue, plus another option providing the warmth of aged mahogany. All the Keris variants are limited to a mere 30 pieces each, and are both designed and assembled in Singapore. The inspiration behind the watch is the local dagger used in the Malay archipelago called the Keris that's used for both practical and ceremonial purposes.
So, what at first sight might seem a future-proof diver's watch with a great medium-sized case, opens up like a veritable Pandora's box of exquisite materials and design integrity. If you feel the market has reached Peak Vintage, the Keris comes in as a a well-timed attempt to blow any 1960s skin diver clean out of the water, using its material innovation as a loaded depth charge.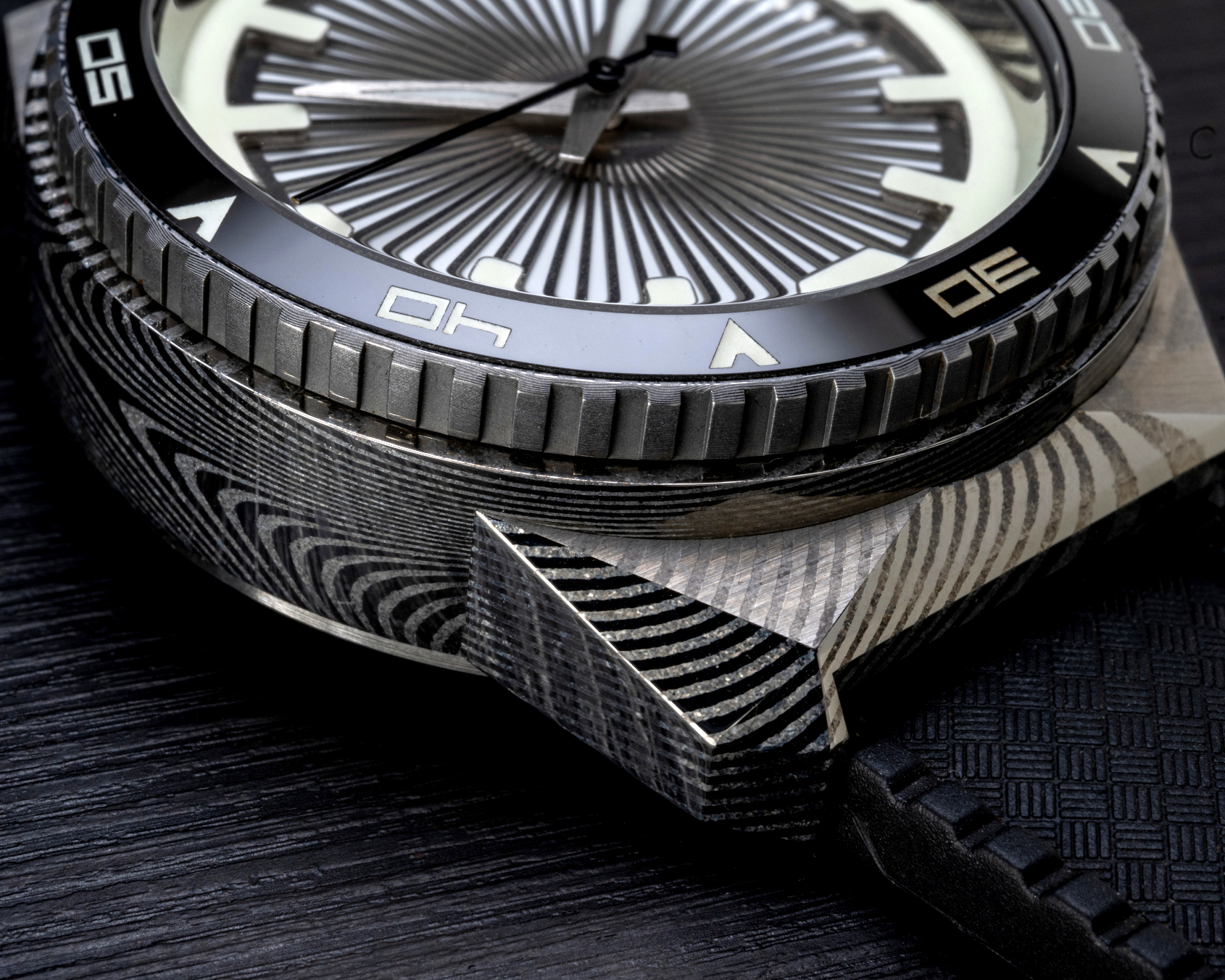 When you've re-hinged your jaw and feel bold enough to check out their Kickstarter page, you would half expect the movement to be powered by enriched Kryptonite, but within beats a rock-solid Miyota movement in the tried and tested 90S5. This is a no nonsense 28,800 automatic with a 42-hour power reserve, that I know well enough to approve as being objectively ETA-close in accuracy, and more than up for the job of a tool watch.  Would I dive with the glowing Keris on its comfy waffle-rubber strap? Personally, I'd be more likely to expect a spaceship from Galaxy xa45376 to beam me out of the water for stealing their alien tool watch.
The Keaton Time Co. Keris, price and availability:
The Keaton Time Co. debut model Keris is launchin on Kickstarter with prices starting at $350USD. For more details and updates, visit Keaton Time Co right here.
UPDATE 29.June: The Keaton Kickstarter campaign is now live here
Editor's Note:  Unfortunately we have received reports from Time+Tide readers that Keaton Time Co. has failed to send watches paid for via it's Kickstarter campaign.