MICRO MONDAYS: Go green with the About Vintage x Kristian Haagen 1970 GMT
Zach Blass
How many times have you ever turned to a buddy and said: "We should start our own watch brand". Picture this: two childhood friends on vacation, Coronas in hand, watching a sunset over the ocean in Mexico. For the two founders of About Vintage it was a moment of creative zen. With a passion for watches, entrepreneurialism, and an itch to fuse the two together, Sebastian Skov Regeser and Thomas Gyvelgaard Andersen decided then and there they would start their very own Danish watch brand – bringing quality Swiss-made watches to a global audience. For one of their latest projects, they decided to team up with none other than notable #watchfam figure and industry powerhouse Kristian Haagen to design and present the About Vintage x Kristian Haagen 1970 GMT Automatic Limited Edition of 250 pieces.
For those who are less familiar, Haagen is the co-founder of Dailywatch, founder of the monthly watch magazine Timegeeks, watch specialist at Vogue Scandinavia, an author of eight books on watches, and a consultant to some of the world's leading watch companies. With such a respected background in the industry, and deep roots in watch collecting and enthusiasm, Kristian Haagen's keen eye for design brings an extra dimension to About Vintage's latest project.
Kristian Haagen explains: "As a frequent flyer and hence travelling in different timezones, a watch with a GMT was the way to go when designing a timepiece for About Vintage. As a fan of especially vintage watches and the way they patinate with time, I went for earthy tones for the turning bezels. Using an automatic Swiss movement was not a desire. It was a demand."
While the aesthetic was formulated with vintage cues in mind, the stainless-steel case of the watch meets modern yet classic and manageable dimensions with a diameter of 40mm, slender 11mm thickness, and desirable lug-to-lug measurement of 47.5mm. In my opinion these are Goldilocks dimensions that cater to large spectrum of wrist sizes, making the About Vintage x Kristian Haagen 1970 GMT Automatic Limited Edition a very wrist-approachable option for he/she/they buyers. The 316L stainless steel case is brushed on its top facing elements with polished cased flanks to provide the added elegance and flair of mixed finishes. You will also be glad to know the robust GMT watch is 100 metres water-resistant, making it furthermore a great option for a daily wearer. A fun quick note, About Vintage offers free personal engraving – allowing buyers to further personalize their watch.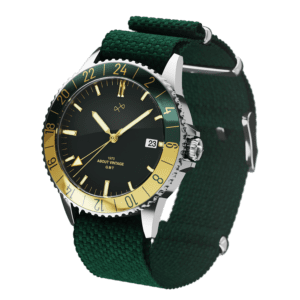 The sapphire crystal protected matte dark green dial is framed by an aluminum 24 hour GMT bezel, with a gold on dark green half to represent nighttime and dark green on gold half to convey the morning and afternoon hours leading up to the evening. The numeral font evokes vintage GMT bezels, a small yet crucial detail in making this modern meets classic design really come alive. While Haagen is far more poetic in his description invoking earthy tones, naturally my American mind wanders to soda. To put it cheekily, this may be the "Sprite" GMT many have asked for – a refreshing entry into what has become the year of green. The bezel aesthetic translates over to the dial as well, with gold-toned hands, hour indices, minute hashes, and dial text gracing the dark green backdrop. Each of the hour indices (aside from 12′), the hours and minutes hands, as well as the orange-arrowed GMT hand are filled with luminous material for added visibility in darkness as well.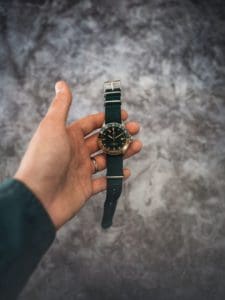 Continuing the green of the dial and bezel, Haagen and About Vintage tie the look together with a dark green honeycomb NATO. It is casual and colourful, making the watch really pop on the wrist. If a bracelet is more your fancy, as part of an early-bird promotion those who sign-up pre-release for notification will have the opportunity to secure a free five-link bracelet and mesh bracelet.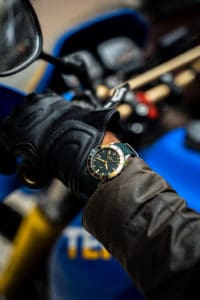 Inside the About Vintage x Kristian Haagen 1970 GMT Automatic Limited Edition is the tried and true Sellita SW330 GMT automatic movement with 42 hours of power reserve. The caliber also powers the calendar complication you find at 3′ on dial, the black on white disc peering out through the aperture. It's an easy to use and reliable movement that is always phenomenal to see utilized at this price point.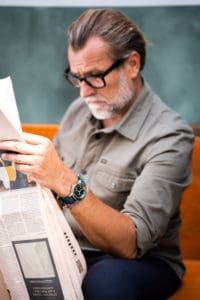 I know the title of this article may seem like a pun referencing the aesthetic of the watch, but it is actually more than that. Environmentally conscious buyers will be proud to know that, with each watch purchase, About Vintage will offset the CO2 emissions that resulted in fabricating the timepiece with their "The Green Path" initiative. As they explain:
‣ We fund UN-verified green projects
‣ We help The Ocean Cleanup in removing plastic from the ocean
‣ We donate and support DHL in their mission to reach zero emissions by 2050
‣ We partner with CHOOOSE and hereby turn all our employees' footprints carbon neutral
‣ We offset all orders to be carbon neutral by funding UN-verified climate friendly projects
‣ We always strive to improve and develop new products & production methods to lower our carbon footprint
About Vintage explains: "Some day we'll become a brand that leaves absolutely no carbon footprint. While we work towards this, we'll help other climate initiatives along the way. For every order, we offset our entire CO2 emissions by funding UN-verified climate projects."
About Vintage x Kristian Haagen 1970 GMT Automatic Limited Edition pricing & availability:
[su_vimeo url="https://vimeo.com/569856792″]
The About Vintage x Kristian Haagen 1970 GMT Automatic Limited Edition of 250 pieces will launch September 5th at 12:00 PM CEST, and you can access the sign-up page here. Be sure to sign-up in order to get access to the early bird promotions, including a free five link bracelet and mesh bracelet to supplement the green honeycomb NATO (valued at $158 USD). Price: $999 USD