Right now, the dive watch market is more saturated than a saturation diver's wetsuit. If you want a fit-for-purpose timepiece made to withstand the pressures and perils of H20, you are most definitely spoilt for choice. Of course, it's understandable why watches that aren't going to completely capitulate when coming into contact with water are so popular – it's a very desirable feature. But it can be daunting trying to separate the good from the bad and, more importantly, trying to understand the gulf between the inexpensive and the very expensive.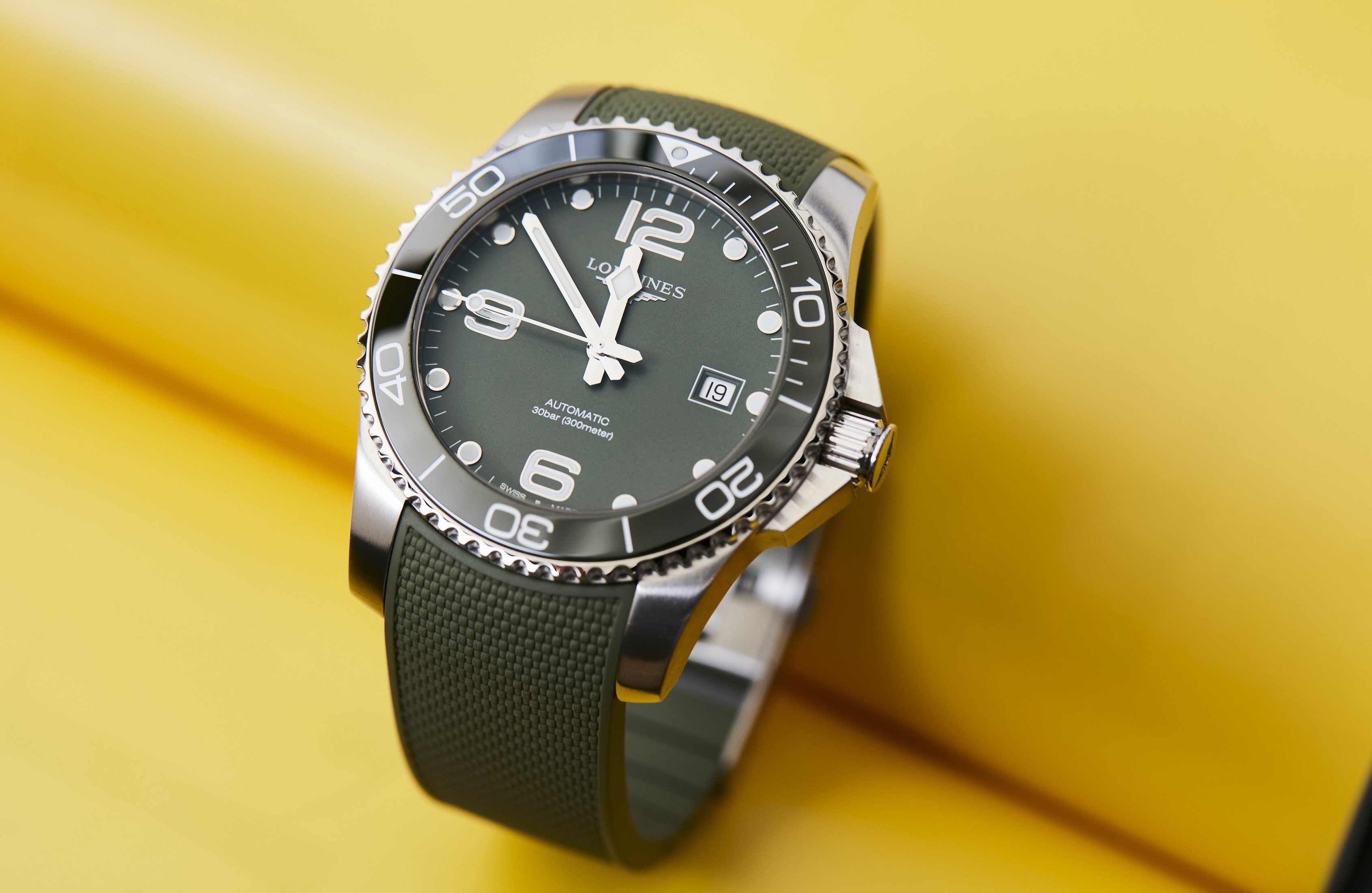 That last point is something that I think about a lot. And matters haven't exactly been simplified since I started wearing this new Longines HydroConquest in Khaki Green. In fact, this watch has well and truly muddied the waters. Here is a timepiece with no less than 300 metres of water resistance, a self-winding movement, ceramic bezel, solid build quality, arresting presentation and it comes from one of the oldest and best watchmakers in the game … and it costs $2325 AUD.
Normally with these types of stories, we like to bury the lead somewhat, keeping readers in suspense until the very end. But, in the case of this review, I'm calling it right now – this is one of the best watches you can buy for the money, and here's why.
The case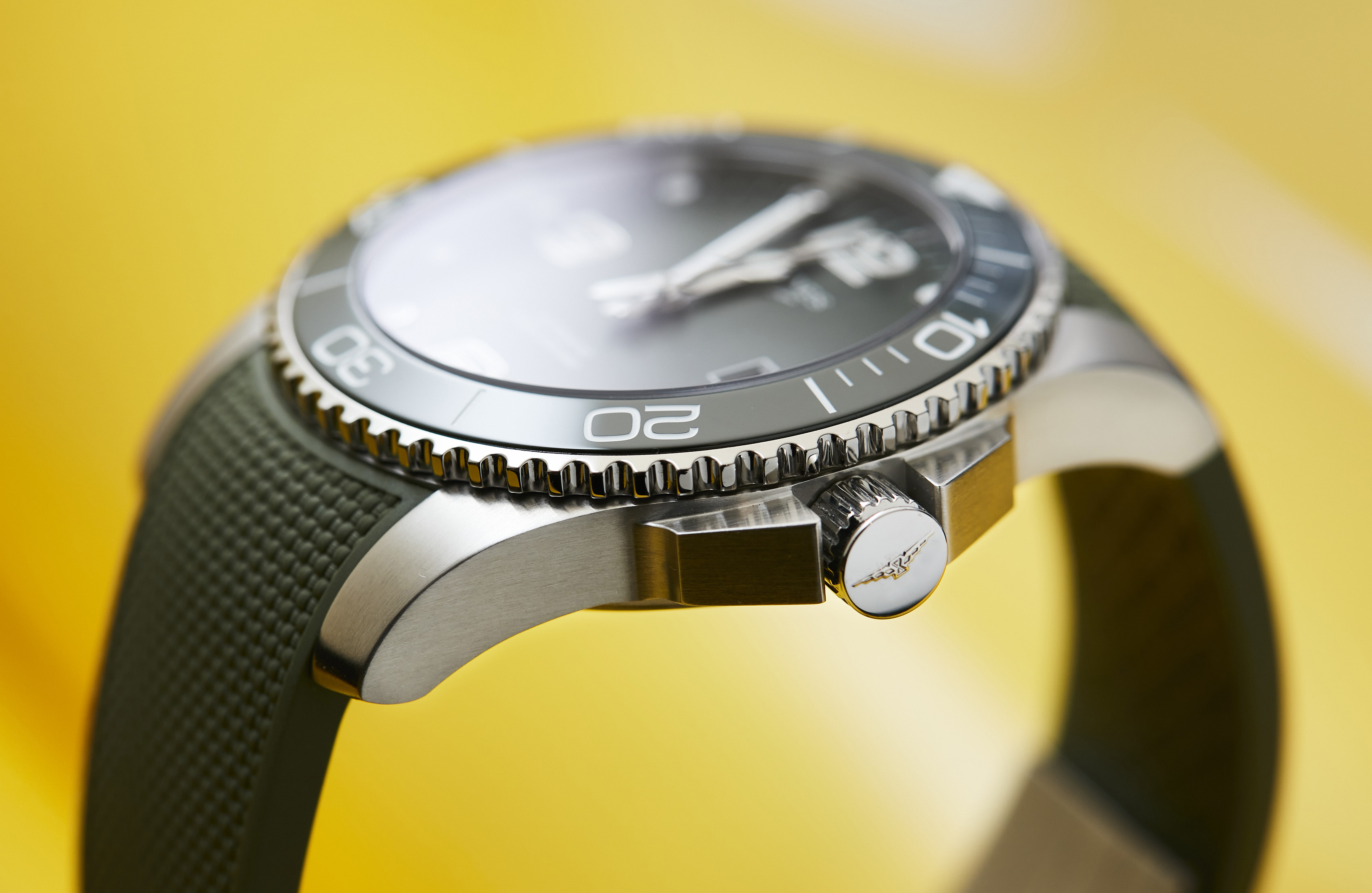 Hewn from 316L stainless steel, the classically styled case measures in at a very adaptable 41mm across and 12mm thick, meaning that it's going to look good on just about anyone's wrist who isn't a) Lou Ferrigno or b) a toddler. Then there's the case's finishing, which is vertically brushed everywhere. This suits the character of the watch no end – it's a tool watch, first and foremost, and it looks the part. In fact, the only area of the case that has even the remotest amount of bling is the crown, which is both knurled and polished, and adorned with the Longines motif. Speaking of the crown, it is of course a screw-down item, and between it, the screw-down caseback and a cleverly designed case, the aforementioned water resistance is more than believable. Sitting atop the robust case is a flat piece of sapphire crystal, which has been treated with several layers of anti-reflective coating. Rest assured, this coating really works. In fact, in combination with the dial, this might be one of the most legible watches we've seen in recent memory.
The dial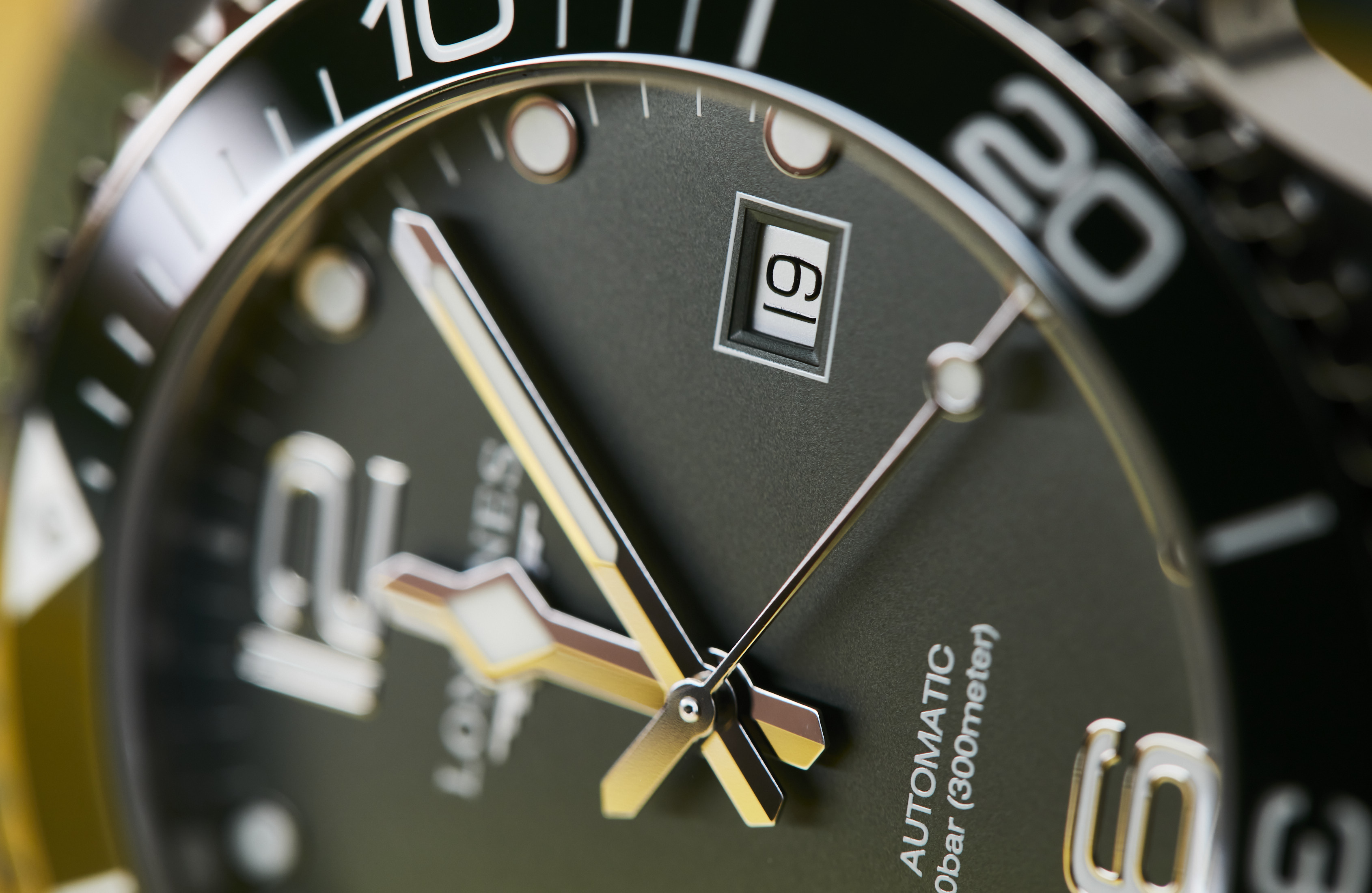 Staying with the dial for a moment: my goodness, it is a looker. The khaki green is perfectly judged, and I love that it's matt finished – it's just so flat and even, and it contributes much to the overarching utilitarian feel of the timepiece. The Arabic numerals, hour indices and handset are all highly polished steel, and filled with extra bright blue Super-LumiNova. The simplistic, open minute track is painted in a sheer white, which provides great contrast against the green dial and is very, very legible. Complementing the white tones around the dial is the small and unassuming date aperture, which depicts a white date wheel with black numerals. What Longines has been able to accomplish with this dial cannot be understated. It is wonderfully obvious that the design team behind this watch is passionate about what they do – every part of the dial amounts to a beautifully cohesive and attractive finished product. Me likey.
The bezel
Another big boon for this HydroConquest is its unidirectional rotating bezel. It's ceramic, and it doesn't feel cheap. In fact, the quality and evenness of the ceramic is such that it truly belies its relatively low price point. And the colour of the highly scratch-resistant material is gorgeous and so akin to British Racing Green that you'd swear Longines ripped it straight off the bumper of a C-Type Jag. Interacting with said bezel is also deeply satisfying, with the ratcheting providing smooth, discernible clicks with zero play. The 60 individual teeth around the edge of the bezel also mean that there's great tactility both in and out of the water. It's worth mentioning that the bezels on these watches are an area where Longines has managed to massage greatness out of something that wasn't brilliant to begin with. Early HydroConquests, like mine, had an aluminium insert with a completely different design and, needless to say, it wasn't nearly as good as the one found on this latest iteration.
The movement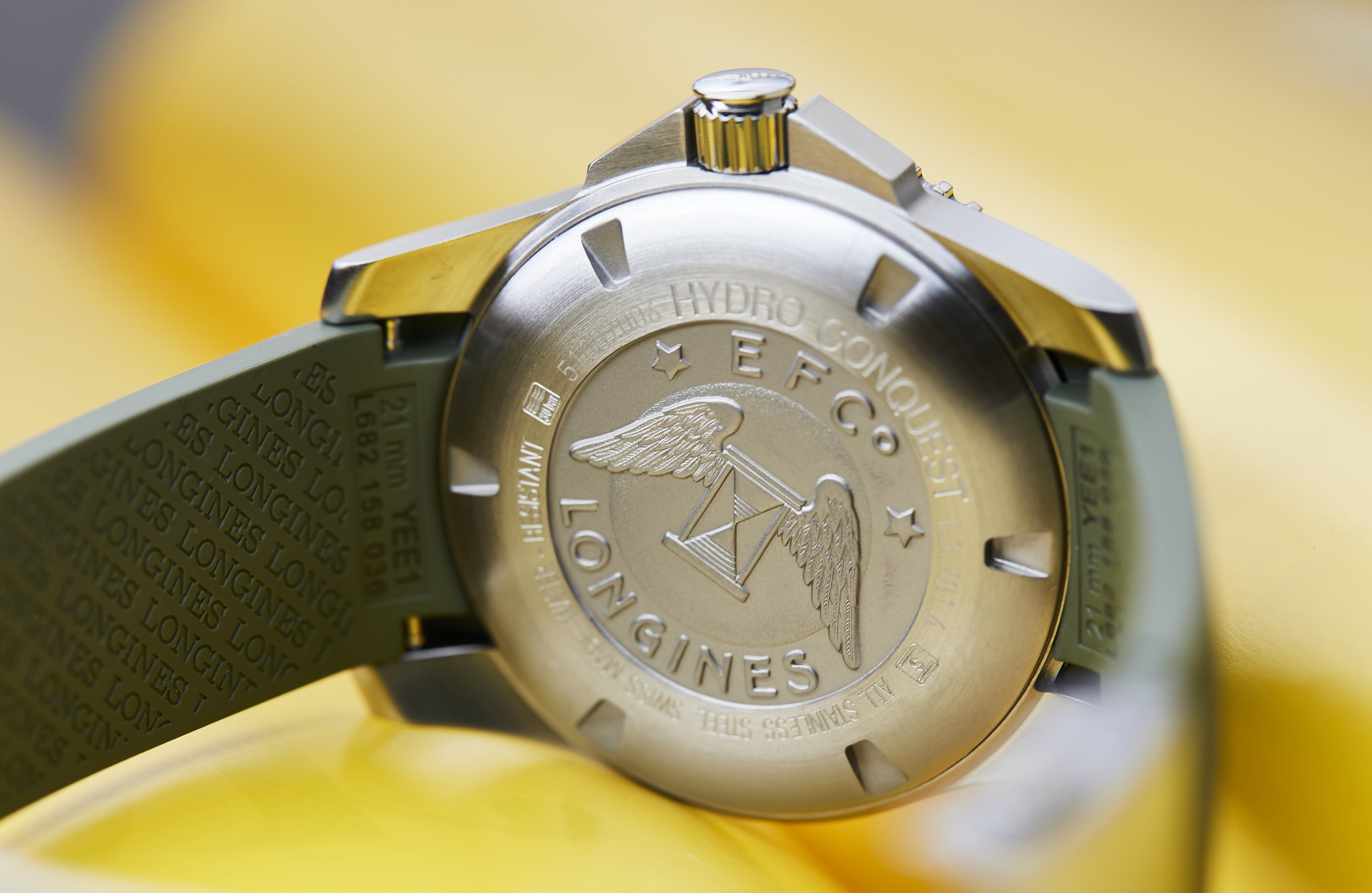 This philosophy of improving characteristics of the HydroConquest over time has also been applied to the steely dive watch's movement. Gone is the ETA 2824-2 of old Hydros, and in its place we have Longines' excellent Calibre 888. This robust movement, which can trace its roots all the way back to the ETA 2892, has a lot going for it, with features including self-winding and circa 65 hours of power reserve. Another notable accolade of the movement is that, anecdotally, in the week-and-a-bit that I've been wearing this watch, it has kept well within a chronometer certified -4/+6 seconds a day … even though it's not COSC. That's very impressive performance, once you take into account the RRP.
The bracelet/strap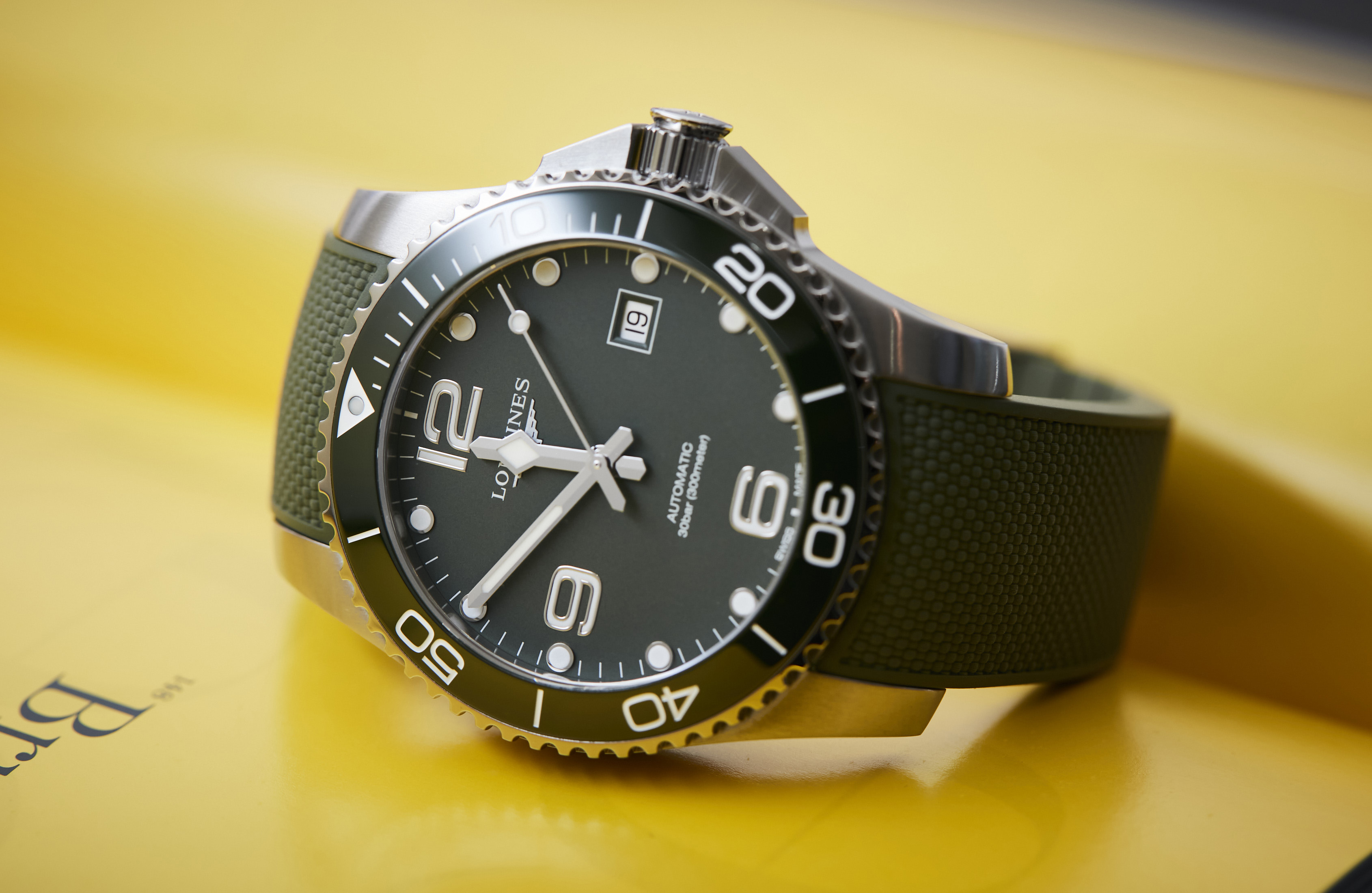 Longines is making this Khaki Green HydroConquest available with either a stainless steel bracelet or complementing Khaki Green rubber strap with steel deployant clasp. The watch I have been wearing has been fitted with the latter, and of the two options, it's the one you should go for. It's a perfect colour match for the matt Khaki Green dial, so continuity is seamless and, on the wrist, it looks and feels like a quality item, with a crisscrossed pattern on the outside masquerading as fabric, and a "Longines" decoration stamped on the inside. Likewise, the steel deployant clasp attached to the rubber strap does not feel like Longines have scrimped on quality. On the contrary, it feels solid, and easy to interact with, with the clasp providing crisp, reassuring clicks as you close it over your wrist.
Both the brush work and stamped "Longines" lettering on the steel fastener are also big positives, which once again elevate the feeling of quality. Good as the deployant clasp is, though, it isn't perfect – there are a few criticisms I should mention. Firstly, it doesn't provide enough micro adjustment, which can be a bit of a pain considering you've got to cut the rubber strap to adjust the size in the first place. Secondly, and more importantly, it's got some sharp edges to it, especially when opened, so you have to be careful sliding the strap over your wrist.
On the wrist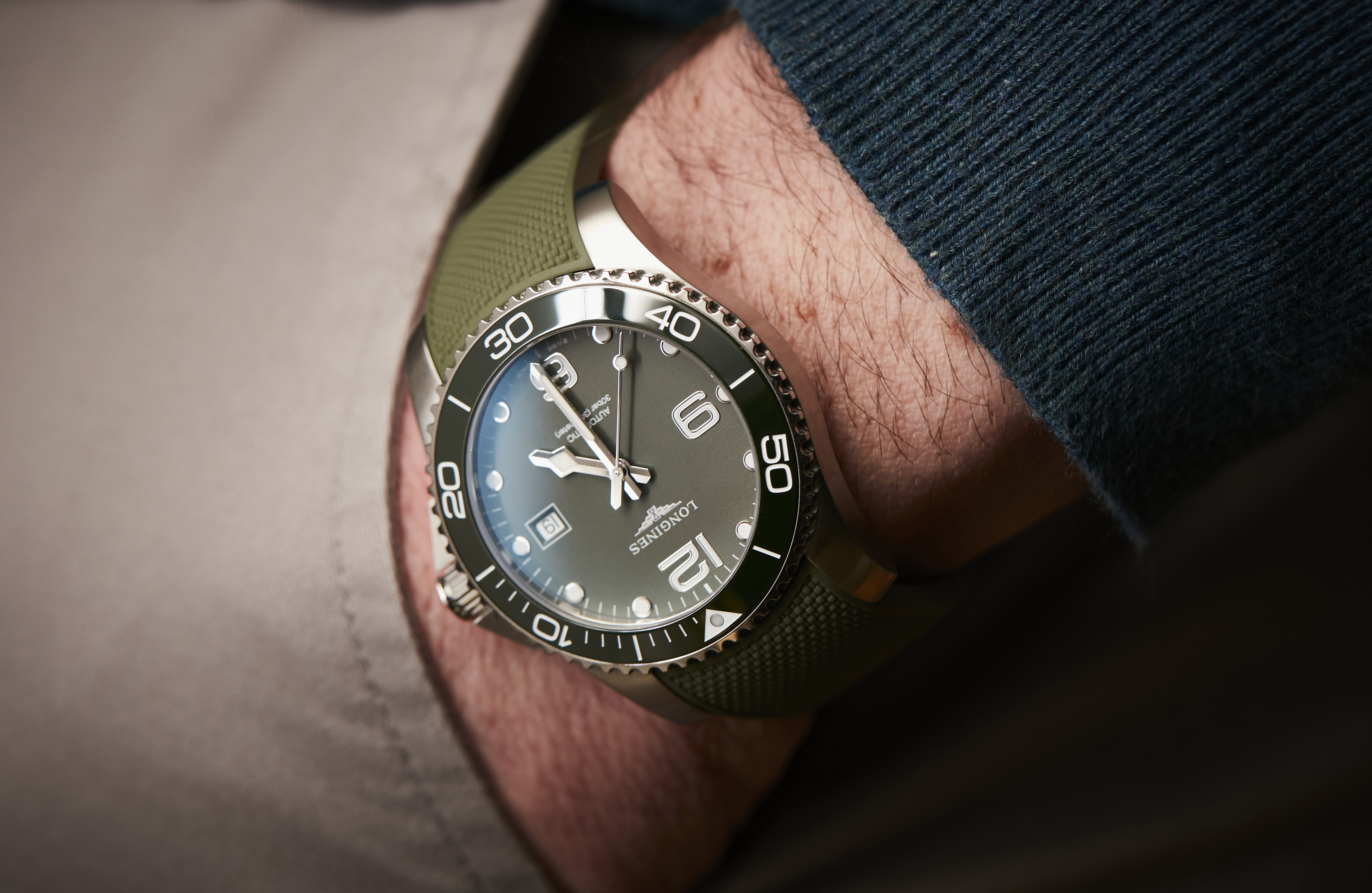 Want to know how I know this HydroConquest is such a triumph? In the week or so that I wore it, I had family, friends and quite literally random people on the street stop me and tell me how good this watch looks. More surprising still is that since wearing it, a family member and three close friends have bought one. So, yes, on the wrist this watch punches well above its weight class, and it garners A LOT of attention. That's not because it's too shouty or ostentatious – it's just a very, very good-looking timepiece. That isn't, however, its only significant attribute. There are myriad reasons to buy this watch: it's comfortable, robust, accurate, handsome and, in anything less than formal settings, highly versatile.
The verdict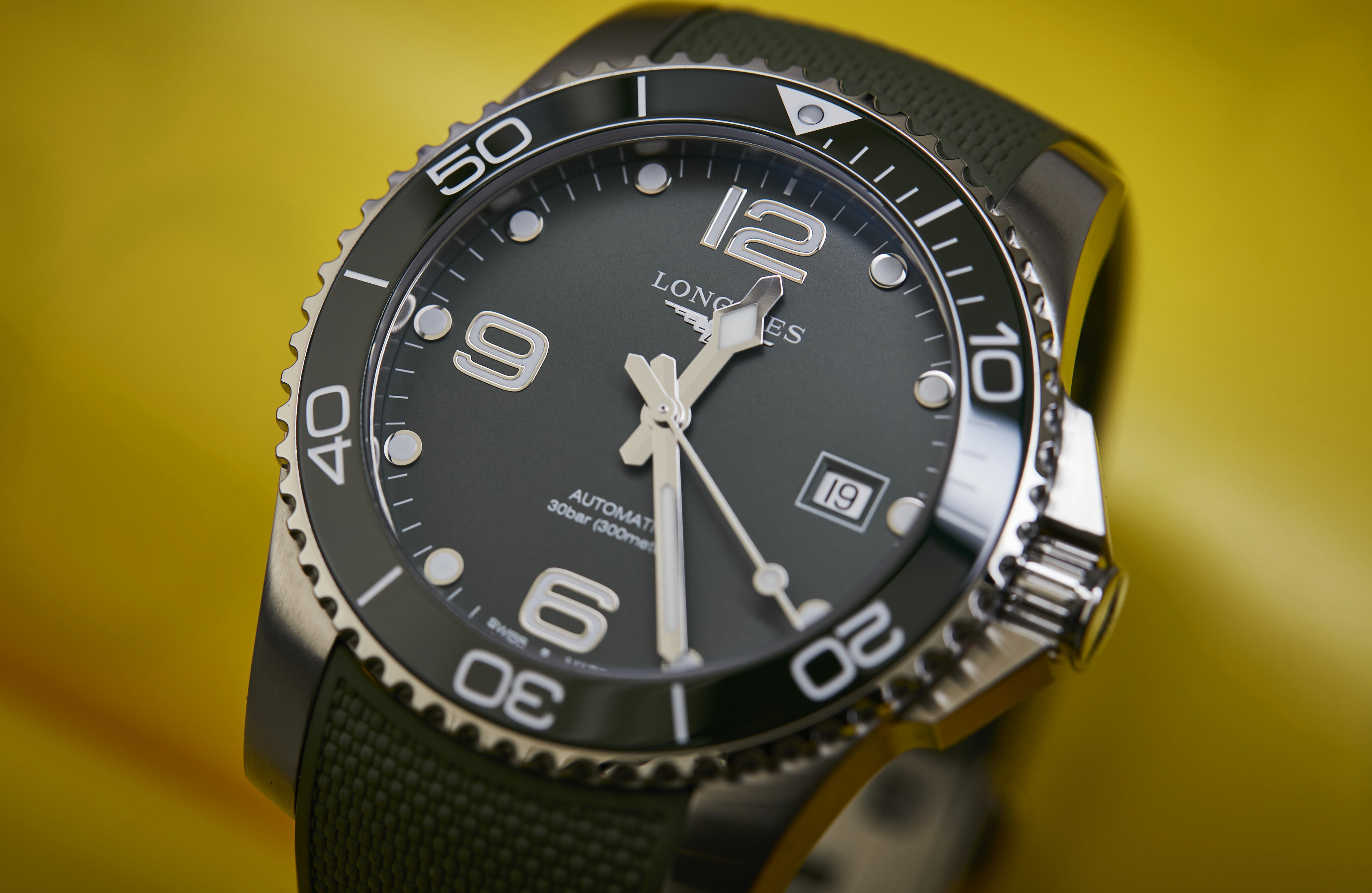 As you can probably tell, my time with this HydroConquest has left me completely enamoured. Longines have, for quite some time now, been THE value proposition in Swiss watchmaking – no one, and I mean no one, can offer more for less. It's not just this watch either; all of their recent releases, whether it be the gorgeous sector-dialled Heritage Classic, Heritage Classic Chronograph 1946 or Master Moonphase, represent some of the ultimate bang for buck out there. So, with all this said, I should also confess that as a result of this IN-DEPTH review, and much to my bank account's dismay, I've gone and bought one — it's that good.
Who's it for?
For people whose favourite colour is green, or absolutely anyone who's after a quality dive watch for a very reasonable price.
What would we change?
Good as it is, there are a few changes I'd like to see Longines make to the HydroConquest range in the future. The overtly angular crown guards, for example, either need to go completely or, at the very least, be redesigned – they don't completely suit the archetypal styling of the rest of the watch. I'd also love to see this watch made available in a 39mm variant for all us lissom-wristed folks out there, as the 41mm can be, for some, a touch too big.
Longines HydroConquest 41mm in Khaki Green pricing and availability:
The Longines HydroConquest 41mm in Khaki Green is $2325 AUD and is available for purchase either online, or at your nearest authorised dealer.