Right now, there's an internal Time+Tide email thread going around with the subject line Westworld. It's a series of communications chronicling our obsession with HBO's latest retro-futurist hit, mostly consisting of questions (and this awesome mash-up). What is the maze? Why is there a burnt church in desert? Why isn't Evan Rachel Wood in each and every shot? What sort of visitor would you be? When is Tony Hopkins going to crack open a can of fava beans and go full Hannibal?
Of course, the major speculative drift of our correspondence is about… drumroll… watches. You see, one of the major joys we get from TV is spotting watches on wrists. And, much like the hosts after one too many reveries, it's a joy that's been taken away from us in Westworld. But that hasn't stopped us. Lately we've been pondering what we'd use to tell the time if we were visitors to the park – much safer than dealing with the morality of the whole thing. Our first instinct was to go with wristwatches from famous American makers – Ball and Hamilton for example – though we quickly vetoed this as wristwatches would be too obvious a tell. We also dismissed using actual, period-correct, pocket watches because, well, they're no fun.
In the end, we settled on five sci-fi-fantastic pocket watches perfect for a robotic wonderland – and we've paired each one with the type of guest who would wear it.
Urwerk UR-1001 Zeit Device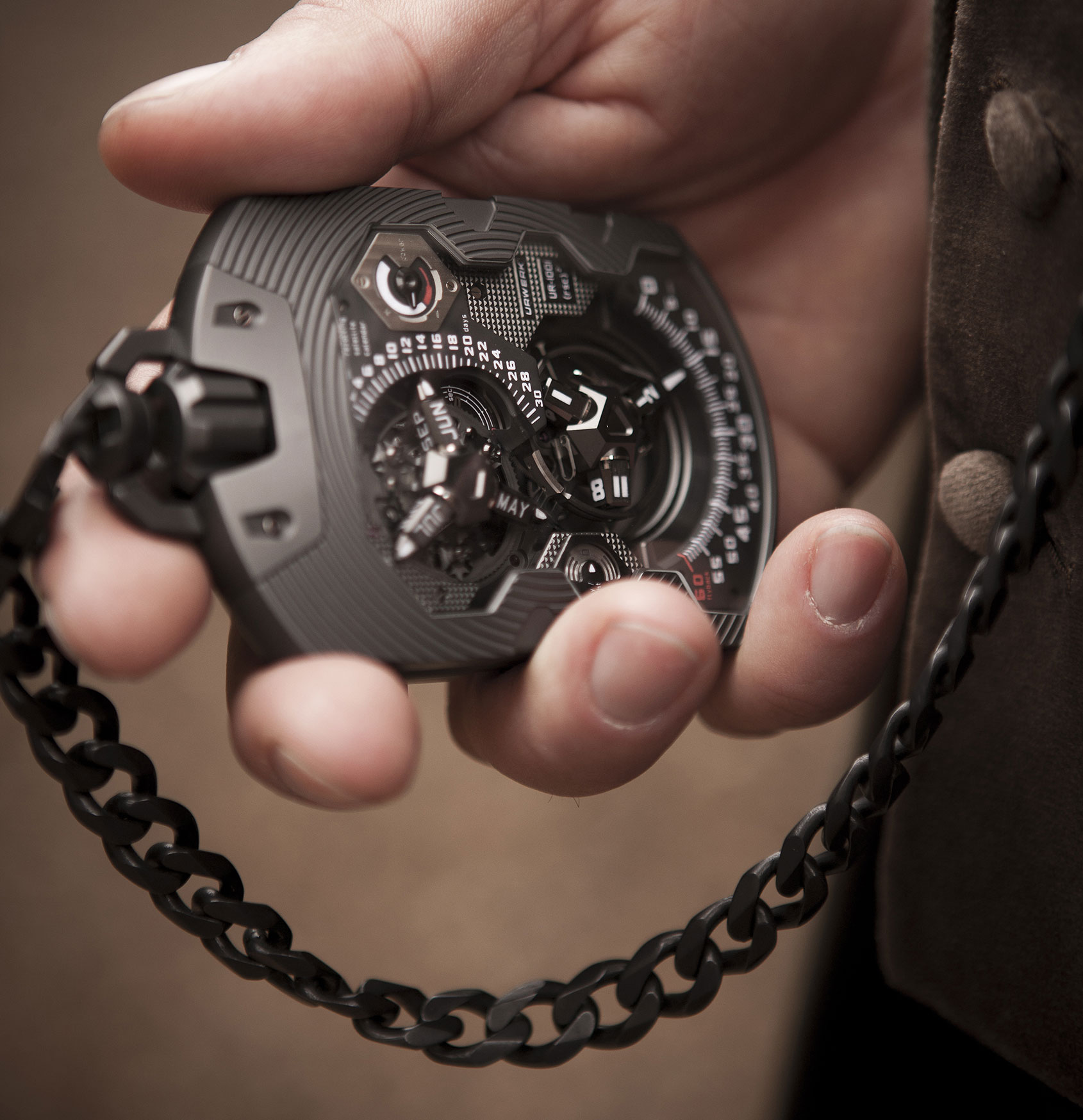 By far the most out-there pocket watch on this list is Urwerk's 106mm long UR-1001 Zeit Device. Not only does this amazing, oversized contraption tell the time using Urwerk's signature satellite system, it also lets you know when it needs a service and how long it's been running, among other things. The fact it looks like you could use it to call in an airstrike is just the cherry on the top.
Who would wear it? The Urwerk is a perfect choice for someone who can never fully immerse themselves in Westworld, no matter how lifelike the robots may be. The Zeit Device, with its alien lines and monumental scale, is a reminder that nothing is as it seems.
Roger Dubuis Excalibur Spider Pocket Watch Time Instrument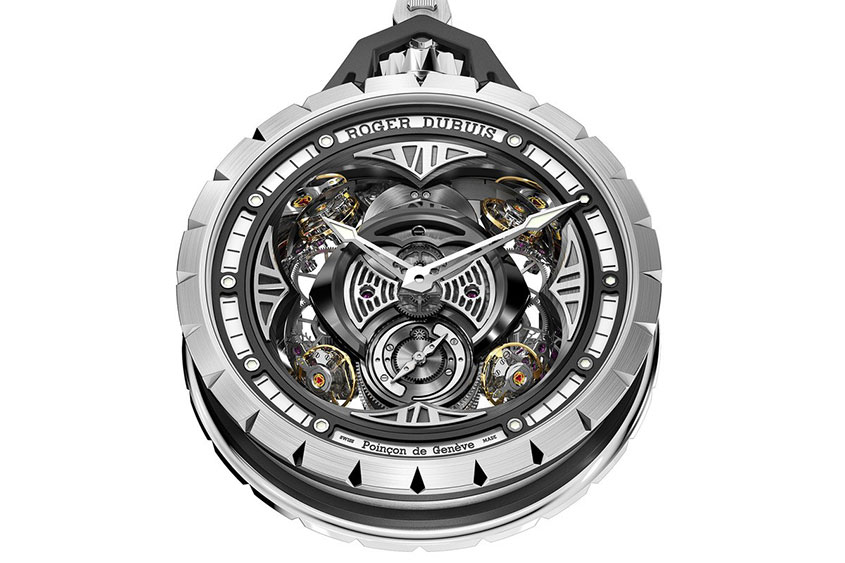 Tourbillons were originally developed to counteract the effect of gravity on a pocket watch's accuracy. Roger Dubuis clearly took this to heart, equipping the skeletonised Excalibur Spider Pocket Watch with not one but four tourbillons. Genius or madness? You decide.
Who would wear it? This is a definite black-hat dandy watch. It'll go perfectly with his immaculate attire and chromed Smith & Wessons with pearl grips. He probably smokes cigarillos, too.
Panerai Pocket Watch Tourbillon GMT Ceramica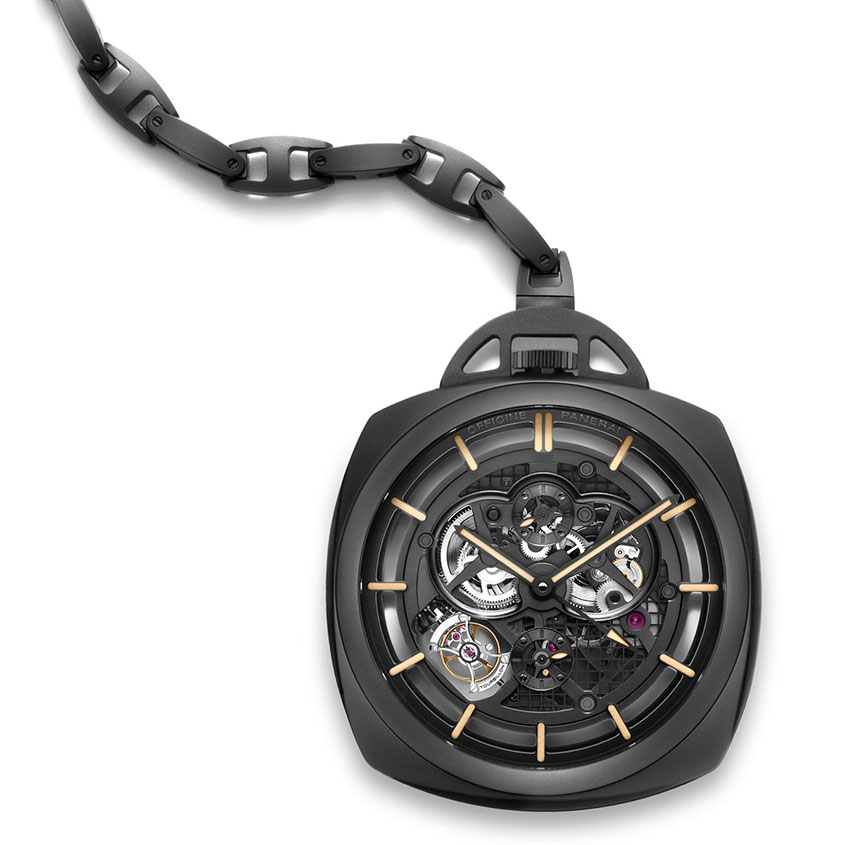 This 59mm black ceramic monster is, despite its lack of strap, instantly recognisable as a Panerai, thanks to the cushion case. It's also a spectacularly awesome watch, complete with tourbillon, GMT and faded lume. The ceramic chain seals the deal.
Who would wear it? Someone who's there for the action – the colour of his hat is incidental, all that matters is that he gets to feel the crack of the Henry Lever Action against his shoulder and the adrenaline pounding in his heart.
Richard Mille RM 020 Tourbillon Pocket Watch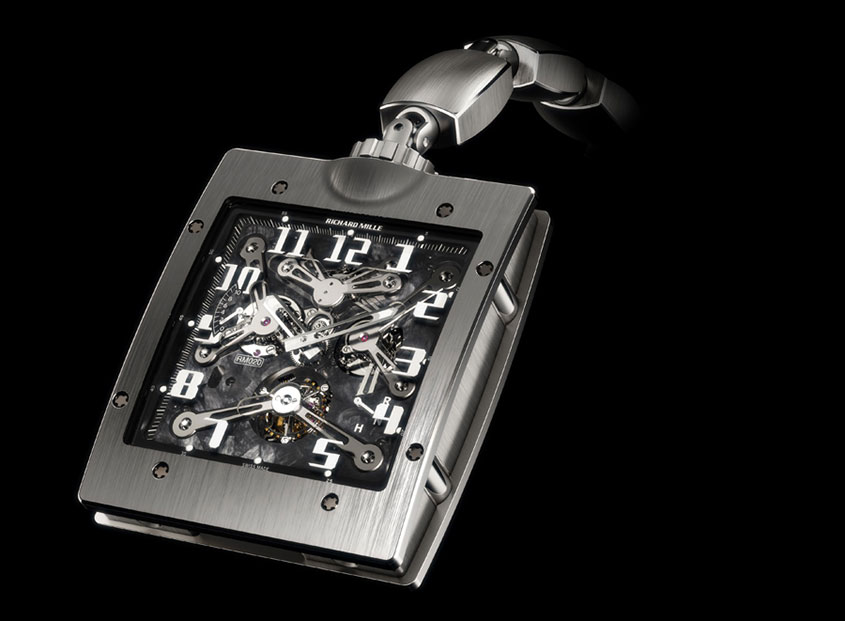 One of the forerunners of the high-end pocket watch genre, the 2008 RM 020 takes Richard Mille's trademark look and puts in a convenient, pocket sized package.
Who would wear it? Richard Mille's pocket watch would be the watch of choice for the guest who likes the finer things in the new-old West. Sipping bourbon at the bar and playing Texas Hold 'Em in a silk brocade vest – you know the type. The pianola would be playing The Gambler for this guy, while the madame and her girls look on.
Hublot Masterpiece MP-03
Hublot's Masterpiece series of devices is full of ingenious shapes and concepts, inspired by everything from classical antiquity to Ferrari. The MP-03 takes its shape from a bullet, with a tourbillon visible through the base, and the polished cap operating as a winding crown.
Who would wear it? Funnily enough, this lethally-shaped Hublot is the perfect choice for the visitor with a strong morality. Nothing like checking the passing of time on a bullet-shaped pocket watch to remind you how precious – and fleeting – life can be.