When in London, it'd be rude not to drop in and see one of their (very few) British watch brands – Bremont. Luckily, the brand's co-founder Giles English happened to be around their Mayfair boutique and up for a cup of tea. I might've had a coffee, but that didn't stop Giles and I chatting through some of the brand's recent releases.
As I stepped out of the cold into the warmth of their store, I welcomed by one of the coolest store-fits I've ever experienced. If you've visited a Bremont Boutique, you know what I'm talking about. It's not often you see a Martin-Baker ejection seat on display.
Immediately, Giles pulled out a piece, the Bremont Endurance, which was worn and tested by polar explorer Ben Saunders in Antarctica. Needless to say, it was impressive to see a watch that lasted 52 days in Antarctica (which is 52 more than I would)!
Giles then brought over a tray of new releases. Having been launched just weeks before my visit, I hadn't had the opportunity to see them in person. Aside from the ice-cool Endurance, three others from the new collection caught my eye.
First up was the brand new Bremont Airco Mach 3, with an elegant blue dial. At 40mm, this piece wore comfortably on the wrist and felt like the 'right size'. The Mach 3 is a much more classically sized pilot's watch; however, the DLC-treated case barrel gave it that classic Bremont attitude — meaning it's much less conservative than it appears.
The other piece that grabbed my attention was the Bremont ALT1-C BI, in the blue dial, which came in the signature shade of the Royal Air Force, marking 100 years of British military aviation. The ALT1-C BI had almost a surprising level of detail — a gift that kept on giving. From the satin brushed case to the red accents: the more you looked at the piece, the more you noticed the little touches.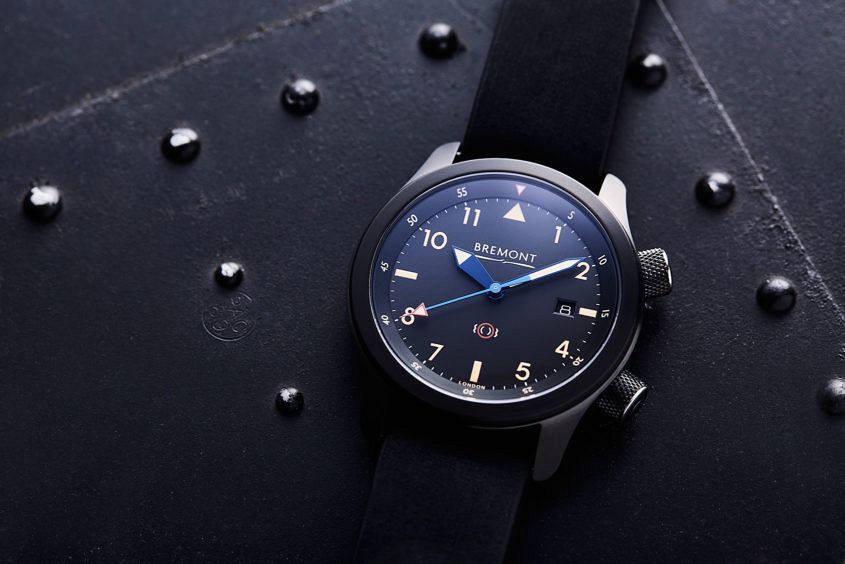 Finally, this stealthy piece nearly slipped past me — the Bremont U-2/51-Jet. Now, I've seen a lot of DLC-coated watches over the years, but the U-2/51-Jet gives new meaning to the phrase 'blacked-out'. This watch is dark, really dark. Providing an excellent contrast is some vintage-inspired lume and blued steel hands. Although aesthetically quite stealthy, at 43mm, the U-2/51-Jet still feels substantial.