The Karl-Leimon Majesty remixes the greats
Borna Bošnjak
The Japanese microbrand introduces the Majesty – their latest take on an integrated-bracelet sports watch
Taking inspiration from the best-known models out there, the case is surprisingly slim, coming in at under 10mm
The Majesty is powered by Miyota automatic movements, helping with the overall height
Many microbrands begin life as passion projects, only to blossom into something much bigger down the line. Even though they've existed since 2017, and with six collections under their belt, Karl-Leimon is still a brand in their infancy. The Japanese brand was founded by two students, the brand name an amalgam of theirs. Up until now, their collection has been one focused on affordable homages to some of the world's most exclusive timepieces, from classics like Patek Philippe's Calatrava and Nautilus to less-expected inspirations like the Vacheron Constantin Fiftysix. Their latest creation, the Majesty Automatic collection, takes a form that may be familiar at first glance, but is actually not quite what it seems.
One thing is for certain – it's a geometric, integrated-bracelet sports watch. That's hardly novel. Its shape isn't quite the continuation of the Nautilus inspiration like the Majesty Triple Calendar Moonphase that preceded it, but rather a melange of some of the greatest watches of this type. The steel case is surprisingly compact – something that is often overlooked on more budget-oriented pieces. With a diameter of 40mm and a thickness of just 9.8mm, it's actually squarely in the ballpark of the high-end counterparts it's honouring with its design – that ain't too shabby. The rounded-edge square dial opening is a bit of Polo, the  sharp case contours are a bit Royal Oak, and the H-link bracelet and case ears are a bit Nauti (see what I did there?).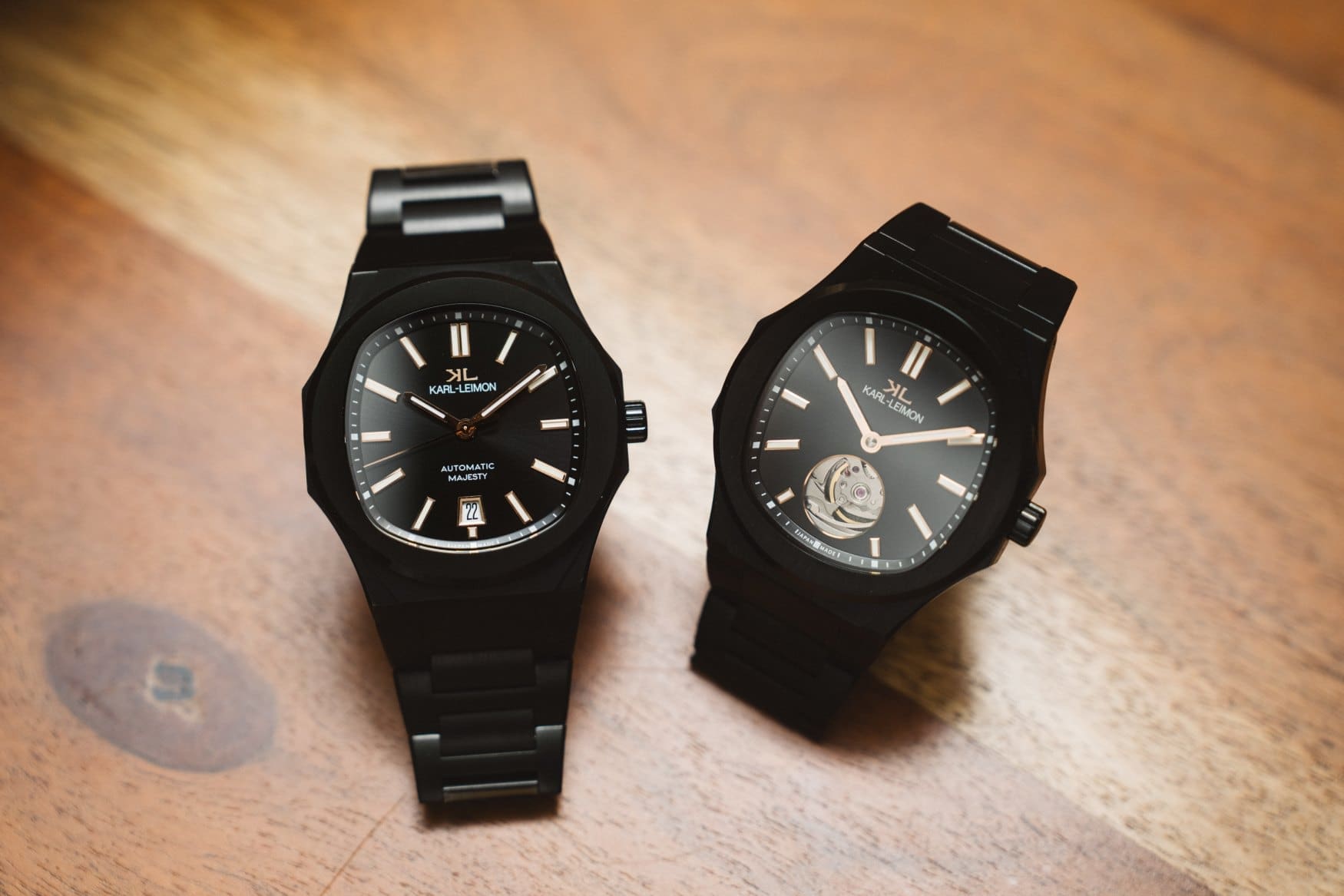 For some more specs – there are two case variants for those wanting to switch it up, with the mixed-finish stainless steel available in both PVD and bare glory. The case finish extends to the bracelet, and for those wishing to switch it up a little, Karl-Leimon is also selling fitted leather straps to make use of the Majesty's quick-release spring bars. The watches feature 50 metres of water resistance, meaning the Majesty Automatic will show off its sportiness best on the surface – perfect for resting against the infinity edge of some Spanish resort pool, sipping on a G&T.
There are two dial variants, with a neatly tucked-away trapezoidal date window at 6 o'clock which is framed by a printed outline. The other alternative is an open heart design that partially exposes the balance wheel of the Miyota calibre within. This option also gets rid of the running seconds hand which cleans up the dial somewhat. Both the date and open heart variants are available in sunburst blue or black, with the blue dials reserved for the steel cases, and the black ones paired with the PVD-coated versions. If I was to choose, I'd opt for the date variant, as the choice to show off an undecorated, off-centre balance wheel perplexes me a tad.
A brief note on the movements – both the Majesty 3Hands and Majesty Open Heart use Miyota 9000-series calibres with 4Hz beat rates and 42-hour power reserves. The 9015 and 9029 are well-regarded in this space, and considered the premium option over the likes of Seiko's NH35 which is thicker and has a slower beat rate.
Homages are polarising at the best of times, and Karl-Leimon's "Oooh, that's going straight in my basket" approach won't be for everyone. And yes, I'm aware I'm dating myself with that reference, but let's get down to brass tacks. The Majesty Automatic sports a slender, seemingly neatly finished case and a well-regarded Japanese movement, so I'm not really surprised to see that its early bird specials have already sold out.
Karl-Leimon Majesty Automatic pricing and availability
The Karl-Leimon Majesty Automatic collection is available now for pre-orders. The PVD-coated models are limited to 99 pieces each. Pre-order price: US$595 (steel), US$635 (PVD steel)
Brand
Karl-Leimon
Model
Majestic Automatic
Case Dimensions
40mm (D) x 9.8mm (T)
Case Material
Stainless steel
PVD-coated stainless steel
Water Resistance
5 atm
Crystal(s)
AR-coated sapphire
Dial
Blue, black
Lug Width
Integrated
Strap
Steel or PVD-coated bracelet
Movement
Miyota 9015, automatic (3Hands Date)
Miyota 9029, automatic (Open Heart)
Power Reserve
42 hours
Functions
Hours, minutes, seconds, date (3Hands Date)
Hours, minutes, open heart (Open Heart)
Availability
Now, for pre-orders
Black is limited to 99 pieces of each model
Pre-order price
US$595 (steel)
US$635 (PVD steel)