The new HYT Conical Tourbillon Infinity Sapphires is a high complication fit for Thanos
Zach Blass
The HYT Conical Tourbillon Infinity Sapphires is a limited edition of 8 pieces
Its tourbillon calibre, with a spiral balance inclined at 30 degrees, was developed with master watchmaker Eric Coudray
Framing the tourbillon, distinctly coloured gems – fuchsia, blue-grey and yellow – rotate at different speeds around the dial
I am rather comfortable in my own skin, but there are certain watches that make me wish both my wrist and wallet were a bit bigger. HYT's timepieces are irrefutably distinct and large, the ample real estate utilised to create depth, dimension, and a wonder-inducing, space-age aesthetic. I am not particularly a gem-set watch lover, but as some of you may know due to my Tony Stark sunglasses, I am a bit of a Marvel fan. Though by no means officially tied to the Marvel universe, but unavoidable for me not to think of the universe-conquering villain Thanos, the HYT Conical Tourbillon Infinity Sapphires brings high complication and high jewellery together in a captivating way.
The 5N gold and black-coated titanium case has imposing dimensions on paper – 48mm in diameter and 25.15mm thick and with a somewhat-forgiving lug-to-lug span measuring 52.3mm. My prior experience with some of HYT's latest creations has revealed surprisingly ergonomic and wearable watches, at least for their size. It can seem a bit much to create a watch of such large dimensions, but it is justified when you see how HYT makes the most of its ample real estate. Signature characteristics are immediately visible – a honeycomb grid dial, floating hour numerals, a capillary tube hosting the fluidic retrograde hours, and an overall richness and depth. Where this Conical Tourbillon takes things a step forward is through its usage of gems, each of which rotate at different speeds around the dial. The fuchsia, blue-grey and yellow gems go around in four, five, and six revolutions per minute, respectively. The six remaining sapphires measure 1.5mm in diameter and are set within the tourbillon cage, therefore rotating along with the two-minute tourbillon.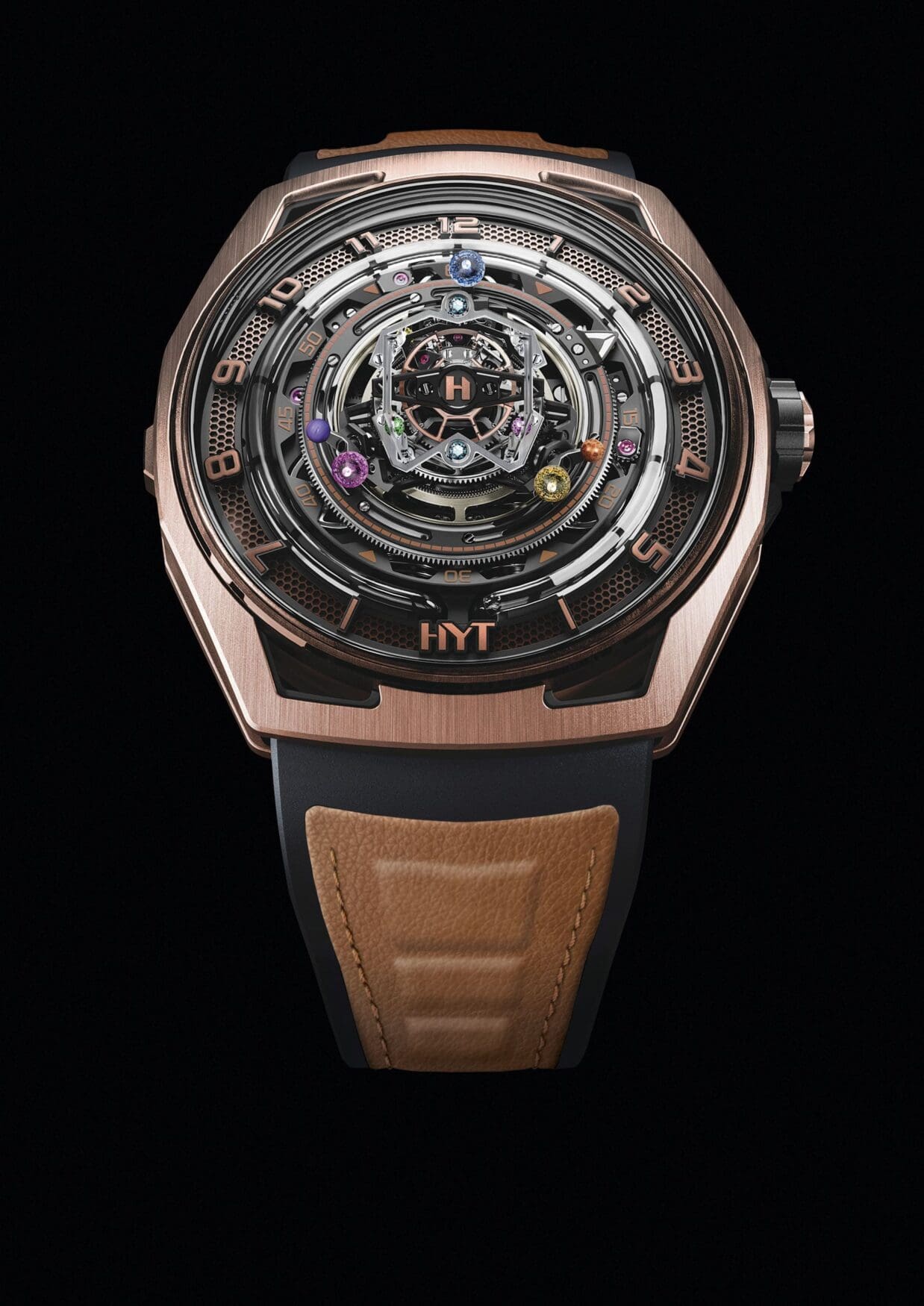 The HYT Conical Tourbillon Infinity Sapphires really is as complicated as it looks, comprised of 750 dial, case, and movement components of which 159 account for the tourbillon carriage alone. While very future-forward in feel, the tourbillon carriage itself is decorated traditionally and to very fine standards, with chamfered, straight-grained, polished and satin-finished bridges, and polished screw cores. Its structure is also indicative of how HYT consistently looks to bring traditional horology into the future – enlisting master watchmaker Eric Coudray to help design the calibre. HYT explains: "In the early 2020s, master watchmaker and Prix Gaïa winner Eric Coudray, who was familiar with Walter Prendel's cutting-edge work, decided to pursue his efforts to improve the tourbillon – and revisited Prendel's inclined tourbillon." German watchmaker Walter Prendel pursued the idea of an inclined tourbillon, as it was his belief, based on the theories of master watchmaker Alfred Helwig, such an architecture would improve the stability and regularity of the tourbillon. Within this watch, the spiral balance is inclined at 30 degrees to the horizontal, its escapement wheel at 15 degrees and an anchor at 23 degrees. Within Prendel's work, the tourbillon was located at the common 6 o'clock position. Coudray, however, realised an inclined tourbillon in the centre of the dial.
Considering how much work goes into this watch, its limited production and huge retail cost are no surprise.
HYT Conical Tourbillon Infinity Sapphires pricing and availability:
The HYT Conical Tourbillon Infinity Sapphires is available now, as a limited edition of 8 pieces, for enquiries. Price: CHF 390,000
| | |
| --- | --- |
| Brand | HYT |
| Model | Conical Tourbillon Infinity Sapphires |
| Reference Number | H03131-A |
| Case Dimensions | 48mm (D) x 25.15mm (T) x 52.3mm (LTL) |
| Case Material | 5N gold and black-coated titanium |
| Water Resistance | 30 metres |
| Crystal(s) | Box-domed sapphire |
| Dial | Black-coated brass, sapphires, 5N coated grid and borosilicate tubes |
| Strap | Black rubber and brown leather with embossing |
| Movement | 701-TC, manual winding, 21,600vph, composed of 533 pieces |
| Power Reserve | 40 hours |
| Functions | Retrograde fluidic hours, central minutes, conical tourbillon, chaotic animation |
| Availability | 8 pieces, for enquiries |
| Price | CHF 390,000 |