THE ICONS: How the Patek Philippe Nautilus became the ultimate flex watch
D.C. Hannay
Welcome to The Icons, a new series where we take a horological deep dive into the most legendary watches of all time. We'll delve into the story behind the watch, its evolution over the years, famous (and infamous) wearers, the classic references, and the contemporary versions you should be checking out. This week it's the Patek Philippe Nautilus.
There are hype watches, and then there are hype watches. And for the last several years, the hypest of the hype has to be Patek Philippe's iconic Nautilus. In the white-hot category of integrated-bracelet sports watches, no other model has generated this much FOMO. None. How much? So much flex appeal, that they regularly trade for several multiples over their original retail, well into six figures. So how is it that a watch that was released over 40 years ago has this incredible level of staying power? That's what Icons are made of, friends… let's get to it.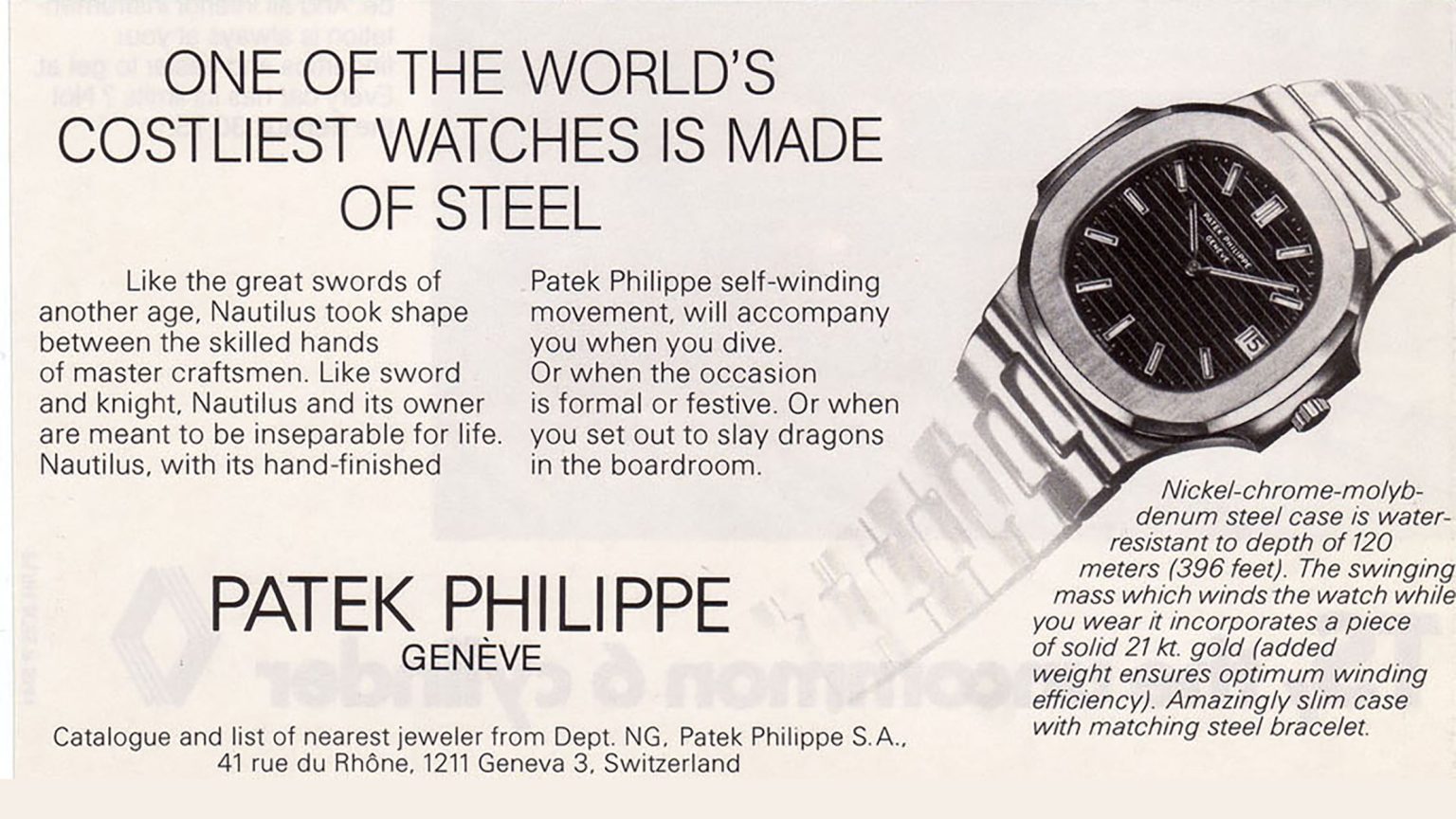 Early History: The Patek Philippe Nautilus
Patek Philippe's roots go back to 1839, when Polish watchmaker Antoni Patek joined with his partner Franciszek Czapek (another notable name in watches), but their union wasn't built to last. Patek later partnered with French watchmaker Adrien Philippe in 1845, changing their name from Patek & Cie to Patek, Philippe & Cie in 1851. They produced some pretty incredible work from the start, and counted Queen Victoria as one of their customers. From their beginnings as purveyors of fine pocket and pendant watches, Patek Philippe became renowned as one of the 20th century's finest makers of wristwatches, becoming the de rigueur timepiece for those of wealth and taste. Helmed by the Stern family since 1932 (and still privately owned), Patek expanded their reach to America soon after. Elegant dress watches like their Calatrava or their many Grand Complication timepieces were the bulk of their trade, and among the world's power players, acquiring a Patek truly meant one had arrived. Really. Kings, emperors, even the Dalai Lama owned Pateks. So it was with some surprise that the house introduced something as inelegant (perhaps even vulgar to some) as a sports watch. But of course, being Patek, this was no ordinary sports watch.
Rise To Fame
The integrated bracelet sports watch, that is, a watch where traditional lugs are done away with in favor of a bracelet that flows into the case, is probably the hottest category in watches today. And it seems that what goes around, comes around, because this type of design dates back to 1969 with the introduction of the Zenith Defy, although most of us mistakenly think of 1972's Audemars Piguet Royal Oak as the first integrated sports watch. But the Royal Oak did have something special going for it: Swiss designer Gerald Genta.
And the watch market quickly became accustomed to the idea that a luxury watch could be made of steel. Advertised with a good deal of cheek as "steel at the price of gold", the Royal Oak was a game-changer, and aside from the expected meticulous craftsmanship of AP's movement, the new watch was all about the sculptural magnificence of the case, and how it flowed like a sparkling stream into that equally breathtaking bracelet. A few years later, Patek was approached by Genta, who proposed a sports watch for the storied brand. Times were changing. The Quartz Crisis was savaging the Swiss watch industry, and rather than try and rely on the esteemed but admittedly conservative designs of their past, Patek needed something to appeal to a younger, more active audience, while maintaining the quality they were known for. And Genta delivered yet again with the Nautilus Ref. 3700 (named for Captain Nemo's submarine in Jules Verne's 20,000 Leagues Under The Sea), with a bezel inspired by a ship's porthole. And the kicker? The stainless steel Nautilus listed for over $3000 USD in 1976, or about the same price as a really nice car.
And while it was an integrated bracelet design, the 42mm Nautilus was very different from the Royal Oak. Besides the softly octagonal case shape, the "ears" of the watch (the right acting as a crown guard) were inspired by the previously mentioned porthole's hinges. And a watch with such nautical inspiration certainly needed to be water resistant, and it was, to 120 metres. The case was a beguiling, sensual cocktail of brushed and polished surfaces, and the bracelet was equally alluring. The watch and bracelet, taken as a whole, is far more organic and less angular than the Royal Oak, and that's one reason why the design has endured for so long. It wasn't always this way, though, and the initial reception for the Nautilus was, to put it politely, subdued.
It wasn't until several years later, when a smaller women's model and a midsized version with a 37.5mm case were released, that the watch really caught on. And it hasn't slowed down since. Patek introduced several variants over the years, including complications such as perpetual calendars, moonphase versions, flyback chronographs, and options in precious metals, as well as jeweled models. And the recently discontinued 5711 reference has been the hottest of all, especially in the colours of that distinctively ribbed dial that are most in demand. Besides the iconic blue version, there's the purported "last" edition in green, and the "one more thing" actual last version, the infamous Tiffany-signed turquoise dial version. And although both are made of stainless steel, they might as well be made from compacted crushed Fabergé eggs, such is their Unobtanium status. Both have shot up in value to ridiculous heights, with one particular limited-to-160 Tiffany edition selling for north of $6 million USD at auction. At least the proceeds from that one went to charity.
Suffice it to say that the Patek Philippe Nautilus is the ultimate flex watch, seen conspicuously on the wrist of everyone who's anyone. From sports superstars to motion picture icons, the Nautilus is a must-have, no matter the price paid. And no, don't count on Patek increasing production to meet demand. That's part of the magic formula of desirability. Speculation is rampant now as to what Patek is going to release as the 5711's replacement, but whatever they come up with, demand is sure to be as insane as ever.
Famous Wearers
The Nautilus has been and remains the wristwear of choice among the glitterati, and no, you ain't gettin' a Tiffany dial anytime soon, unless your name's above the title.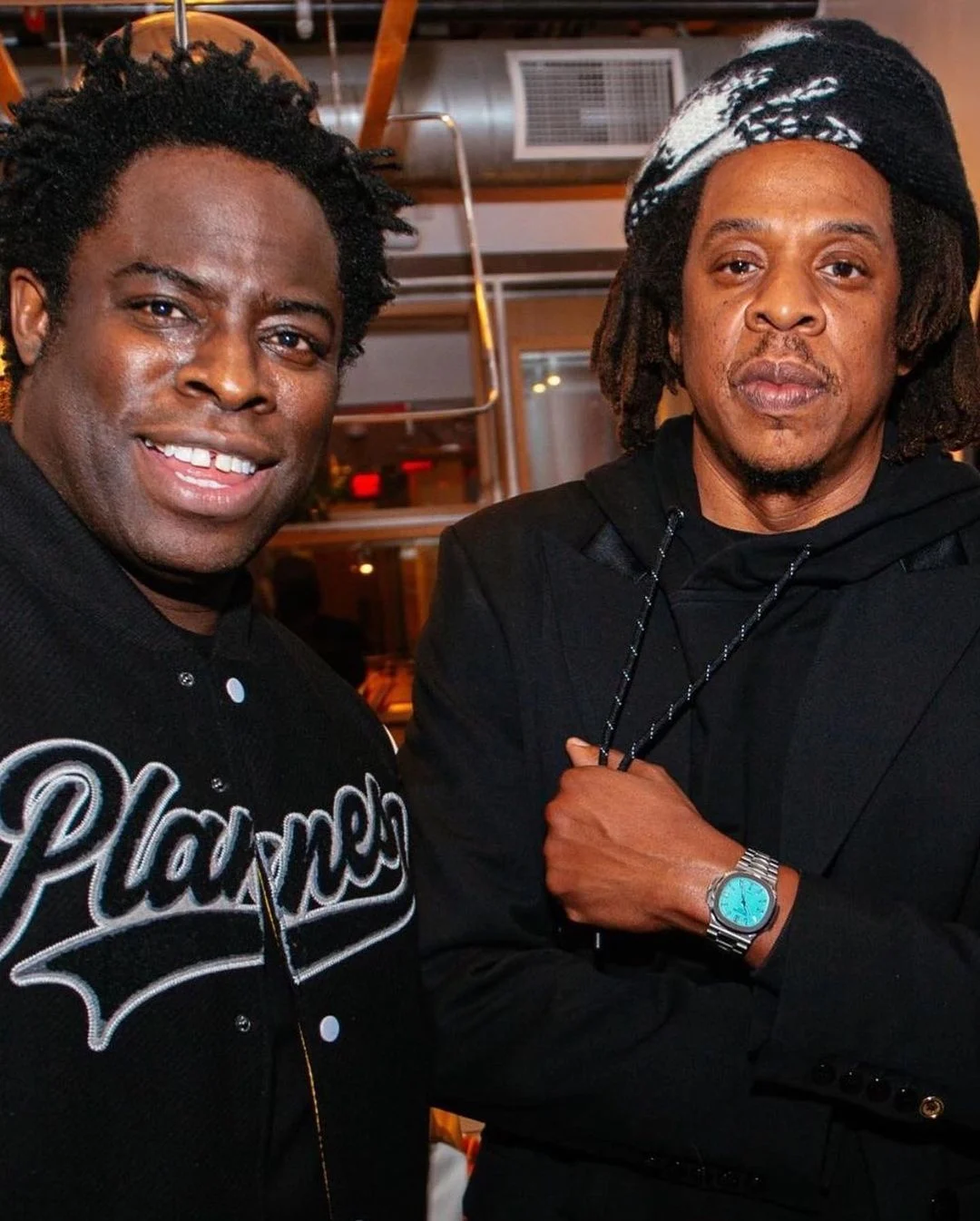 It had to happen. Of course, the first sighting in the wild of the co-branded Tiffany-dialed Nautilus was spotted on the wrist of none other than hip-hop mogul Jay-Z. Hova was spotted rocking the turquoise Patek soon after it was announced, further cementing his GOAT status among watch collectors.
Other luminaries with clout enough to score one include Leonardo DiCaprio, NBA superstar Lebron James, and possibly, children's music icon Anthony, the Blue Wiggle, although he swears his is a replica. Don't buy fakes, kids!
Original girlboss Victoria Beckham, besides being a Spice Girl and fashion maven, is also a watchboss of epic stature. She's been known to flex several different Pateks, including a classic blue-dialed 7118 Nautilus. It's not known if her collection has led to any uncomfortable situations being married to football legend David Beckham, Tudor's biggest ambassador, but I doubt she sweats it too much.
Marvel's Cinematic Universe has its share of Nautilus fans, including Robert Downey, Jr. (Iron Man) and Tom Holland (Spiderman), but the War Machine himself, Don Cheadle, gets it right by hitting the town with the classic blue 5711/A.
South African comedian and host of The Daily Show, Trevor Noah is a huge watch geek, and among his epic collection are several Pateks, including the luxurious rose-gold 5711 with its warm brown dial.
The sheer scope of Mark Wahlberg's watch collection is staggering to think about, but it's got some legit heat among the ranks. It's a funky bunch to be sure, with a lot of flexworthy Rolex pieces, but Marky Mark isn't averse to the odd Patek, including this factory-set diamond bezel Nautilus with a green dial (Ref. 5711/1300A-001).
Favourite Models
I won't bother listing the 5711 variants you'll never get, but there are still quite a few current models in the Nautilus lineup that are perfectly lustworthy. Here are a few of my favourites.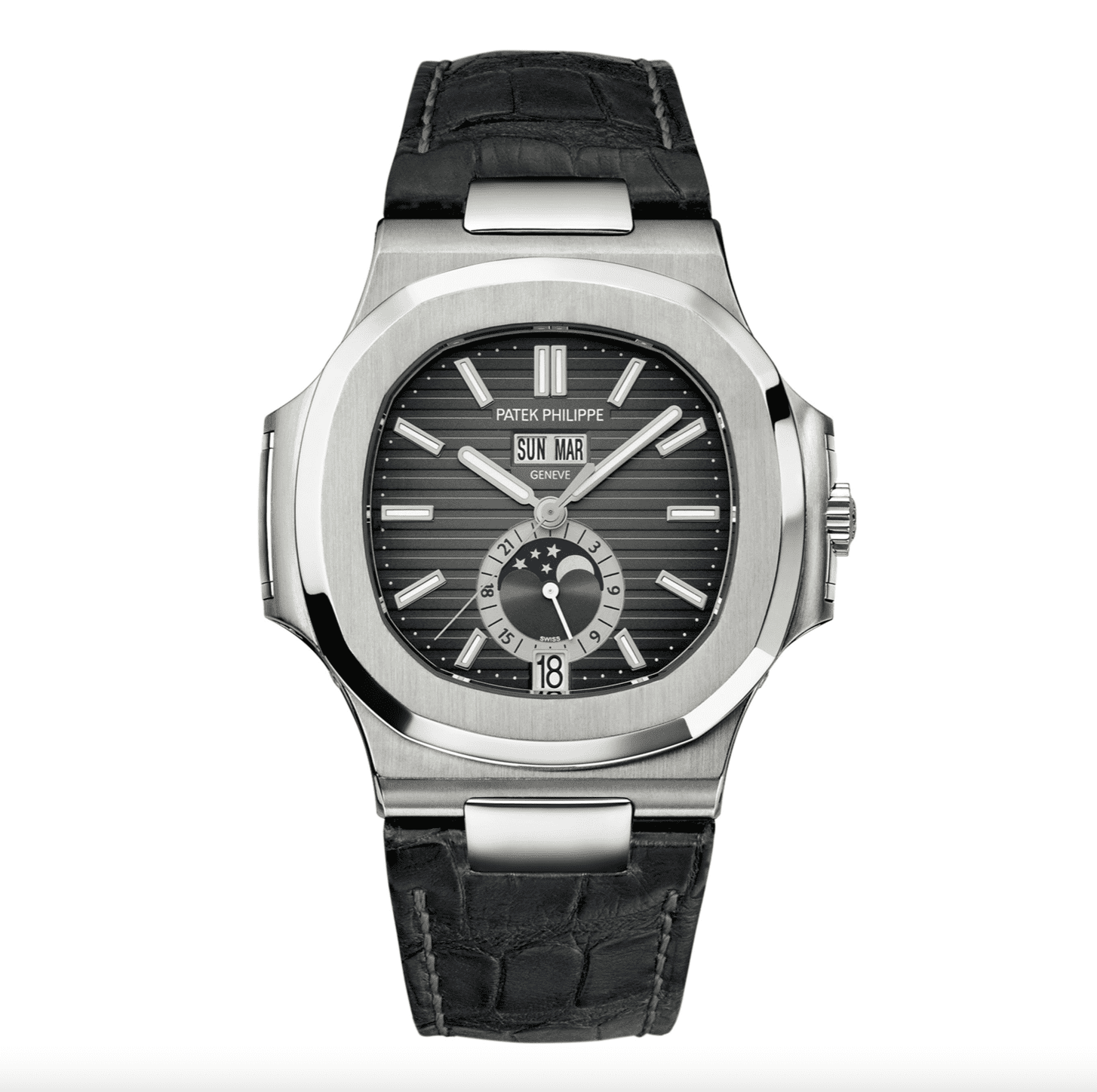 The fume black is my absolute fave Nautilus dial colour, and the 5726A is a stellar choice. Touting annual calendar, 24-hour display, and moonphase complications, this looker has a wonderful symmetry compared to the more ungainly dial layout of the 5712. The stainless 5726A comes standard on a black alligator strap, which is a comfortable choice and a different look for the watch, but I'd have to score a stainless-steel bracelet as well for the full Nautilus experience.
Damn, the 5980 flyback chrono is one sexy beast. The black gradient dial against the full rose gold case and bracelet just does it for me, throwing off massive John Player Special vibes. And if you love the '80s, there's a bitchin' two-tone version with a blue dial, too.
Want a flexy complication piece, but just have to have a blue-dialed Nautilus? The perpetual calendar 5740/1G is calling your name. This Grand Complication is rendered in that achingly perfect combo of white gold with a blue dial that's so Patek, it hurts.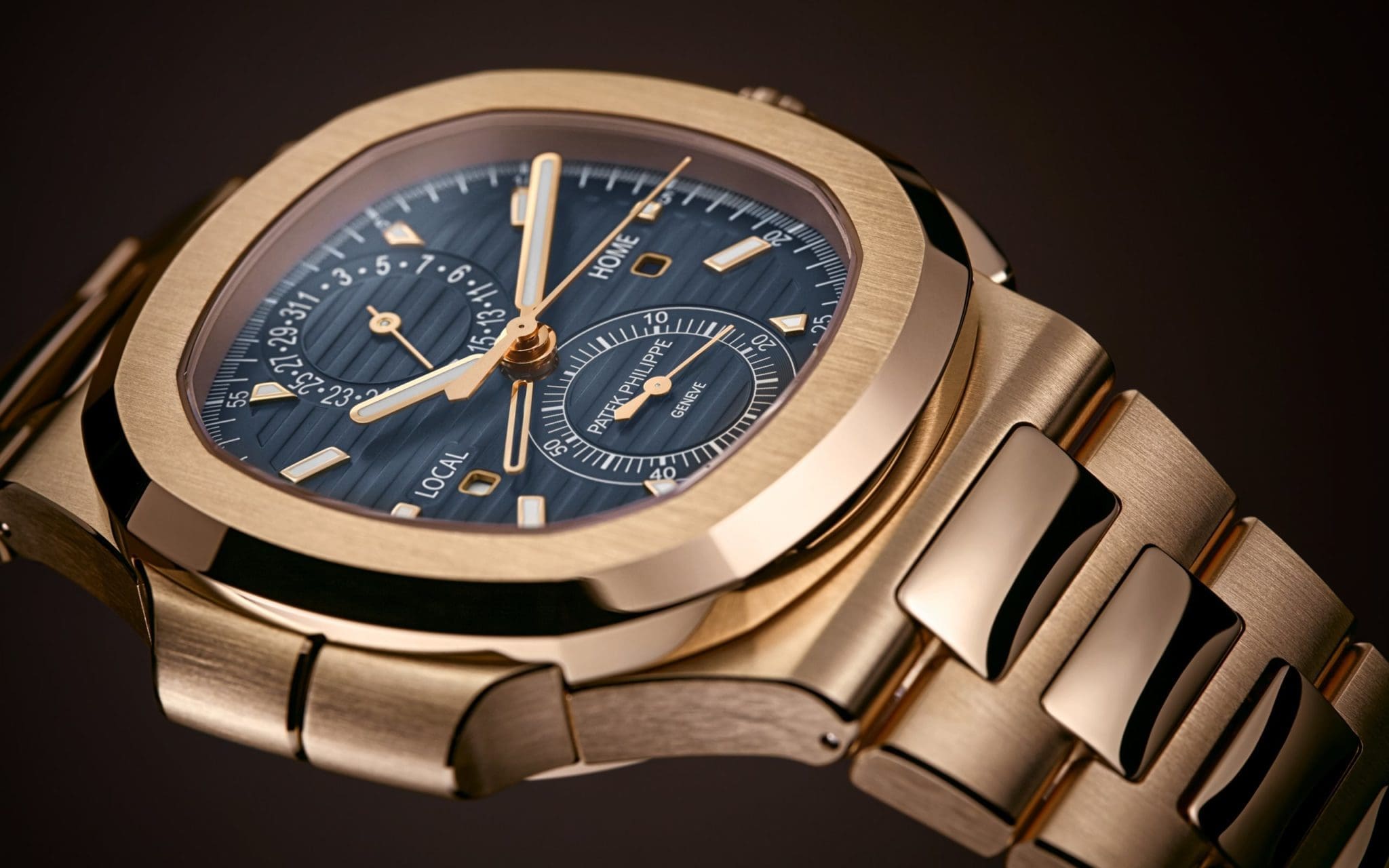 Globetrotters are going to want to have a look at the Travel Time Chronograph 5990/1R in rose gold, with an impossibly cool blue sunburst dial. Not only does it track two separate time zones, it's also a flyback chronograph, perfect for timing multiple drink orders at the airport's first class lounge.
I can't properly cover the Nautilus without mentioning the bling, and if it's ice you want, it doesn't come any colder than the 5790/10G. And it is properly covered, with 255 factory-set diamonds paving its entire white gold surface, including the dial and bracelet. It's time and date only, but you're probably not going to be able to read it anyway, since you'll likely be blinded from that sheer avalanche of faceted swag.