Clowning around: How Konstantin Chaykin put a smile on the dial to invent the Joker, a truly original watch design
Zach Blass
Editor's note: This story appeared in the fourth issue of NOW, the T+T Watch Buying Guide and gives you a taste of the sort of the features you can expect in our print magazine. Pick up the latest issue now to check out the top 207 releases of the last six months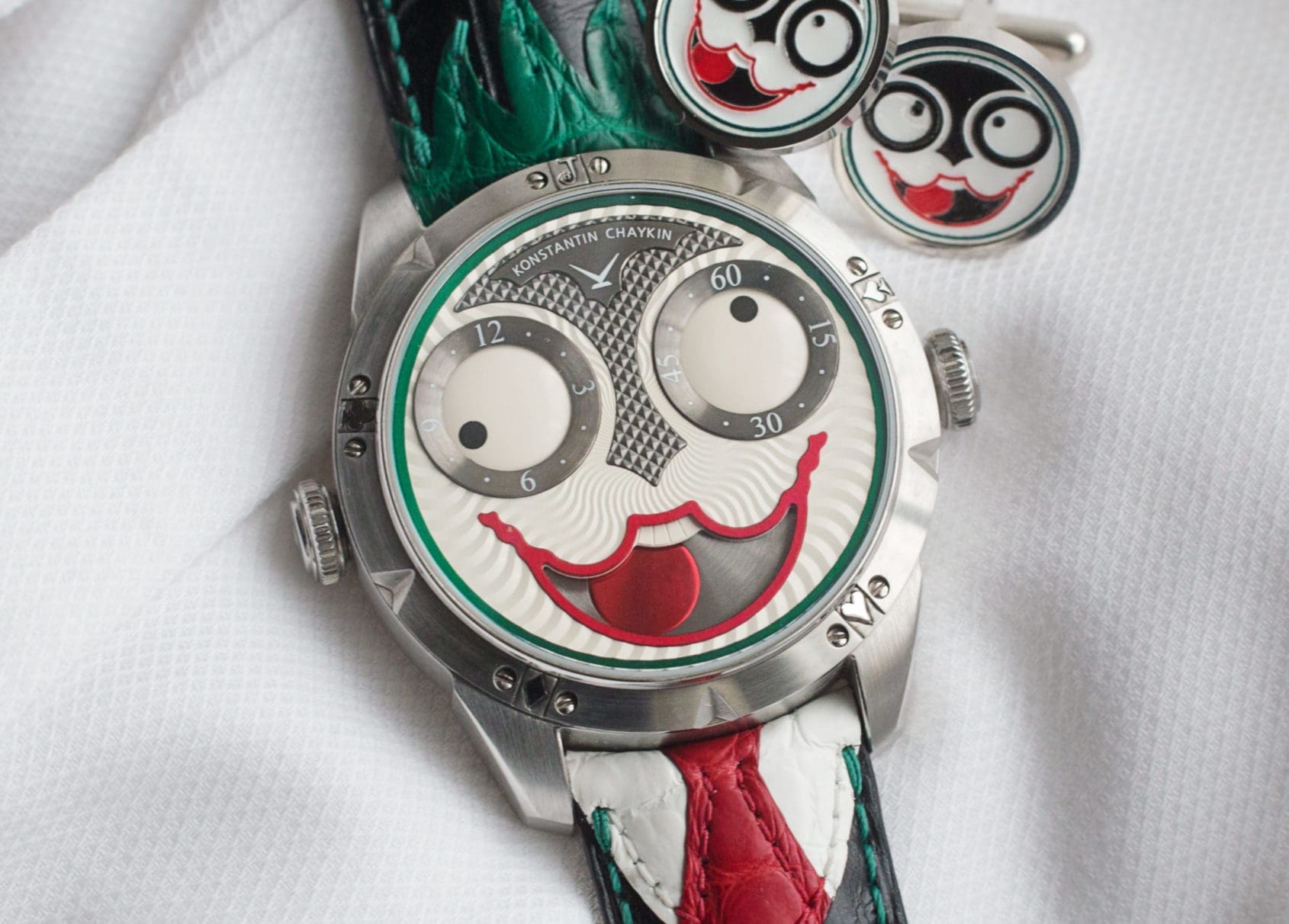 In 2017, Russian independent watchmaker Konstantin Chaykin made that rarest of things: a truly original watch design. The Joker was a charmingly quirky watch with its clever disc-based time display and moon phase tongue. It's since expanded into many different iterations and spawned the diverse "Wristmons" series of characters. Here, Konstantin himself shares the origin of this most singular timepiece.
Some ideas come spontaneously, but in order to come up with the Joker, I had to follow quite a long and winding path. In many ways, the inspiration that led to the Joker was my mechanical Cinema Watch that was created back in 2013. It was a tribute to the early years of film-making and featured a miniature zoopraxiscope at the bottom of the dial built into the movement. When you pressed a button, the watch showed the galloping horse that was the very film that began the history of cinema.
The Cinema Watch was complicated to manufacture, but I received massive feedback from people who saw it at watch fairs.  Usually when you go to a watch exhibition, you pick up a piece and examine it from different angles. But it's rare that a watch generates an instant wave of emotions. With the Cinema Watch, however, I'd watch people inspect with their expression initially frozen in a solemn poker face. But when they pushed the button and saw the horse, their faces changed completely. I'd see a full range of emotions: happiness, surprise, you name it.  No one left with the same blank expression.
I was deeply struck by those responses. Because in the modern world where watches are not so much used for their original purpose of telling the time, I feel they need to provoke emotions. Exhibiting my Cinema Watch taught me a valuable lesson by showing that it really was possible for a watch to incite those reactions.
For a while I started doing a lot of sketches in my notepads and visited a lot of museums, including modern art museums. I began to explore the idea of anthropomorphism in art – where you attribute human characteristics to an object. While sketching, I started to combine a human face with a watch dial. But I considered this idea to still be premature and unformed so I didn't put a lot of effort into it.
What really triggered Joker's appearance was a desperate series of events. As I started preparing for Basel 2017, I made a prototype of a highly complicated watch that I wanted to present at the fair. The problem was that it didn't work. In fact, it completely didn't work. By autumn 2016, it was clear to me that I wouldn't be able to salvage and fine-tune it enough to present it at Basel 2017. Suddenly, I had to come up with a new concept and a new timepiece.
My main hardship as a watchmaker is that I cannot quickly turn the ideas boiling in my head into real timepieces. I think that's the major drawback for all independent watchmakers. The biggest pitfall is that you need a lot of time to convert an idea into a single piece. It takes one hour to do a sketch in my notepad. It takes one day to create a painting of a new design. But it takes one year to manufacture a timepiece and life is short. My problem was that Basel 2017 was looming fast.
But then I remembered something.  Back in 2008, I'd made a watch with the Jewish calendar and the moon phase indicator positioned at six o'clock, but reversed upside down. Suddenly, it crossed my mind that actually this moon phase indicator looked a lot like a smile. In 2015, I'd made a kid's toy where they could construct their own timepiece and where the moon phase indicator wasn't indicated at six o'clock position. It was already a perfectly operational timepiece and assembled construction kit that was sitting on my desk. "Wow!" I thought.  All I need to do is to add two eyes and I had a new watch to present at BaselWorld 2017. The concept was ready, I just needed to start designing the mechanism. That took me six months.
I had no future collection in my mind. There was no thought of creating the Wristmons family that came out later at that stage. With Joker, I simply went all in and never expected that amplitude of success.
There's been a number of Wristmons over the years now with different characters. Many of them have different mechanisms and case sizes. There's been Santa Claus, Dracula and the Martian for which I had to manufacture the very first manual tourbillon complication that showed the time on Mars. People assumed it would have been difficult to get the licensing to do the Minions pieces, but  it was quite an easy task to secure their permission. I went to the office and showed them the draft and the decision makers were immediately smiling. I think it was because all previous Minion-themed timepieces were just awful, so they were extremely happy to finally have a decent wristwatch. But I don't want to invest all my time in Wristmons – I have so many other fascinating projects on my mind.
NOW Magazine – The Watch Buying Guide – Issue 6 is available now for A$19.95. Order your copy here