Conversations around gender politics are mostly avoided within the watch world, for a multitude of reasons. Arguments tend to get in the way of the mutual appreciation for the hobby, just like any contentious topic, but there is a glaring problem with how most companies go about their watch marketing. Opinions aside, that absolutely anyone can wear whatever they want is a fact. Hublot have made moves towards letting the watches speak for themselves with the limited edition Hublot Big Bang Millennial Pink — a watch that rides the fine line between masculinity and femininity in an attempt to be truly gender-neutral.
Without the colour, the model is based on Hublot's other UNICO 2 42mm chronograph models, but the colour is what completely defines the watch. The name 'Millennial Pink' throws up a lot of confusing implications, but the shade itself is quite entrancing.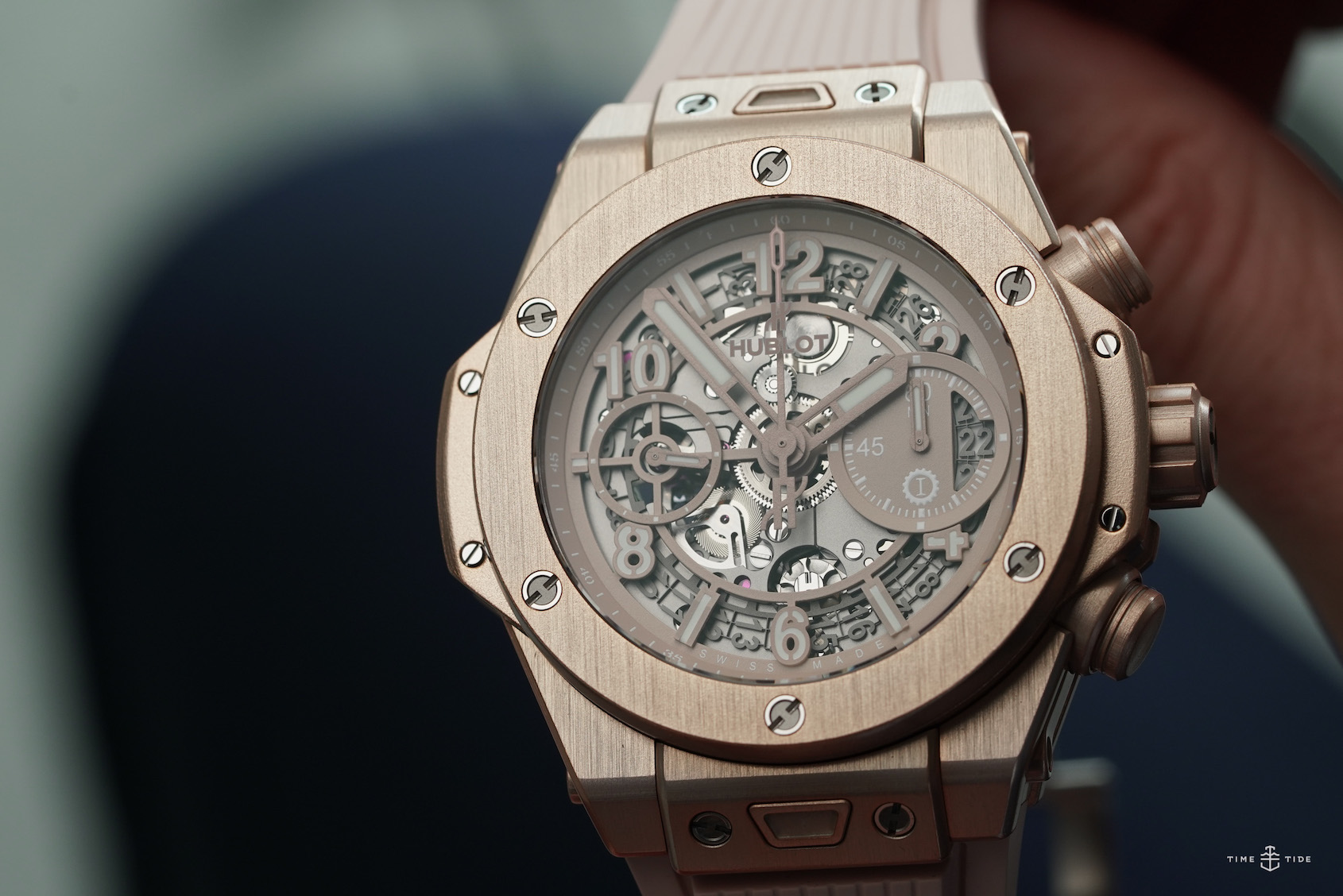 With notes of sandy-beige and salmon, it's hard to believe the neutrality of the colour, which is undeniably pink. It's not quite pastel, nor full-on peach, keeping you guessing whenever you check the time. Though the case, skeletonised dial and strap all match, the uniformity is broken up by the subtle changes in form and texture across the watch. The heavily brushed aluminium case has a subtle shellfish sheen about it, which is contextualised nicely by the woven strap or the matte rubber.
The pink cocktail is then punctuated by the crisp white paint that fills the hour markers, hands and the 3 o'clock sub-dial's minutes track. Incidentally, as the Big Bang Millennial Pink was designed in collaboration with Garage Italia, their logo can be seen replacing the 30-minute marker on that sub-dial.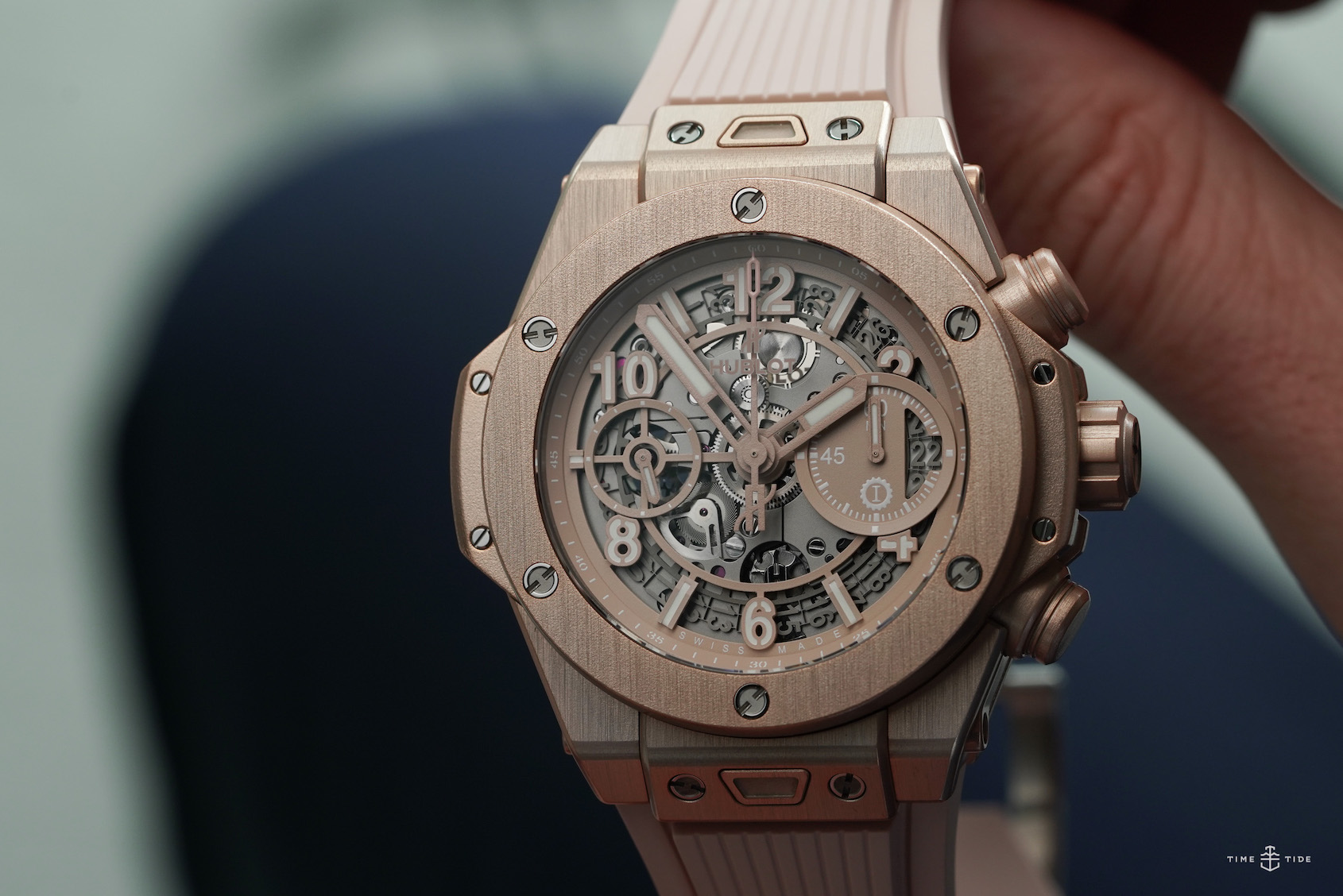 The second star of the show to interrupt the pink, aside from the classic 'H' shaped steel screws, is the HUB1280 UNICO Manufacture — a slimmed-down automatic chronograph movement packed with impressive features, peeking out from beneath the dial.
Though you can see it uses a column wheel through the crystal, its more surprising benefits are a 72-hour power reserve and a flyback chronograph complication, meaning you can instantly reset the timer without needing to stop it first. The smooth sweep of its 28,800 vph beat rate can be seen at 9 o'clock with a running seconds hand, the sub-dial of which is also skeletonised to see more of the movement.
One helpful part of the industry-standard binary approach to gendered advertising is that a lot of potential customers don't have much comprehension of watch sizes and how that ties in to comfort on the wrist. If a watch 'for women' is considered smaller than a watch 'for men', females will generally have a higher chance of getting a good fit.
At 42mm in diameter, the Millennial Pink tends towards the masculine end of the size spectrum, as its bulky presence will definitely be easy to notice hanging off a slender wrist. But the anodised aluminium case material helps to counteract this effect, with its lower weight making it much easier to wear should it be a bit too big.
While a big part of a mechanical watch's appeal is its pursuit of an antiquated technology, brands such as Hublot are actively seeking to prove that their watches belong in the present day. Likewise, the stigmas and prejudice that separate genders may once have been used rampantly in wristwatch marketing, but they have no place in modern times. Masculine and feminine traits are not exclusive to gender and, as such, watches aimed at either 'women', 'men', or 'unisex' carry an irrelevant label for a fashion object, as well as ignore the broader gender spectrum that exists in the global population.
Although Hublot's Big Bang Millennial Pink will be hard to get on your wrist, being limited to 200 pieces, the meaning behind it will hopefully carry across to Hublot's other collections, as well as all watch brands worldwide. Recognise your own personal style, and chase it, ignoring anyone who tells you otherwise.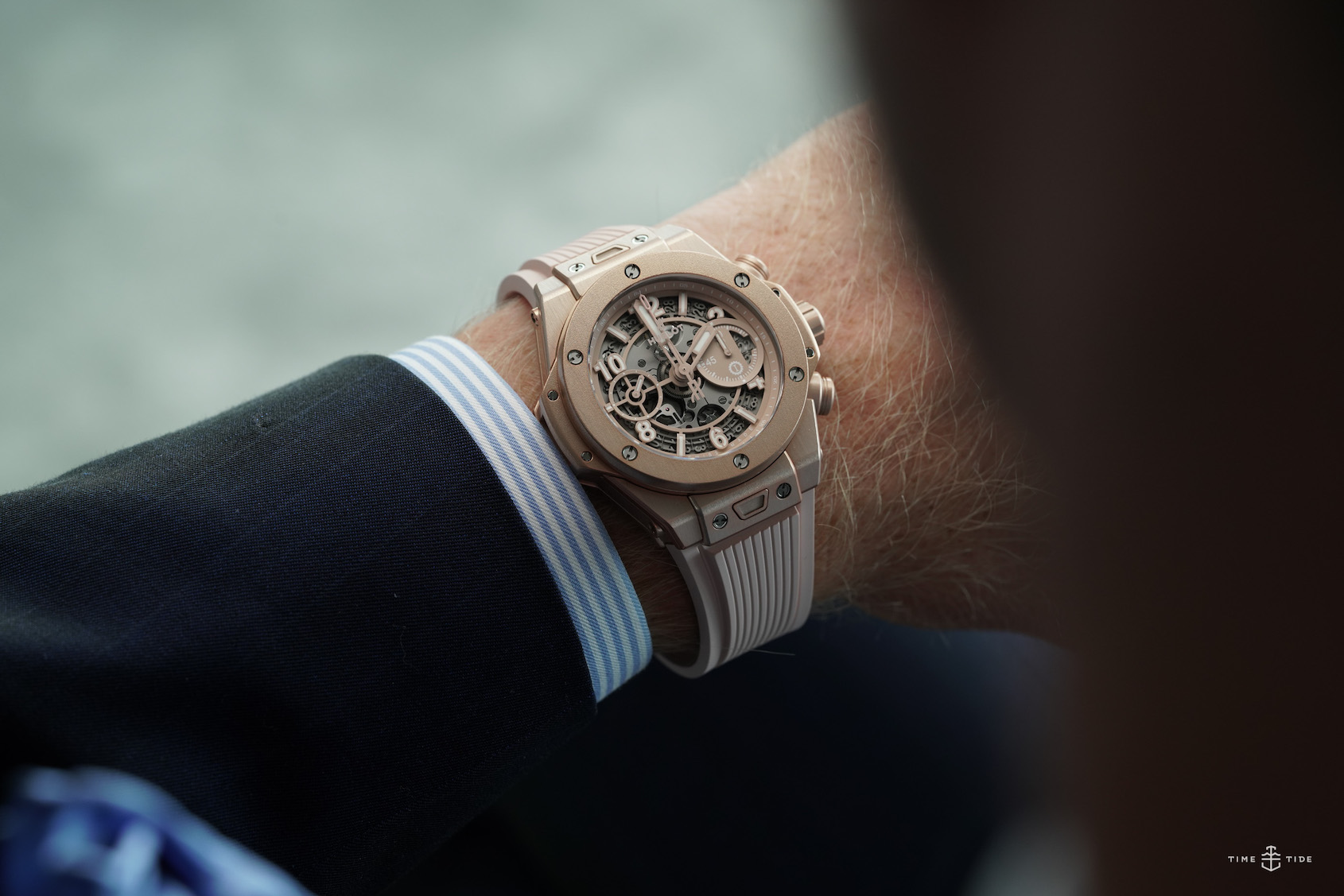 Hublot Big Bang Millennial Pink price and availability:
The Hublot Big Bang Millennial Pink is AUD$29,200 and limited to 200 pieces worldwide. For more details, visit Hublot right here.
Made in partnership with Hublot. However, the opinions expressed in this article are our own in accordance with our Editorial Policy.