Constantly feeling like the Captain Cook offerings were either too big or too small? Problem solved.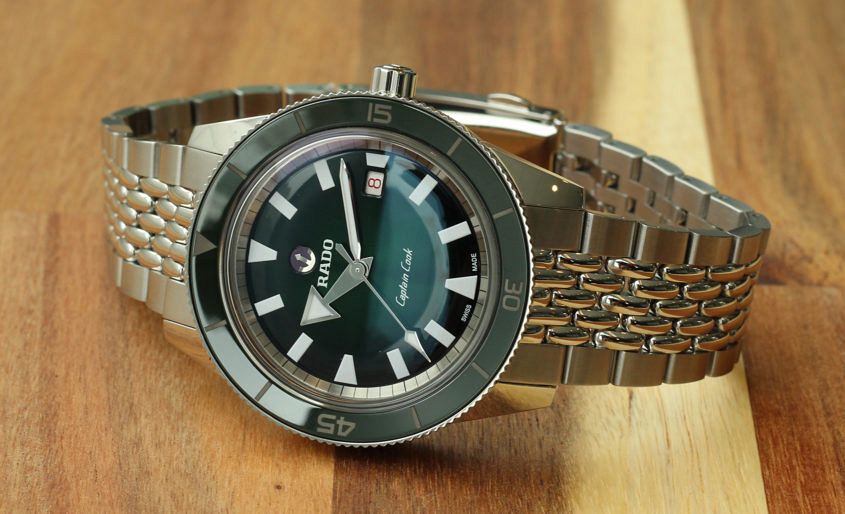 If you think about it objectively, watch collectors may be the most widespread sufferers of Goldilocks Syndrome out there. While many, regardless of interest, are picky about certain aspects of their life — what foods they eat, what colours they wear, how warm or tidy they keep their home, etc — but let's face it, we fuss over millimetres on a disturbingly frequent basis. "I won't wear anything over 40mm in diameter" or "When they changed the case size from 42mm to 43mm it completely ruined that watch" are things we've either heard or said on more than one occasion, and they were said with the utmost sincerity. Now don't get me wrong, I'm just as fussy as anyone when it comes to this matter, as was proven this past Thursday night when Rado decided to present the global first look at the Rado Captain Cook 42mm diver in Toronto.
When the Captain Cook models first launched in 2017, they stuck two polarised ends of the spectrum — a 37mm model that was true to the original case size (in steel), and a beastly 45mm variant in hardened titanium. Those obsessed with vintage watches had no issue with the 37mm, and the more hefty fellas in the room could pull off the 45 without issue, but for the rest of us, basically we were outta luck. On small to medium wrists the 37mm was simply too dainty, whereas the 54mm lug to lug length of the bigger piece bordered on comedic. As Rado execs worked their way around the room while previewing the new 42mm variant, the response from the crowd was a unanimous "FINALLY", and clearly this was echoed in the market.
Now, onto the watch at hand. Three dials are on offer, including the dark grey seen on the 37mm, as well as a new green, and a different shade of blue than what was first offered in 45mm. Though the sun-brushed grey dial is an elegant option, both the green and blue variants come in a distinct and slightly pastel hue with a dégradé finish that fades to black at its outer perimeter. As you can see in imagery, in either colour the bezels are quite reflective though they remain easy to read on account of their etched ceramic construction. I've been saying for a while that I need another blue-dialled watch like I need a hole in the head; however, there's a unique character to this one that could just about win me over.
At a specifications level (though an official release has yet to be issued from Rado), we do know that a few stats remain the same. These watches will be powered by a version of the ETA C07 automatic movement, meaning 80 hours of power reserve running at 3Hz. They will have the same 100m water resistance rating with a screw-down crown, which some will still take issue with, though it's still totally suitable for recreational diving. While exact pricing has not been specified, we do know that it will be closely aligned with its siblings, (we're told it's "around the 2000 CHF mark"). As a welcome change that accompanies its new case proportions, a beads-of-rice bracelet is being offered on the new models. The design is perfectly suited to the vintage aesthetics of the watch, and on wrist they turn the Captain Cook into one of the more comfortable bracelet-equipped divers out there right now. Sticking with the vintage theme, the clasp of its bracelet is a fairly thin steel with a textured pattern that's quite reminiscent of the flimsy bracelet clasps of the '60s and '70s. If the watch wasn't playing the vintage card I'd count that as a strike against it, but as a complete package it works and I dig it.
Now, sadly I've already managed to hear one person mutter, "Gee, I really wish this was 40mm", but for the vast watch-loving masses this new release properly completes the collection with a watch that isn't too big, or too small, but just right. The fit is right, the colours are fantastic, the specs kick ass for the dollar. As with any watch, it still won't be for everyone, but they've definitely opened up doors to a much broader audience with this release.
Postscript
As an added bonus we should mention there is one more Captain Cook model for you to consider, in case you were a fan of the smaller 37mm variant. A very charming champagne-dialled model fitted on a supple leather strap has been added to the collection for 2019 as a limited edition of 1962 pieces.