HANDS-ON: Is the Bulgari Octo Finissimo blue dial in satin polished steel the best steel sports watch of 2020?
James Robinson
Editor's note: We've had quite the flurry of Bulgari lately, mostly in celebration of the brand's 2020 collection. And, increasingly, the pinion of the collection is emerging as this model right here. Make no mistake, it doesn't rightly deserve to be. It's a simple dial variation away from the black lacquer dial variation that the satin polished steel Octo Finissimo debuted with in January this year. But that's the logical take. The emotional response, for the broader team, and not just me it seems – is very much centred around this lavish combination of rich blue dial, and the highly faceted and finished steel of its case and bracelet. 
Well, we all knew it was coming. There was no way that Bulgari was going to release the Octo Finissimo in satin polished steel, and not create a model with a blue dial. I've said it before and I'll say it again – the Bulgari Octo Finissimo blue dial in satin polished steel is the best attempt by any watchmaker in recent memory of creating a genuine Patek Philippe Nautilus or Audemars Piguet Royal Oak competitor. Bulgari had to make this watch. And now that it's here, the burning question on the lips of everyone who can't buy a 5711 or 15500 is, "Is it any good?" And the answer to that, my friends, is yes … it's very, very good.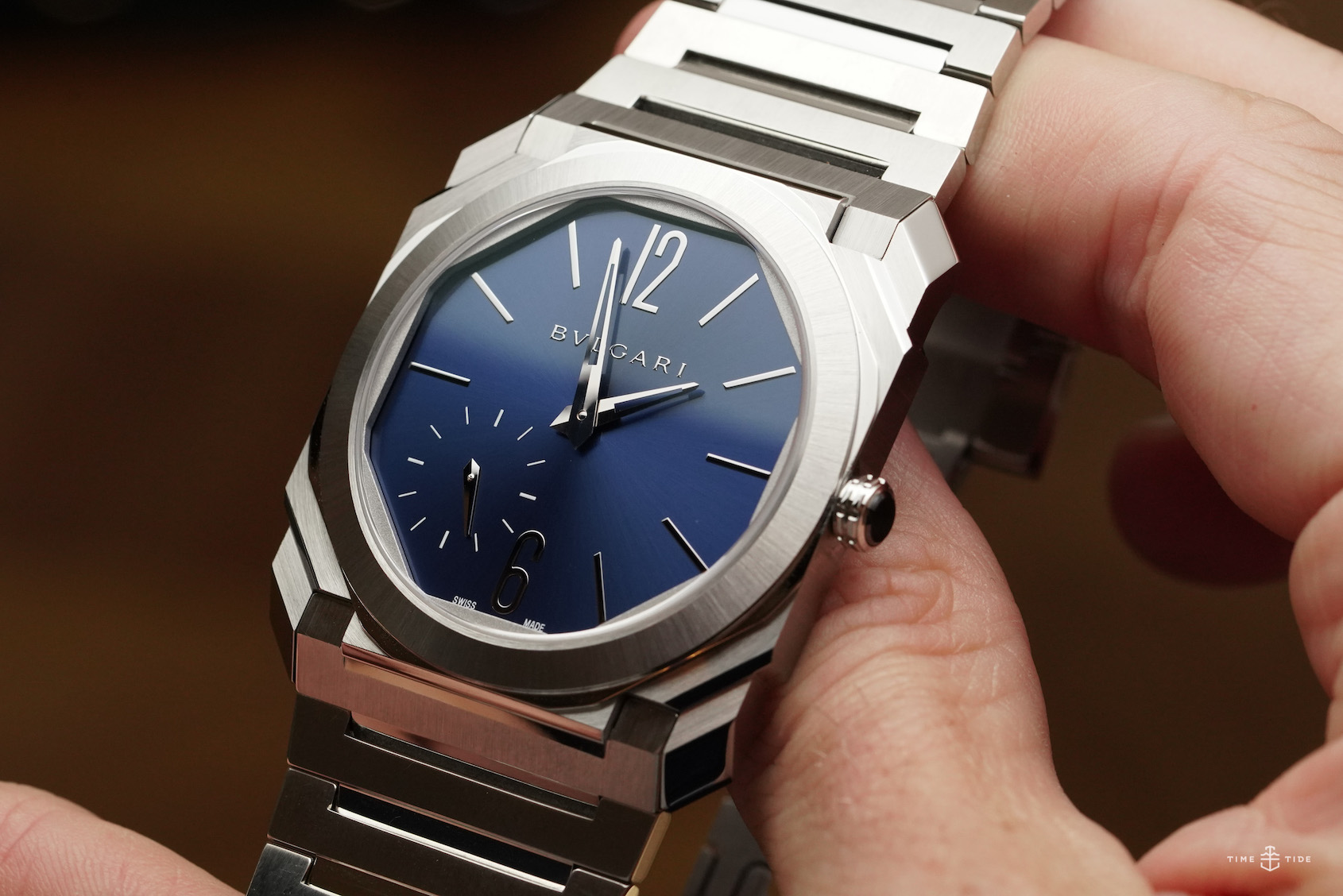 The case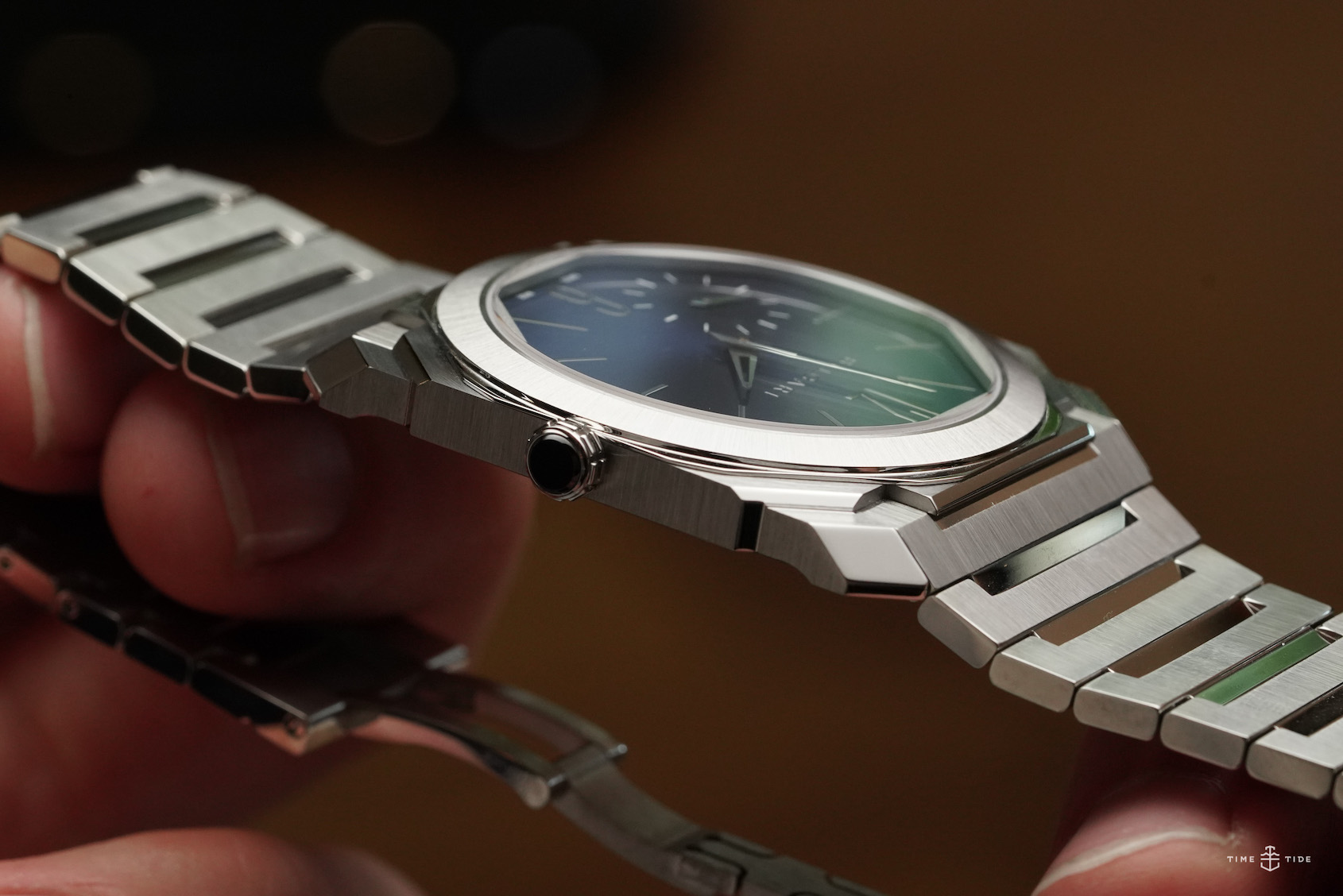 It's brilliant. Slimmer than any of its contemporaries (at just 5.25mm thick) and more modern-looking too, the stainless steel case of this Octo Finissimo is every bit what you'd expect of a luxury steel sports watch. The Genta-inspired design, the extra heft of the steel compared to its often titanium siblings, the diminutive screw-down crown providing 100 metres of water resistance – this watch ticks every box. The presentation is also brilliant, with mixed finishings that sing opulence and bling. At 40mm across it's also the most versatile size possible for a gent's wristwatch, and if you were so bold, this could easily be your only watch.
The dial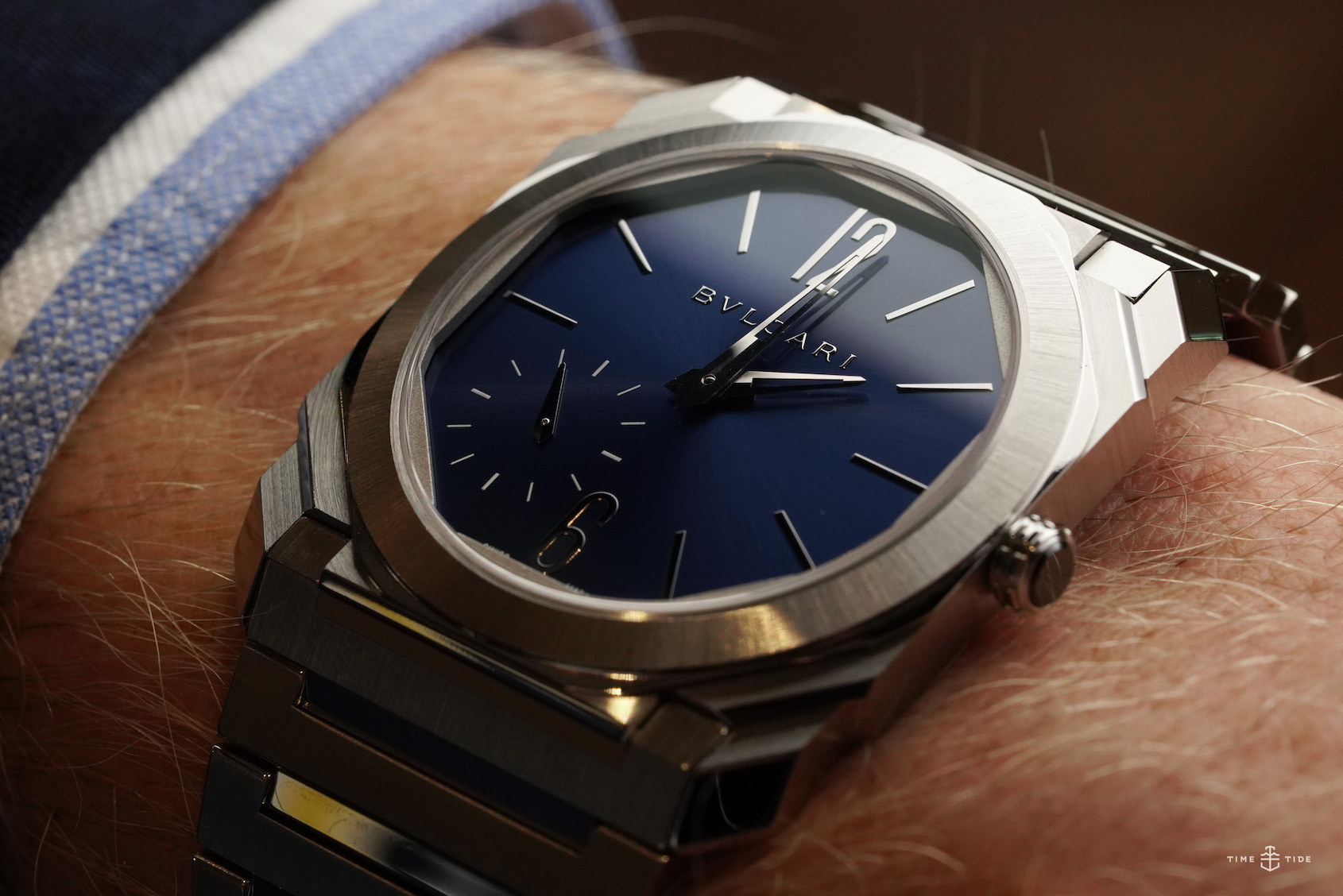 The octagonal aperture of the case gives way to this watch's main talking point – its blue dial. Although this colour always seemed like a no-brainer for the watch, Bulgari has been careful to choose a shade of blue that, to my eyes, perfectly suits the character of the watch. It's not too bright; in fact, when it's not in direct sunlight, it could almost be described as inky or petrol blue. But when the sun hits it, the dial truly lights up, showing off a gorgeous radially brushed finish that demands your attention. The minimalist design of the dial, along with the slender, skeletonised handset and applied numerals and indices, only further complements this superb sunburst stunner.
The movement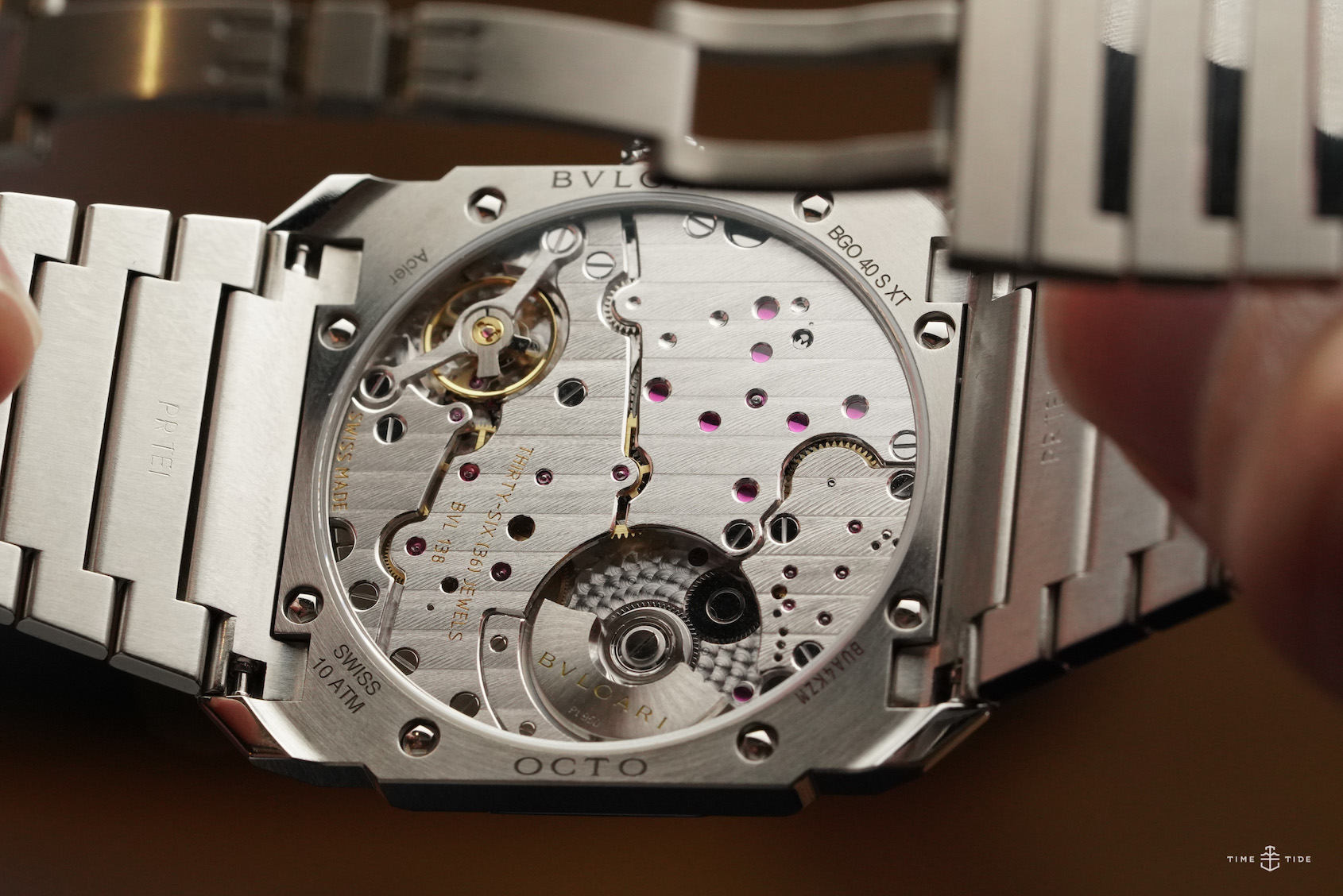 It's not just the front of this watch that will leave you in awe though – turn it over and, thanks to a sapphire crystal display caseback, you're greeted with what I believe is the best movement in a luxury steel sports watch made today. Calibre BVL 138, whether in terms of technicality or appearance, is wonderful and an exemplar of Bulgari's commitment to haute horology. Measuring just 2.23mm thick (an absurdity in its own right), the self-winding movement features a micro-rotor hewn from solid 950 platinum, 36 jewels, 3Hz operating frequency and 60 hours of power reserve. The decoration on offer is also admirable, with plenty of Geneva striping, exquisite chamfered edges on the balance bridge and a lovely radially brushed pattern on the micro-rotor, along with "BVLGARI" engraved in gold.
The bracelet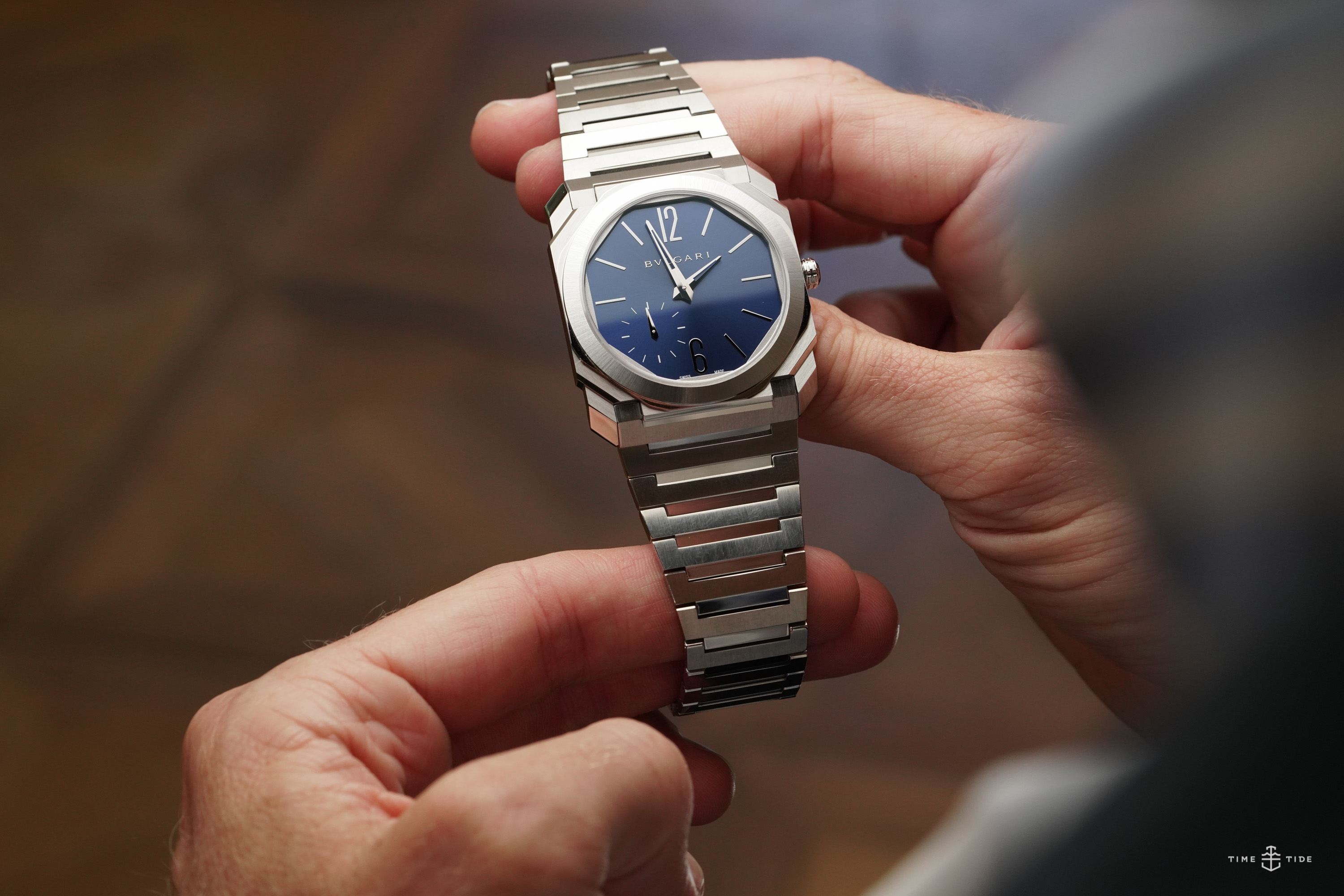 Integrated steel bracelets are certainly more prevalent than they were a decade ago, but they're still a very hard thing to master. But that's exactly what Bulgari has done with the Octo Finissimo's bracelet. It is superb, and now that it's made from steel as apposed to titanium, it's got a bit more weight and substance.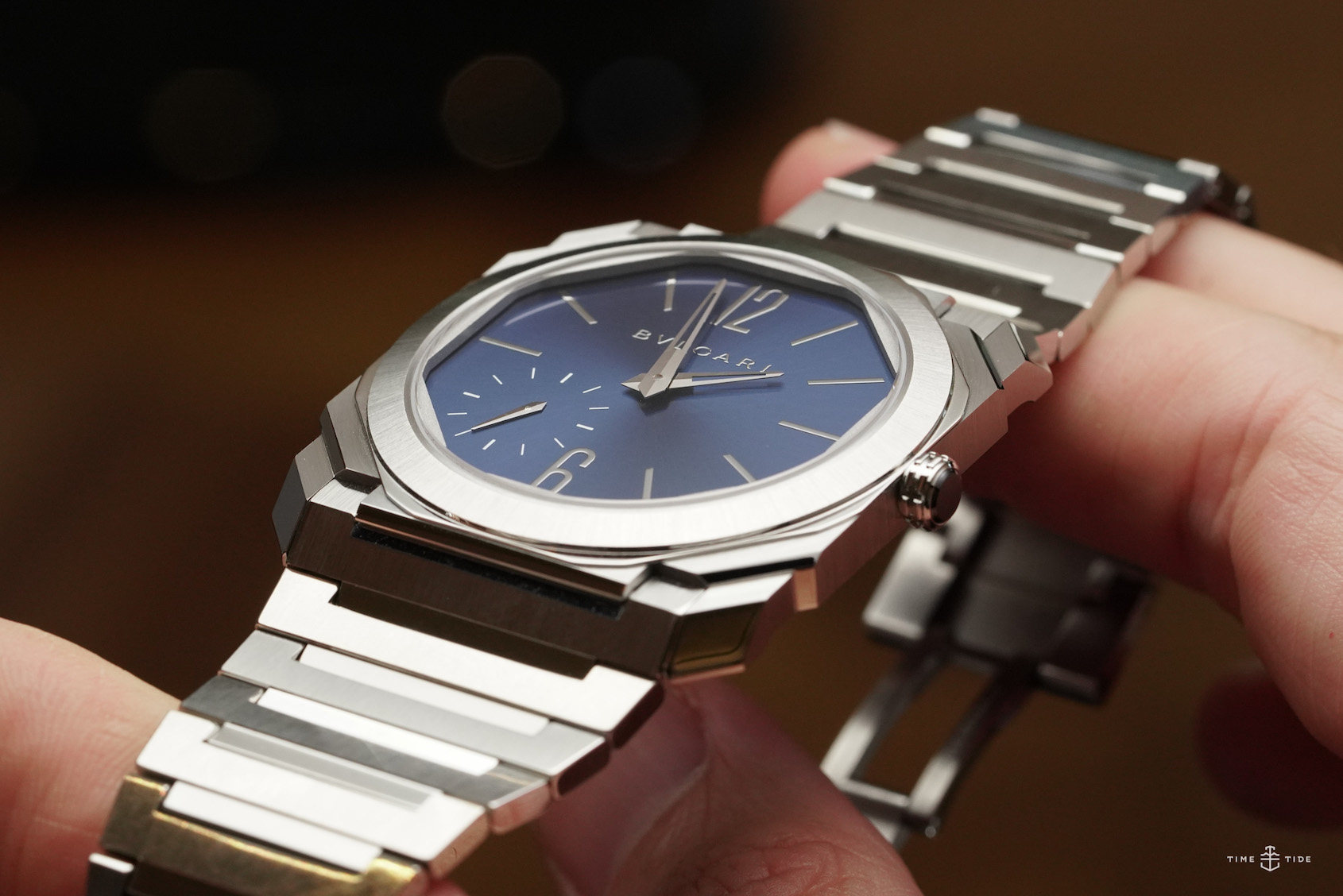 I also like the butterfly-style deployant clasp that forgoes any type of push-button actuation – it makes for a much cleaner-looking design.
On the wrist
It is such a pleasure wearing the Octo Finissimo in satin polished steel. It's difficult to describe, but you know how you put on some watches and they just feel right? That's the exact sensation this Bulgari gave me. The blue dial has also softened the overall mood compared to the black dial; it feels like it doesn't take itself as seriously, even if its capabilities are just that – serious.
Verdict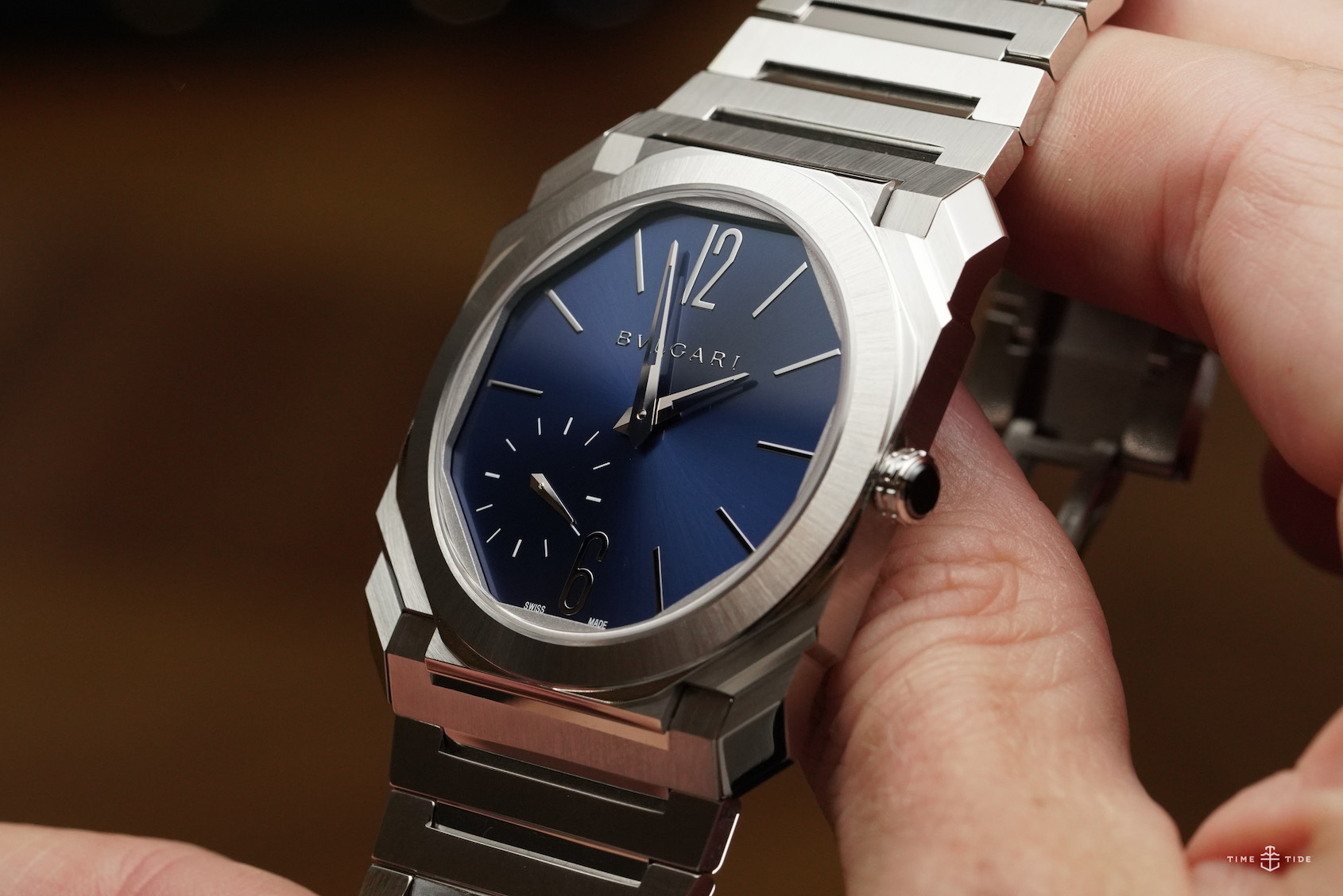 This is a watch you could easily imagine Lapo Elkann wearing while partying somewhere along the Italian Riviera, just like his rakish grandfather used to back in the day. And perhaps that's a good analogy for what the Octo Finissimo in satin polished steel has done for the luxury steel sports watch market – it's harnessed the spirit of its forebears, and brought it forward to the here and now.
As for the blue dial, well, the nature of the watch necessitated its existence. For Bulgari to create such a brilliant timepiece and not affix it with the most popular dial colour in the luxury steel sports watch segment would've been not only a travesty, but also a sizeable missed opportunity. Thank goodness they have. This may well be the best watch of 2020.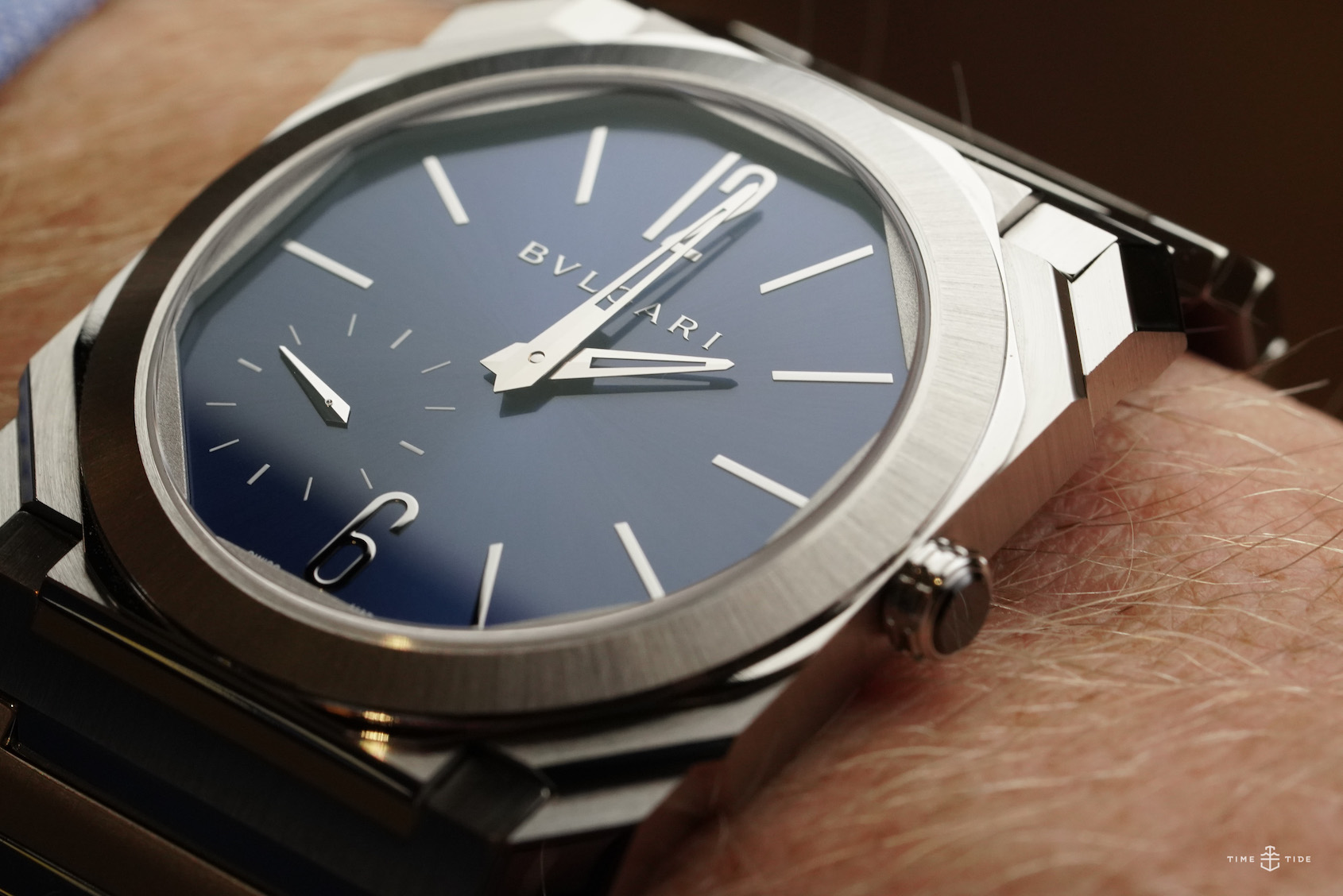 Bulgari Octo Finissimo blue dial pricing and availability:
The Bulgari Octo Finissimo blue dial in satin polished steel, Ref. 103431, has a recommended retail price of $17,800AU and is available from both Bulgari boutiques and authorised dealers across the country.
Made in partnership with Bulgari. However, the opinions expressed in this article are our own in accordance with our Editorial Policy.