HANDS-ON: The Cvstos Challenge GT Chronograph
Felix Scholz
Over the last few years there's been a lot of noise about how the watch industry has returned to smaller sized watches, abandoning the larger diameters that dominated wrists in the last decade. And while it's true that we are seeing more new watches in the 36-40mm range, that doesn't mean that the 'go large or go home' brigade isn't well represented, as these two monsters from Cvstos clearly demonstrate. You're looking at two watches from the Cvstos Challenge collection. Large, sporty tonneaus with formidable dimensions of 45mm from side to side, and 59mm from lug-tip to lug-tip. The orange model is a limited edition made to celebrate Spanish Grand Prix motorcyclist Dani Pedrosa (there's also his number on the side of the case and his name on the dial). The distinctive case is made from a titanium core, with orange aluminium outer elements. If orange isn't your speed, don't stress, because there's also this bright yellow, regular production, version. Aside from being colourful, the cases owe much of their design to the stripped back, sporty aesthetic of high-end performance machines, hence the GT nomenclature for this style of case.
As you might expect, these watches are chronographs, with stylised minute and hour counters at the top and bottom of the dial respectively. There's running seconds at nine, and a power reserve indicator squeezed in next to the date at three. The crown and pushers, like every other element of the watch, are aggressively stylised and oversized; heavy knurling on the crown and paddle-style pushers that bring to mind a sports car accelerator.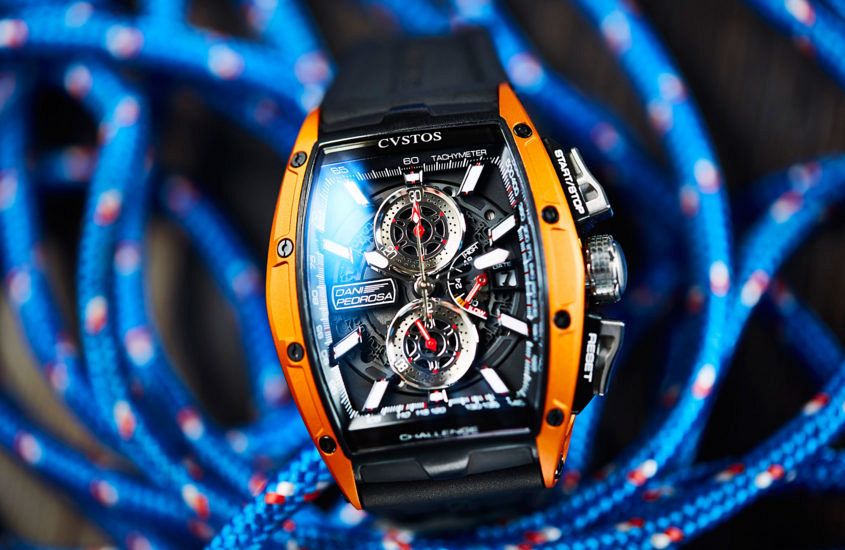 This is not a watch for everyone. It takes a certain sensibility and style to be able to convincingly wear a watch as bright and bold as this. Honestly, I don't think I could manage it (and I'm typically down for both colour and size), but you know what, if everyone's interest ran exclusively to the same, round steel watches, things would get very boring very quickly.
Cvstos Challenge Chronograph GT Australian pricing
Cvstos Challenge Chronograph GT in yellow, $29,100, Challenge Pedrosa limited edition, $31,600