Engineering a classic: The history of IWC's Ingenieur
D.C. Hannay
While IWC is rightly known for their wide range of classic Pilot's watches, including the Big Wrist Energy radiating from their Big Pilot's models, their many chronograph references, and the flieger-style Mark series, there's another name that's no less important in their history: The Ingenieur.
First developed in the 1950s for technical and scientific applications, the Ingenieur (French for "engineer") was an innovative model that, along with Rolex's famed Milgauss, paved the way for practical, highly capable wristwatches. Let's take a brief look at the evolution of this acclaimed timepiece.
The first Ingenieur model made its debut in 1955, an elegantly-styled watch yet diabolically-numbered Reference 666, that also happened to be remarkably durable in everyday use. This classic beauty was distinguished by its well-proportioned 36mm case, applied indices, sleek dauphine handset, and some hidden talents that belied its refined appearance.
Not only was it water and shock-resistant, but this first Ingenieur was built with a soft iron inner "Faraday cage", rendering it highly antimagnetic. It's no wonder that it was favoured by the scientific, engineering, and industrial community. At the surface, it did little to betray its robust nature, save for the Ingenieur logo above 6 that was stylised with a flourish that resembled a bolt of electrical energy. The Ingenieur range sported automatic movements, featuring the winding system designed by IWC's technical director, Albert Pellaton. His design made the movement not only more efficient, but more resistant to shock.
In time, cases were incrementally upsized (as with the 866 of the late '60s), and hands and dials also evolved with the times, lending a more casual look.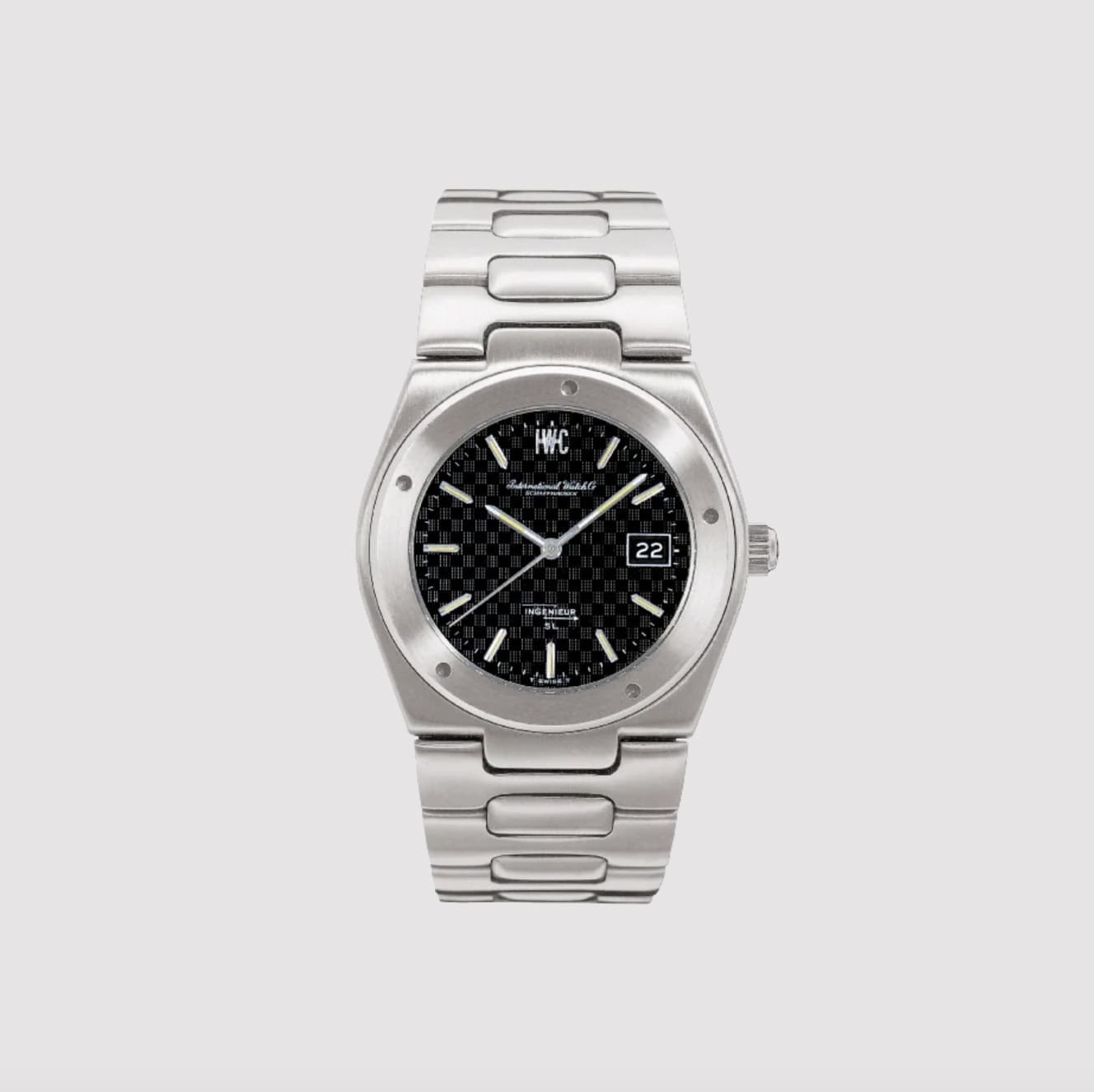 A major change to the line came in 1976, with the introduction of the striking Ingenieur SL, completely changing up the dressy aesthetic to one that was resolutely forward-thinking. Gone was the traditional round case, and in its place was a modernist integrated profile, imagined by none other than Swiss design legend Gerald Genta.
Already having made his professional bones with the Audemars Piguet Royal Oak and the Patek Philippe Nautilus, Genta sketched another icon in the newly redesigned Ingenieur. Sleek and sinuous, with a commanding wrist presence, the first reference, the 1832, upped the diameter dimension to 40mm, and was distinguished by its wide, 5-bored circular bezel and beautifully sculpted H-link bracelet.
My favourite version is the black checkerboard guilloche-dialled variant, whose multiple textures display a very racy look indeed. The "Jumbo" 1832 is pure, white-hot fire, and likely the most-desired of any Ingenieur model. Given its Genta-penned origin, collectors consider it a design classic, and choice examples are typically priced between US$30,000-$40,000. And while the 1832 is now highly sought, it was met with a lukewarm reception at the time, with less than 1,000 examples produced. Ladies' and quartz models with the same Genta aesthetic followed, and the 1980s saw the introduction of various complications. Those included a perpetual calendar model first introduced in 1985, followed by chronograph variants toward the end of the decade.
Then there's this: In 1989, IWC released the bonkers Ingenieur 3508, an overbuilt 34mm reference designed to withstand an absurd 500,000 Amperes per metre. In truth, the watch was run through some heavy-duty tests (including close encounters with an MRI), and withstood an astonishing magnetic force of 3.7 million A/m. An incredible feat of engineering to be sure, but big changes were on the horizon.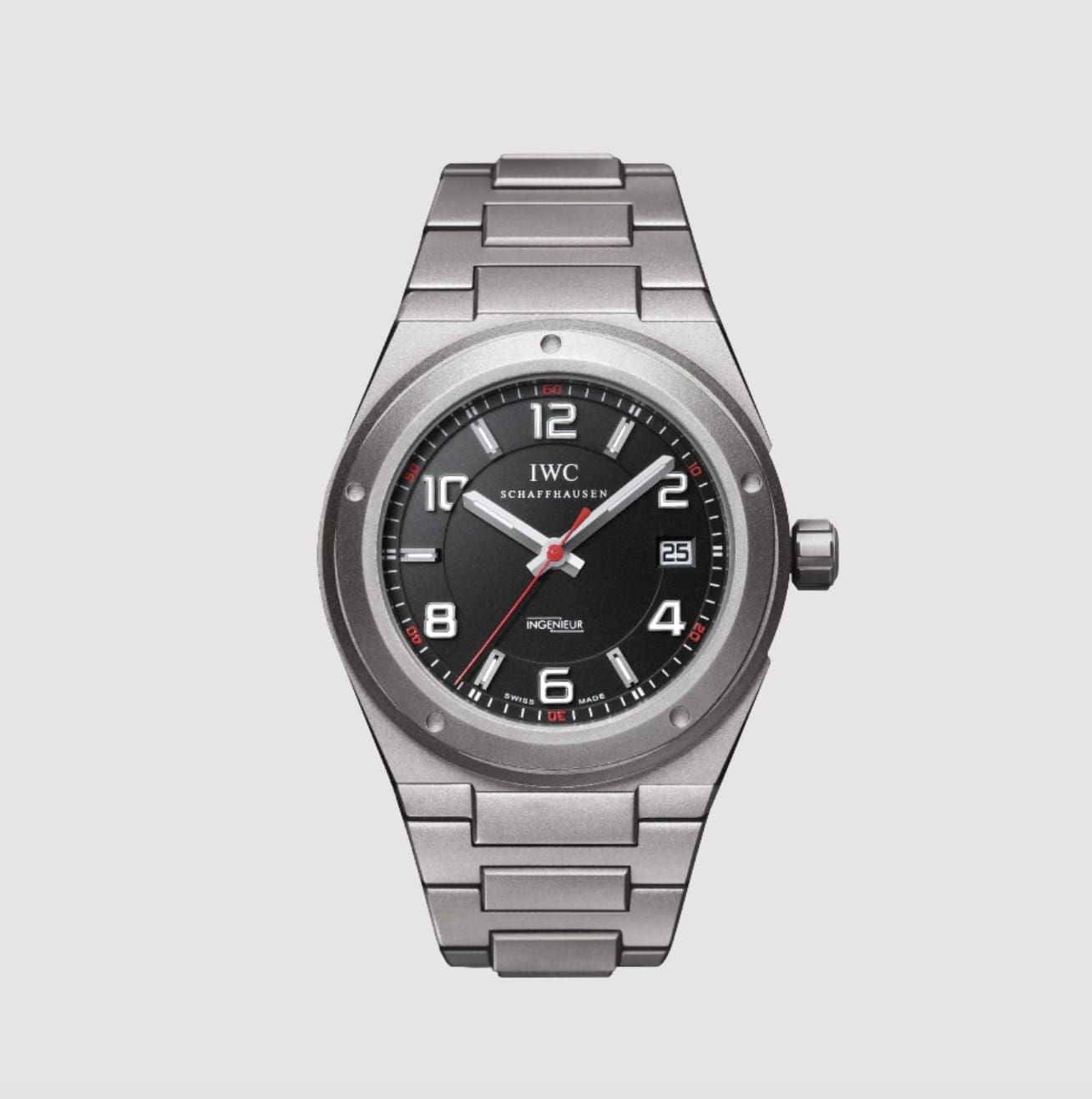 After several years of languishing in the margins of IWC's catalogue, 2005 saw the introduction of a bigger, bolder Ingenieur, the stainless 42.5mm IW322701. The new model had all the classic Genta design cues, but in a more substantive package that mirrored the times, and the watch-buying public's taste for larger timepieces. And with the introduction of a pair of titanium Mercedes-AMG models (the IW322702 and IW322703), the Ingenieur line now had a bona fide hit on its hands.
The darker look of the titanium case and bracelet, along with the undeniable visual presence, clicked with fans of both integrated bracelet sports models and motor racing. And that's not all: IWC saw fit to expand the line with Valjoux-powered chronograph versions. Both standard and special Mercedes-AMG versions were offered as chronos, sporting dual registers (at 6 and 12), and massive, elongated chrono pushers.
And since nothing succeeds like excess, especially in an era where bigger was almost always better, IWC pushed out several larger case sizes in exotic materials like ceramic and carbon fibre, including many special editions with the Mercedes-AMG branding. It's a partnership that continues to this day, with the Mercedes F1 team regularly flexing Big Pilot's and chronograph models in the team colours.
But the biggest Ingenieur flex to date has to be 2013's Ref. 5900 Constant Force Tourbillon, a 46mm beast rendered in platinum and ceramic. It boasts a hand-wound Caliber 94800 movement featuring twin mainspring barrels, along with a power reserve indication and highly detailed moon phase display. It's a true display of the watchmaker's art, and regularly trades for north of US$200,000.
Today, there's no integrated version of the Ingenieur for sale.
IWC's catalogue shows only round-cased models available, having reverted to the more traditional form factor in 2017. Make no mistake, these are gorgeous timepieces, ranging from the 40mm time and date Automatic, to the 42.3mm Chronograph, and the Ingenieur Perpetual Calendar Digital Date-Month, a 45mm piece in solid gold that retails for just under US$50K.
So what does the future hold for the Ingenieur? No one really knows, and IWC isn't telling, but given the history of the Ingenieur, the current mania around integrated bracelet designs, and the marketplace's appetite for all things retro, I'd wager that something more than an incremental update is on the horizon.