The long and winding history of the Bulgari Serpenti
Sandra Lane
For most of us today, snakes evoke a mixture of fascination and fear – but since Ancient times they have been a mythological symbol for countless cultures and civilisations. Although, in the Christian tradition, a serpent represented the devil in the Garden of Eden, snakes mostly had positive associations. For Native Americans, Mayans and Aztecs, Persians, Chinese, Hindus, Africans and Australian First Nation tribes, they represented, variously, power, wisdom, eternity, fertility, sexual desire, protection, and a direct link to ancestral spirits.
Unsurprisingly, then, since humans first adorned their bodies with jewellery, snakes have been a constant motif – the shape of their sinuous bodies being perfectly suited to wrapping around wrists or necks. The Egyptian Pharaohs and Queens (we'll come back to Cleopatra later) wore serpentine bracelets and adorned their headdresses with a rearing cobra to signify their quasi-divine status. From there, the powerful symbolism of snakes spread to Greece, becoming associated with Asclepius, the God of medicine (a serpent coiled around a rod remains the emblem of physicians to this day), and thence to Rome, where they represented wisdom and everlasting love.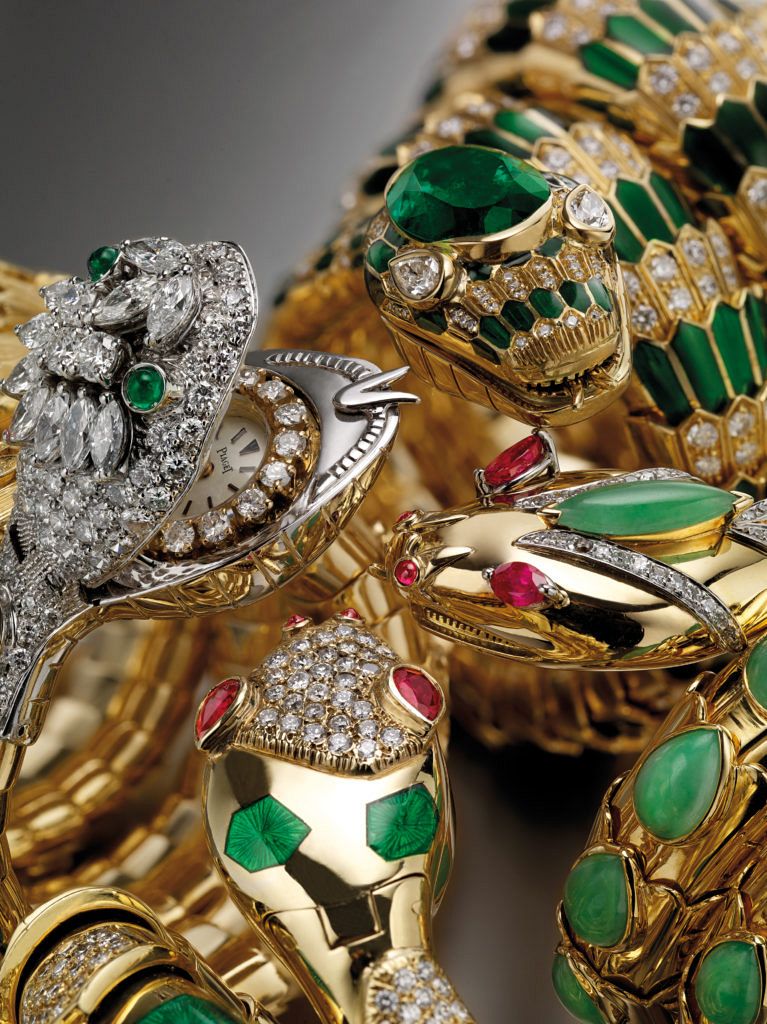 In the 19th century, Queen Victoria's engagement ring – which took the form of an emerald and ruby-set snake – sparked a decades-long craze for serpent jewellery, and in the 20th century many of the major jewellery houses have created gem-encrusted snakes. For Bulgari, the serpent has become central to its identity.
After Greek émigré silversmith Sotirios Voulgaris (he Italianised his name to Bulgari) founded the firm in Rome in 1884, it was natural that he should draw on the Greco-Roman heritage for inspiration – and serpents were an intrinsic part of that. Since snakes got their really big break at Bulgari in the late 1940s, they have appeared in countless forms: most famously as bracelets — some with watches and others without — that wrap around the wrist multiple times.
At first highly abstracted, the forms evolved over the decades, becoming more animalistic through the 1960s and early '70s and, in the past decade, reinterpreted in more geometric and stylised form once again.
The 1940s
It all began with a flexible gas pipe – the inspiration for, and literal (and wonderfully prosaic) derivation of the word Tubogas, the name for the flexible tube of gold braid that was to become a Bulgari icon.
In the aftermath of World War II, Europe was in no mood for flamboyant, gem-encrusted jewellery; polished metal offered a more sober form of glamour – and the functional practicality of a watch seemed more appropriate than pure ornamentation. Enter the Tubogas watch, with its serpentine golden bracelet – the watch case representing the snake's head.
Assembled entirely without soldering, Tubogas requires great skill and a lot of time to produce: it is formed by wrapping long bands of gold around a steel core. As they are coiled, the rounded contours of the bands interlock to completely conceal the inner structure. The flexibility of the coiled bands is what gives the Tubogas its characteristic bounce – and super-comfortable fit. The technique originated in the 19th century and, while Bulgari's first example was made in 1948, it took another 15 years before its goldsmiths fully mastered the technique.
The 1950s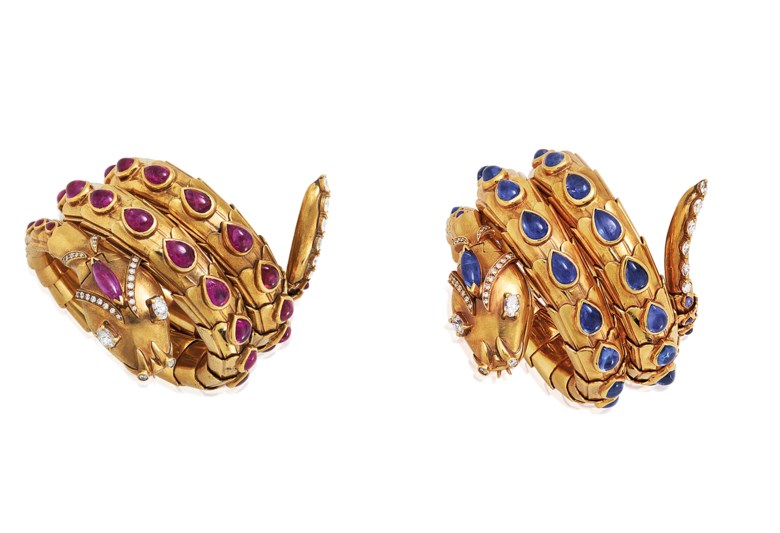 Innovative, modern and very distinctive, the Tubogas style quickly built a following. Since everything was hand-made from scratch, there were many variations – no two pieces were exactly the same and many different case shapes appeared. (Bulgari's archives contain sketches for almost 1000 pieces.)
The watch movements were supplied by the leading houses of the day: Jaeger-LeCoultre, Vacheron Constantin, Piaget – and, later, also Movado – and the dials were often co-signed. Naturally, they were hand-wound, mechanical calibres.
From the mid-1950s, alongside the abstract Tubogas pieces, Bulgari began to experiment with more naturalistic designs – especially reinterpretations of the head shape, which included the first designs that hid the watch movement inside the head, under a hinged cover.
The 1960s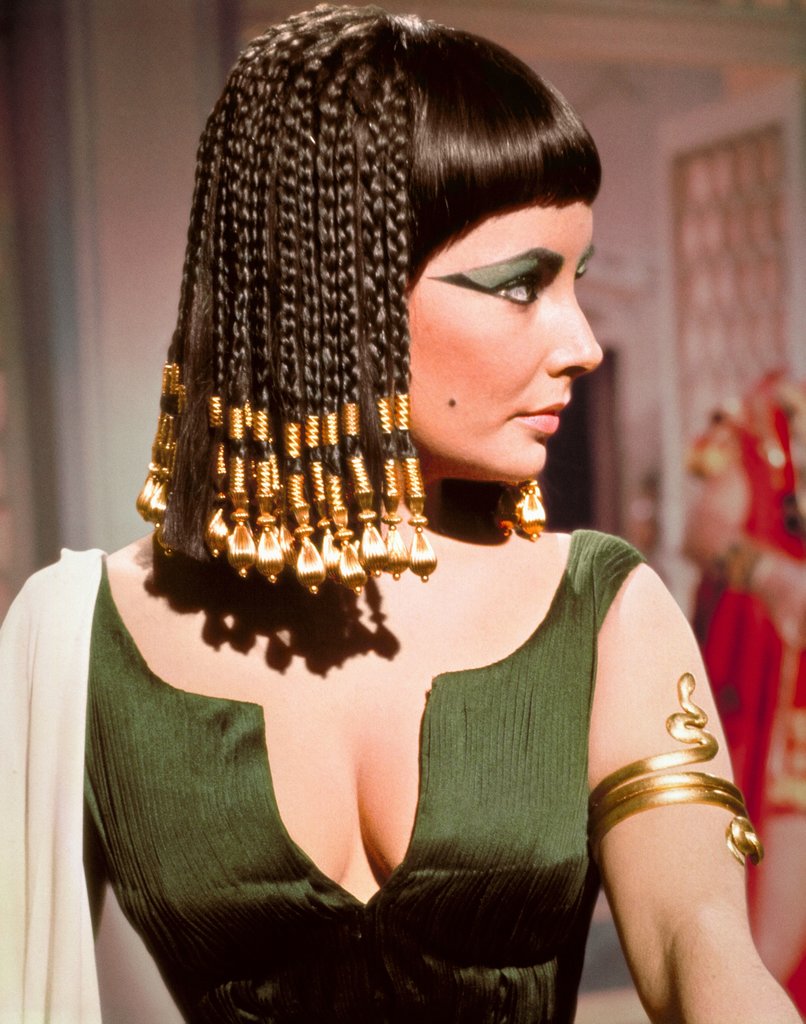 If one single event triggered the explosion in Bulgari's fortunes and the Serpenti's notoriety, it was the decision to film the movie Cleopatra in Rome. For Elizabeth Taylor, the superstar with an already-famous love of jewellery, Bulgari's boutique in Via Condotti must have been like catnip. In a publicity still taken on set in 1962, she is wearing one of the first gem-set 'secret' Serpenti watches ever made by Bulgari (in her Cleopatra costume, she wore snake armbands created by the 20th Century Fox props department). Better yet was her affair with her co-star Richard Burton – right under the nose of her husband, Eddie Fisher. Both men bought her extravagant jewels from Bulgari as they vied to win her.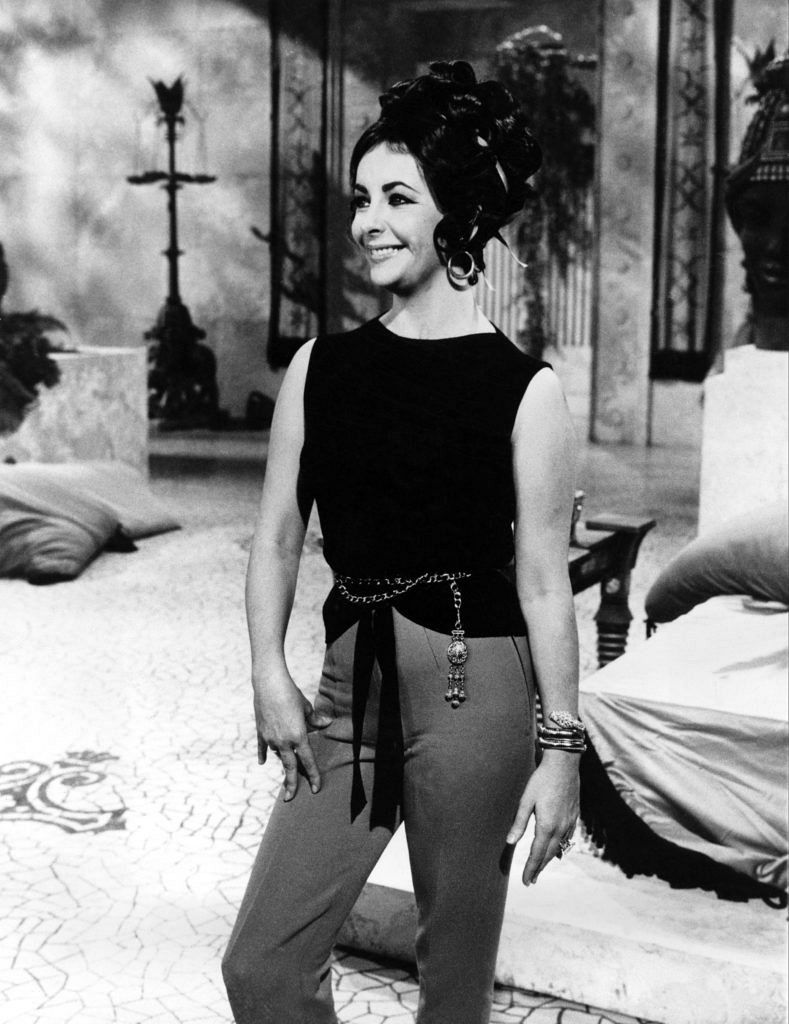 Riding the wave of Cinecittà, the 1960s was a decade of hedonism and tremendous energy in Rome – it was La Dolce Vita made real – and Bulgari responded with astounding creativity. New interpretations of Serpenti watches started to appear with scales – in plain or engraved metal, inlaid with polished hardstones, set with faceted gems, or decorated with vivid polychrome enamel. As the body of the snake coiled around the wrist, the scales progressively increased in size, culminating in an oval-shaped head with a concealed movement inside. (For the enamel bracelets, each scale had to be enamelled and fired separately before being attached with tiny, invisible screws. These pieces are now highly sought after by collectors, commanding big prices at auction.)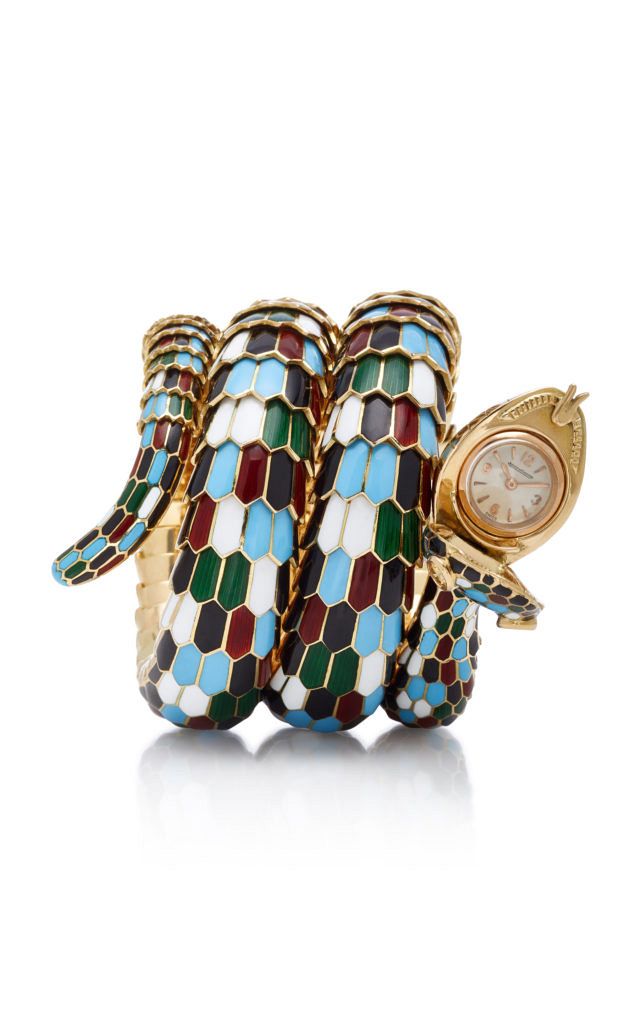 Snakes were having a major fashion moment – interpreted by Bulgari (and other top jewellers) as both pure jewellery and jewelled watches. In a 1968 memo to her staff, the great Vogue editor Diana Vreeland typed: "Don't forget the serpent … it should be on every finger and all wrists … the serpent is the motif of the hours in jewellery … we cannot see enough of them." Vreeland herself wore a Bulgari Serpenti belt in white and pink enamel – sometimes around her waist and sometimes wrapped around her neck.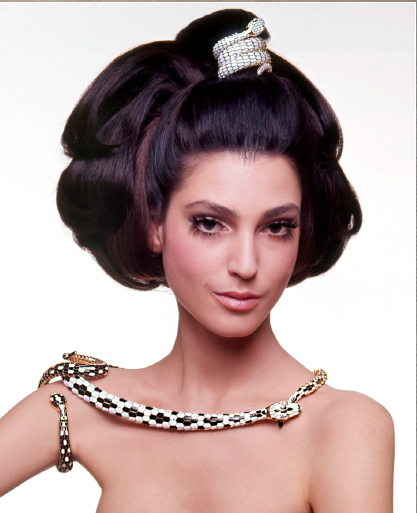 The 1970s
As social life changed and style became more casual throughout the decade, the Tubogas grew in popularity again – and in the mid-'70s, production of the elaborate, scaled designs ended. (They have reappeared only in the last decade.)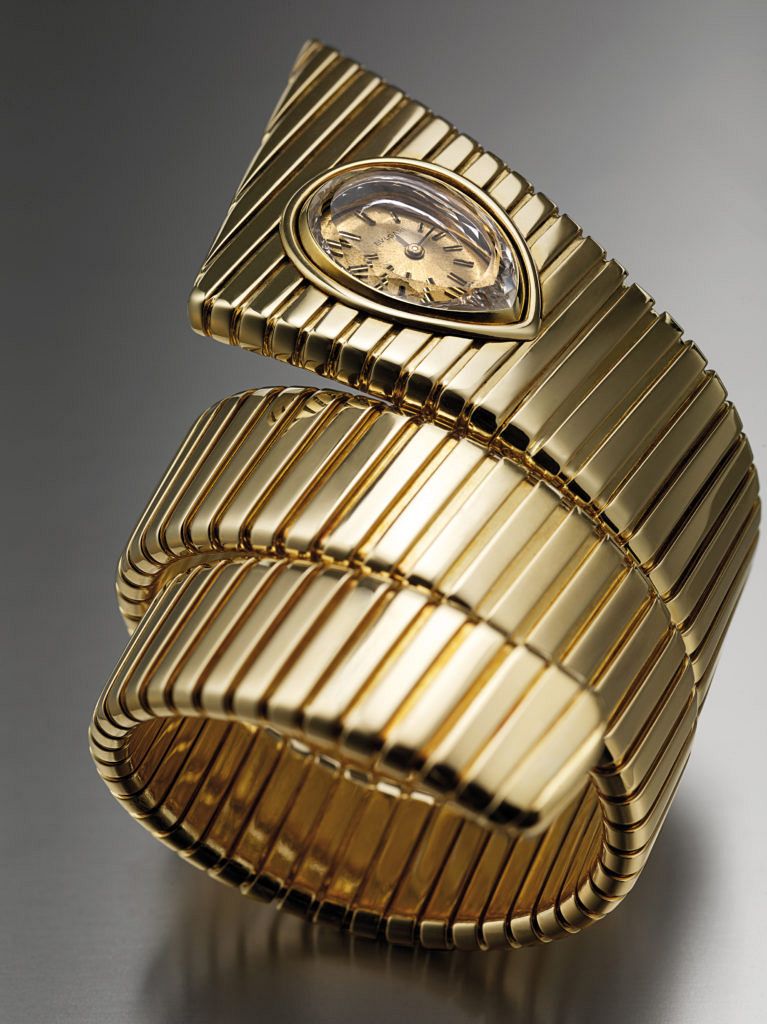 Seeking to vary the Tubogas, Bulgari introduced the pairing of steel and gold – a deceptively complex innovation, given steel's far higher melting temperature and far lower malleability compared with gold. As a result, the first gold and steel models cost more than those in pure gold.
Despite constant experimentation with case shapes and bracelet textures, the 1970s marked the end of the co-signed Serpenti pieces: in 1978 Bulgari opened a factory to produce its own movements.
The 1980s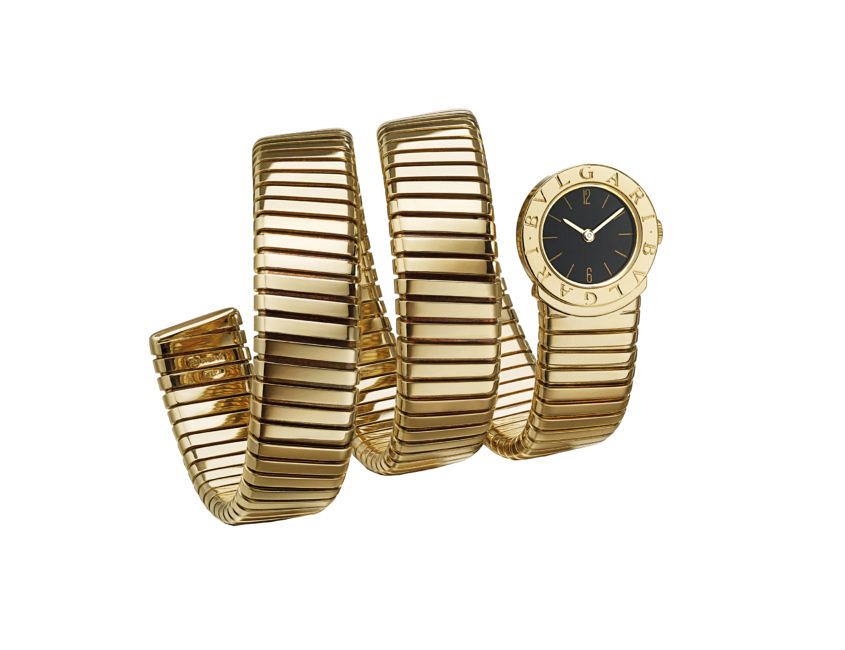 In the decade of logo-mania, it's no surprise that the Serpenti Tubogas with the Bulgari-Bulgari case was a runaway success. The case, with its heavily engraved bezel, was first offered on a leather strap in 1978 – seen as an outlandishly bold bit of branding at the time.
This Serpenti model – with a two, three or five-wrap bracelet, and in various different mixtures of gold – would remain in continuous production for almost 30 years.
The Serpenti now
In 2009, Bulgari marked its 125th anniversary by reintroducing the Serpenti in a new, more geometric form. The head became more triangular, with exposed dials in mother-of-pearl or black onyx and gem-set indexes; the bracelet scales became more square, with a chunkier profile – and were offered in several variations of plain gold, polished stone inlays (such as onyx or chalcedony) and diamond-set gold.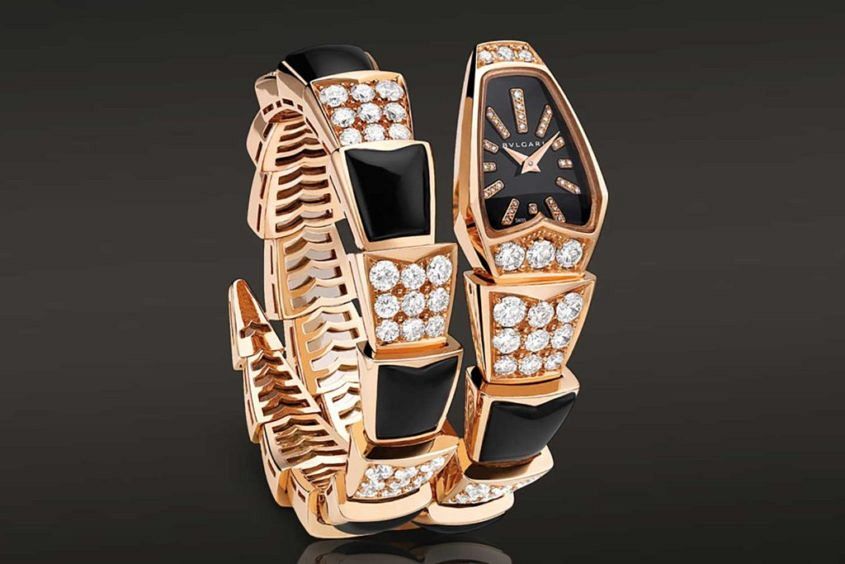 In 2010 Bulgari followed up with a new interpretation of the Tubogas: taking the 20th-century principle of bracelet with a case (of various shapes) attached, the two were fused, with the bracelet tapering seamlessly towards an integrated case. The case shape itself being somewhere between an oval and a triangle – softer and curvier than the 2009 version.
Paolo Bulgari made a gift of a double-wrap pink gold version of this piece to Elizabeth Taylor – making it Taylor's fourth Serpenti.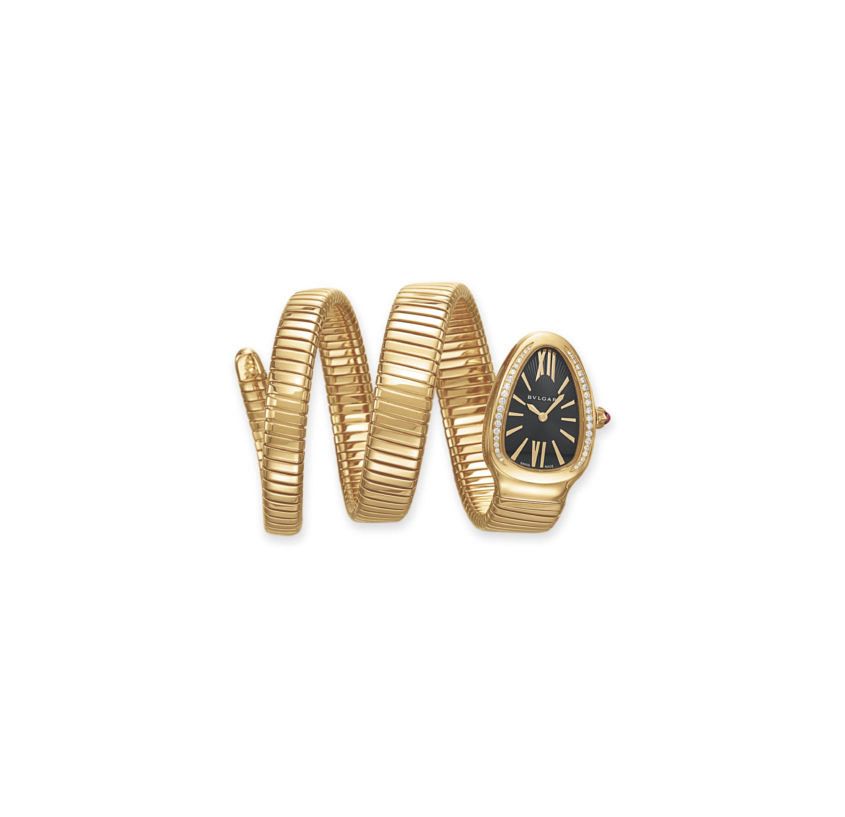 Bulgari had also begun to revive the Serpenti in pure jewellery pieces – including, for its High Jewellery collection in 2012, a fabulous extra-long necklace of emerald and turquoise beads, and a four-wrap cuff bangle entirely set with rubies and diamonds. Two years later, Bulgari introduced a trio of High Jewellery watches designed in the Head-over-Tail style that had previously been reserved for jewellery only.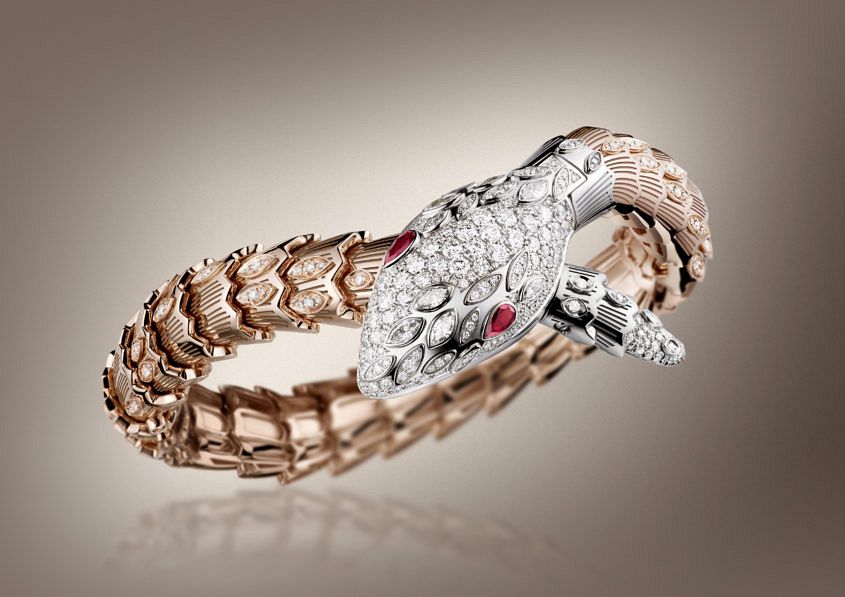 2015 brought the launch of another new Serpenti watch, combining the Head-over-Tail style with the sleek, geometric form of the 2009 design – not only in Bulgari's classic tones of black (onyx), white (diamonds) and gold, but also in vivid red enamel.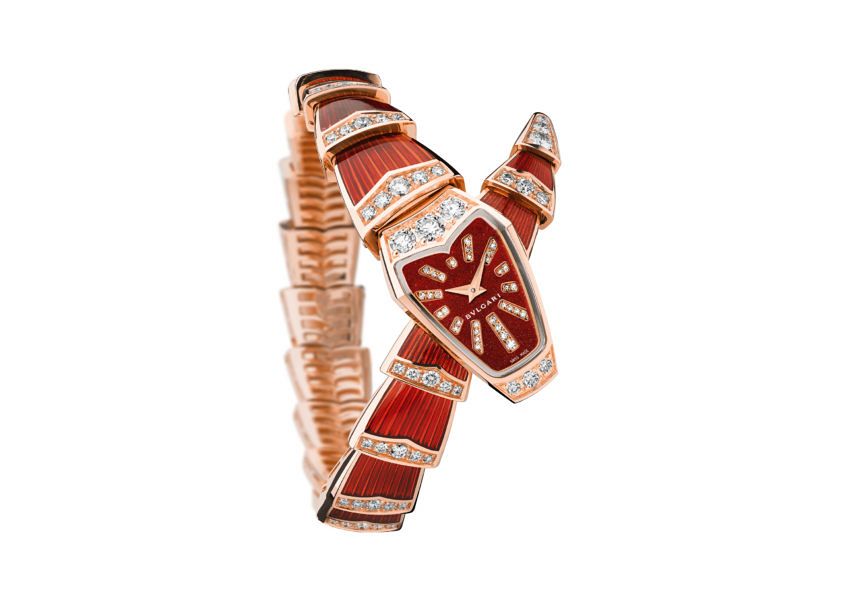 2016 was a sparkling year for Serpenti – literally – with the launch of Serpenti Incantati, an entirely gem-set collection in a completely new shape: rather than wrapping around the wrist, the snake's body runs around the circumference of the case on a flat plane, ending with the head (reduced to a single, polished gemstone) crossing over the tail. What's more, Serpenti Incantati, in its Tourbillon version, brought a mechanical movement back into the collection after an absence of almost three decades.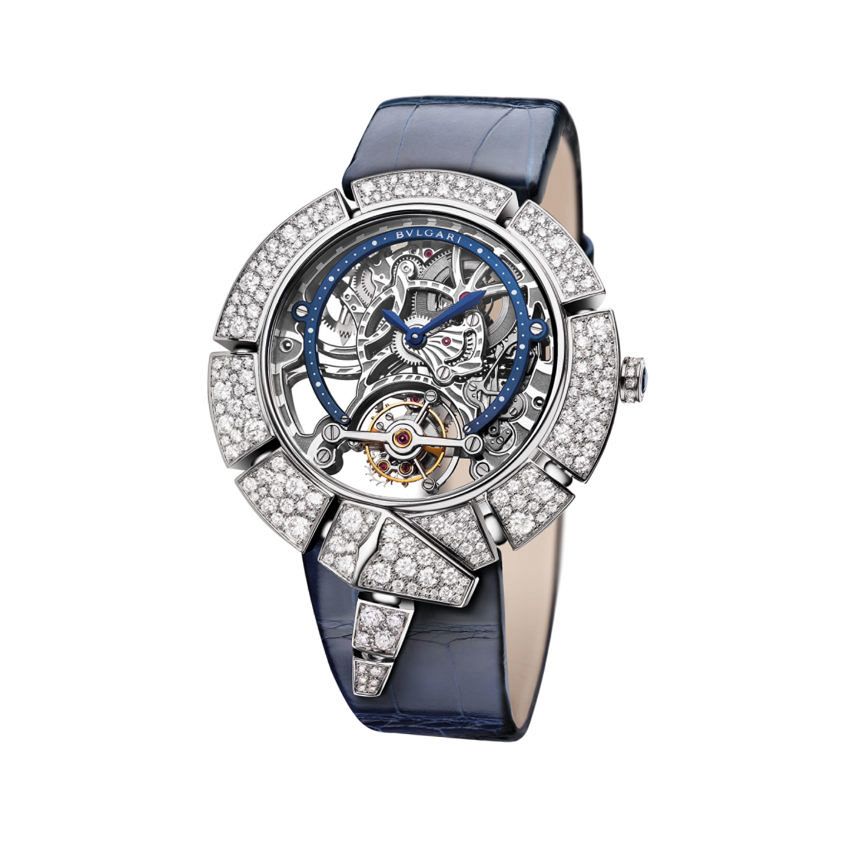 The same year's High Jewellery collection featured two contrasting interpretations of the Serpenti motif: on one hand, focusing only on the snake's head, a series of one-off pendants featured curving lines and very large cabochon stones; on the other, some earrings and bracelets focused only on the scales, reducing them to a highly stylised, graphic form that carried echoes of the 1930s.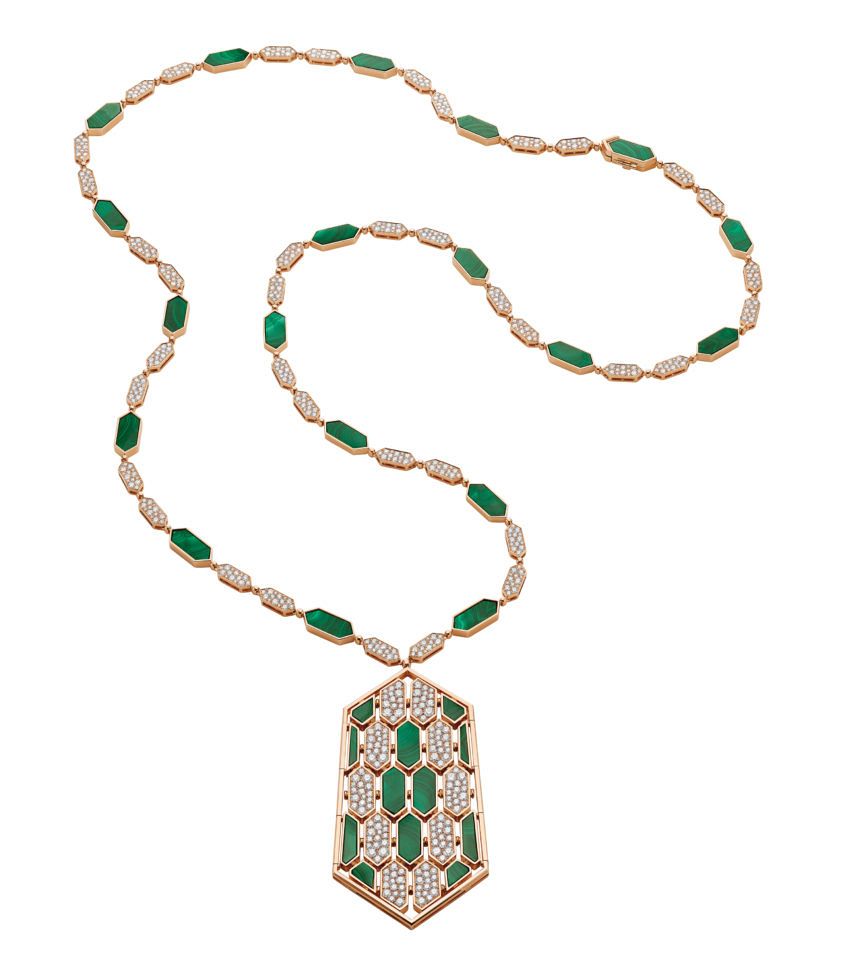 Also in 2016, Bulgari introduced Serpenti Spiga, a new collection with a wavy Tubogas-style bracelet executed in black or whitehigh-tech ceramic.
2017 took the snake into much younger, more casual territory with the launch of Serpenti Twist. The oval-triangle case of the 2010 model was completely separated from its bracelet: rather than a Tubogas, it came with a choice of double-wrap leather straps (textured to resemble a python).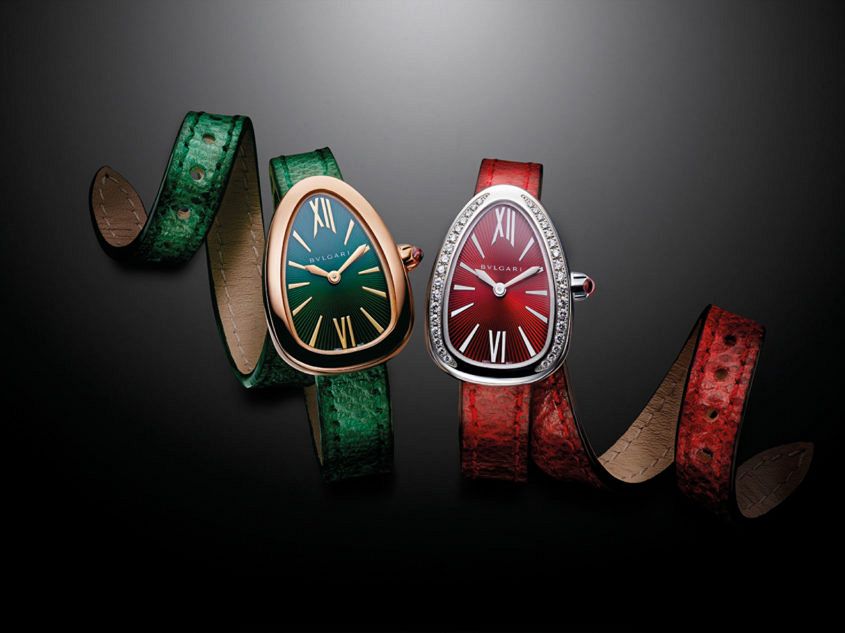 For jewellery watches, the Serpenti Seduttori name (see 2019) made its first appearance – in a series of rigid bangle watches, with the watch dial hidden inside the snake's head, which was in turn capped with a large cabochon sapphire or ruby.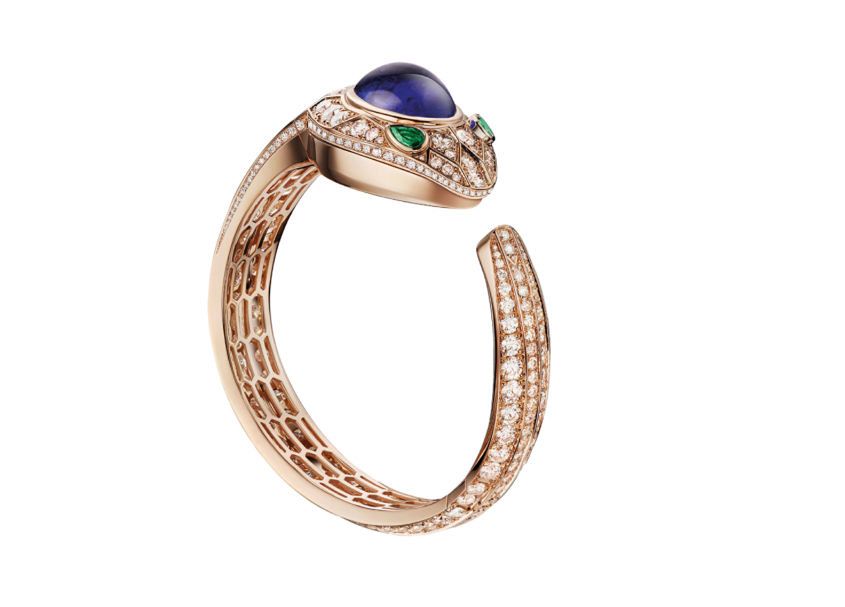 2018 took the Serpenti into yet more new territory, with a new Serpenti bracelet designed especially for the new Lucea Skeleton watch. And on the High Jewellery side, the Wild Pop collection included a magnificent onyx and gold cuff bangle with a Serpenti secret watch embedded into it, and the Serpenti Pallini watch, featuring a gem-set serpentine bracelet made up of a new shape of links.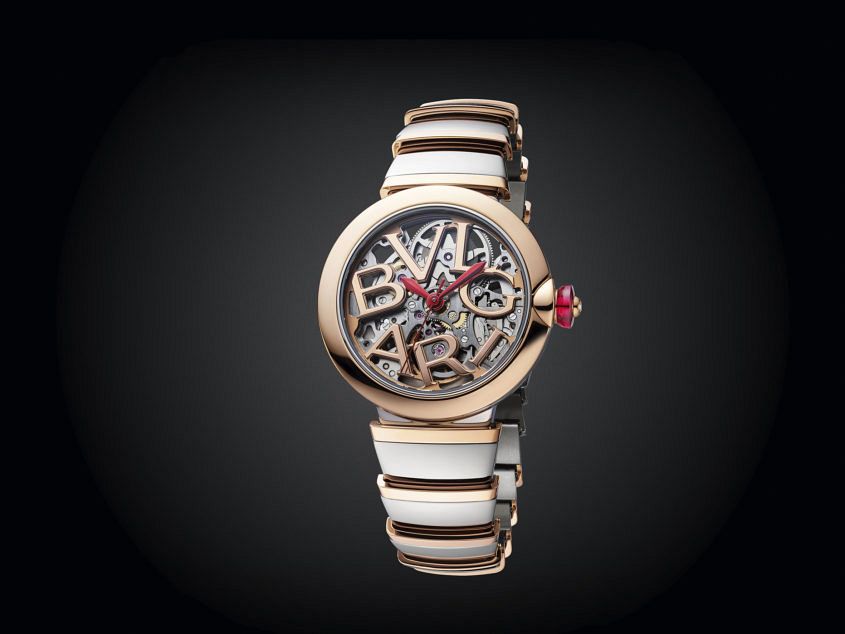 2019 This year, Serpenti Seduttori has taken centre stage – not as a jewellery watch but as an entire new mainline collection that completely re-thinks the idea of a 'snake' bracelet. It's sleek, it's bold, it's utterly modern, and all of the design emphasis is on the scales – but in a way that we haven't seen before. Or perhaps we have: way back in 1935, Bulgari made a superb platinum and diamond bracelet with links designed like a graphic representation of snakeskin scales. Almost exactly the same shape as the new bracelet, yet totally different. And therein lies the seductive power of the serpent: that ability to shed its skin and remain constantly fresh and absolutely ageless.