IN-DEPTH: The 'other' pink watch: Why I bought the Grand Seiko SBGA413 instead of waiting for the pink Rolex OP 36
Zach Blass
When the Rolex Oyster Perpetual 36 was announced back in September, I was pleasantly surprised by the colourful Stella-inspired dials. Like a pack of Starburst candy though, the pink was my clear favourite. It just seemed so out of the crown's wheelhouse, a gorgeous middle finger to everything you know and expect from the brand. The candy pink reference is definitely a peacocking dial, and I decided to put my name on the waiting list, figuring I could mull over if I was prepared to strap one on my wrist while I endured the inevitable wait. I sat by the phone for three months, waiting for one of three authorised dealers to call me with good news. One of the dealers even told me that it wouldn't take too long – boy was this sales rep wrong. It was really frustrating, especially because it was an entry Rolex model outside of the professional sports watch segment of their collection. But ultimately it ended up working in my favour – and this is where the Grand Seiko SBGA413 enters the picture.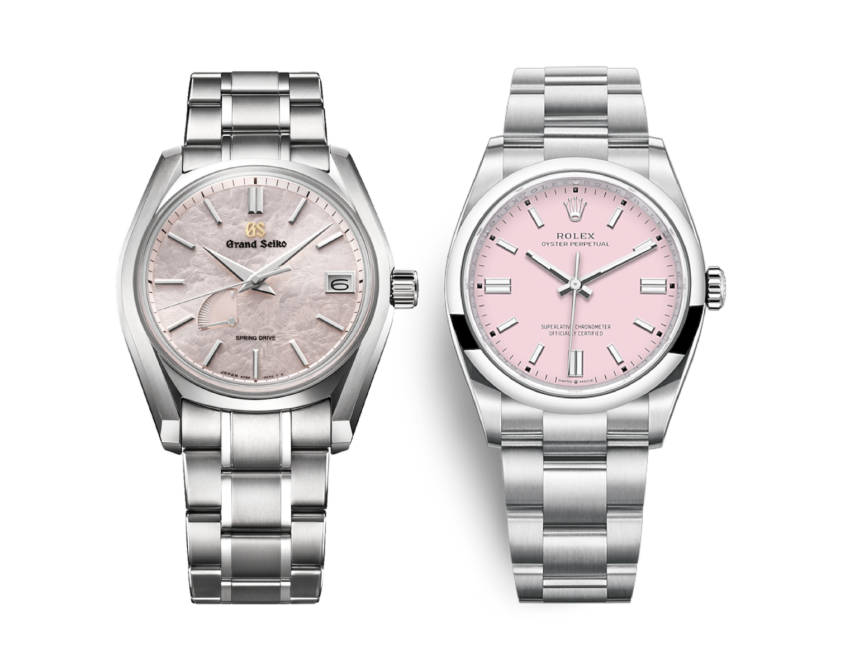 The SBGA413 is the Spring watch within the Four Seasons collection exclusive to the US market. It's cherry blossom dial and lion's mane texture captivated the hearts and minds of both the brand's most devoted fans and even those late to the Grand Seiko party as well. The Grand Seiko SBGA413 had always been on my radar, but I had initial concerns it would be too similar to the SBGA211 in my collection as they're both titanium, Zaratsu-finished masterpieces.
Each day I waited for the Rolex call, I kept circling back to the Grand Seiko – rewatching video reviews and always drooling over the shots that permeated my Instagram feed. I decided to reach out to a buddy of mine (@theminutemon) whose family owns Carat & Co, a watch and jewellery boutique that carries Grand Seiko (among other brands) here in Queens, New York. As if by fate, my friend told me to get over to the store ASAP because they just happened to have got one in stock and it would inevitably get sold very quickly.
View this post on Instagram
A train ride later, I arrived at the store to get some face time with the watch. I had seen it previously at watch meet-ups prior to the pandemic, as well as the Four Seasons exhibition – but I wanted to get another look in the metal to be sure this was the pink watch for me. Its colour is really hard to capture in photos and video footage, and those who knew of my dilemma and already owned the watch warned me it would not be the bold pink of the new Oyster Perpetual.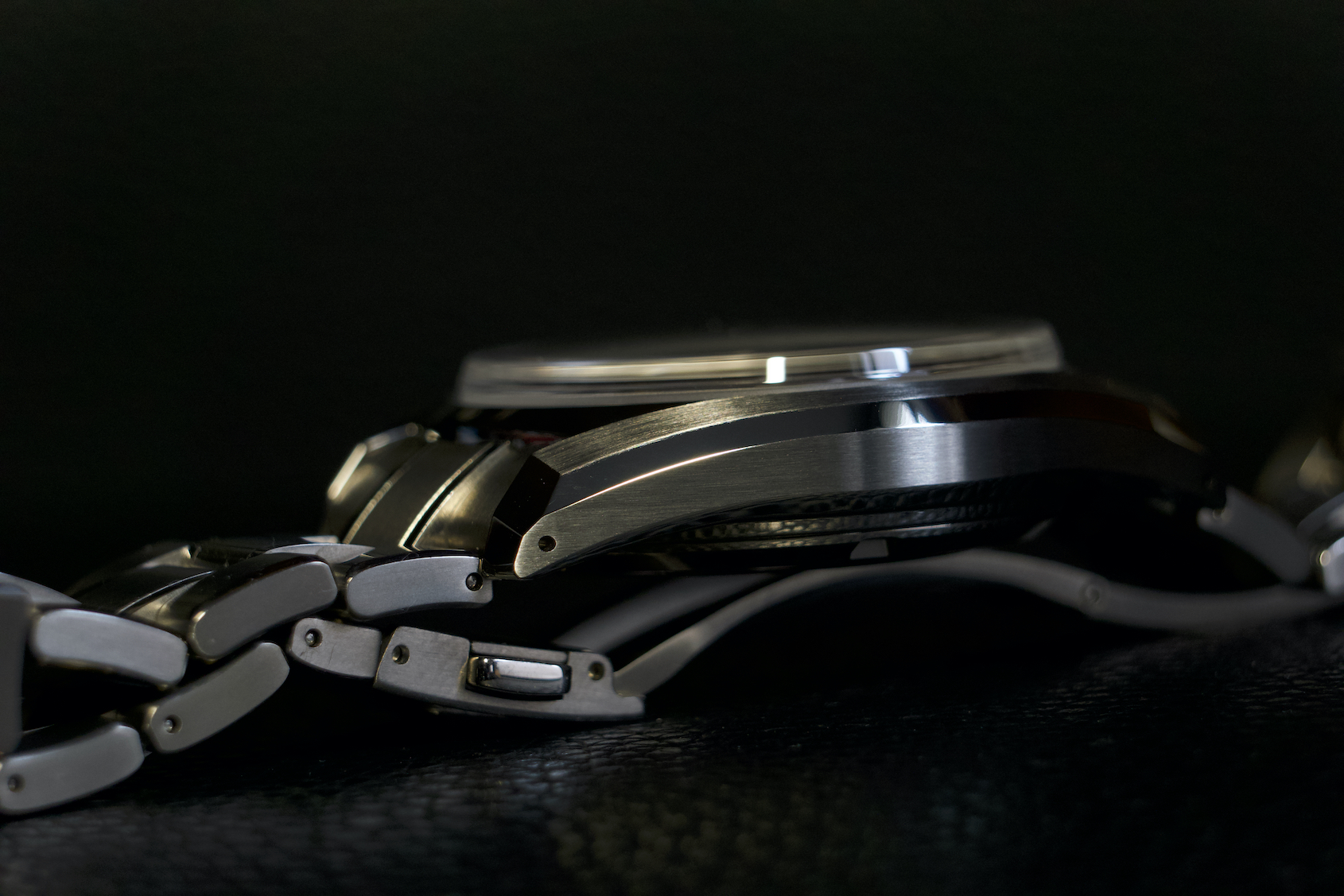 As soon as the watch was out of the case, and on my wrist, I was in love. I fell hard. The size is perfect at 40mm in diameter and 47mm lug to lug. The familiar lightweight titanium felt at home on my wrist. What I most underestimated was how much I would love the style of the 62GS case. The geometries are very intricate and the hints of distortion-free mirror finish are incredibly incorporated into its design. It utilises much more of a satin brush than my SBGA211 with its polished accents and bevels creating a symphony of light and shadow.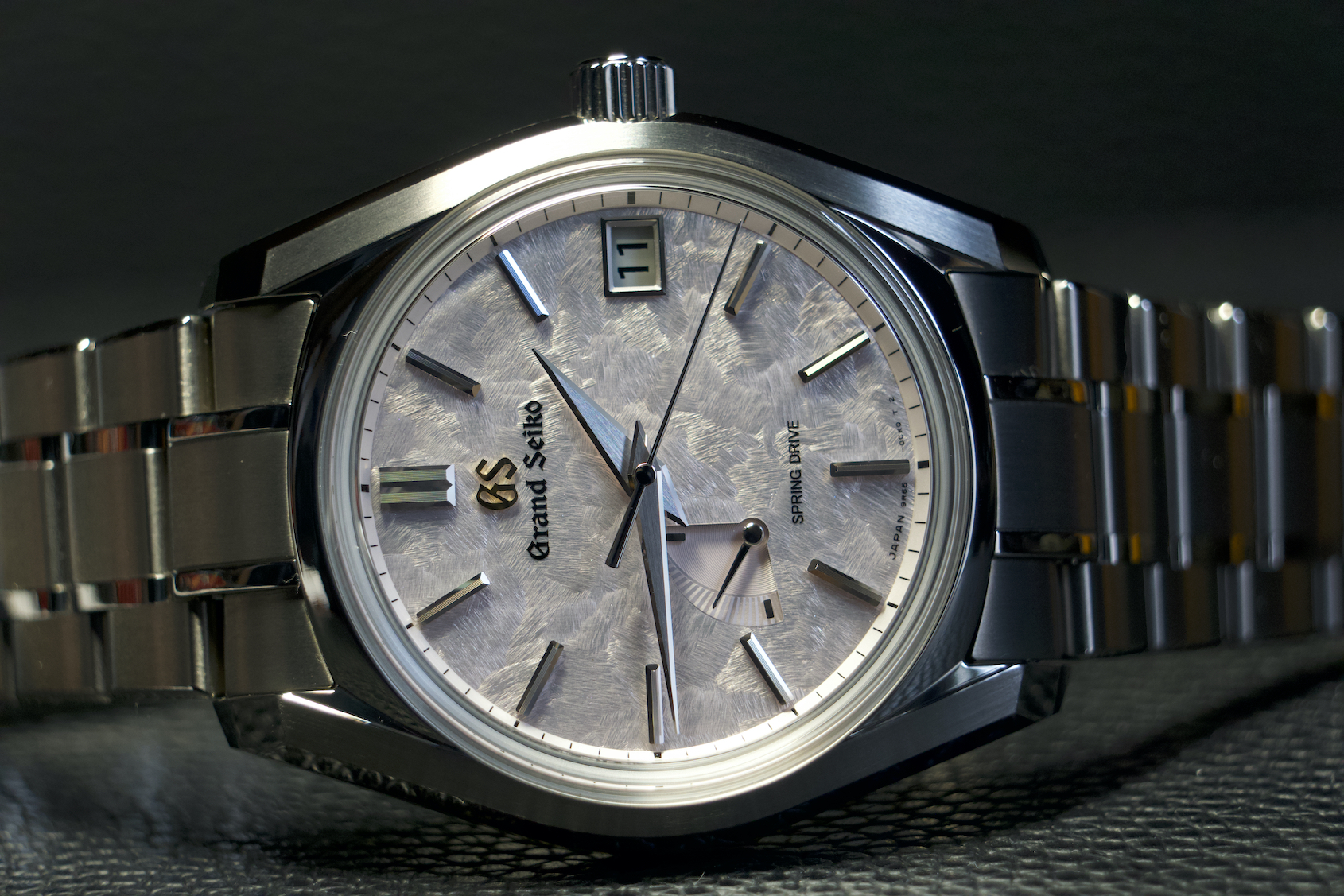 The obvious winner here is the dial, which to be fair is not the vibrant pink it may seem like it is in photos – at least not all the time. In the right lighting it becomes beautifully evident that its tone is inspired by the cherry blossoms of spring, while in other moments it appears almost silver with a pink hue. But this is where less is more. The Grand Seiko SBGA413 doesn't have the tonal volume of the Rolex candy pink OP 36 that brazenly demands attention – instead it earns it with some of the best artistry in watchmaking today.
I knew after a few minutes that I was leaving the store with this watch. I had it sized to my wrist, and wore the watch on my way home – my eyes rarely leaving the dial along the way. It just so happened this was the same day we had a team editorial meeting, and when I casually flexed the new watch over Zoom the entire Time+Tide squad erupted into gasps and cheers, Then, and now almost a month later, I knew I made the right decision. Here is why …
Firstly, if I am being honest with myself, while the candy pink dial was what initially intrigued me about the Oyster Perpetual, it was more the 36mm 904L stainless-steel build. After much consideration I realised that was not enough of a reason to wait or even purchase the watch – especially when I already have a Rolex Submariner 114060 in my collection. Due to its loud pink dial, it is likely my Submariner would still get more airtime due to its conservative black colour scheme and iconic good looks.
View this post on Instagram
It's also fair to say the Grand Seiko's second-hand market value – near double retail – was alluring as well just in case I ever wanted to part with the watch or leverage it for another as I have been known to do. While I don't see myself parting ways with my SBGA413, it's nice to know they actually sell over retail as well pre-owned – so even in that aspect the Rolex does not necessarily win.
Down the road when it's more fiscally feasible, I can always circle back to a different OP colour if the desire remains to add one to my collection. Although considering their accessibility is akin to getting past the bouncers at Berghain, waiting until I can fund one for my collection is not an issue. It could be many months or even a year when it comes to Rolex waiting lists – especially in New York City where I am by no means a VIP spender. I had actually put my name down for both the yellow and candy pink in 36mm, and I don't yet have a yellow dial in my collection. Besides, if Rolex revamps the Explorer this year and brings back 36mm sizing I would really be kicking myself then.
View this post on Instagram
Secondly, the reliability and hassle-free nature of Spring Drive, versus even a superlative chronometer movement, should not be underestimated. The mechanical (yes, mechanical) experience of Spring Drive is so horologically complex in its build, but it is such an easy movement to utilise and not worry about. The quartz crystal and tri-synchro regulator that replace a traditional lever escapement not only result in a perfectly fluid sweeping secondhand, but also unparalleled mechanical accuracy.
For doubters of my claim, the watch has so little electricity in its movement that it would take every individual in the United States wearing one to power a single lightbulb (give or take). At this time I have three Spring Drive watches, the Grand Seiko SBGA211 Snowflake, the Seiko SBWA001 "Spring Drive First", and now the Grand Seiko SBGA413. All of them, even the SBWA001 which has probably not been serviced in 21 years, still run within half a second a day at most. With regular rotation between the watches, I also rarely have to even wind them. Both Grand Seikos have essentially three days of power reserve, and the Seiko SBWA001 48 hours. As someone who constantly synchs my watches to Watchville, especially if they are running more than 10 seconds away from the actual time, I only have to adjust my Grand Seiko watches monthly at most. My Tudor, and even Rolex, are re-synched weekly – which is kind of annoying, but I know I am being spoiled and anal in this regard.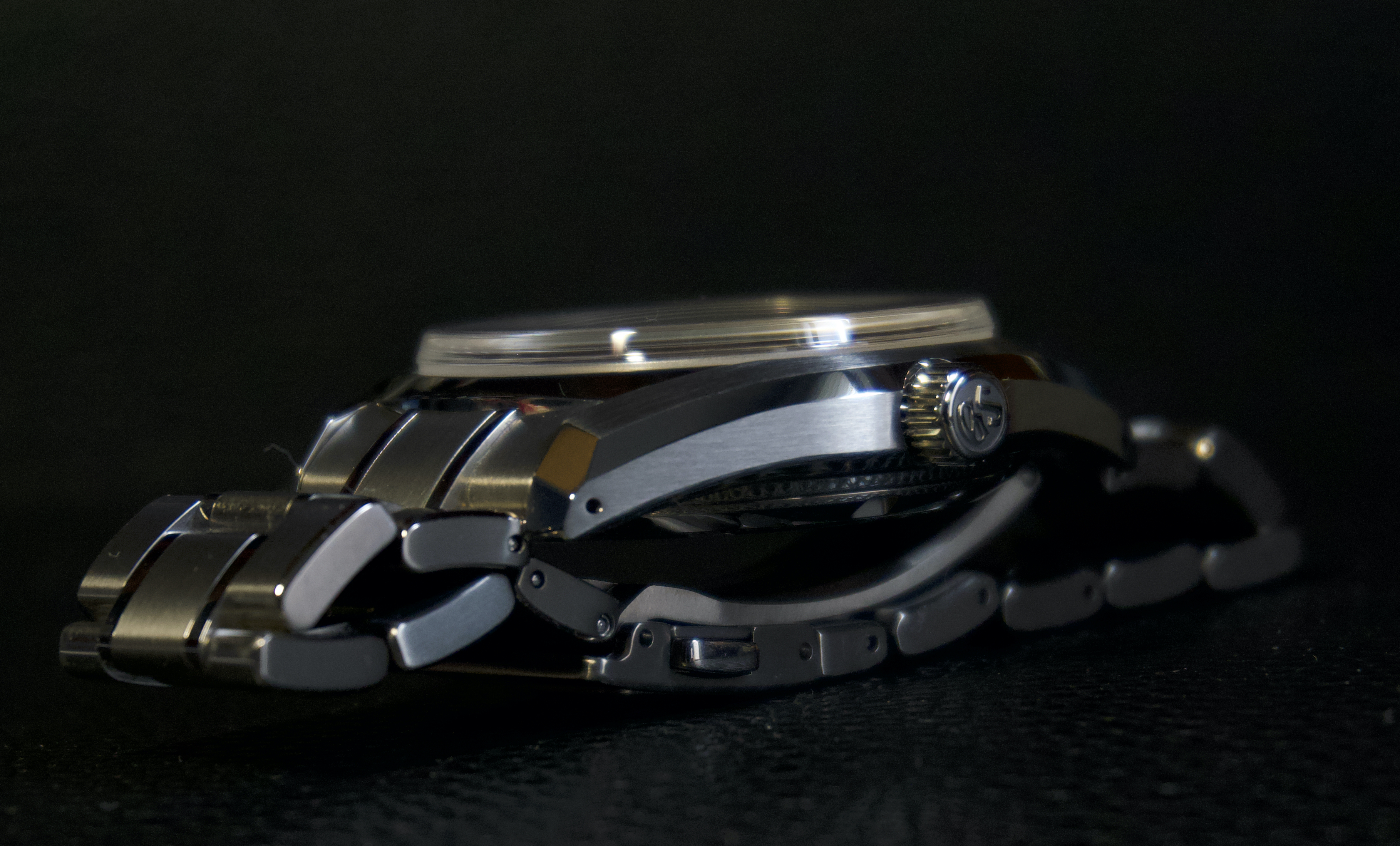 Thirdly, the presence of superior hand-executed finishes to the case, hands, and indices really tugged on the heartstrings of my inner watch nerd. Every texture and bevel is not just an aesthetic choice, but a strategic one as well. It is not random coincidence the hands and indices have satin brushes on their top side instead of the mirror polish seen on my Snowflake. This is decided in the design process with all of Grand Seiko's pillars of design in mind. In this instance, it's for legibility against the gorgeous cherry blossom dial.
When we discuss light and shadow in terms of Grand Seiko component surfaces, when looking at them head-on satin surfaces typically embody "light" while distortion-free mirror-polished surfaces embody "shadow". Think about it. What happens when a surface is black polished? The name of the technique is derived from how the finely polished surface goes black when the light hits it. The distortion-free surfaces of Zaratsu finishes are effectively black polished. This is why the brand brings so much value to the table. While most high horology brands apply this technique to the surface of only a few small components, Grand Seiko executes the time-consuming technique to a large portion of the watch – including its externals!
View this post on Instagram
Speaking of the build of the watch, it is not only amazing aesthetically but also extremely robust. The aforementioned Spring Drive will run incredibly accurate, even with years of accrued shock and wear. But don't let the classy and, dare I say, pretty, looks of the watch fool you. It is a 100 metres water-resistant watch with a screw-down, just like an Oyster Perpetual, and the Hi-Intensity Titanium really holds up over time as well. It may not have that precious adjacent heft of Rolex steel, but the lightweight nature of the watch is incredibly comfortable on the wrist. If you can get past the association of weight with luxury, titanium can open a door to a whole new wristwear experience for you. Considering the pricing of Richard Mille watches, and the large fanbase the brand has, I think it's an easily acquired taste.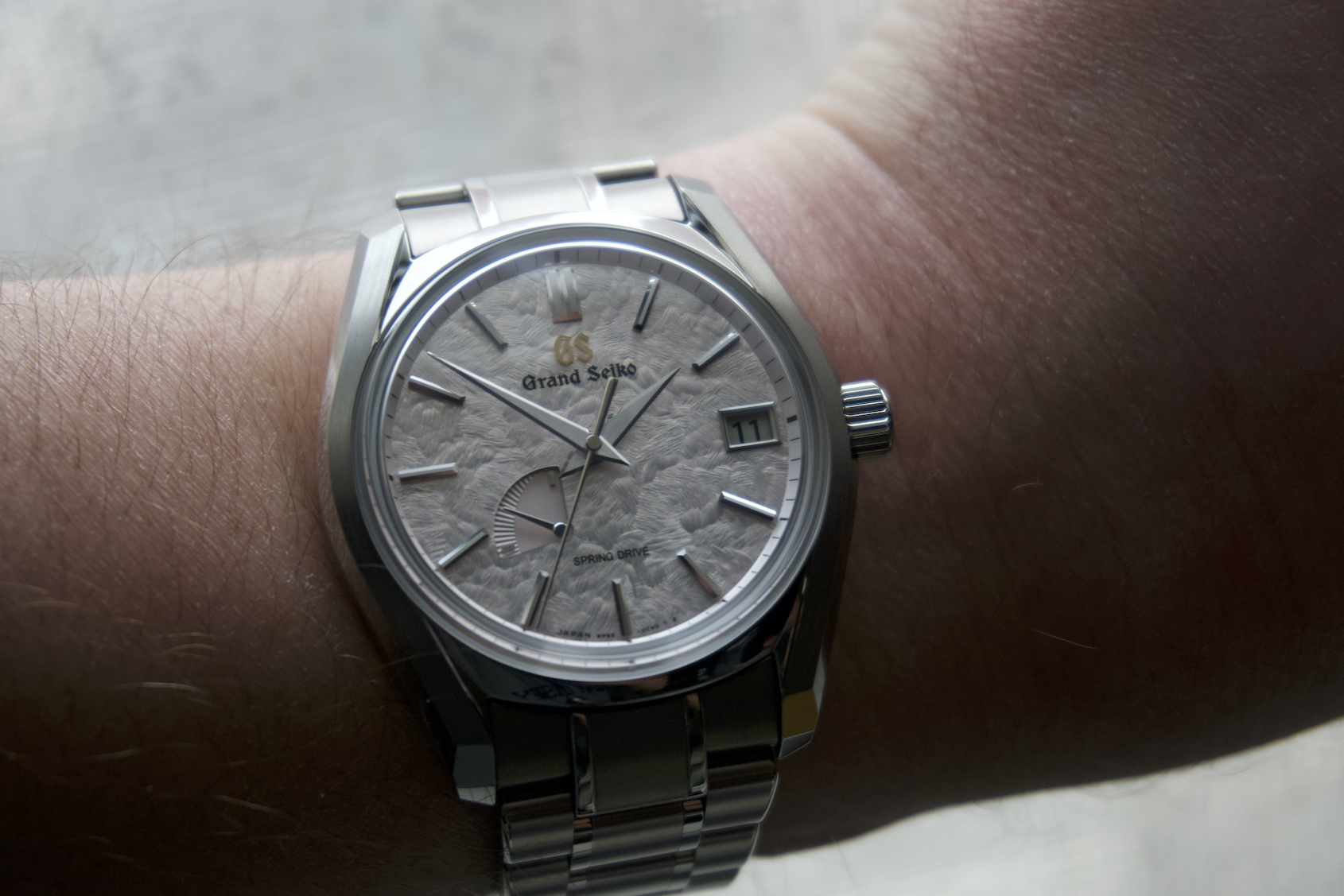 Lastly, as I alluded to earlier, the subtle pink of the Grand Seiko is much more wearable and, dare I say, subtle than the bold candy pink. The SBGA413, even without Grand Seiko on the dial, would garner respect from those in and out of the hobby. Its rich texture commands curiosity – and not the kind that begs the question: "why would you purchase that?" The Grand Seiko SBGA413 is more like staring at a painting in a museum, while the Rolex is like seeing a pink Lamborghini on the road.
The hand finishes on the dials hands and indexes, as well as the 62GS are really the work of true artisans. As for its colour, it's not meaninglessly pink – the brand's strong connection with nature is a genuine muse and in turn creates a more honest aesthetic that evokes a time each season many across the globe look forward to.
I don't want to get ahead of myself here, or even spoil a likely article a year from now, but it would be a fair bet the Grand Seiko SBGA413 becomes my most-worn watch of 2021.