5 mistakes I have made on my watch-collecting journey
Zach Blass
Although I have not been collecting for decades, over the past five years or so I have definitely gained a lot of insight, through trial and error, on some best practices if one is going to go down the rabbit hole of watch collecting. As John Mayer points out in the first-ever Talking Watches with Hodinkee, the first watches (in his case, 10-12) one buys will not reflect your collecting values as you progress in the hobby, and it's inevitable to have regrets and make mistakes along the way. Here are five lessons I've learned during my own watch-collecting journey …
1. You get what you pay for …
Don't pick your watch dealer, whether new or second hand, based on the cost, but rather the capacity to service. It is best to try to have the brand service your watch for you in their factory for a "factory service", but sometimes you may need to enlist a local watchmaker. As my trusted watch repairer (shout out to  Grand Central Watch!)  would say, you don't want a quick "fake" service.
You want a service done right, especially for something as precious as your wristwatches. I am not referring to how long it takes to get the watch back, but rather the amount of time the watchmaker takes to actually perform the service. When someone offers to overhaul a mechanical movement for $100 (or they are extremely undercutting a factory service quote) they are, in reality, likely performing a "quick service", which is ultimately a sloppy way to service a timepiece as it will only temporarily help the watch rather than protect your investment for years until another service is due.
Before I knew better, I once had a "quick" or "fake" service done to my first watch: a Longines Mainliner from the 1940s. The minute I wound the watch when I got home, the movement failed. I was still without a running watch and effectively down $100. Make sure you check the watch with your watchmaker upon completion, so there is no ambiguity as to what condition you received the watch. With Grand Central Watch I have yet to experience anything less than a perfect watch upon return, and a true warranty to back up their work performed. While more expensive, you ultimately pay for the peace of mind that all work was performed correctly, which mean longer service intervals and less money spent in the long run.
1a. Bargains…
In regard to bargains, if you see a sweet deal on eBay, be sure to proceed with caution. Always buy the seller as well as the watch. I personally spent six months fighting with eBay, PayPal, and my bank because I realised, on close inspection of the balance wheel of the watch, that it was the wrong material. There was a reason I won the watch for a little under half its MSRP: it was counterfeit. This is not to say you cannot find good deals in these sorts of forums, but be absolutely sure before you bid or buy that you have rigorously quizzed the seller for any details one should know before buying. This includes condition, service history, box & papers, original owner, if any links are lost/missing, and even ask the seller to set the watch to a certain time with a written message of your choice to ensure they actually have it!
Ultimately, in regard to both of the above, it's a good idea to factor the cost of eventual maintenance into their watch purchases. If the watch would be too expensive to maintain over time, it may make sense to find another watch with a robust mass-produced movement in order to keep these costs down. ETA snobbery does no collector justice, with the perfect example being a Tudor Submariner versus a Rolex Submariner. You are getting a case produced by Rolex (from certain eras) with an ETA movement that will cost half as much to maintain without a huge sacrifice in accuracy, as these mass movements can be highly regulated in the right hands. Here's a great story titled "You can't afford to buy your watch if you can't afford to break it" by Quill & Pad which expands on the subject. 
2. Making a vintage watch your only watch/first watch …
While vintage is alluring, start with modern pieces if you want a less worrisome "Daily Wearer". One of the reasons some vintage watches can cause pain for a novice collector is that ultimately service costs are generally higher. I once had a service quote for a vintage watch that was so high I could have bought an entry-level Kurono or Ming watch with the funds. Doing a watch justice and keeping everything period correct can be a laborious and expensive process.
There are enough up-and-coming brands, as well as the usual suspects, releasing very attractive offerings in various price ranges (that all come with some sort of warranty). The other reality is that for the most part, modern pieces are much more shock resistant than vintage models. Rolex, as an example, can be vastly different when you compare vintage pieces to their modern equivalents. It can be the difference between 316L and 904L steel, acrylic vs. sapphire crystal, a balance cock vs. a balance bridge, and hollow vs. solid links. While seemingly small changes, they can vastly change the daily wearing experience and how your watch holds up to the beating of your daily routine and activities over the course of wear.
3. Don't buy the brand, buy the watch …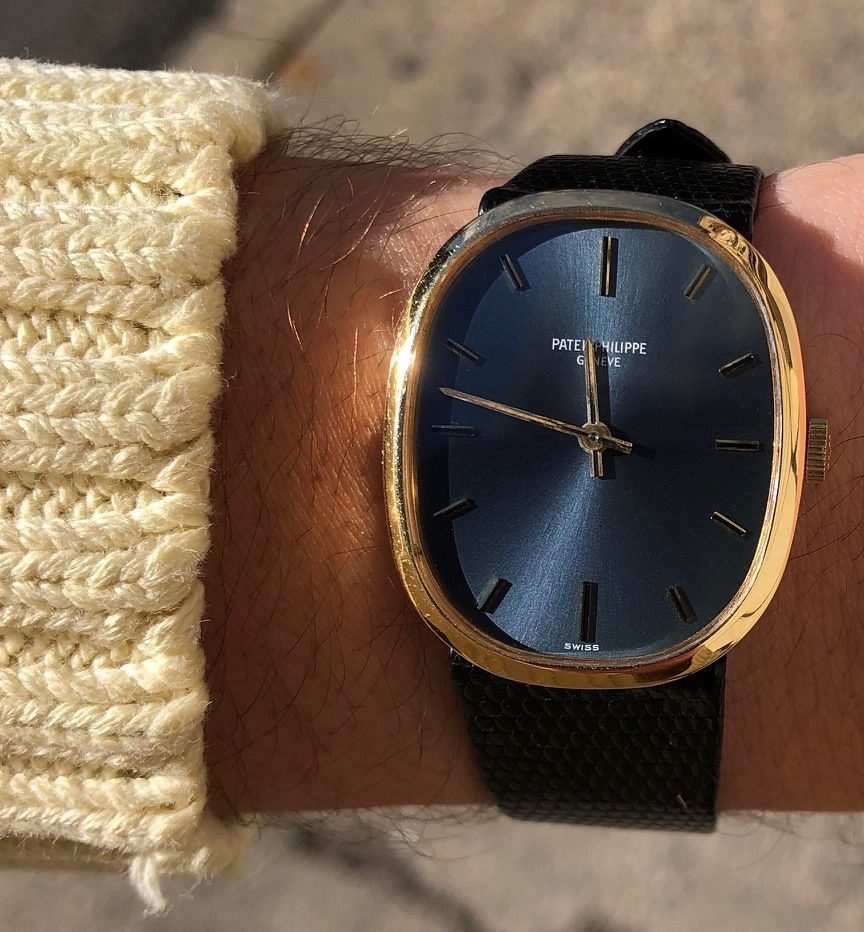 Unless you're at a watch gathering/meetup, odds are most people are not going to know what you are wearing. Short of a crazy amount of diamonds, individuals outside of the hobby will not stop to talk to you about your watch. This is why you should always buy a watch for yourself and your taste, rather than what you think others would want to see on your wrist. These are not inexpensive items and, as such, if it is going to be your wallet and wrist it's best to ensure it is something you love.
I have personally made this mistake, and to this day struggle with keeping the focus on what I think versus what others think. I learned this lesson first-hand when I acquired a vintage Patek Philippe Golden Ellipse ref. 3548 from 1969 (a month after the moon landing based on the extract). Unless I pointed out what it was, nobody (besides the initiated) even knew I had a product of the esteemed Patek Philippe on my wrist. With case dimensions of 27 x 32mm, it was a small watch in stature that was really vulnerable with the absence of any water resistance. Over time I started to consider the reality I bought the watch because of the name stamped on the dial, rather than because I was absolutely in love with the watch. While a fantastic watch, it ultimately was not a watch that catered to a twenty-something's lifestyle. As someone commented to me, it's kind of a grandpa's watch, and I am by no means a grandpa. I eventually came to the conclusion to sell/trade the watch, deciding I had cheated the grail process and that I wanted my holy trinity watch to be something I truly wanted.
4. Avoid settling, and instead save up for the real deal when possible …
Following on from the above, do not buy a watch as a placeholder to hold you off until you can get what you really want (unless it is money you are willing to lose). Most watches do not retain their full retail value pre-owned, and so when the time comes to pull the trigger on the watch you want, it is best to have the funds ready to go. Imagine finally getting the call from your AD that your Pepsi GMT or Submariner is ready for pickup, but you spent your buying power on three or four watches you didn't want nearly as much.
5. Don't wear your watch to sleep, unless the situation really calls for it …
For some, myself included, we can have a little separation anxiety from our timepieces. Even if it's just for the evening. When home, your safest bet is to leave your watch on your nightstand or, better yet, in a watch box. There would be nothing worse than going to sleep with your vintage Oyster Perpetual on and waking up to a shattered crystal or key-like scratch across the case or bracelet. Is this guaranteed to happen if you choose to ignore my advice? Absolutely not. But is it really worth the risk of damaging the watch?
Or, even worse, knocking your significant other in the face? Unless you're on vacation abroad or in a position where you feel you need the watch close to you at all times, it's best to give the watch a breather. This is especially true for watches on a strap. Ultimately, we all, to some degree, sweat during our night's rest and this is bad for the watch for two reasons. First, it will cause your strap to smell. Second, if you have constant sweat on the caseback of your watch, it can damage the gaskets slowly over time, which are essential for maintaining the water resistance of your wristwatch.
Quick bonus: Don't dismiss a watch until you have seen it in the metal …
It's okay for all of us to have our own tastes and preferences and, as a result, some "hot takes" on releases. On the other hand, these judgements are best reserved for watches actually held in the hand and not when you only have renders to go off. As great as watch photography has gotten, there will always be some level of editing, colour adjustment, and more to make it the perfect shot.
Nothing beats being able to see in person how the light interacts with the finishing of both the externals and internals of a watch. One brand that everyone has to check out in person before passing judgement is Grand Seiko. I cannot stress enough how little the renders on their website do their watches justice.
When you truly get eyes on the now famous within the watch community Zaratsu finish, you begin to understand the hype around their timepieces and that it not only lives up to it but surpasses it.