Just a few short weeks ago, Time+Tide had the distinct pleasure of globally unveiling the last of the 50th anniversary special edition Zenith El Primeros. Called the Zenith Chronomaster Manufacture Edition, this gorgeous watch was the result of a surprise discovery that the team at Zenith had found in a dusty old cupboard in their fabled attic at the watchmaker's manufacture in Charles Vermot. It's a great story … in fact it was so good that we made an epic 35-minute video about it – the second episode of Watch & Chill.
So, why am I telling you all this? And what's it got to do with the Chronomaster El Primero 38mm? Well, in case you still haven't seen the above video, Time+Tide's fearless leader, Andrew McUtchen, was given this watch by Zenith to wear on the show. Sadly, a few short days later, it had to go back to Zenith. But before it did, I was fortunate enough to temporarily purloin the stainless steel chrono, Ref.03.2150.400/69.C713 for a IN-DEPTH review, and these were my impressions.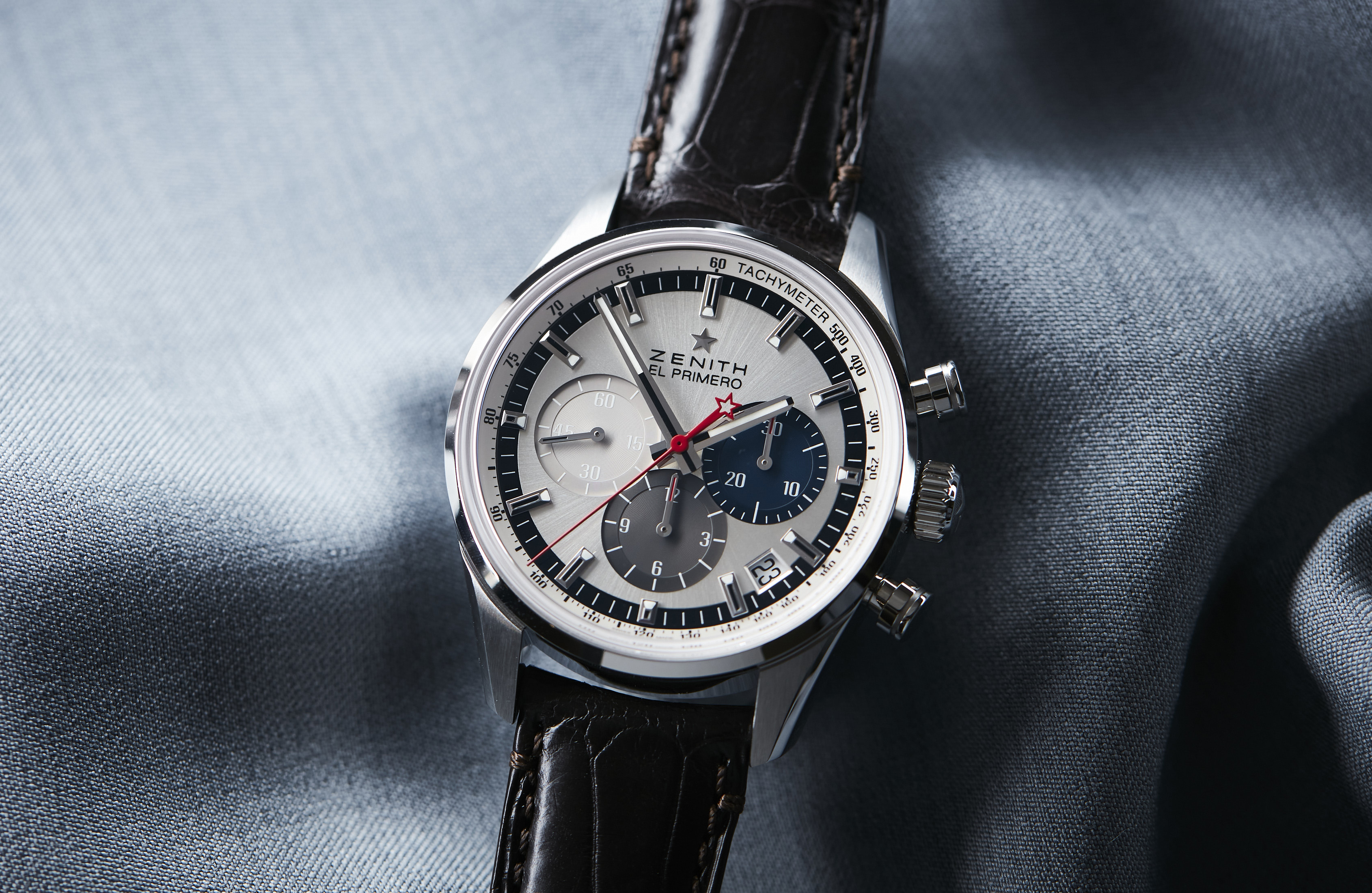 The dial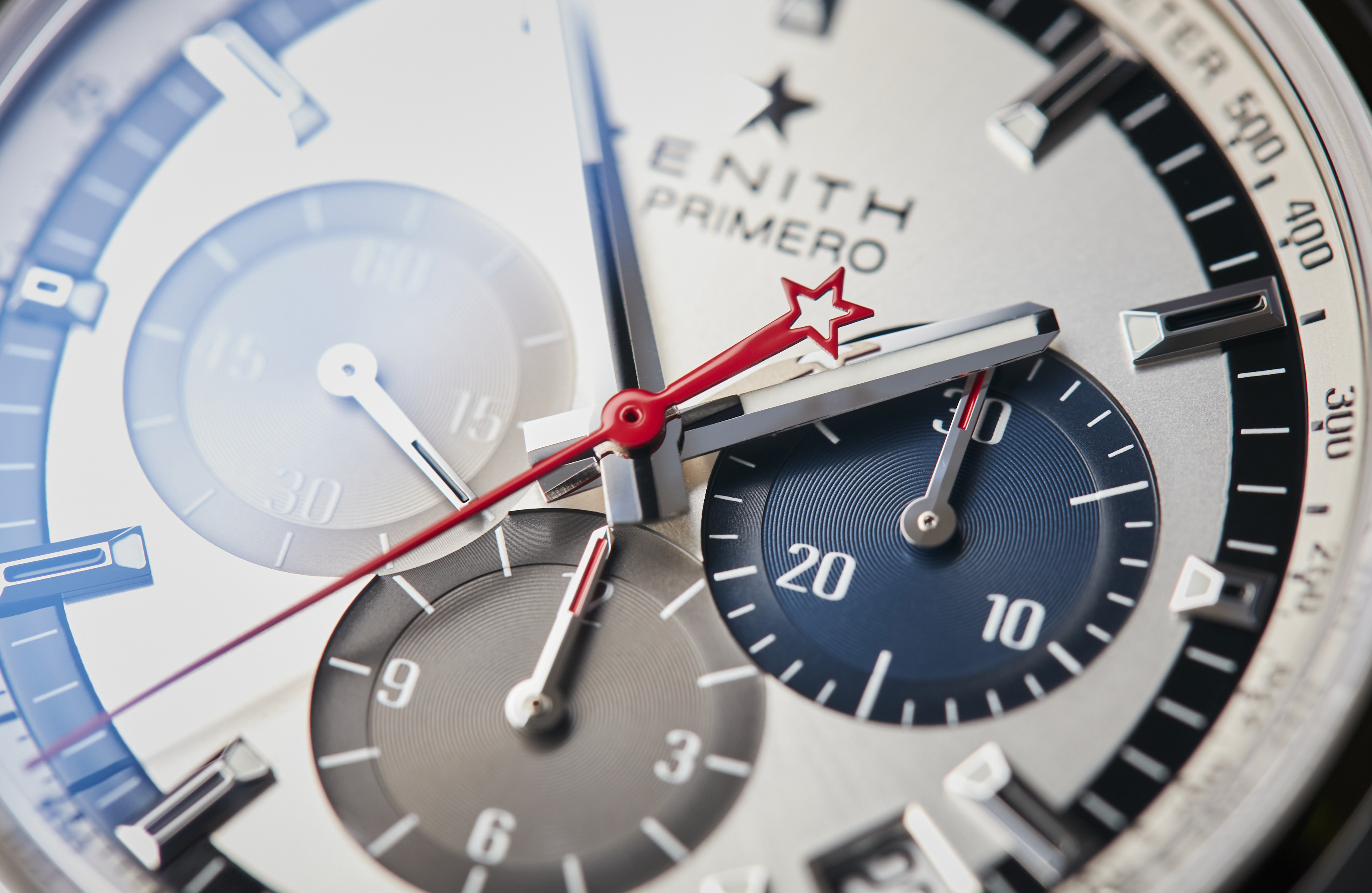 I'm not going to beat around the bush with this one – the dial of the Zenith Chronomaster El Primero 38mm is pure horological sex … it's that good. Which is surprising, because when you see stock photos of it on the website, it's easy to think that it looks a tad busy. In the metal, though, it's a different story. The radially brushed, sunburst silver base begins its dance, especially in direct sunlight. Likewise, when the highly polished, multifaceted beveled hour indices and handset (which both feature Super-LumiNova) catch the light in just the right way, they positively beam, almost glowing with a white-hot aura. Then there's the three quintessential, recessed, multi-coloured sub-dials located at three, six and nine o'clock, which display a 30-minute totaliser, 12-hour totaliser and running seconds, respectively. At a hurried glimpse, they don't seem particularly interesting; look closer, though, and you suddenly realise that all three are finished with a beautifully surreptitious, concentric pattern that looks like something out of a Japanese Zen Garden.
And being an El Primero, there is, of course, a silvery tachymeter scale, located on the inner bezel ring with a contrasting black open minute track located inside that. The whole dial ensemble is tied off with two other features. First is the archetypal bright red chronograph hand, complete with Zenith star at its base. I adore this feature, and watching the bright red chrono seconds hand sweep with a velvety smoothness thanks to the movement (we'll get to that later) is one of horology's true joys. The other feature is a small date aperture located between four and five o'clock. I think this is the only mark against the dial of the El Primero – it irks me no end, and I'd rather Zenith just ditched the date complication entirely. But hey, it's practical and if it wasn't there, the dial would be too perfect, and I'd be forced to buy one of these watches immediately. Jests aside, the dial of this watch is so good that you could conceivably purchase it for no other reason; it's something that would never get boring — it would keep revealing more about itself over time, and that's a defining characteristic of a truly great dial.
The case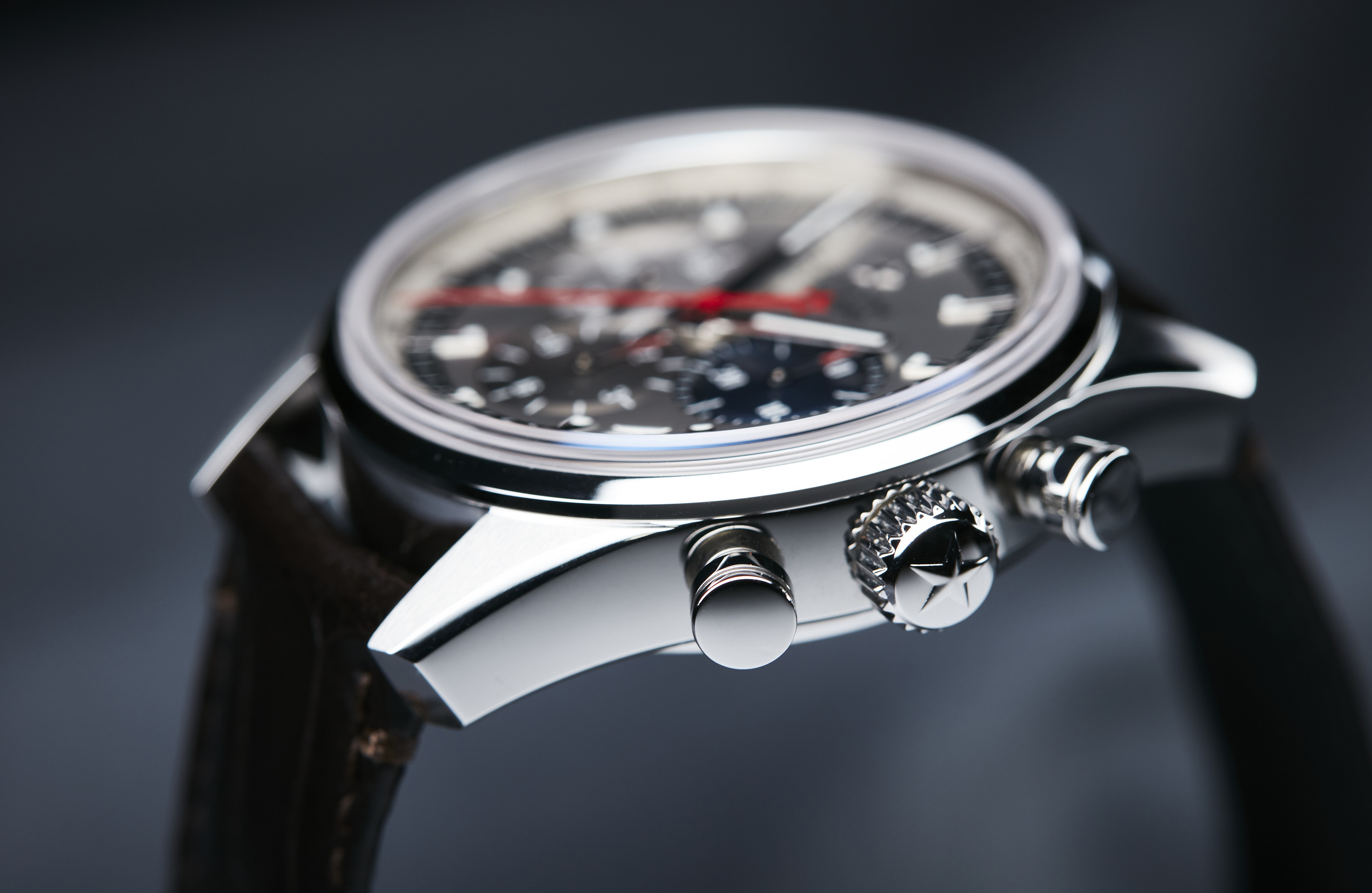 Another big positive of this Chronomaster El Primero is its stainless steel case, which is satisfyingly faithful to the original. Just like the dial, the attention to detail and finishing of this case cannot be discounted. The matt brushwork found on the top of the angular lugs, combined with glistening polishing of the bezel, the edges of said lugs and the case's flanks, blend together to present an aesthetic that is at once luxurious and high-finished, but not too high-polished for daily wear. Both the unassuming piston-style chronograph pushers, as well as the knurled crown with Zenith star motif, also feature this mirror finish polishing. The dimensions have remained faithful to the 1969 original, which means 38mm across and just shy of 13mm thick. These proportions are just about perfect in my opinion, and the reasons why are twofold.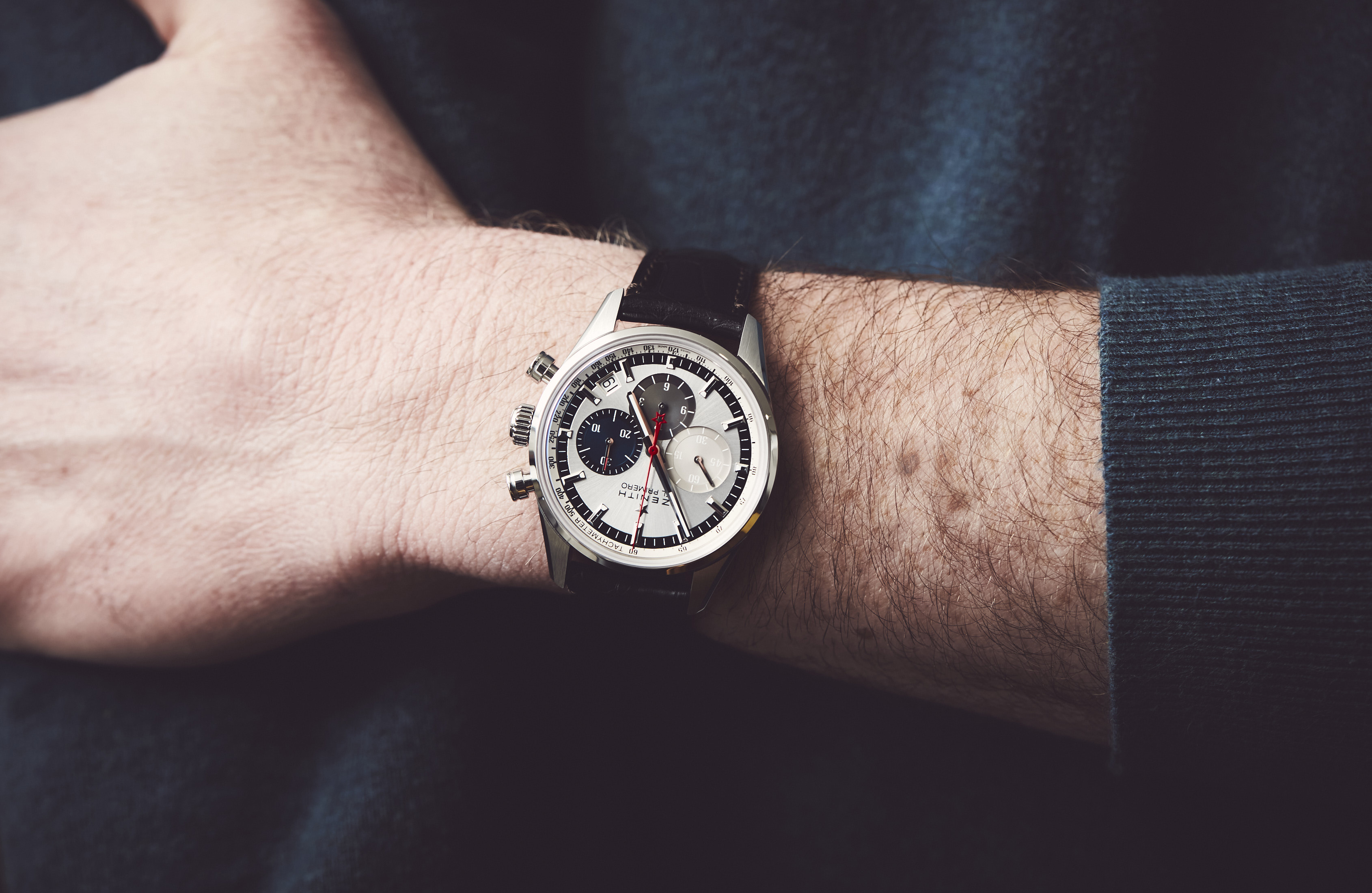 Firstly, because it's 38mm, it's going to offer excellent bandwidth for a great many different people. Secondly, because it's quite thick, it actually wears a good 1-1.5mm larger than its dimensions would have you believe. Be in no doubt: if you're in the market for an El Primero, this is the size to get. Sitting proud of the case by a few millimetres is a flat sapphire crystal with an anti-reflective coating that provides superlative legibility and, as a result of being raised above the case, tangible vintage charm. The back of the case is a complete showstopper, thanks to a sapphire crystal display caseback that lets owners gaze upon the movement.
The movement
Which, rather neatly, brings me to the manufacture Calibre El Primero 400. There are very few movements with the historical importance of the El Primero that are still in production today, which makes wearing this watch all the more special. Every time you look down at your wrist and glimpse the diminutive "El Primero" lettering on the dial, it's a reminder that you're wearing a piece of horological history, as well as a wristwatch. The movement is nicely decorated, with the skeletonised oscillating weight featuring Geneva striping, as well as a large, black Zenith star motif. Additionally, through the sapphire crystal caseback, owners can observe some nice blued steel screws and, more importantly, the blued steel column wheel.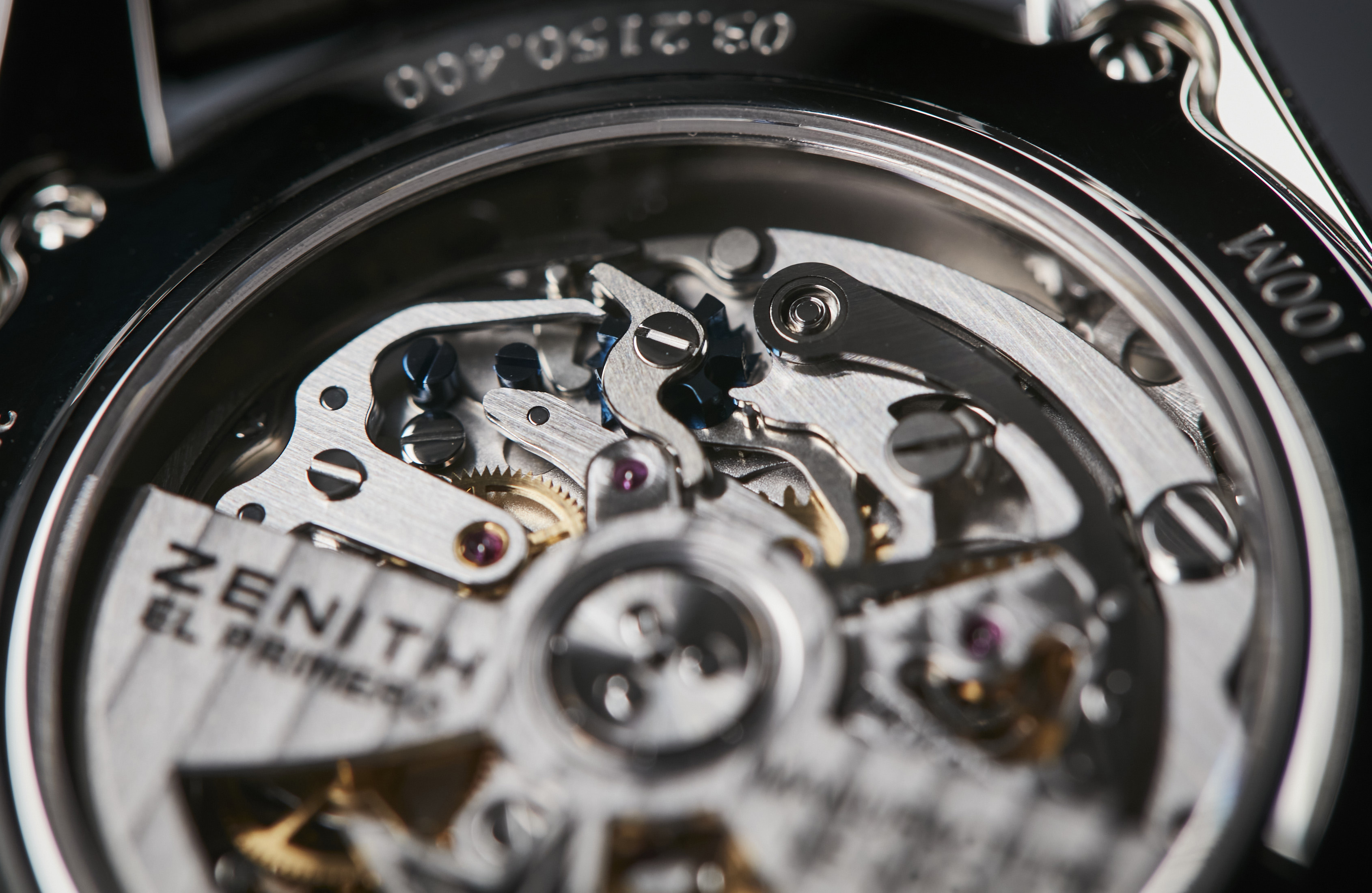 The real pièce de résistance of the manufacture Calibre, however, is its operating frequency of 36,000 (5Hz) vibrations per hour. This frequency not only lends itself to better chronometric precision but also the quintessential buttery smooth chrono seconds hand sweep. Interacting with the iconic complication is a joy too, with both the start/stop and reset pushers providing crisp, discernible clicks when engaged. The self-winding calibre doesn't stop there with the technicality, as it still offers no less than 50 hours of power reserve, which is commendable, given the complication and 5Hz frequency. Much like the aforementioned dial, the Calibre El Primero 400 is such an important and stirring movement that there's a case to be made that the movement alone is reason to purchase the whole watch. However, given that the El Primero is such a rock star, there's also a strong argument that the Chronomaster's RRP of $11,400 AUD makes it decidedly good value.
The strap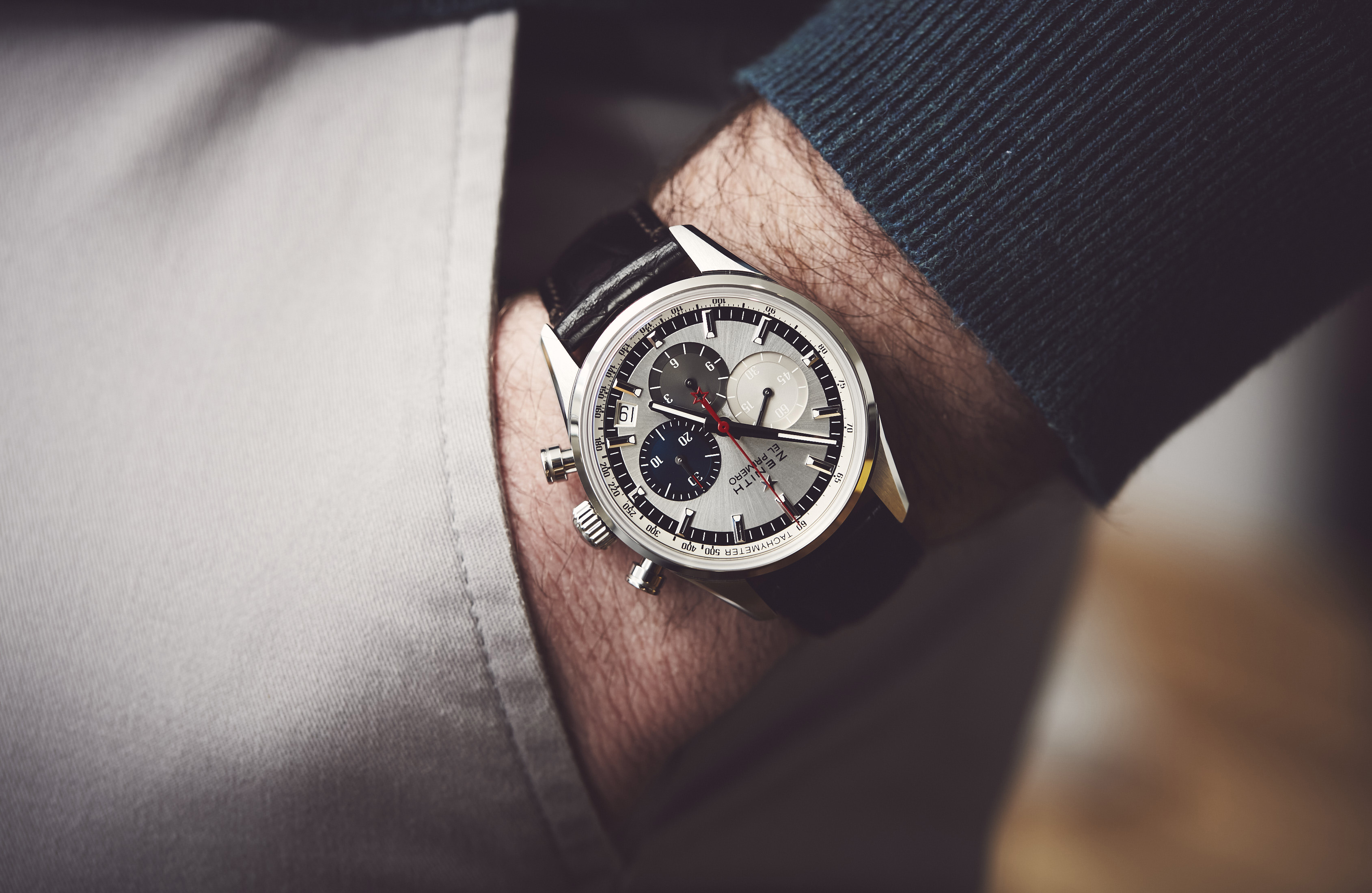 This was one area of the watch where I was more conflicted. On the one hand, the chocolate brown alligator leather strap looks and feels very luxurious indeed, featuring a polished exterior and an almost rubberised backing that's smooth against the wrist. As far as leather straps go, it's definitely up there with the best. But — and it's a big but — the stainless steel, butterfly-style deployant clasp did pull at arm hairs in my experience, and left me somewhat depilated after a few hours. It was quite uncomfortable for me, and something I'd encourage Zenith to address.
On the wrist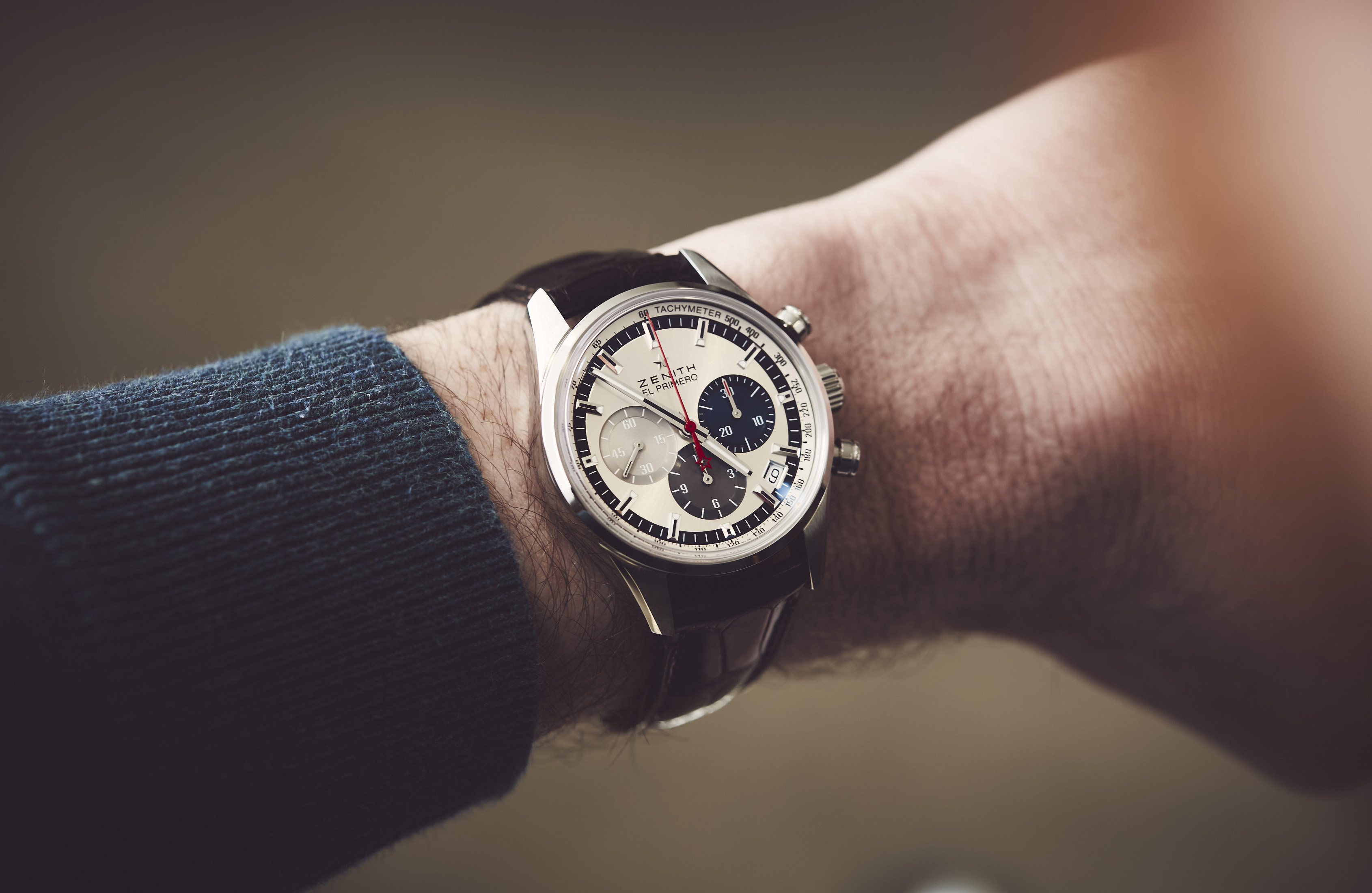 So, rant about lost arm hairs over (RIP arm hairs), what's the Chronomaster El Primero 38mm like on the wrist? In two words … pretty wonderful. Short of a black tie event or cheeky saturation dive, there aren't many contexts where the El Primero doesn't shine. Its combination of elegance, sophistication, practicality and, above all else, watch-geek cred, makes it a very enjoyable timepiece to have fastened to your wrist at all times.
The verdict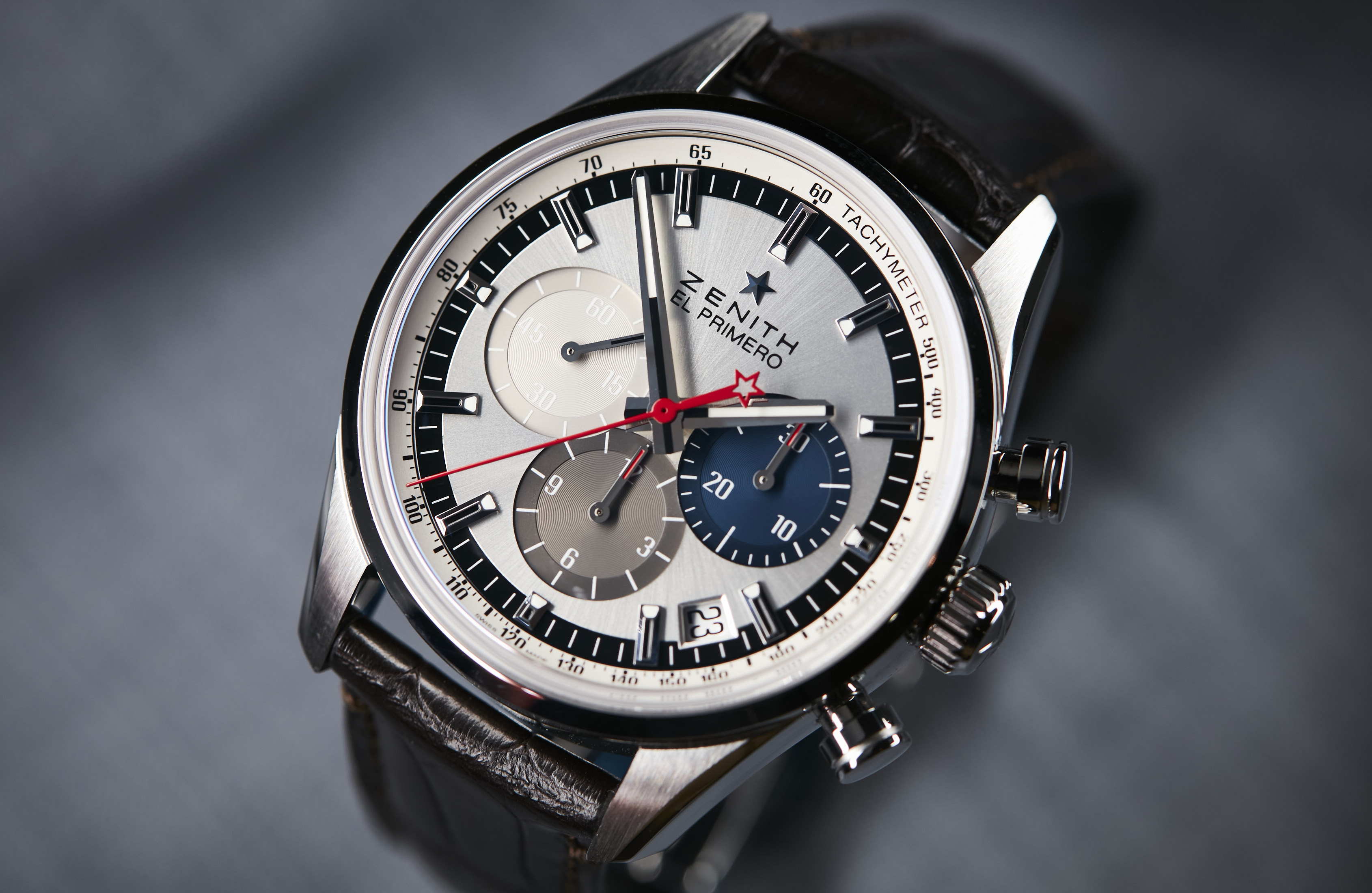 I'm not sure whether it's because I've always been a fanboy of the El Primero movement, the enchanting looks, the perfect size or just the fact that it's a very pragmatic timepiece, but whatever the case, this is a brilliant watch, and I find myself – even knowing all of that previously – blindsided by it. At $11,400 Aussie dollars, the Chronomaster El Primero 38mm offers a hell of a lot. So, if anyone reading this is looking for a chronograph-equipped timepiece that will stand out from the crowd, and get big props from aficionados, this watch presents as a great option.
Who's it for?
Absolutely anyone who loves watches, horology or the historical significance of the world its first-ever self-winding chronograph movement.
What would we change?
The deployant clasp. Bracelet may be the answer here.
The Zenith Chronomaster El Primero 38mm Ref.03.2150.400/69.C713 pricing and availability:
The Zenith Chronomaster El Primero 38mm Ref.03.2150.400/69.C713 has a recommended retail price of $11,400 AUD and is available from authorised dealers across Australia.