Blue — that was certainly the colour of this weekend just past. Whether it was Rod Laver's packed tennis court, the fleeting moments of sky that Melburnians witnessed on Sunday … for about 30 minutes, or indeed the watches that people were wearing — the vogue colour was definitely a recurring theme. Anyway, here are three of the nicest blue dial watches I spotted:
James' Rado Captain Cook Automatic:
The irony of James owning a watch called "Captain Cook" isn't lost on him, but unfortunate name aside, he simply couldn't resist the glossy dark blue dial of this wristwatch, especially when paired with the factory tan brown leather band. James had been looking for quite some time for a timepiece that reflected a Saturday and Sunday savoir faire, and this Captain Cook's vintage aesthetics, combined with a modern 42mm case size and the aforementioned colour palette, was, according to James, an absolute no-brainer. He added that the Rado had also been a very versatile timepiece, commenting that it transitioned perfectly from a winter to summer watch by simply swapping out the leather band for a light grey NATO strap.
Henry's TAG Heuer Carrera

Henry is a massive petrol head, and when it hits 5pm on Friday, he makes a beeline for two things — his Topaz Blue BMW E46 M3 and his matching TAG Heuer Carrera. Henry was genuinely blown away when this watch was unveiled by TAG last year; he'd been searching for a chronograph that sported a similar colour dial to the paintwork of his prized E46 M3, and when he saw this watch, he simply had to have it. The fact that the Carrera has a long-standing relationship with motorsport was the cherry on top, and Henry has actually used his chronograph while driving his sports car on track, which is seriously cool.
Khando's Seiko Prospex Turtle "Save The Ocean" SRPC91K1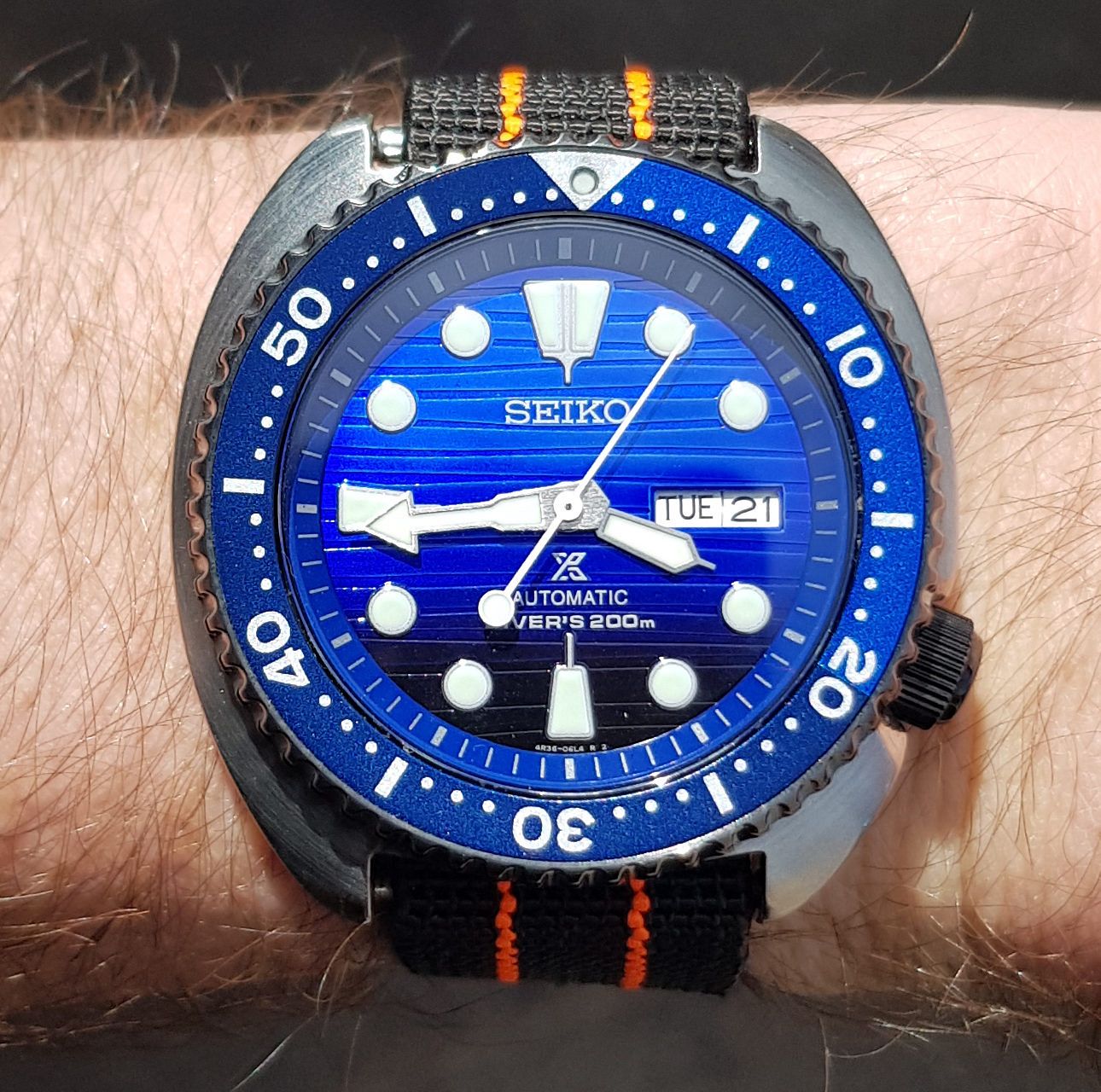 You may not've picked this as a ladies watch, but Time+Tide's very own marketing guru, Khando, loves her Seiko Prospex Turtle "Save The Ocean" edition, and it's all down to its gorgeous blue dial. Stylised with a pattern that is meant to depict the ocean, the gradient tonality is almost mesmerising, and Khando reckons it's one of the nicest dials you can buy for under a grand. She's fitted it with her Erika's Originals Time+Tide club strap, and when she leaves the office on Friday night, the fit-for-purpose diver is always attached to her wrist.