Looking back at the watches of Carpool Karaoke – from Paul McCartney to Bruno Mars
Zach Blass
James Corden is not particularity in the public favour right now, so it is quite timely that The Late, Late Show With James Corden is coming to an end next month. That being said, this does potentially mean the end of Carpool Karaoke (unless the Apple spinoff sans-Corden continues). The concept of Carpool Karaoke is whimsical, relatable and lots of fun – namely singing along to the radio while going from A to B in your car.  But the recurring segment of the The Late, Late Show With James Corden takes things to the next level, pairing the British host with various musical superstars for a feel-good cruise in which they shoot the breeze and sing along to some of the artist's greatest hits. Now, where there are stars of this calibre involved (think Madonna, Kanye West, Elton John and others) there are usually superlative watches to spot and Carpool Karaoke is no exception. Here are just some of the watches we noticed.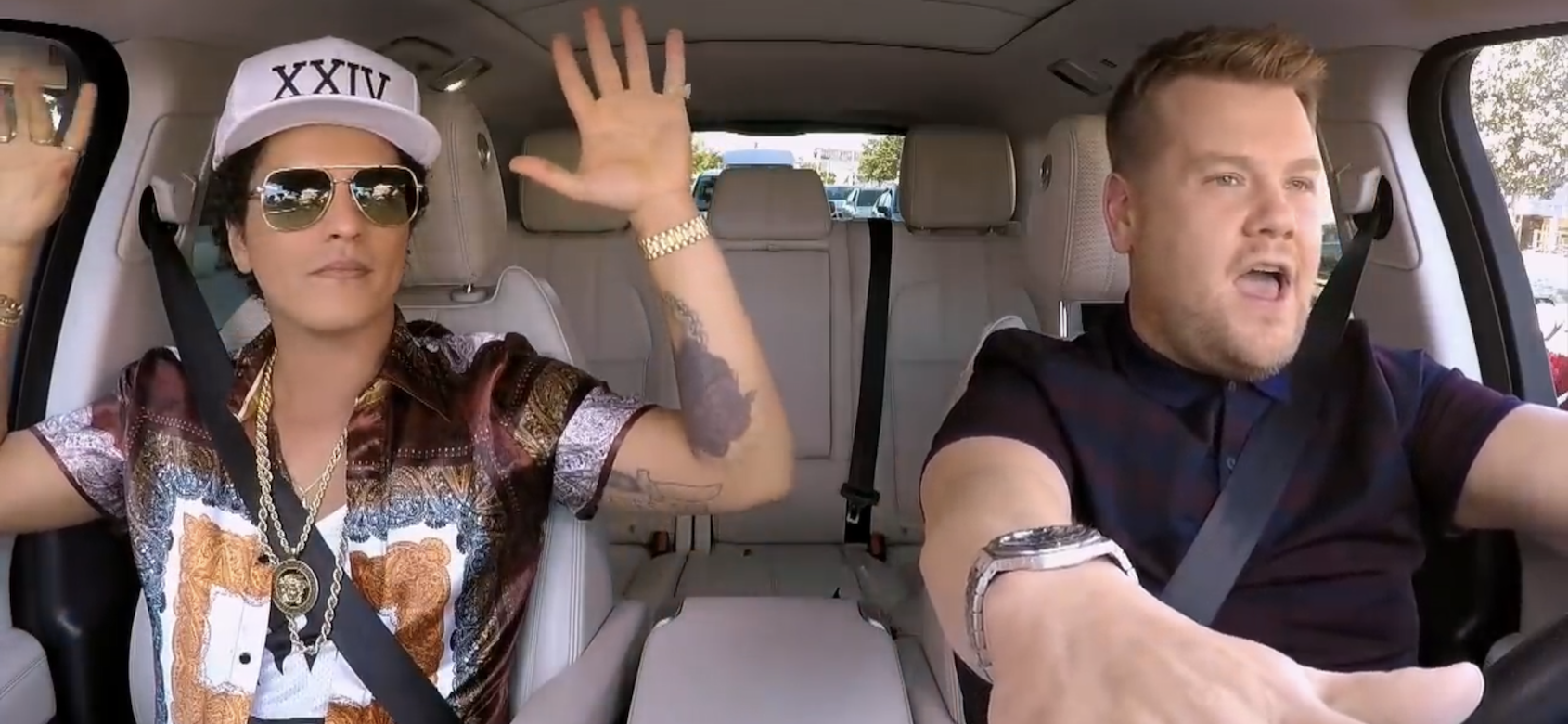 James Corden: Omega Speedmaster & Audemars Piguet Royal Oak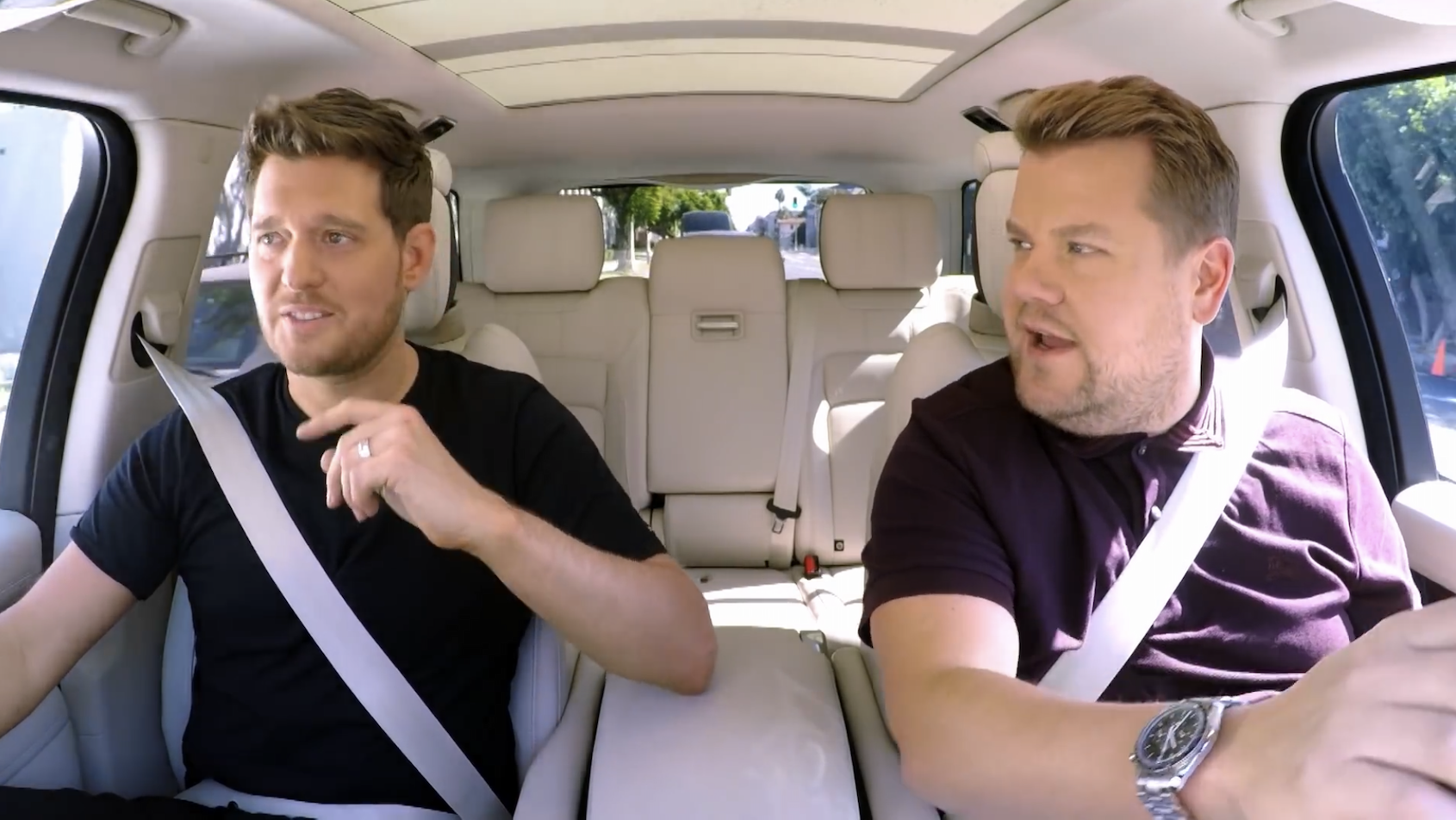 When the segment first started, host James Corden was spotted rocking a tried and true Omega Speedmaster. Based on the release date of the video and the profile of the watch, it is safe to assume it is a sapphire sandwich Omega Speedmaster with an 1861 movement inside. It's a very fitting watch for Carpool Karaoke, a daily drive where James "picks someone up on the way to the studio".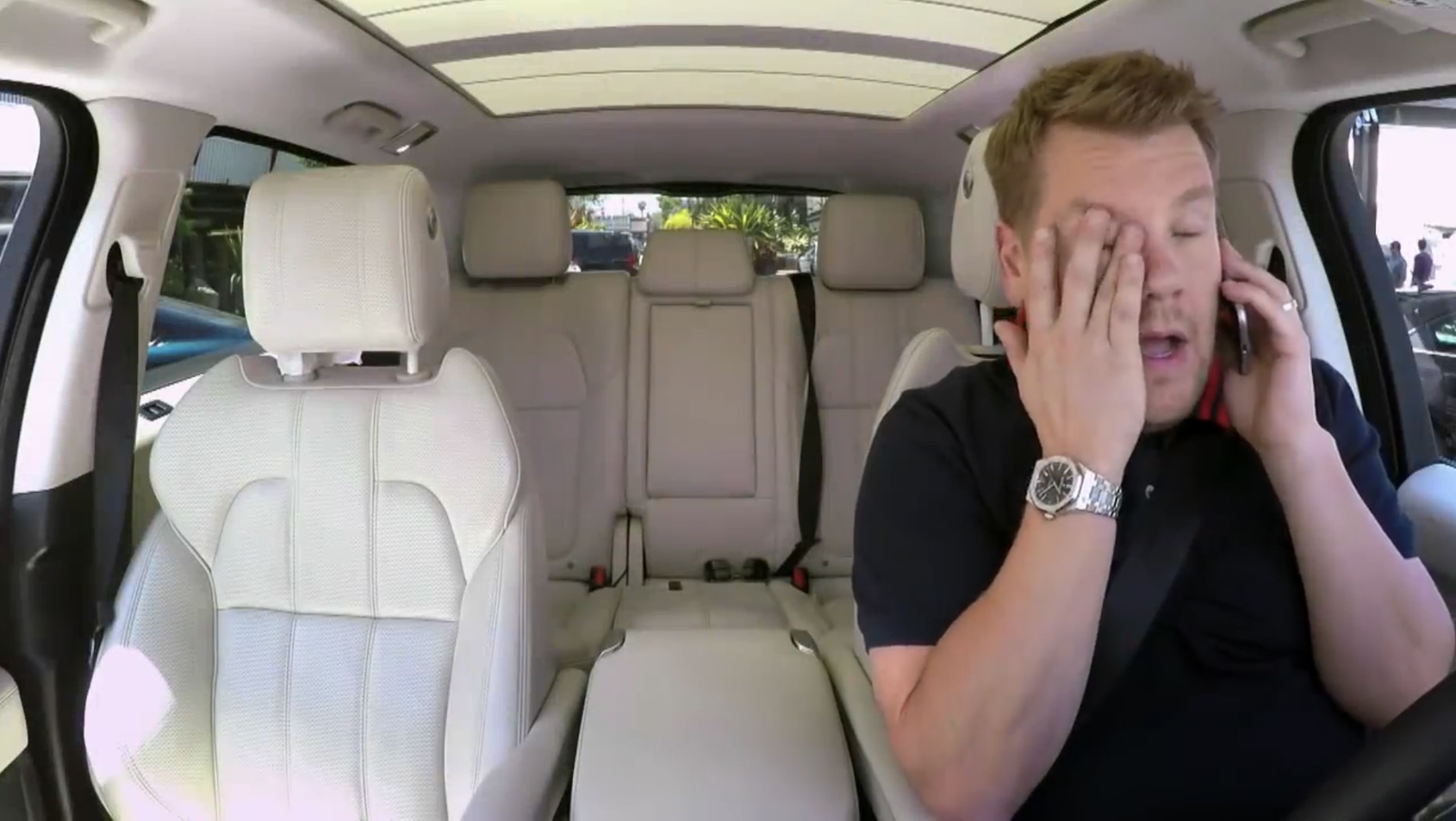 As Corden's show and status grew greater, he quickly upped the ante with a 41mm Audemars Piguet Royal Oak Self-winding model. The hand-finished externals shine as the light passes through the moving car's windows. Fortunately for us, James is a lefty and his right wrist is always in full view.
Paul McCartney: Patek Philippe Aquanaut ref. 5167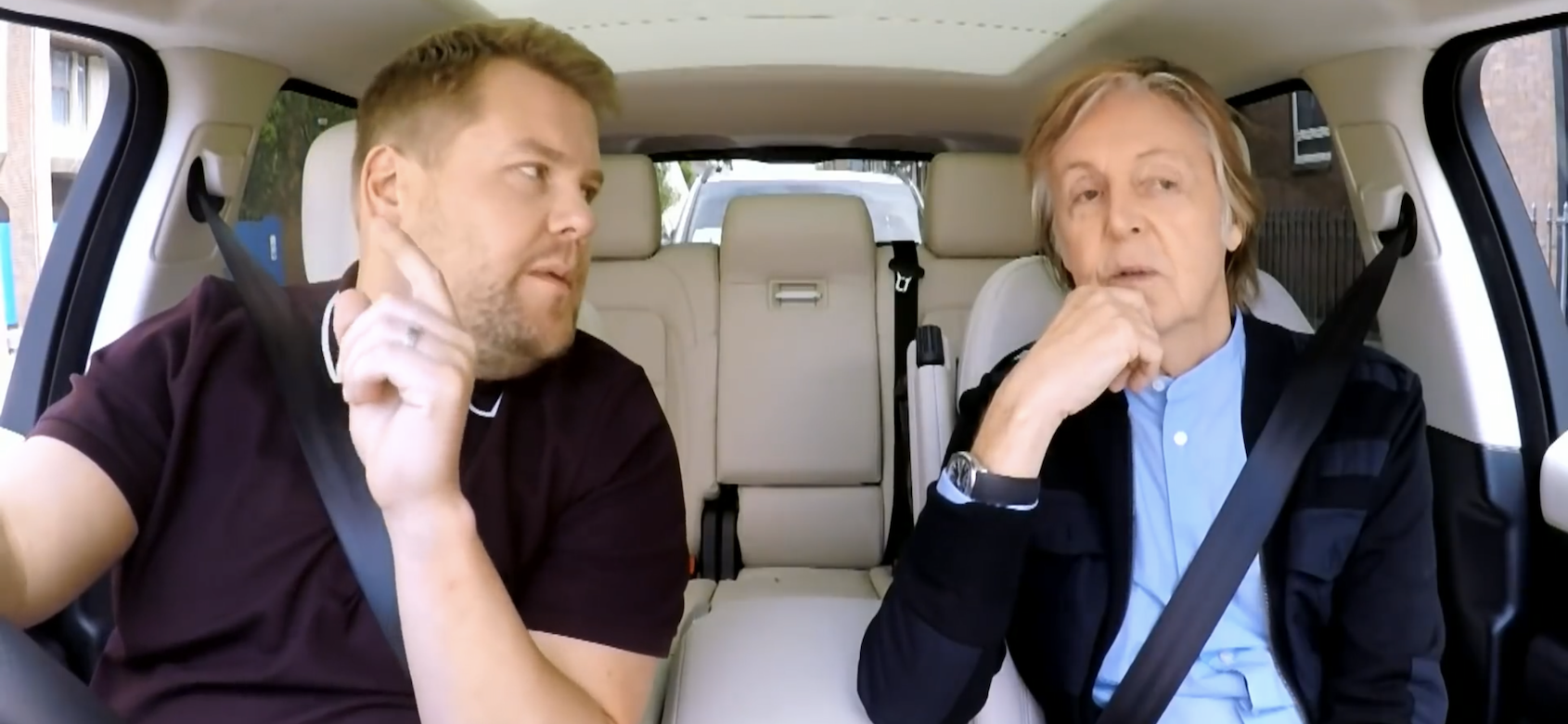 While Corden's Royal Oak is not in view here, we can clearly see Paul McCartney wearing a Patek Philippe Aquanaut ref. 5167. McCartney is a living legend and could obviously have any watch he desires. It speaks volumes, however, that more often than not you will spot him wearing his trusted daily Aquanaut. It really is the perfect reference for him, classic but with a vibrant and youthful spirit.
Nick Jonas: Rolex Submariner & GMT Master II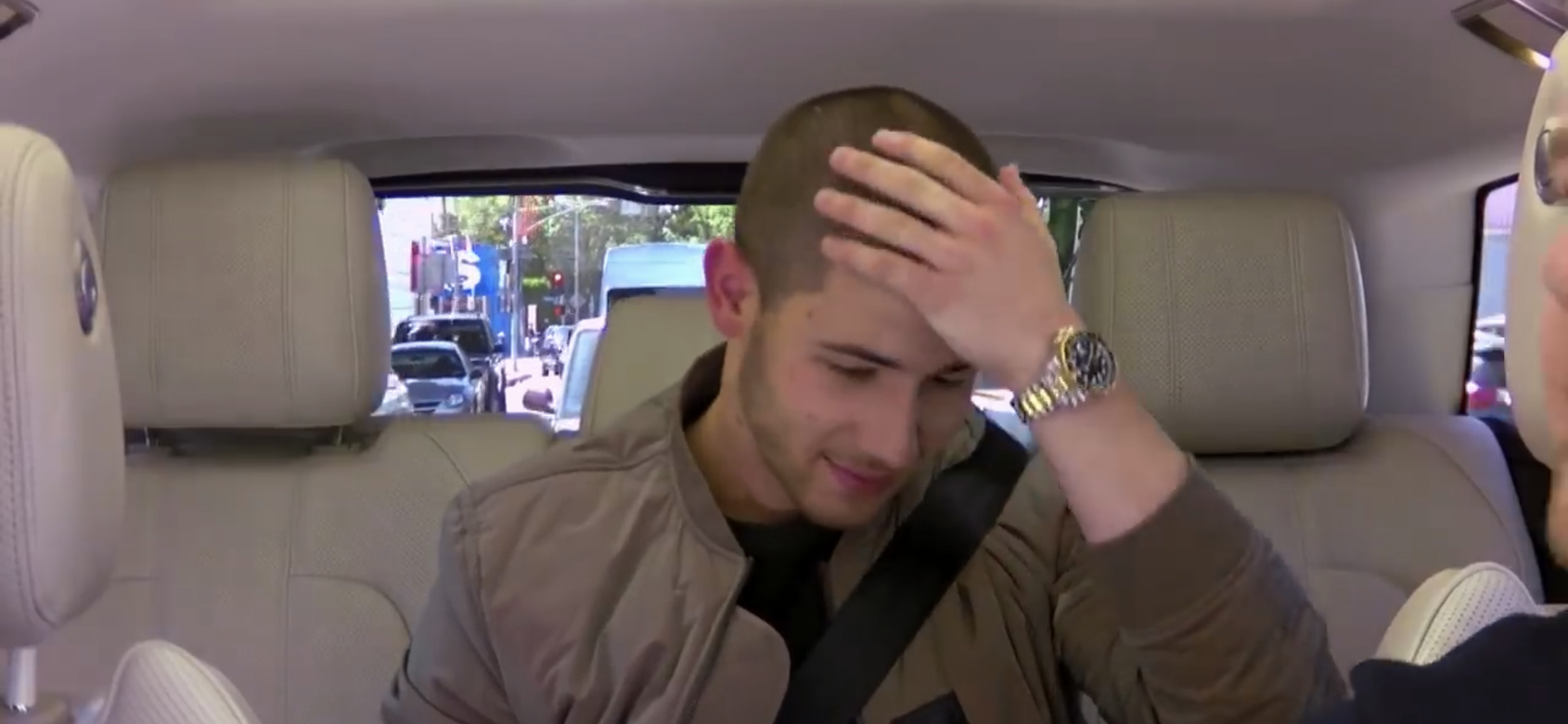 Appearing alongside Demi Lavato, Nick Jonas can be spotted wearing a two-tone Rolex Submariner. Based on the lugs, it is safe to assume it was the recently discontinued maxi-cased Submariner ref. 116613. Another detail confirming it is in fact a diver, the bezel appears to have a combination of numbers and boxed rectangles suggesting it is a timing bezel and not a GMT scale.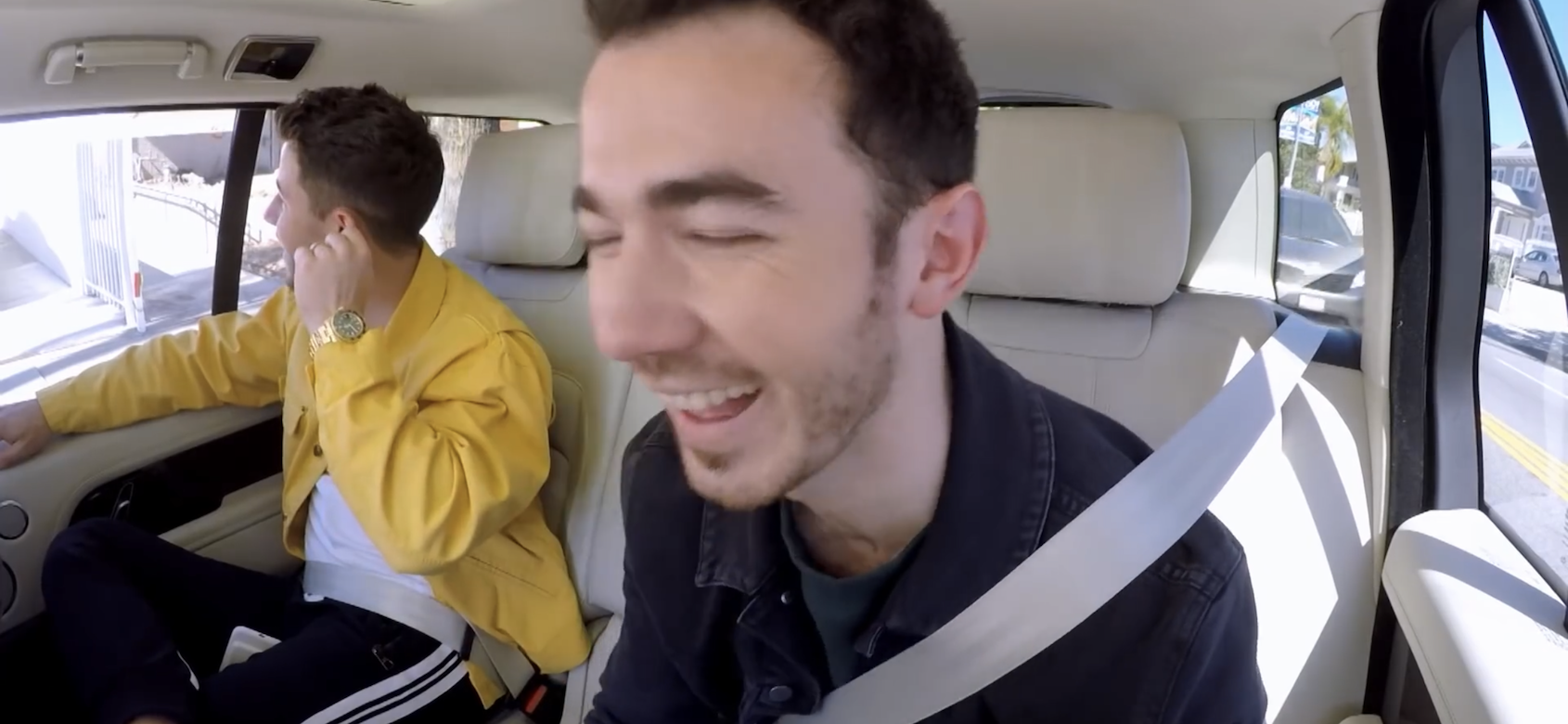 In his next appearance on Carpool Karaoke, Nick is can be seen wearing yet another Rolex Oyster Perpetual – but this time around he went full gold. The watch is the highly desirable Rolex GMT Master II ref. 116718 in yellow gold with a green dial and black ceramic bezel. Clearly either Nick or his agent has a solid relationship with an AD.
Joe Jonas: Rolex GMT Master II ref. 116719BLRO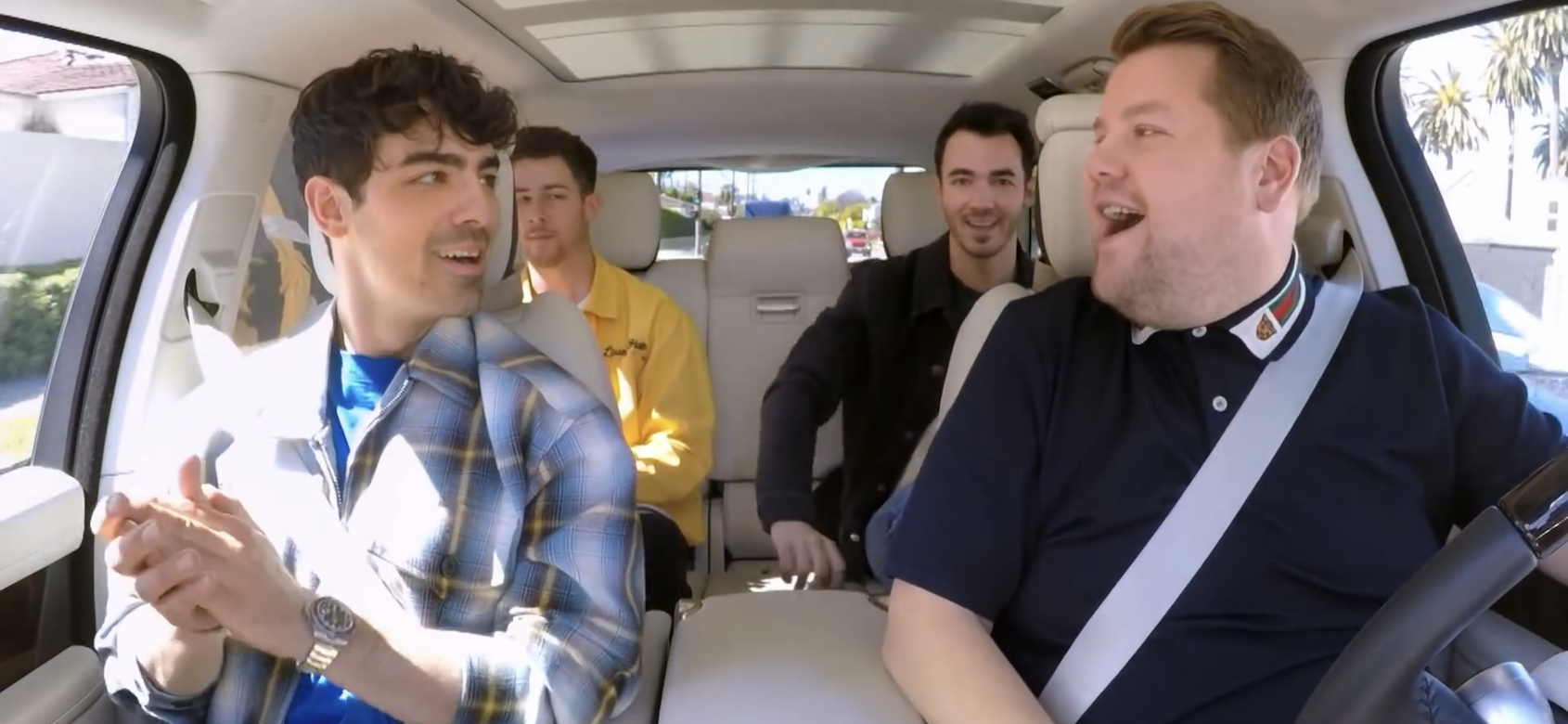 Based on when this segment aired, the Rolex spotted on Joe Jonas's wrist can be narrowed down to the Rolex GMT Master II ref. 116719BLRO – the original ceramic Pepsi-bezelled watch introduced in 2014 with a white-gold case. Clearly the Jonas family is partial to Rolex and the GMT complication, but in brotherly fashion the two had to distinguish themselves – Nick with yellow gold flair and Joe with white-gold stealth wealth.
Quavo (Migos): Diamond-paved Audemars Piguet Royal Oak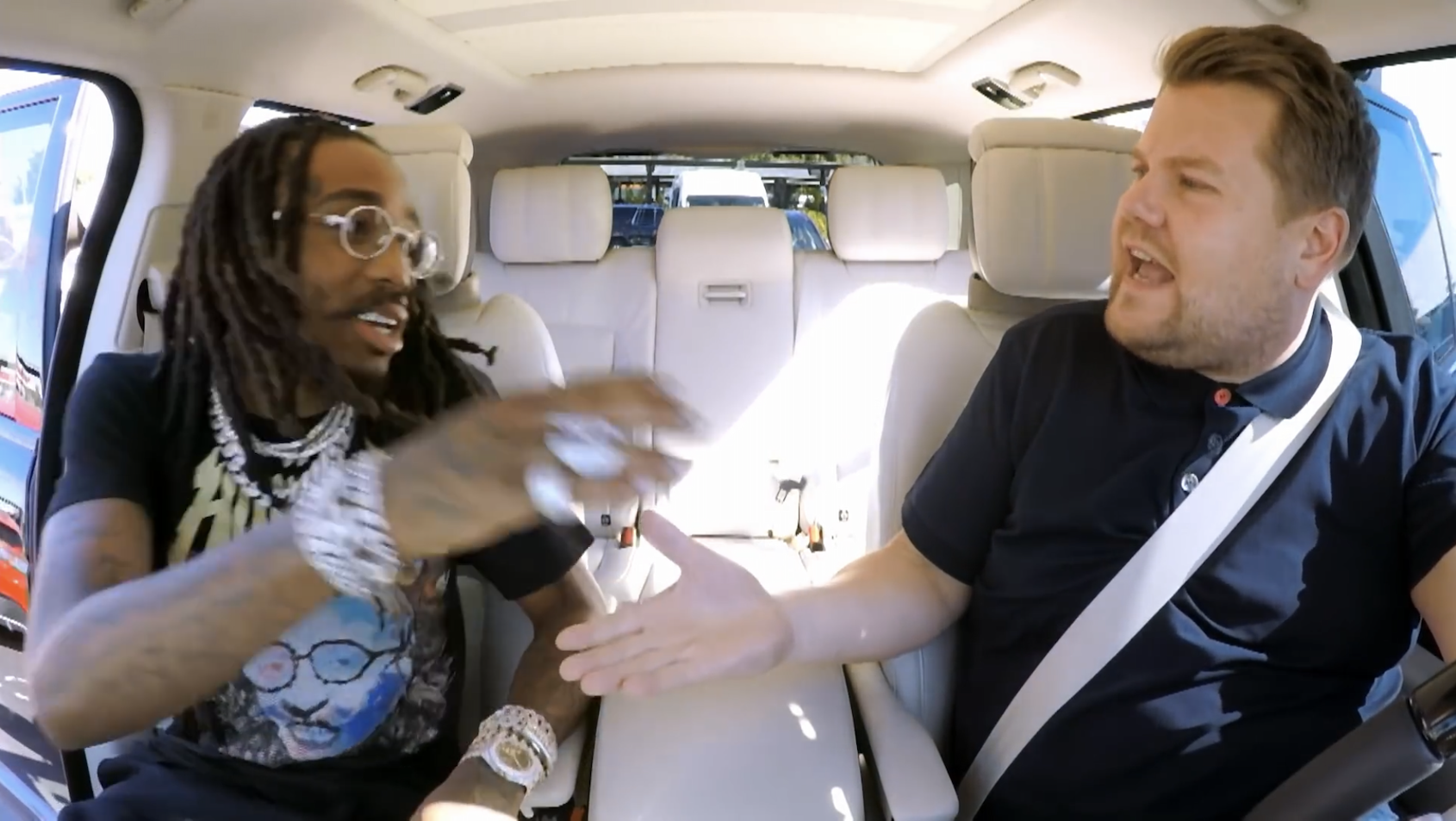 As the three Migos enter the car with James, Quavo can be seen in the front seat wearing a busted down Audemars Piguet Royal Oak. James, also known to wear the reference, must have left his at home unwilling to be outdone by the brilliance of diamonds all throughout the case and bracelet of Quavo's Oak. Whether the watch is factory-set with diamonds or an aftermarket customization is unknown.
Bruno Mars: Rolex Day Date 36mm in yellow gold with diamond hour markers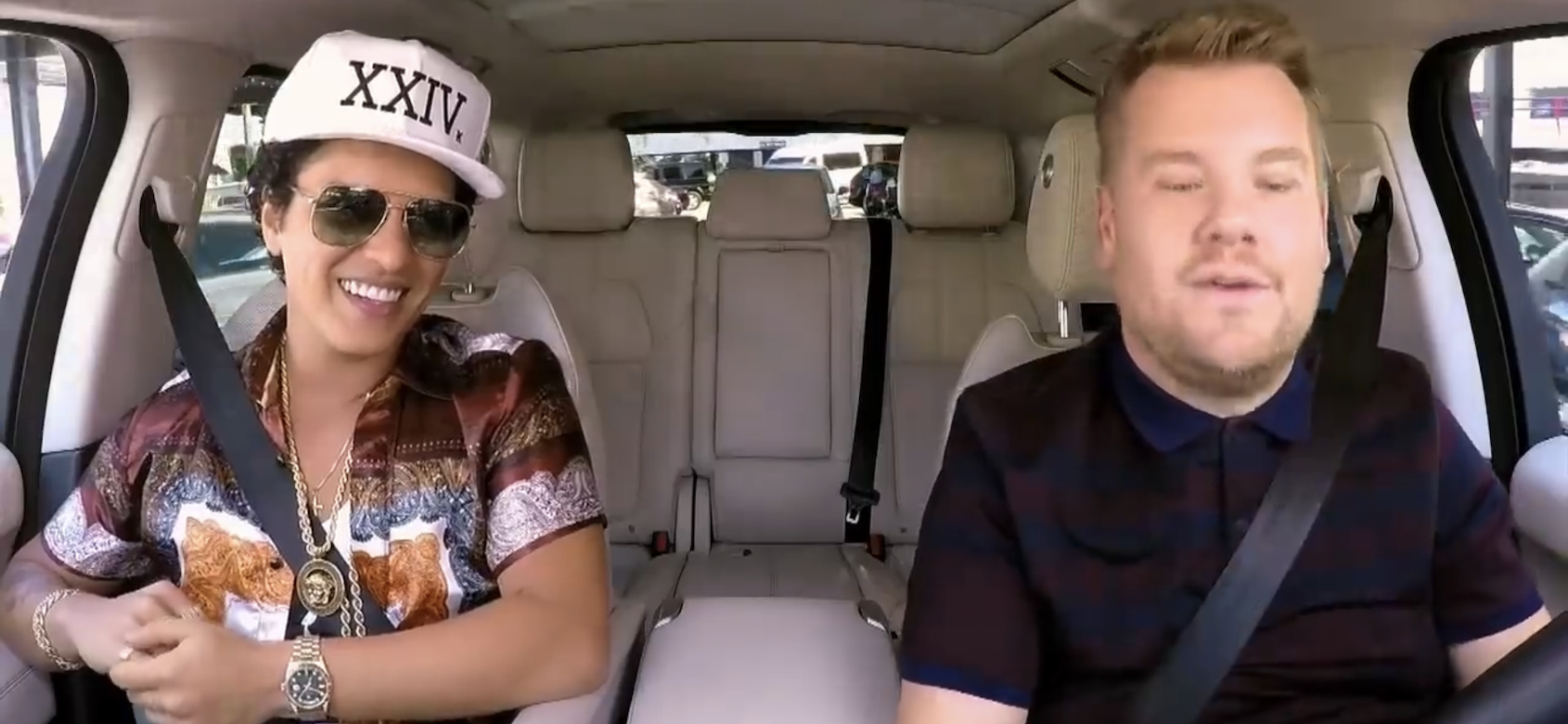 Bruno Mars also likes diamonds, but he elects to leverage an aesthetic that uses them sparsely. His Rolex Day Date appears to be left in a factory configuration, with hour indexes fashioned from diamonds. It is an exercise in elegance through subtlety, and with diamonds sometimes less can be more. The yellow gold Day Date appears to be an older 36mm model in yellow gold, the perfect size for Bruno's wrist.
Rod Stewart: Cartier Santos set with diamonds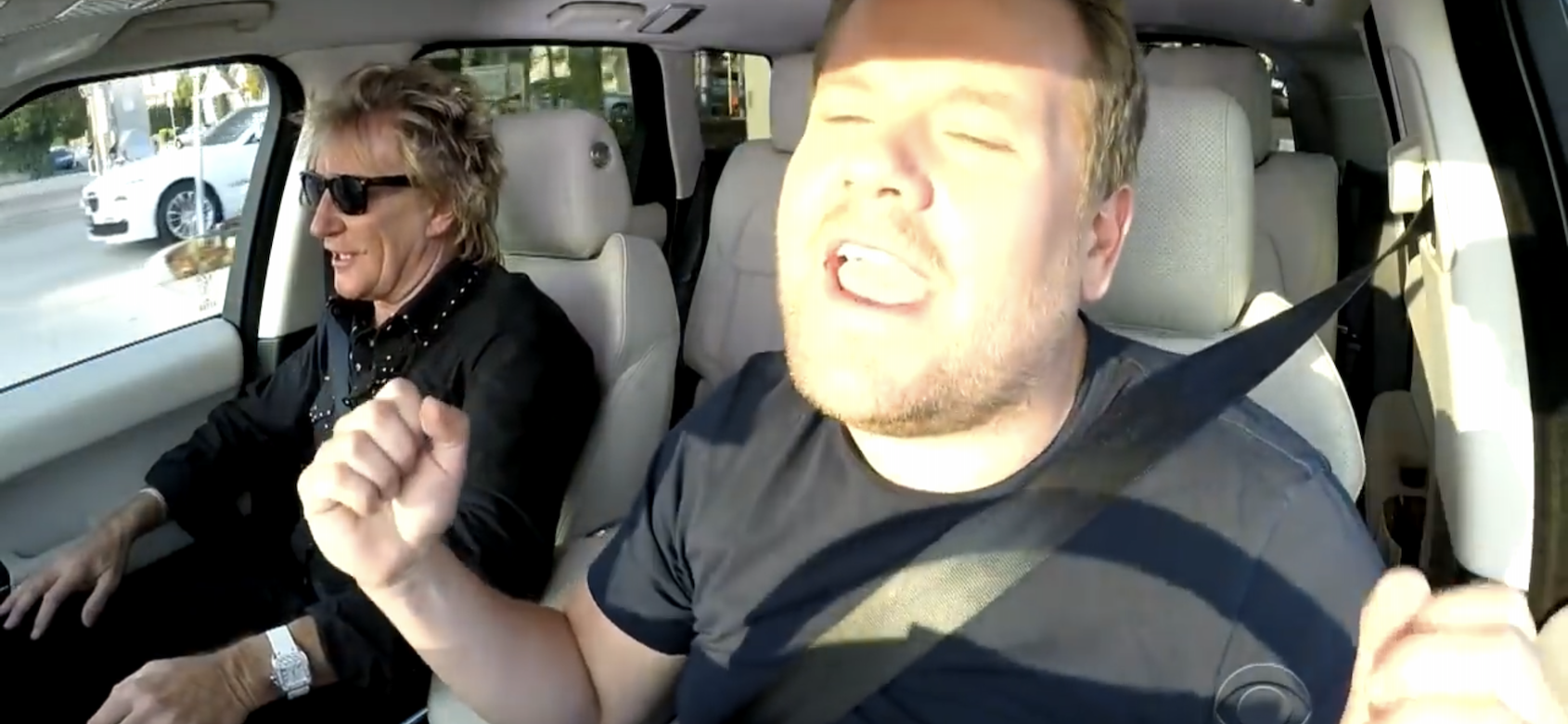 We are well aware of Rod Stewart's love for Cartier and the Santos line, so it comes as no surprise he came to his session of Carpool Karaoke wearing a diamond-set Cartier Santos on his signature white leather strap. Being the legend he is, it is clear he is wearing the watch – not the watch wearing him. Some people may look like they are trying too hard to flex a timepiece that fights above their wristweight, but this diamond Santos looks right at home on Stewart's wrist.
To check out Carpool Karaoke for yourself, I have embedded the full playlist of videos below. Let us know if you spot anything we missed!