Six of the best Apple Watch faces to make your wrist computer a more horological experience
D.C. Hannay
Look, Tim Cook (or Tim Apple, for the less informed) is CEO of a 2.6 trillion dollar tech juggernaut, so he can wear any watch he wants. Being an old-school company man, he's a great cheerleader for the brand, and of course, rocks the useful and highly capable Apple Watch.
A photo recently appeared on Twitter that shows his own personal Apple Watch's dial, and while it all appears very utilitarian (gotta have that stock ticker), it's clear he's not really a watch guy. Think different, Tim. There are lots of ways to make the Apple Watch's face more, well, watchlike. Several Swiss brands have gotten into the smartwatch game, and players like TAG Heuer, Hublot, and Louis Vuitton have all managed a much more watchlike experience. Being the analogue Luddite that I am, I have thus far resisted the siren call of wrist-mounted access to virtually any bit of information in existence.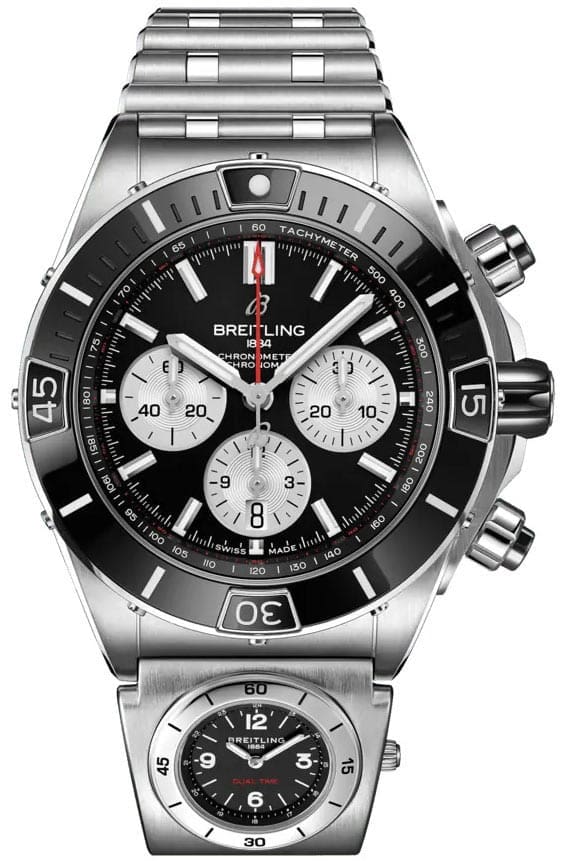 Because I'm not a fan of double-wristing, maybe the answer for me would look something akin to the Breitling UTC module, as seen on the Super Chronomat. In place of the quartz GMT module affixed to the bracelet of an otherwise mechanical timepiece, someone could dream up a little smartwatch unit mounted in a similar way.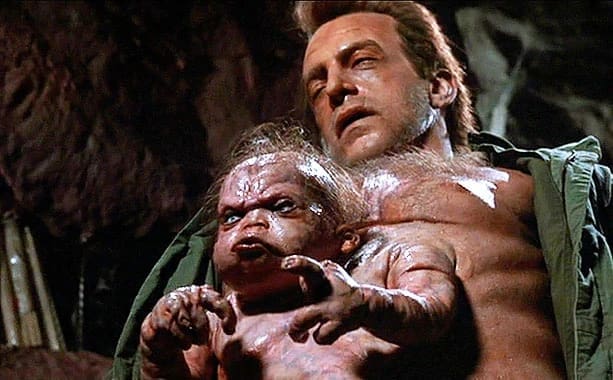 In which case, I hope to God they call it the Kuato, in tribute to the appendage-y leader of the Martian rebellion in Arnold Schwarzenegger's sci-fi camp classic, Total Recall. That would be totally awesome, especially if I could start the reactor right from my wrist (IYKYK). My own hare-brained schemes aside, if you wear an Apple Watch (and a lot of you do, considering it sells more units annually than the entire Swiss watch industry), there are options to make your wrist computer a more horological experience. Here are some of the best inside watchOS 9.
California
I love this one. Right out of the gate, you get the big, bold and super-legible look of classic Panerai dials that mash up Roman and Arabic numerals in a retro layout. And there are lots of layers of customisation available, too. You can pick a circular or full-screen dial, change up the look of the numerals, and dial in that perfect colour combo until your dial markers have the look of perfectly aged radium lume.
Chronograph Pro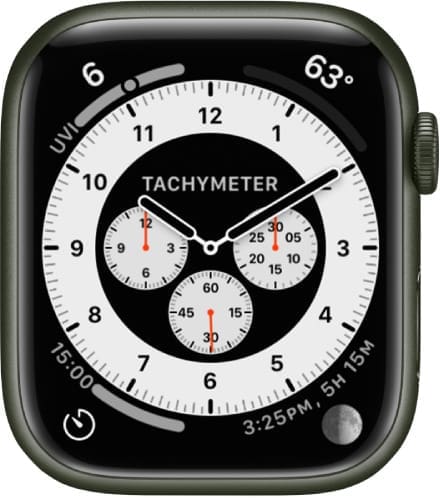 If you're missing your Daytona or Chronomaster El Primero, this is the one for you. It's got a great reverse panda look, full chronograph functionality, and a lot more. Not only can you customise colours, you can actually select from different outer timescales depending on your needs. And yes, this one will function as a rattrapante, offering split-second functionality for a lot less than the real thing.
Count Up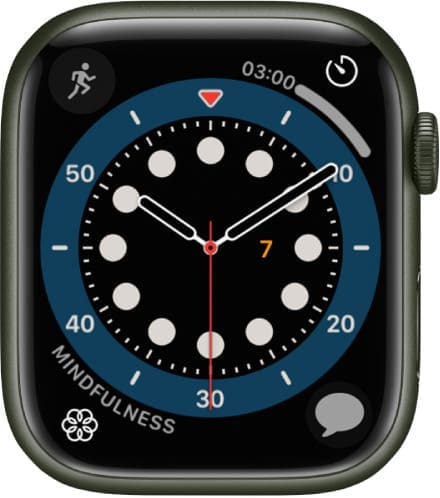 The timing bezel is everything on the Count Up watch face. You can customise the colour to resemble your favourite dive watch, and you'll be amazed how often you use it. Not only can you use it to time your undersea exploits, you can also use it as a grill timer, and then again to wait the recommended 30 minutes after chowing down on that T-bone before getting back in the water.
GMT
If you're a fan of Rolex's GMT-Master II and its red and blue Pepsi bezel, the GMT is just the ticket. Tracking a second time zone is just a bonus on top of that iconic look. It's perfect for when you're on an island holiday, and you want to know when the suckers back home at the office are punching the clock. Colourwise, if you're not in the mood for Pepsi, you can dream up virtually any combo you want for the bezel. So go ahead, make your own Batman, Rootbeer, or something even wilder. Perhaps something as crazy as a watermelon pink and green colourway, for those Zodiac vibes that are perfect for summer.
Mickey Mouse and Minnie Mouse
This one hits you right in the nostalgia feels. Many had a Mickey or Minnie Mouse watch as their first timepiece, and this face brings you right back to that simpler time, when your biggest concern was choosing Lucky Charms or Count Chocula while watching Saturday morning cartoons. They're so universally beloved, watch brands as humble as Timex and as grand as Gérald Genta have all featured the Disney icons on their dials. Of course, the hours and minutes are marked with those white-gloved hands, but there are some really cool Easter eggs as well. Seconds are tracked with a foot-tapping animation, and you can hear Mickey or Minnie speak the time by touching two fingers to the watch face.
World Time
Are you a globetrotting fiend, or, like me, work with a far-flung team via Zoom? The World Time dial is perfect for you. Get the busy dial and useful functionality of world time watches like those from Patek and Vacheron, without the five to six-figure price tag. You can customise colours, switch from digital to analogue time display (featuring a cool globe graphic), and instantly know whether or not your barrage of What'sApp messages might rouse your coworker from a sleep-induced stupor in, say, Melbourne. Whoops.
Even more options
Apparently, there's a burgeoning cottage industry to make the Apple Watch's face even more watchlike. And since the Apple Watch appeals to hacker-y tech types, some are taking matters into their own hands and customising their watch faces, replicating pricey Rolex and Patek dials in pixel form. Completely unsanctioned by Apple, this site lets creators upload their own custom faces, available to download. Me? I'll stick to my gears and hairsprings, but if you're gonna rock the Apple Watch, you might as well make it look good.