Three shades of Casioak: Is the G-Shock GA-2100 series the "everything" watch?
Thor Svaboe
During the bombardment of new pieces during Watches & Wonders, I needed to keep things simple on my wrist. That's why I embarked on one week of living exclusively with three top models (just watches sadly) of the Casio G-Shock GA-2100 "Casioak" series. Are they brilliant, over-hyped, ironic or now just plain ubiquitous?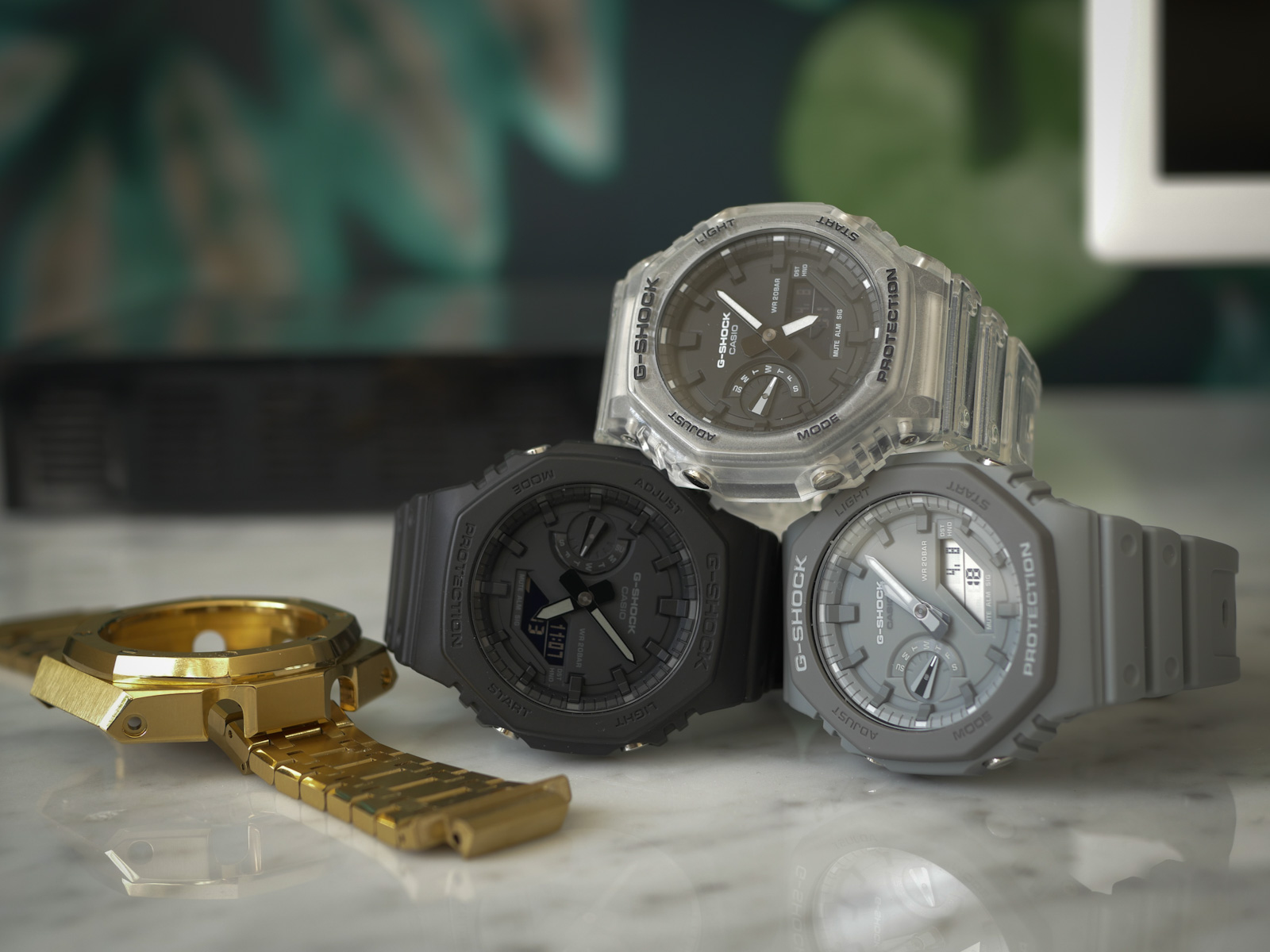 We've previously published articles on the watch's value as a great everyday sports watch, top custom combos, and modification to bring out the watch's inner Genta.  Personally, I was intrigued to see whether the Casioak could serve as a truly multipurpose watch that's up to all the different (Covid-limited) activities of a normal week? Is it a brilliant three-watch collection of G-Shock toughness? Or will it create resin fatigue and a longing for steel?
Monday & Tuesday: The Office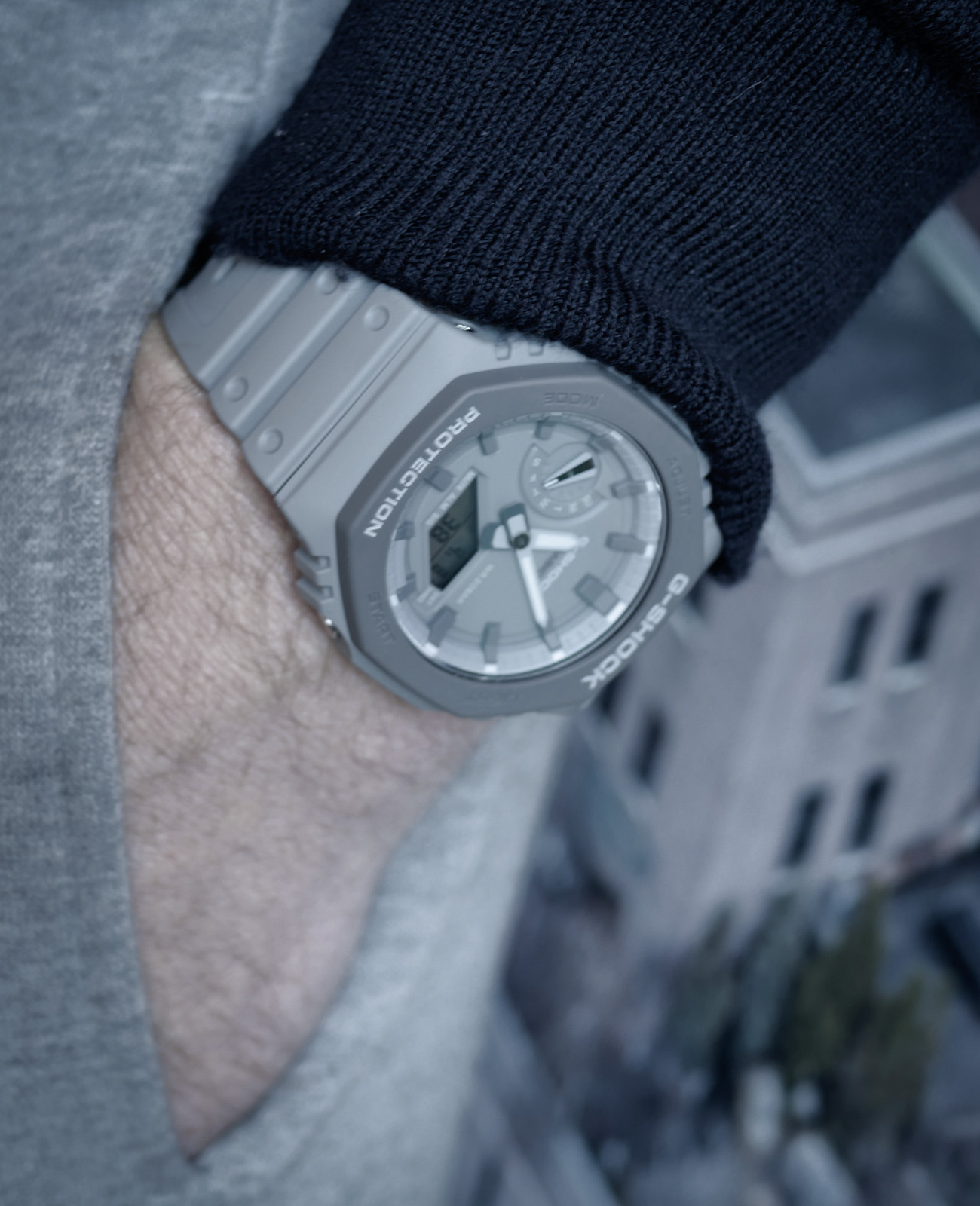 The office is not the office anymore, and while we might long for suiting up again to impress colleagues with our sharp taste in tailoring, this is not the time. The now discontinued two/tone grey G-Shock GA-2100ET-8A matches damn well with some grey cotton sweatpants, strategically worn with a more formal navy merino knit for those Zoom meetings. For a G-Shock, it feels slender at 45mm and with a short 48.5mm lug to lug and no weight, it's a perfect daily wearer. The bonus is the clever world time mode allowing me to keep up with the editorial team in Melbourne while being locked down here in Norway. While I love mechanical watches, this is just an understated, feather-light presence that does its job quietly.
Wednesday: Sub-arctic Exploration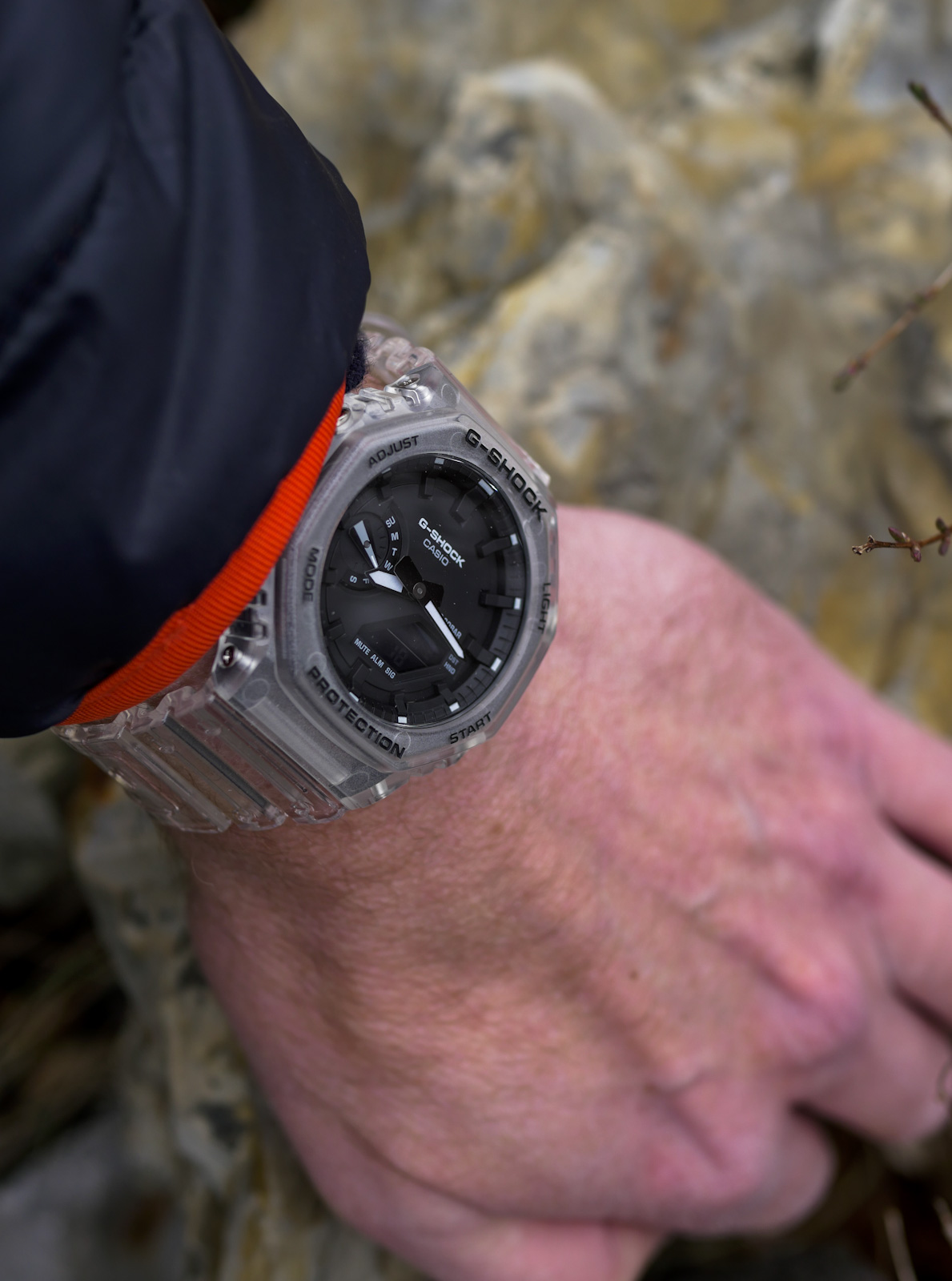 The more sporty clear-cased GA-2100SKE-7AER is the perfect companion for an Out Of Office afternoon trek through the Norwegian woods clearing my head while climbing up a rocky hill. The clear resin used for this model is remarkably soft compared to the black and grey versions, so it sits comfortably on the wrist, while the stronger contrasts in the black dial with light grey lumed accents is great for legibility. The large sword hands are read in an instant, but let's face it, the tiny digital window at 4.30 is not particularly readable as a stopwatch, so start the time, stop it if you want to time climbing that rocky slope,  and read it when resting – unless you want to fall and hurt yourself..
Thursday: The Business Meeting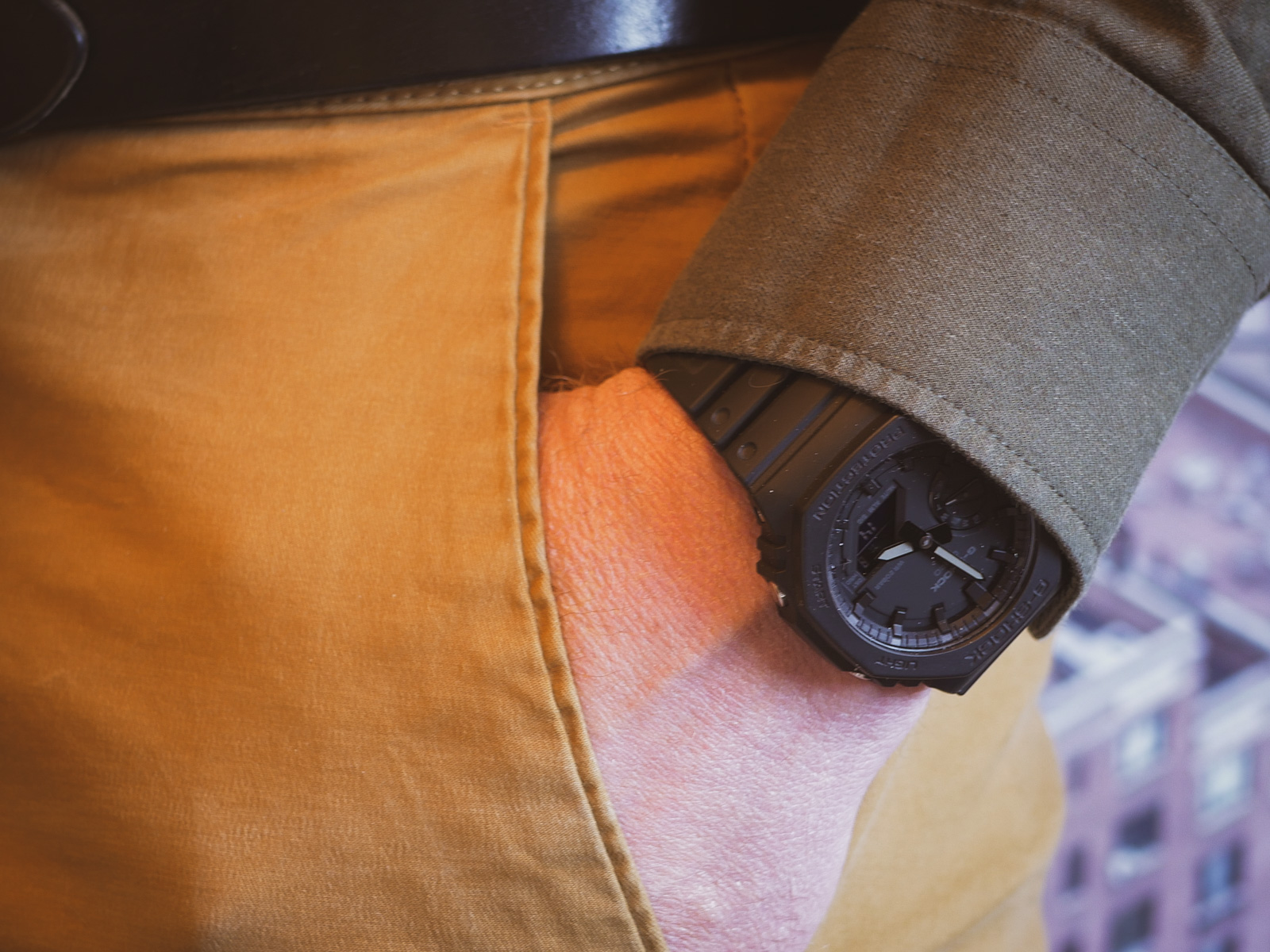 The all-black sombre elegance of the GA-2100-1A1ER, the classic Casioak, pairs well even with a nice olive green shirt and tailored chinos. The hidden benefit of slim wrists, is the ability to get even quite chunky watches under a nice cuff and, for me, these types of style contrasts rule. OK, so the business meeting changed to another bloody Teams video chat (with the benefit of changing to some comfy Nike trackpants), but no one knew, as the sharp shirt remained. To even consider a G-Shock with a shirt says much about the blacked-out versatility of this darkest reference, and while not exactly svelte, the lightweight build makes it a joy to wear.
Friday: Road Bike Training (15 mile sprint)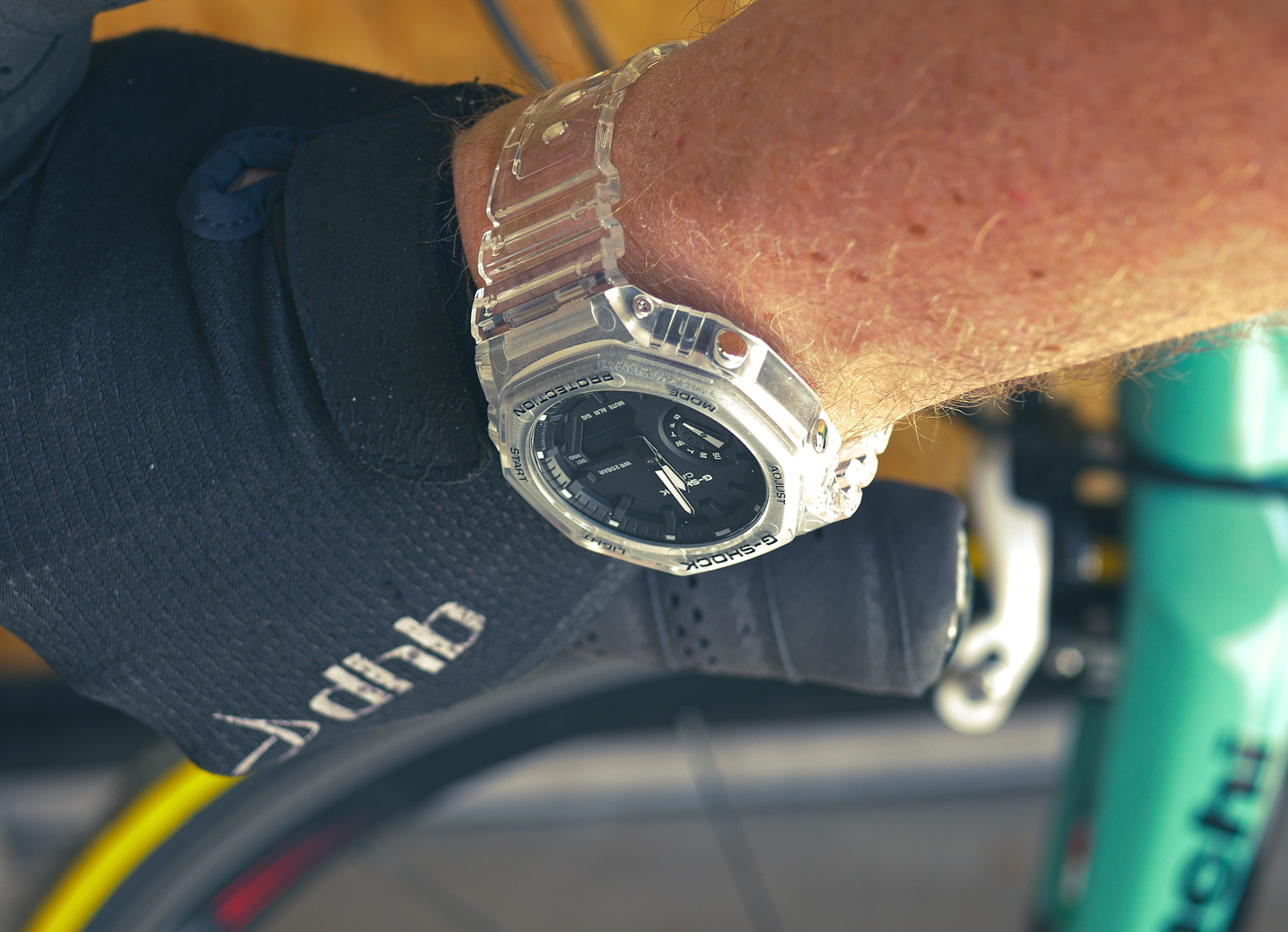 Another day, another Casioak, and back to the jelly goodness of the GA-2100SKE-7AER. It's remarkable how these references, while identical, change personality with both context and activity, and what better sports watch than a G-Shock if, like me, you don't fancy a huge Garmin. I'm a dad, so 60-mile rides are not possible, it's a case of exhausting yourself on 15-40 mile hard sprint runs to make it back for dinner. The clear Casioak sits super-light on the wrist, and while the mobile is stuck in my back pocket for Strava to record my futile attempts at an early season personal best, the easy legibility of the monochrome dial is a delight. Once home, you can click off the strap in one minute if you want to give it a thorough rinse after that sweaty ride. Two years ago I had on a mechanical watch for my season debut on the road and crashed in a roundabout at 30mph. That watch needed a re-casing, but the Casioak can take some punishment and, if too damaged, just pop on another shroud and strap set.
Saturday: The Cocktail Party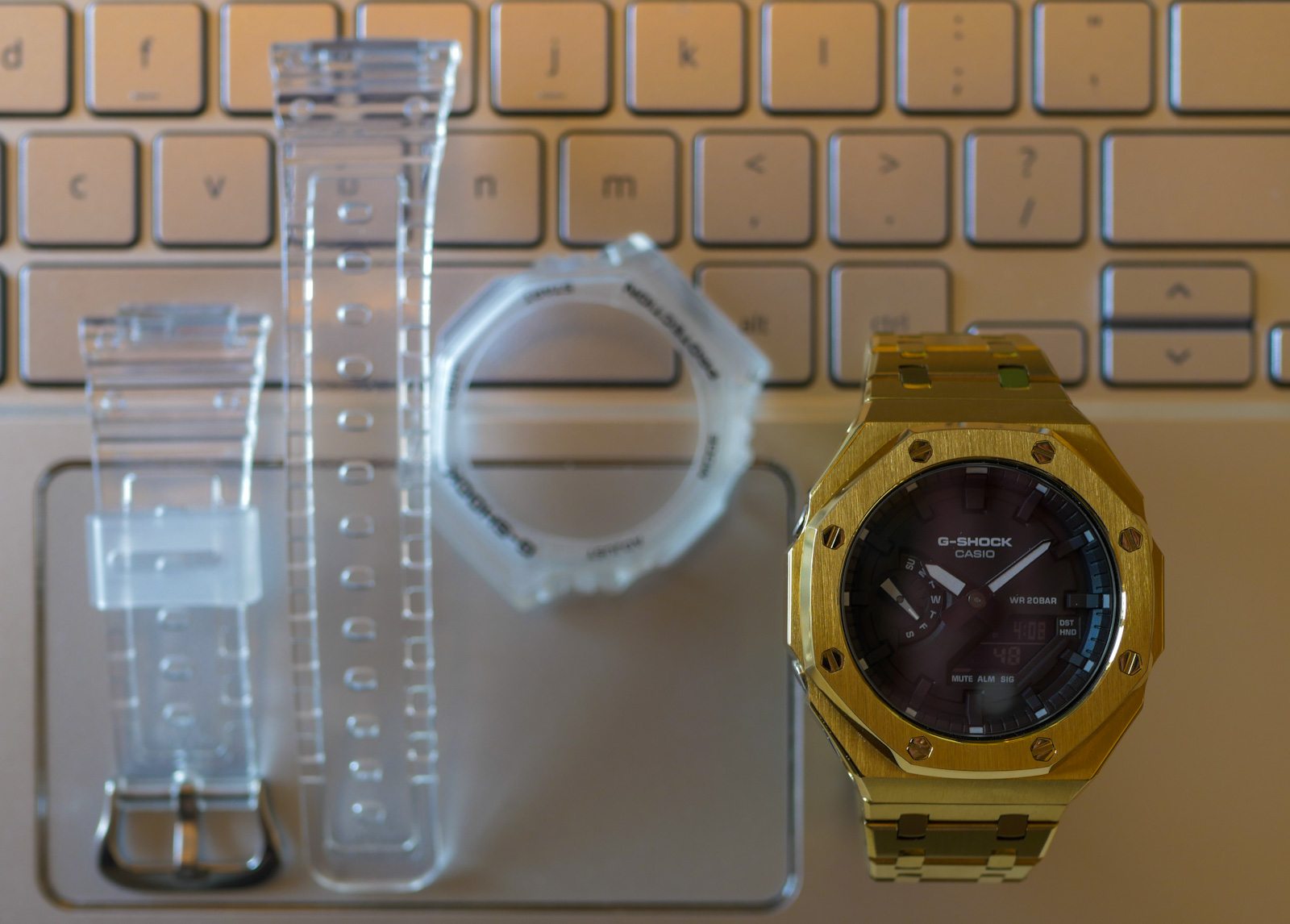 What to do? OK, an entire week with only the popular G-Shock Casioak as a wrist buddy has been refreshing, but what about the dark blue suit / white shirt get-up I've got planned for a cocktail party? On Zoom – again, but with the laptop at a distance and the occasional stand-up toast, my choice is clear, making the threesome a glittering foursome (God save me if my wife read this, a week of top models and threesomes…) .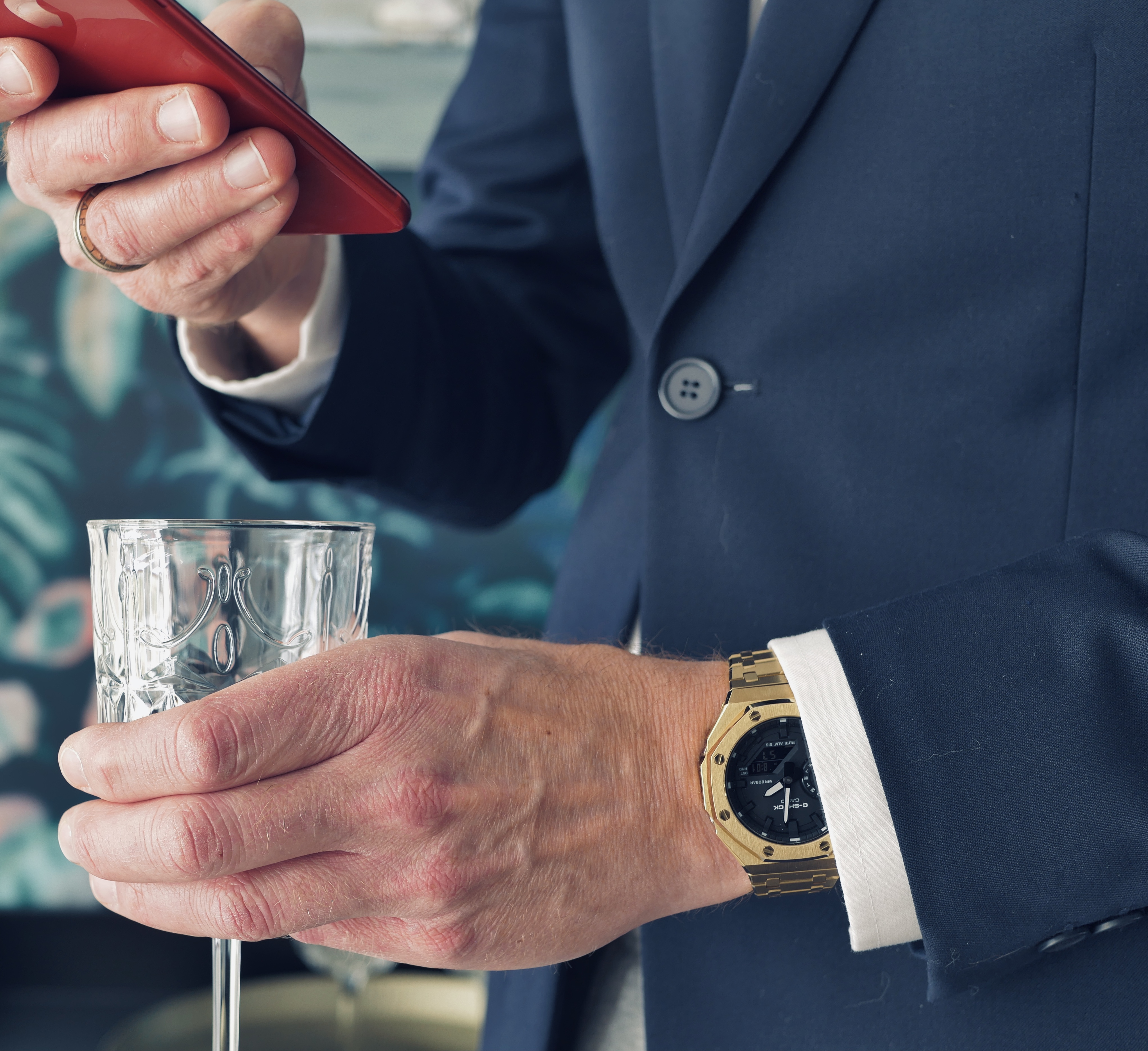 I reach for the modification kit of gold-toned brushed steel butterfly bracelet and case (well, shroud), including that enigmatic octagon bezel. Full-on bling irony that takes all of five minutes to assemble and sure turns out to be a conversation piece. It's remarkable fun for about $200 AUD a kit and great if you don't feel like taking yourself too seriously. Stay away from close-ups and avoid questions and you'll remain the baller of the party.
Sunday: Chill and Conclude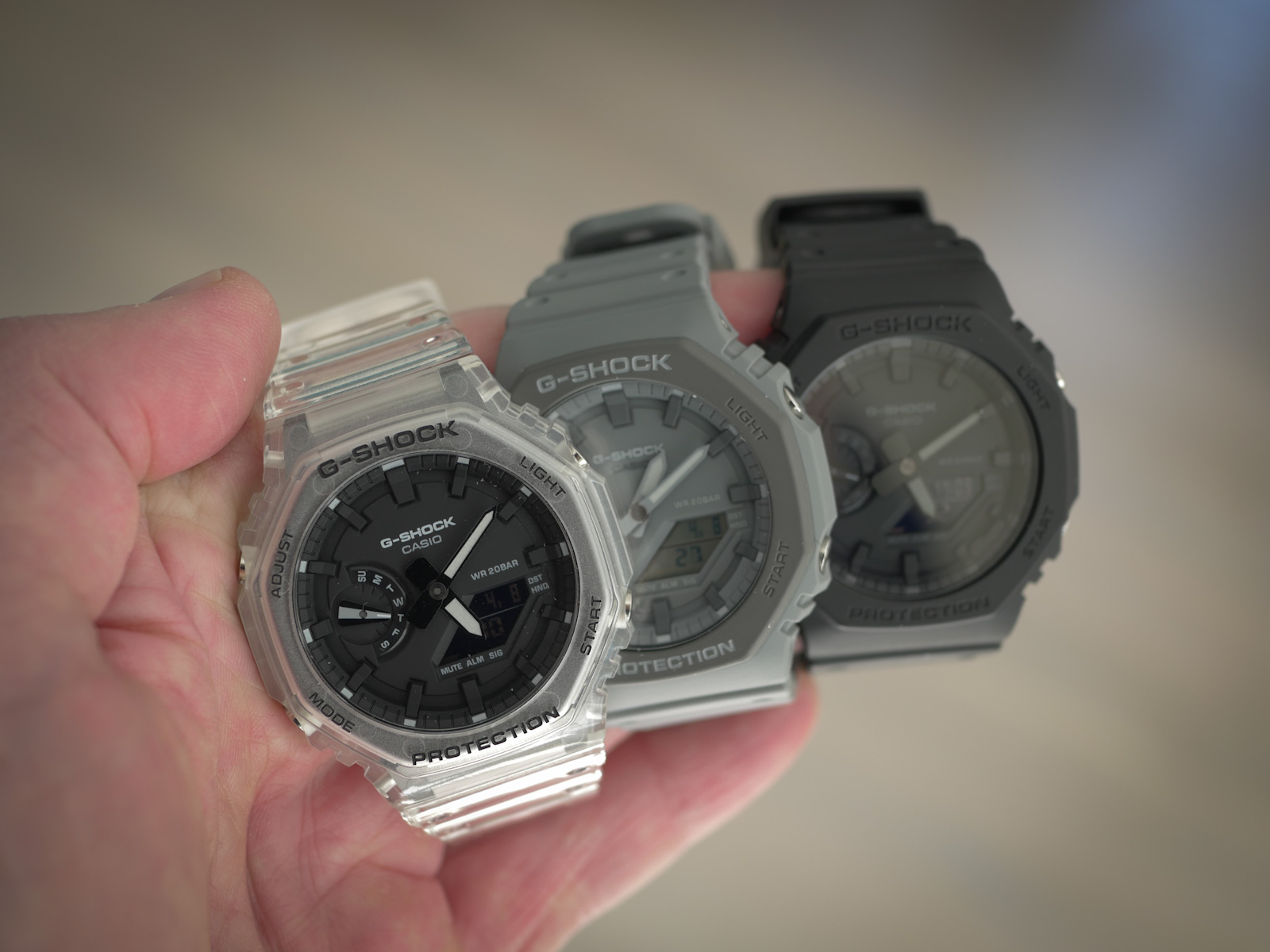 I have managed to surprise myself with the joy of such simple wrist-worn fun. I've also enjoyed wearing the only watch in the house with a retrograde display for the weekdays, a proper world timer, 200m depth rating and all the other functions we simply take for granted. In short, the Casioak is a technological marvel spiced up with cheap fun – for about $220AUD it offers value with a capital V.  I am seriously impressed. This is a watch for everything, and I genuinely understand why it's got such a star rating among the watch community. 
Sincere thanks to a #watchfam friend, Jacques Tham from Wisconsin in the US, whose generosity in sending this exciting box of G-shocks made this story possible. Thanks Jacques!