The scream team – the top 5 evil looking watches
Fergus Nash
Between associating themselves with moon landings and war heroes, watch brands are seemingly always striving for a sense of valour and achievement. Although there's nothing wrong with that, the endless romanticism can get a bit tiring at times, and often the biggest relief is to see something go wildly in the other direction. Put on your favourite metal album and explore our top five evil looking watches with dark and brooding themes — because as every comic book fan knows, a hero is nothing without their villain.
Strom Memento Mori, Carpe Diem
While Armin Strom is a well-known name in haute horology, his son Daniel Strom's own-name brand hasn't cut through the public eye in quite the same way. With a focus on gothic art and jewellery, Strom create some of the most daring luxury watches out there without following any current trends. The sterling silver case of the Memento Mori, Carpe Diem range is an ornate affair with hand-carved skulls, while the genuine bone on this model's dial is adorned with gothic-style Roman numerals and cruciform hands to complete the on-point aesthetic. Although the concept of Memento Mori is supposed to be an uplifting and optimistic one, it's impossible to totally shed the associations between death and the dark arts, which is why this watch just oozes a wicked flair. Whether or not it's your cup of tea, you have to respect Strom's intense dedication to their themes and the craftsmanship involved.
Hublot Sang Bleu II Black Magic
Maxime Plescia-Büchi is the mastermind behind Sang Bleu — a multi-media outfit which began as a magazine covering contemporary art and culture, but is now most famous for it's London tattoo studio. Long gone are the days of tattoos being associated with low morality, but that doesn't mean you can't find some good, dark designs. Now released in a silky black ceramic, this tattoo-inspired watch more resembles a satanic sculpture than a wristwatch. The harsh yet soothing mesh of geometric complexity evokes a hedonistic ritual magic which isn't often seen in watchmaking, yet is absolutely captivating to behold. Although you're unlikely to actually check the time on this watch, you may find yourself pulled into its hypnotism.
Konstantin Chaykin Joker Dracula
Konstantin Chaykin has to be the most well-known high-art watchmaker from Russia, and that is almost entirely thanks to the Joker watch which launched in 2017. As one of the first brands to embrace the idea of fun being prioritised over practicality, the Joker watch collection quickly grew to incorporate a whole cast of characters from circus clowns to even a Minions movie tie-in. The Joker Dracula isn't just a different paint job and a black-coated case, however, as the movement has also been modified to use Dracula's fangs as a day/night indicator. As 10pm hits, the fangs begin their unsheathing until their full protrusion comes at midnight, and then they slowly retract between 6am-8am.
Seiko 5 Sports SRPD83
Most of the watches on this list are high luxury pieces because of the freedom independent luxury watchmaking provides, however the might of Seiko cannot be stopped from releasing at least one watch to fit in any niche. The SRPD83 ticks all of our favourite boxes, with the compact-lug 42mm case that wears great, the 4R36 ticking away reliably and accurately, and the scuba-themed indices made famous on the original SKX. Although it may not have 200m of water resistance, 100m is perfectly adequate for most swimming, and the blacked-out case and strap form a perfect backdrop for the blood red highlights on the dial and bezel insert. For only a few hundred dollars, you can get this incredibly versatile watch that captures some real sinister energy.
Richard Mille RM26-02 Tourbillon Evil Eye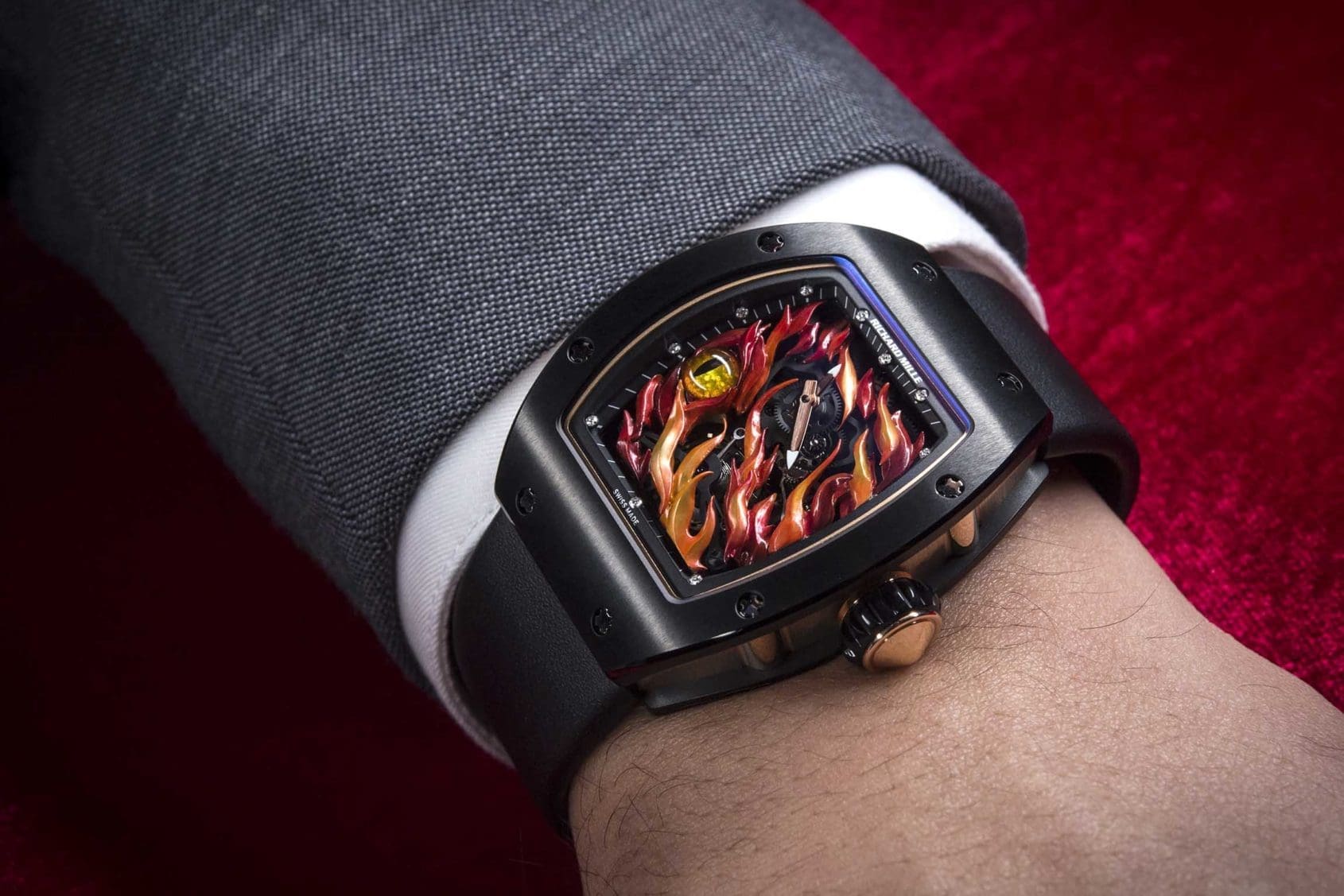 Just like dragons, the concept of the "evil eye" pops up across all sorts of ancient cultures around the world. If you're not careful, a single look of malicious intent is enough to curse the recipient with bad luck, or worse. The Richard Mille RM26-02 Tourbillon Evil Eye features an incredible display of hand-crafted sculpture from the artisan Olivier Vaucher, who crafted the flames and eye from red gold and grand feu enamelling and micro-lacquering. As if this wasn't enough, the artwork rests over an incredible tourbillon calibre. While there is no official crossover, the design of the Evil Eye is surely influenced by one of the greatest villains in film and literature — the Eye of Sauron from The Lord of the Rings.