The Rolex Daytona gets a skeletonised remix in white ceramic at the hands of 2 Chainz
Luke Benedictus
The rapper 2 Chainz is called "2 Chainz" because of his predilection for wearing, you guessed it, two chains. In other words, the hip-hop artist clearly takes his accessories very seriously. And that passion extends to his wristwear, too. "I like to carry around seven watches, because there's seven days in a week," he once told GQ. "I like to switch 'em up everyday."
Over the years, 2 Chainz has been spotted wearing a huge range of luxury brands. There's been a Hublot Big Bang, a Cartier Santos, an Audemars Piguet Royal Oak and multiple Patek Philippe Nautilus and Richard Mille pieces. Needless to say, most of these have been "bust down" and carpet-bombed with diamonds.
But 2 Chainz latest watch is different. Last week, he unveiled a custom Rolex Daytona watch collaboration with Skeleton Concept that has been three years in the making.
"This is NOT just a watch, it's a statement," he explained. "Proud to announce my partnership with @skeletonconceptofficial on my one of 50 2 Chainz x Skeleton Concept Ceramic Daytona. A perfect blend of street and luxurious craftsmanship."
"You know me, I'm always working on something," he added. "I'm always in the lab I'm always cooking. But this next surprise I have for you guys I'm very excited. It's been two-three years in the making. I've collaborated with Skeleton concept to come up with my own special Rolex Daytona.
"With the Daytona being one of my favourite watches, it's all-white. The skeleton movement on the inside, I always wanted to have a Rolly with the skeleton in it."
Skeleton Concept is a French atelier that specialises in watch customisation and modifications made on behalf of their clients. High profile pieces they've made over the years include watches for basketball star Dennis Rodman, rapper French Montana and footballers Blaise Matuidi and Samuel Eto'o.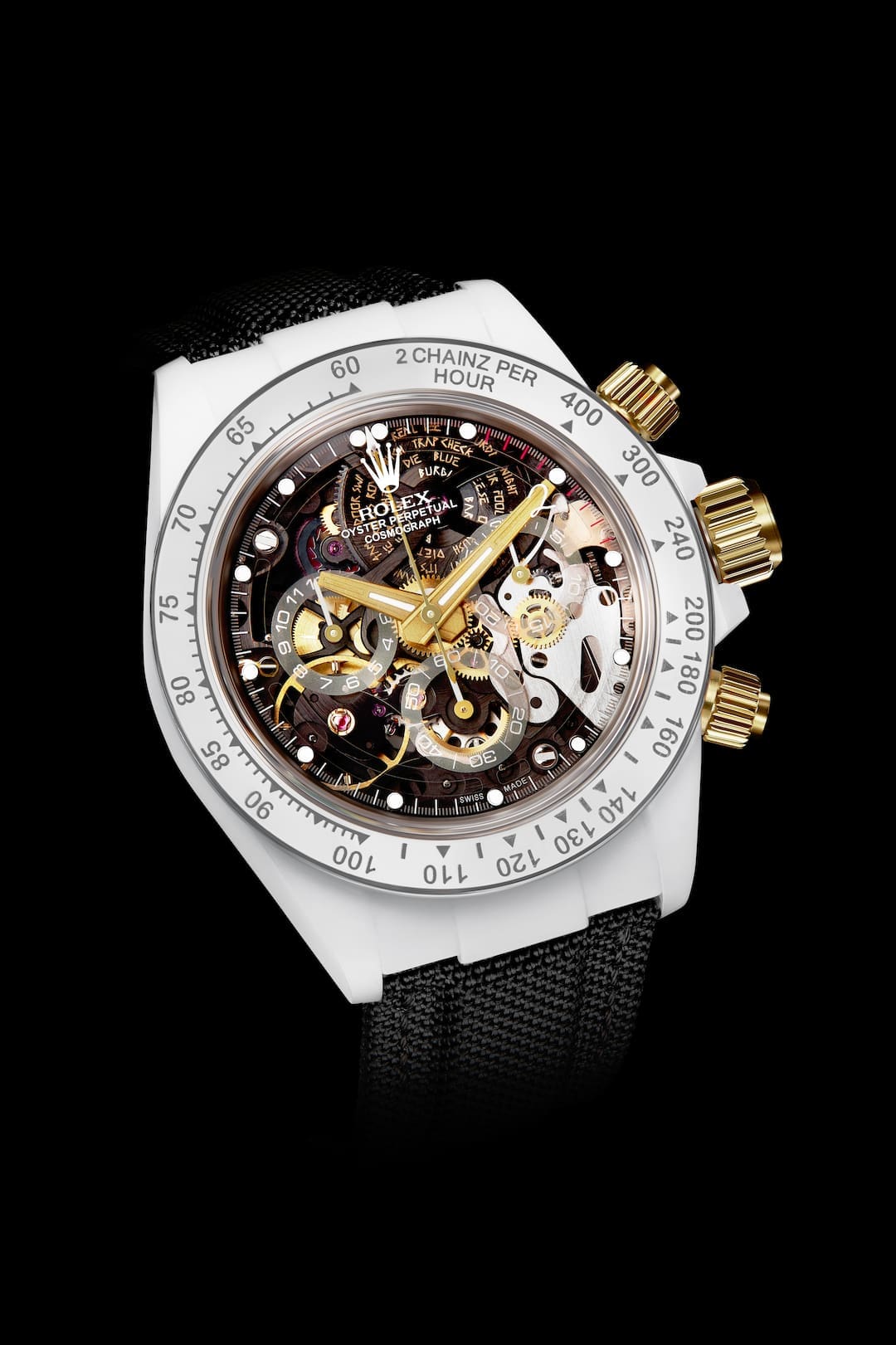 The 2 Chainz x Skeleton Concept Ceramic Daytona takes the iconic Rolex and gives it a very bold remix indeed. Not only is it now customised with a skeletonised dial but the case and bezel are now clothed in blinding white ceramic. Favourite detail: the "2 Chainz per hour" text on the bezel.
"My admiration for the Daytona® has always been strong, and I desired to create a version that reflected my personal style," 2 Chainz said. "Skeleton Concept helped me accomplish this goal, resulting in a one-of-a-kind timepiece. The watch boasts a distinctive movement, distinctive shapes, exceptional curves, and an extraordinary mechanism, all contributing to its uniqueness. I am enamoured with the final product!"