The Paulin Modul sports a modular case and a choice of new-old stock quartz or modern mechanical
Borna Bošnjak
To many, the first Scottish watchmaker they'd think of would be the enamel masters of anOrdain – but there's a Glasgow-based brand that actually outdates them. I'm talking about Paulin, celebrating two important milestones in 2023. First of all, this year marks a decade since the brand's inception, but also a new direction after being purchased by none other than anOrdain. To celebrate, Paulin presented a brand-new collection for 2023 – the Modul – available with either a reworking of the Pesseux 7001 movement, or ETA 955.112 quartz calibres of the new-old-stock variety. I got to spend some time with both – one in a popping pink and the other a funky brown – and here's how I got on.
Greetings from Glasgow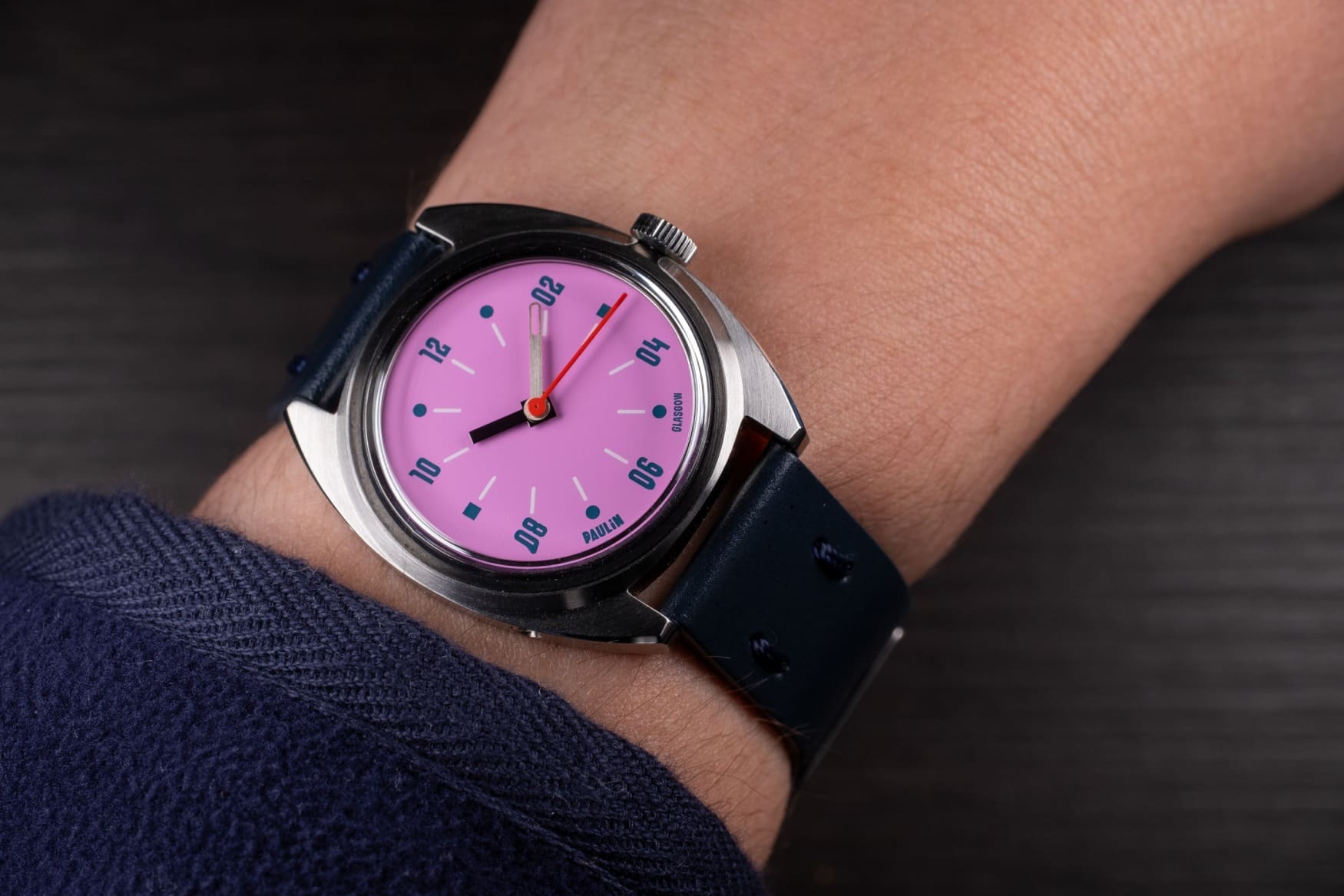 First of all, who are Paulin? The brand was founded in 2013 by three Paulin sisters – Elizabeth, Charlotte, and Eleanor, beginning life as many microbrands do – producing affordable, design-oriented minimalist watches – with their first automatic only launching in 2017. With that watch, however, they also looked to satisfy the more snobby watch enthusiast (the kind that would say "their first automatic only launching in 2017") by moving assembly to Scotland, powering it with a Miyota 9000-series movement. Their distinct design language (more on which shortly) really began to show in the Neo collection, released in 2020. It shares a similar dial to the Modul, though it distinguishes itself by the fact that it is entirely British-made, beginning as an aluminium blank that is then anodised. For all of the models, Paulin presents an unusually transparent list of manufacturing partners for every major watch component. British or German dials, Chinese cases, Indian hands, and Japanese or Swiss movements are all assembled in the brand's Scottish workshops.
That brings us to the Modul. Released in 2023, it marked the beginning of the merger between anOrdain and Paulin, with the prototype auctioned off in the EveryWatch charity auction earlier this year. This acquisition was hardly coincidental, as anOrdain's founder Lewis Heath just happens to be married to Charlotte Paulin, one of the co-founders.
Memphis, pop art, and Bauhaus?
I'm no design historian, but I do think those three sum up Paulin's new direction quite well. The block-colour dials are a melange of geometric shapes and clever design elements, while the indices mix squares, circles and two-digit Arabic numerals, and the hands are a combination of rectangles and ellipses. My favourite bit by far is the hollowed-out tip of the minutes hand, which just happens to perfectly frame the 12 white minute hashes as it goes around the dial. Or is it maybe the way the 06 index flows into the small seconds sub-dial, rather than getting cut off? This might seem like a lot to put in a small dial, but it all somehow works.
Paulin are clearly confident in this design, as their branding has been relegated to the very bottom of the dial. In yet another parallel to now-sister brand anOrdain, Paulin's creative direction will be overseen by Imogen Ayres, the same designer responsible for the Glaswegian enameller's typeface. The dials are made by Cador of Germany, beginning as brass blanks that are finished with lacquer.
Unique case design
It may not be the most obvious at the start, as you're likely going to be distracted by the funky dials, but the case of the Modul is the very reason for this watch's existence. Unlike their other models, the case construction is quite complex, as it features a modular inner portion that can be modified to house different movements, all the while fitting into the same 35mm steel outer case.
I love a smaller watch, so you won't hear me complain about the rather diminutive 35mm x 40mm size. Regardless of the movement choice, the height is kept to just 8.2mm, which is nothing short of fantastic. Not only are the proportions favourable, but the case shape itself makes for a great wearing experience. Despite its barrel shape and accompanying short lugs, the side profile has a small, but noticeable downward curvature, meaning the lugs sit beneath the caseback, hugging the wrist that much better.
The finishing is pleasant, too, though not overly complex. Both the top and bottom chamfers of the case feature a polished highlight that widens towards the end of the lug, matched by the polished screw heads in the caseband.
While admittedly not part of the case, the straps are important to any wearing experience, and this is where both watches fell short. Both came supplied with bridle leather straps, and when combined with the shape of the buckle, they were very stiff. Thankfully, the lug width is a standard 18mm, and the unique dial colours will allow for interesting strap combinations. It's worth noting that Paulin also provides mesh bracelet, shell cordovan and suede strap options – all of which are the same price.
NOS quartz or NEW manual
Wherever you look, the Modul is full of fun surprises. Hiding beneath a screw-down caseback, you have a choice of two movements. The first is a manually wound La Joux-Perret D100, essentially a new variant of the venerable Pesseux 7001 which has been in service since the 1970s, also adapted to "in-house" movements like Nomos' Alpha. The fun fact here is that the D100 hasn't been widely used at all, having only been released this year. In the Modul, it sports a 4Hz beat rate and 50 hours of power reserve.
The much more interesting choice in my opinion is the Modul Quartz, which makes use of a small batch of new-old-stock ETA 955.112 calibres. Paulin state its accuracy to be within 10 seconds per year, with a battery life of up to seven years – pretty impressive stuff. And just look how cool it looks!
Closing thoughts
Barrel-shaped case that reminds me of Universal Genève White Shadow, quirky dial design, and unique movement – the Paulin Modul is pretty much everything I'd look for in a left-field, microbrand watch. The two models that I tested both came with closed, Paulin-embossed casebacks, but all Moduls are available with open casebacks, too, and a Modul Quartz with an see-through caseback would be my choice.
You'll have to decide whether these elements are worth the asking price, which admittedly is higher than most of your entry-level micro/independent brands, but considering the increasing prices of the big box stuff and the actually unique proposition Paulin offers, I think there's plenty there to justify it.
Paulin Modul pricing and availability
The Paulin Modul collection is available now from Paulin's website. Price: A$745, £450 (Modul Quartz), A$1,638, £990 (Modul Mechanical)
Brand
Paulin
Model
Modul C Quartz
Modul B Mechanical
Case Dimensions
35mm (D) x 8.2mm (T) x 40mm (LTL)
Case Material
Stainless steel
Water Resistance
5 ATM
Crystal(s)
Box hesalite
Dial
Pink, brown
Lug Width
18mm
Strap
Clayton's Tannery bridle leather, steel pin buckle
Movement
ETA 955.112, NOS quartz
La Joux-Perret D100, manual winding
Power Reserve
7 years (Modul Quartz)
50 hours (Modul Mechanical)
Functions
Hours, minutes (Modul Quartz)
Hours, minutes, small seconds (Modul Mechanical)
Availability
Now
Price
£450 (Modul Quartz)
£990 (Modul Mechanical)