The comprehensive watch buying guide to Paris
Fergus Nash
Paris has many flattering nicknames from the "City of Love" to "the Fashion Capital", and while it's thoroughly earned both of those monikers, it should also be known for its important milestones in horology and design. From 18th century innovations to modern trendsetting, Paris is a central hub in watchmaking that could even rival some Swiss cities. If you're planning a trip to France's capital any time soon, you should be prepared to visit some of the city's extraordinary watch boutiques alongside its legendary landmarks and restaurants.
Audemars Piguet
Audemars Piguet have been growing exponentially as they gain traction with all kinds of celebrities across sports and pop culture. If you've got cash to burn and you want people to know it, paying a visit to the Rue Royale Audemars Piguet boutique, just a short stroll from the impressive Catholic Church, La Madeleine. For more details, visit their website here.
Address: 15 Rue Royale, 75008 Paris
Contact: +33 1 40 20 45 45
Baltic
Baltic were one of the first microbrands to perfect the retro-reissue formula, bringing classy, gorgeous watches to the masses with affordable prices and high quality. This years marks the fifth anniversary of the proudly French brand, which is mind-boggling considering how many fantastic releases they've had. If you want the rare opportunity to view one of these watches in person before purchase, you can visit their headquarters and showroom in the heart of Paris. You can book an appointment either physical or virtual here.
Address: 29 Rue du Château Landon, 75010 Paris
Contact: +33 1 40 16 07 17
Bell & Ross
Originally founded as a university project in the early 1990s, Bell & Ross took the pilot's watch idea and distilled it to really look like it had come straight out of a cockpit. Their connection with France goes deeper than just their Parisian origins, considering their partnership with the French F1 team Alpine. Seeing their watches in person is the only way you can truly make up your mind about how their tech-focused case shapes sit on your wrist. You can browse their website in preparation for your visit here.
Address: 25 Rue Royale, Le Village Royal, 75008 Paris
Contact: +33 1 40 07 98 52
Breitling
As Breitling's first-ever boutique, the Rue de la Paix storefront is a significant location for the aviation-based brand. While they're best known for their Navitimer range of chronographs, there's no better way to expand your knowledge of a brand than to see what else they have on offer in the metal. Their website here even features a handy travel planning tool.
Address: 10 Rue de la Paix, 75002 Paris
Contact: +33 1 42 61 18 84
Breguet
Abraham-Louis Breguet may have been born in Prussian territory, but he spent his most formative years working and studying in Paris. After inventing the tourbillon complication and several other notable achievements, Breguet's fame even earned him work for King George III of England. Paris is fittingly Breguet's flagship boutique, where they continue his legacy in producing high-end luxury timepieces and lofty complications. Plus, there is also a comprehensive and fascinating museum located above the boutique. For more information on this specific location, you can visit their website here.
Address: 6 Place Vendôme, 75001 Paris
Contact: +33 1 47 03 65 00
Bulgari
As The Fashion Capital, Paris is a fitting host for one of the finest Italian luxury brands of all time. Bulgari have been bold in their watchmaking efforts over the last decade particularly, taking the fight to the more-established brands by consistently breaking records for thin and complicated movement manufacture. Getting the chance to try on an Octo Finissimo may cause a shuffling in your list of dream watches, so be sure to visit both their website here and their Paris boutique in person.
Address: 23-25, Place Vendôme, 75001 Paris
Contact: +33 1 55 35 00 50
Cartier
Louis Cartier founded his business in 1847 in Paris with no idea just how successful he would be. Besides his historical significance in designing the first-ever pilot's watch for Alberto Santos-Dumont in 1904, Cartier have now become perhaps the world's best known jeweller besides perhaps Tiffany's. With other notable watches including the Tank, Ballon Bleu and Pasha, their classic yet quirky catalogue is well worth browsing in the heart of their origins. To see their esoteric designs in person, made to impeccable Swiss standards, check out one of their boutiques and their website.
Address: 23 Place Vendôme, 75002 Paris
Contact: +33 1 70 65 38 00
Chanel
Chanel may have moved their official headquarters to London in 2018, but their spirit certainly remains Parisian. Since Coco Chanel opened her millinery shop in 1909, she worked on revolutionising women's fashion away from the opulent and restrictive styles of the 19th century with a more casual, sportier look. Fast forward to the year 2000 and Chanel revolutionised watchmaking with the release of the all-ceramic J12, a watch which is still being refined and re-released today. For more information, follow this link to their website and store locator.
Address: 31 Rue Cambon, 75001 Paris
Contact: +33 1 44 50 66 00
Frank Muller
Frank Muller capture a mystical energy unlike any other watch brand, and that seems to be something that gels with the Parisian lifestyle. With no fewer than 15 Franck Muller boutiques in Paris alone, you are truly spoiled for choice if you want to check out some of their models, including the famous Vanguard and Crazy Hours lines. Read more about them online here, and then be sure to step into one of their magical boutiques.
Address: 8 Rue de la Paix, 75002 Paris
Contact: +33 1 40 20 07 65
Grand Seiko
The Grand Seiko boutique at 7 Place Vendôme isn't just a nice place to view their superb watches, but a work of art in and of itself. Designed by Japanese architect Kengo Kuma, the interior is inspired directly from Japanese traditions with contemporary stylings — from the bamboo partitions to the Washi paper walls. This is definitely not a boutique to be missed, and there's hardly an enthusiast on the planet who can resist Grand Seiko's alluring charm. You can follow this link to their website for more information.
Address: 7 Place Vendôme, 75001 Paris
Contact: +33 1 81 69 56 96
Hermès
Adding to the list of extremely influential Parisian fashion brands is Hermès. Although they specialise mainly in leather goods and other accessories, their influence on the wristwatch world can't be denied through both their own luxury offerings such as the H08 and the Cape Cod as well as their collaborations with the Apple Watch. The storied brand has resided at the 24 Rue du Faubourg Saint-Honoré address since 1880, making this possibly the most historically significant boutique on this list. For more information, visit their website here.
Address: 24 Rue du Faubourg Saint-Honoré, 75008 Paris
Contact: +33 1 40 17 46 00
IWC
IWC are synonymous with the Flieger style of pilots watches, but their range is gargantuan. From the IWC Big Pilot to the dressier Portugeiser range, seeing all of their models in the metal is the only definitive way to feel out their brand identity and whether they have something to suit yours. Their Paris boutique on the famous Rue de la Paix has been open since 2012, making this year their 10th anniversary. Learn more about them at their website here.
Address: 3-5 Rue de la Paix, 75002 Paris
Contact: +33 1 42 61 62 64
Jaeger-LeCoultre
Jaeger-LeCoultre are one of those brands that carries a certain magic about them. Whether it's their history of technological progression, elegant design that remains boundary-pushing, or perhaps just great marketing. The Jaeger-LeCoultre boutique at 7 Place Vendôme was renovated in 2012 to become their Parisian flagship, with over 500 square metres of gorgeous space. With the Stellar Odyssey collection being released this year, going to see some in the metal would be a fantastic day plan. Find out more here.
Address: 7 Place Vendôme, 75001 Paris
Contact: +33 1 53 45 70 00
Longines
Longines are amongst the oldest watch brands that have consistently been in business, and they're still one of the best brands to go and browse at a boutique. With a vast range of watches across a myriad of genres and price points, you can always guarantee that you'll be getting a great value watch with Longines. Their connection with Paris runs deep and they are currently sponsors of the Paris Eiffel Jumping event to reflect the brand's passion for equestrian sport. Check out their website for more information here.
Address: 16 Rue du Faubourg Saint-Honoré, 75008 Paris
Contact: +33 1 45 22 00 16
Montblanc
Although it took a while for people to stop asking "isn't that the pen company?", Montblanc's range of vintage-inspired watches are well and truly respected amongst enthusiasts across their range. While some use ETA-based movements and still look fantastic, Montblanc's merger with the historic movement manufacturer Minerva takes their horological credibility one step further with some truly beautiful engineering. Visit their website here and see their boutique for yourself.
Address: 152 Avenue des Champs Elysées, Paris 75008
Contact: +33 1 70 83 55 18
Omega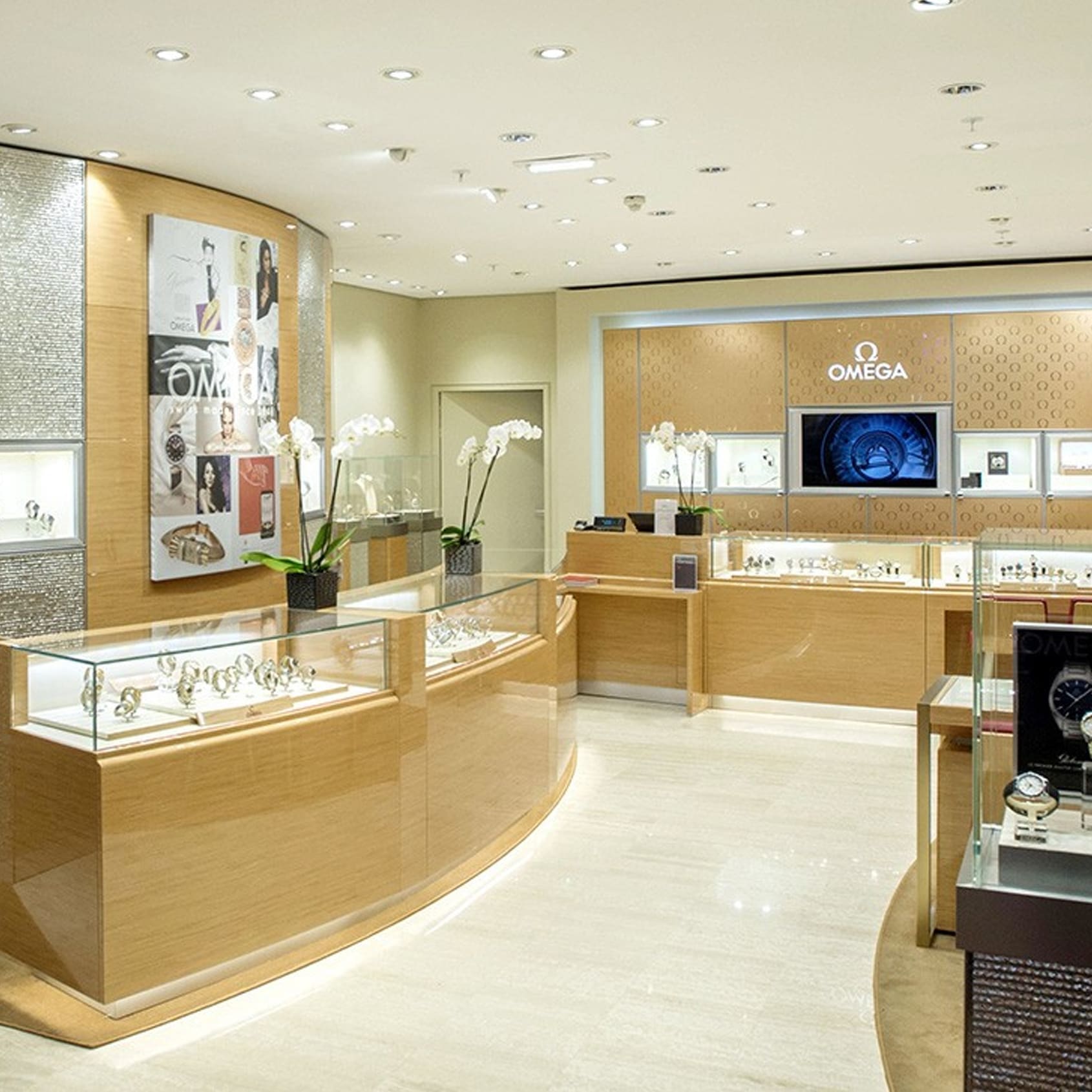 Omega can take the credit for some of the most iconic sports watch designs of all time, including but by no means limited to the first watch on the moon as well as being the choice of James Bond. But, aside from all of the fame, the best part about Omega is that you can usually find exactly what you're looking for in-stock at their boutiques. Their Paris boutique is clearly of high importance to the Swiss brand given the 2019 release of their Seamaster Exclusive Boutique Paris Limited Edition, featuring famous Parisian landmarks on the caseback. To try some on yourself, give their boutique a visit or find out more online here.
Address: 362-364, Rue Saint-Honoré, 75001 Paris
Contact: +33 1 55 35 03 60
Panerai
As Panerai's first Paris boutique, Milanese designer Patricia Urquiola displays the brand's proudest watches within a marble, bronze and wood interior that offers an insight into the character of the brand. The Italian-designed watches have stuck with their identity throughout their history, deviating from their successful silhouette only to modernise and provide new perspectives on what a Panerai could be. Take the plunge yourself by investigating their boutique or their website at this link.
Address: 5 Rue du Faubourg Saint-Honoré, 75008 Paris
Contact: +33 1 70 70 03 37
Patek Philippe
Frequently touted as one of the finest Swiss watch brands to ever exist, it would be a crying shame to not at least window shop the Patek Philippe Salons at 10 Place Vendôme. Their last few years have shown a surprisingly deft adaptation to modern trends such as aged lume and textured dials, and seeing their level of finishing should help set some lofty expectations for the rest of your stops on your Parisian watch tour.
Address: 10 Place Vendôme, 75001 Paris
Contact: +33 1 42 44 17 77
Piaget
Piaget tend to pride themselves on sporty elegance and thinness that reflects their history of record-breaking ultra-thin movements. With their Polo watch being a consistent sales success since its 1979 release, trying one on may introduce you to the brand that could be considered underrated. Click here for more information on their Paris boutique.
Address: 16 Place Vendôme, 75001 Paris
Contact: +33 1 55 35 32 80
Rolex
This list wouldn't be complete without a Rolex boutique, and there's no shortage to choose from in Paris. Paris is flooding with luxury brands, but Rolex will always have the upper edge for their sheer desirability and brand awareness, as evidenced by the number of boutiques within a fairly small radius. If you ask anyone off the street to name a watch brand, chances are you'll hear Rolex. Follow this link to see details on one of their Place Vendôme boutiques or browse their range.
Address: 9 Place Vendôme, 75001 Paris
Contact: +33 1 40 20 21 00
Swatch
If you've been in the hunt for a MoonSwatch like seemingly every other watch collector on the planet, you've probably paid a visit to all of your local Swatch boutiques by now. While the supply is starting to catch up to the demand slowly, the Swatch boutique is still worth visiting regardless of your MoonSwatch interest. Every Swatch boutique offers free battery replacements for their watches too, further encouraging the fun, cheery atmosphere. You can find Swatch's website here.
Address: 104 Av. des Champs-Élysées, 75008 Paris
Contact: +33 1 56 69 17 00
TAG Heuer
Visiting a TAG Heuer boutique is like a shot of adrenaline, with the high-octane lifestyle apparent in every aesthetic choice made by the brand despite the historic building location. Whether it's motorsport or just average fitness, wearing a TAG Heuer just brings an energising vibe  to everything it accompanies. Their Flagship boutique near the Champs-Élysées provides all the experiences and assistance you'd expect of them, and you can read more about it online here.
Address: 104 Av. des Champs-Élysées, 75008 Paris
Contact: +33 1 58 56 21 95
Tissot
Tissot are always a fun brand to browse given their wide selection of watches available for affordable prices, yet consistently well-made across their quartz and mechanical ranges. It's not often that you will find a dedicated boutique solely for Tissot, so visiting the Parisian store is quite a special experience that equals some of the much more exclusive luxury brands. For more information, their store website can be found here.
Address: 76 Av. des Champs-Élysées, 75008 Paris
Contact: +33 1 42 56 18 53
Tudor
Tudor's 2022 strategy of releasing mostly Steel & Gold watches may have been ignored by a lot of watch fans, but it was all in favour of their new GMT — the Black Bay Pro. With their command over vintage aesthetics done with determined stoicism, the sister brand of Rolex will continue to provide us with the attainable luxury we crave. Find out more at this link.
Address: 65/67 Av. des Champs-Élysées, 75008 Paris
Contact: +33 1 40 70 16 90
Vacheron Constantin
Vacheron Constantin remain one of the holy trinity of Swiss watchmaking thanks to their constant dedication to not only luxury watches, but also keeping alive the artistry required to make them. Whether you're interested in high-art pieces inspired by the Louvre or steel sports watches designed for the wealthy traveller, a Vacheron Constantin boutique has it all. You can read more about their Rue de la Paix boutique here.
Address: 2 Rue de la Paix, 75002 Paris
Contact: +33 1 40 20 17 55
Chez Maman
If you're not looking for a standard big-brand watch, either for your own novelty or perhaps a gift, then Chez Maman is an excellent stop for something a little bit quirkier and wallet-friendly. They do stock some bigger names such as G-Shock, Junghans, Orient and Timex, however you may also be enticed by the charms of brands like Montre, Bauhaus and Aãrk. Browse their catalogues and find out more at their website here:
Address: 4 Rue Tiquetonne, 75002 Paris
Contact: +33 1 42 36 50 15
Cresus
Cresus Watches specialises in second-hand watches across a wide variety of prices, although mostly luxury Swiss models and also some jewellery. Tucked away near the Place Vendôme and Faubourg Saint Honoré luxury districts, the Cresus Paris boutique offers a quaint and wholesome viewing experience with a focus on customer service. View their online stock and more store details at their website here.
Address: 9 Rue du Chevalier de Saint-George, 75008 Paris
Contact: +33 1 40 20 16 84
Romain Réa
The first thing that strikes you visiting the Romain Réa website is the sheer age and patina on some of their listed watches. This isn't a store that's afraid to embrace the used nature of their products, and they understand that it's often the wear and tear which attracts us most to vintage watches. With a catalogue spanning obscure brands lost to time, all the way to holy grail examples of the Nautilus and Royal Oak, you definitely don't want to pass up this location if you're a vintage fan.
Address: 26 Rue Marbeuf, 75008 Paris
Contact: +33 1 42 61 43 44