As the doors open again, here are 3 watches you can only get in the Sydney Hublot boutique
Thor Svaboe
Sydney's New Year fireworks were more symbolic than ever this year, hopefully distancing us from so many of 2020's bleak memories including lockdown and Trump. And what about online shopping? Clicking is easy don't get me wrong, but go through your watch drawer and do the maths: how many pieces have you actually bought online and how many have turned out to be a slightly different colour or size on your wrist than you imagined? My bet is there's a fair few. That's why we still need the reassurance of walking through the front doors of a boutique, having that friendly chat and maybe an espresso, and walking out with what? Something that fits you, suits you and stays with you through a more normal year (knock on wood).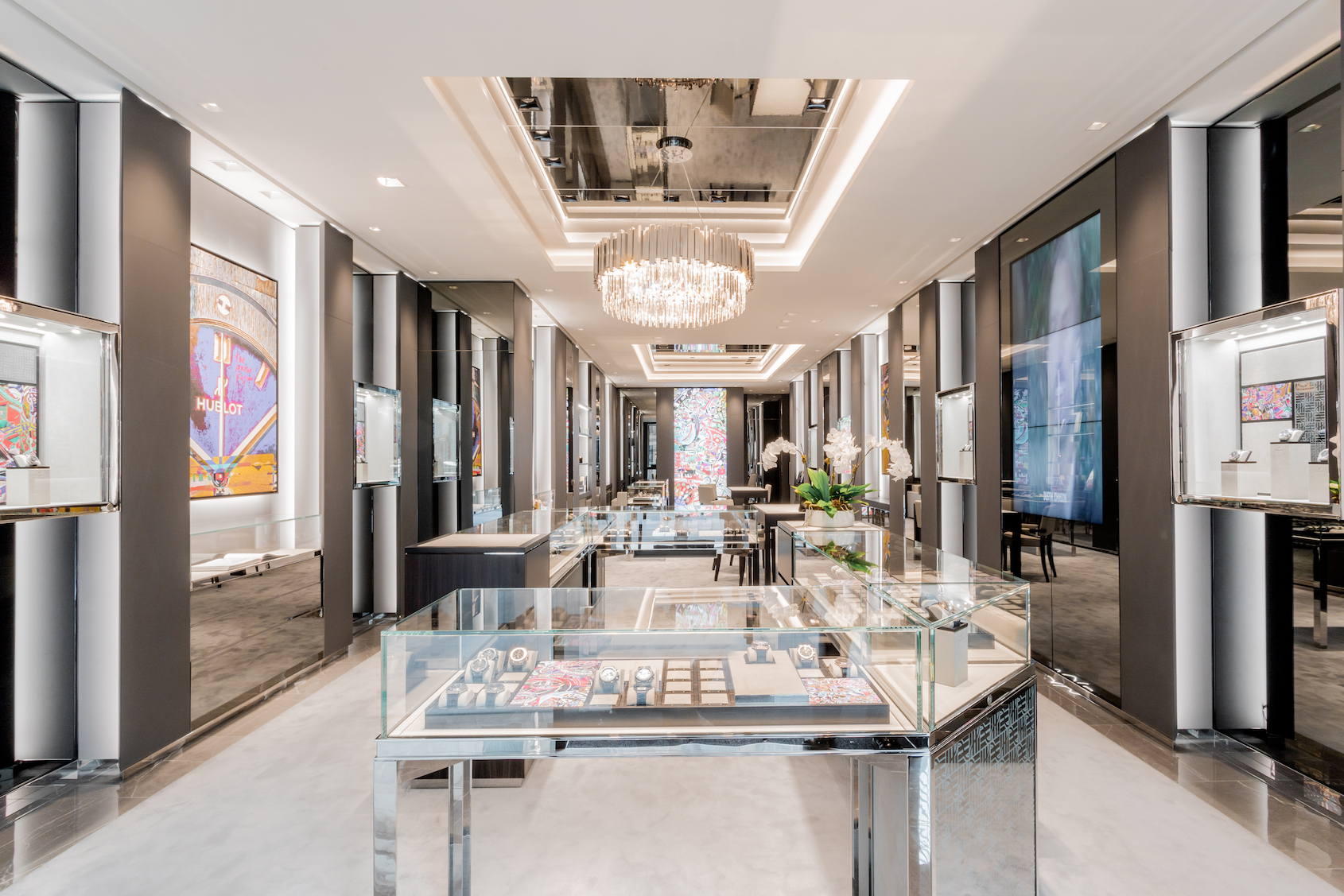 With that in mind, we visited the Sydney Hublot boutique that we published a story on last year.  In store, you receive that feeling of reassurance that you just don't get by stroking the mouse or scrolling through the online shopping basket. Here are three Hublot watches we were tempted by, all exclusively available at the King Street boutique.
Hublot Classic Fusion Gold Crystal
Nothing will prepare you for the deeply hypnotic dials of the 38 and 45mm versions of the Hublot Classic Fusion Gold Crystal. The stealthy matte black ceramic case is merely the stage upon which each watch has a unique dial decorated by 24K gold crystal. The process of re-creating the look of one of the rarest forms of gold in nature, is so complex that a mere 20% of crystals are kept.  Cluster by cluster of frail branch-like crystal are fixed onto the dial surface by hand. Each composition is then sealed with a transparent lacquer in a vacuum, creating one-of-a-kind pieces of dial art. The result is more beguiling than the mere horology, time itself being a distraction from this intricate play of shapes in the delicate precious metal.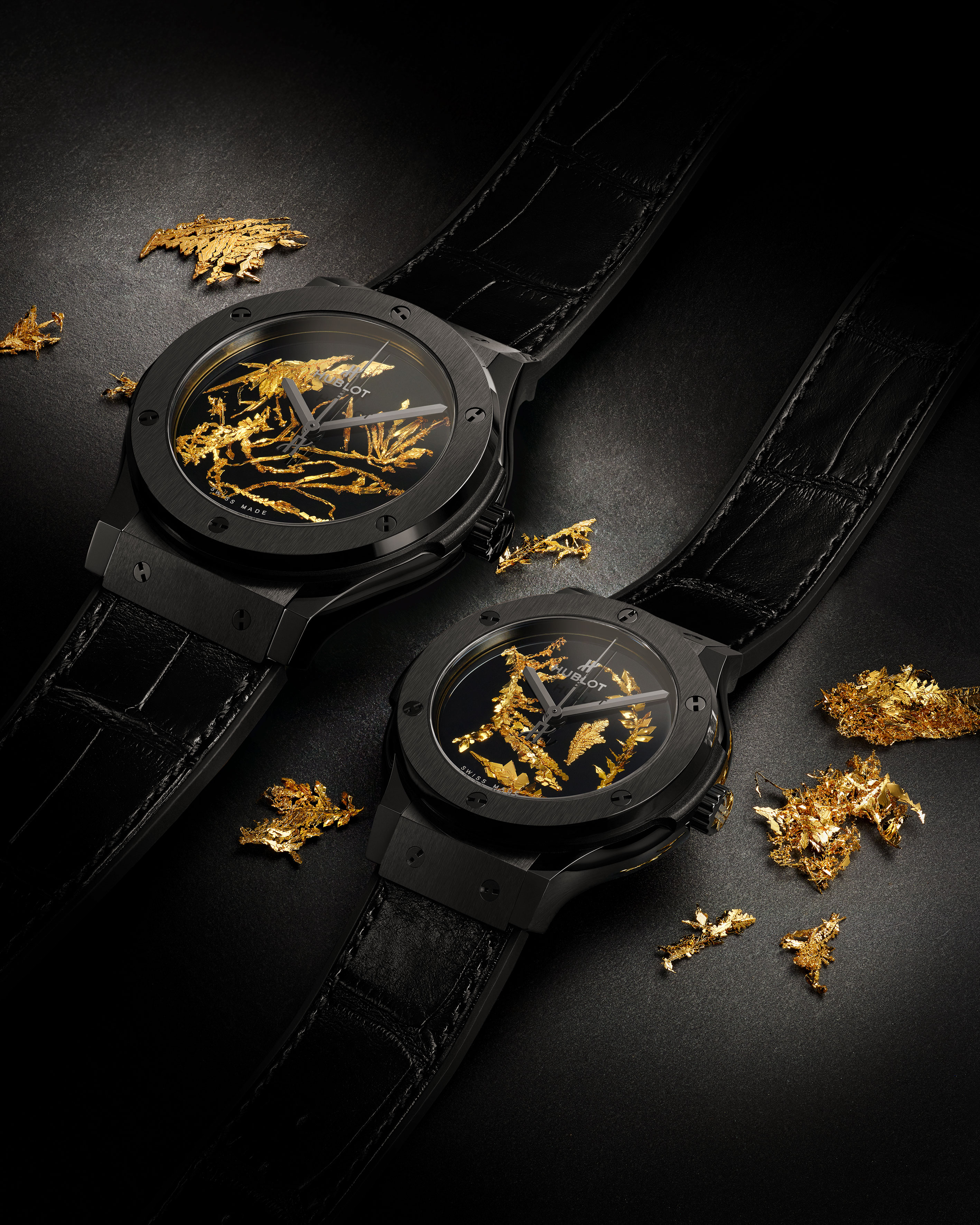 No dial is the same, lending an exclusive, bespoke feeling to the watch and a visceral juxtaposition to the matte black ceramic. Like an abstract pattern delicately embroidered in gold on a royal cape, the impression is one of a twisted autumn branches turned to gold by Midas' touch. If you have an important anniversary coming up, this might be the ultimate his and hers token of love. Price 45mm: $29,400
Hublot Classic Fusion 40 Years Anniversary in black ceramic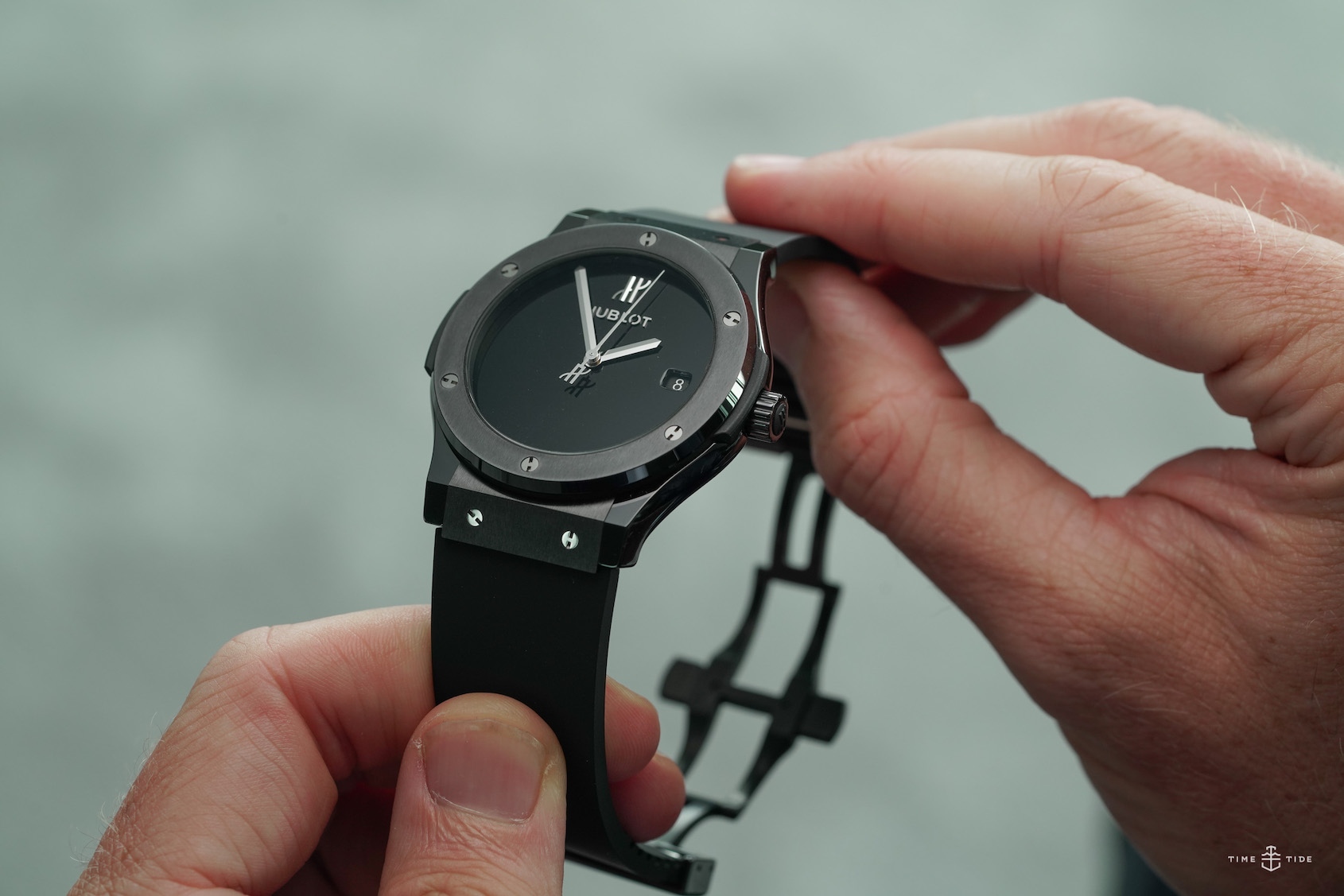 This 40th anniversary model of the Classic Fusion range – and one I'd describe as the purest essence of Hublot watchmaking  – is as minimalist as it is intricate in execution. Inspired by the very first Hublot released a scarcely believable 40 years ago, this is the stealthiest version in pure black ceramic, with a dial that's a minimalist's dream in gloss black. A bold 45mm, sitting on one of the most comfortable rubber straps in Swiss watchmaking, this is Zen calm in a black suit. The gloss black dial is as simple as it is hypnotic in its pure darkness, like staring into a black hole in another galaxy, the polished hands and delicate H-logo spaceships adrift in the void, unable to pull free of the immense pull of the darkness. Beautiful enough to spark the poet in all of us, yet with its ceramic case – imminently practical and, well, badass cool for lack of a more poetic turn of phrase. Price: $14,600
Hublot Classic Fusion Orlinski King Gold White Pavé
I do attest to having a weak-at-the-knees affinity for the collaborative creations of Orlinski and Hublot, and this does not hold back in its angular, multi-faceted play of light. Orlinski's sharp and symmetrical play of acute angles and light catching forms is softened by the warmth of Hublot's proprietary King Gold alloy, and then transformed through 210 inset brilliant cut diamonds. I am a dial man at heart, but the intricate case work makes it difficult to concentrate, as the softening of angles through the warm gold changes the sharpness of the Orlinski design, while the separate inset groups of diamonds delineate each facet once more. The dial itself is like a folded piece of silk, with the Hublot logo fixed on the crystal, seemingly floating in mid air above the delicate white background. Sharp dauphine hands and arrowhead indices complete a balanced and proportionate dial in this tempting 40mm ladies' watch from Hublot. Price: $45,400