MICRO MONDAYS: The Isotope Watches Hydrium Burnt Tangerine and Will Return are fresh, bold and unlike anything else
Ricardo Sime
NOTE: This article has been updated to reflect Isotope Watches recently making a change to the movement within both the Hydrium Burnt Tangerine and the Hydrium Will Return.
I'm going to share with you a very unpopular opinion of mine. Limited Editions (LEs) absolutely have a place in the wristwatch market. When I say that, I know your mind will go to watches that try to take financial advantage of high demand and low supply. Yet, where I see LEs have the most positive impact in this hobby of ours is in watch design. LEs allow designers to experiment and push the boundaries. The new Isotope Watches Hydrium Burnt Tangerine and Will Return are perfect examples of this.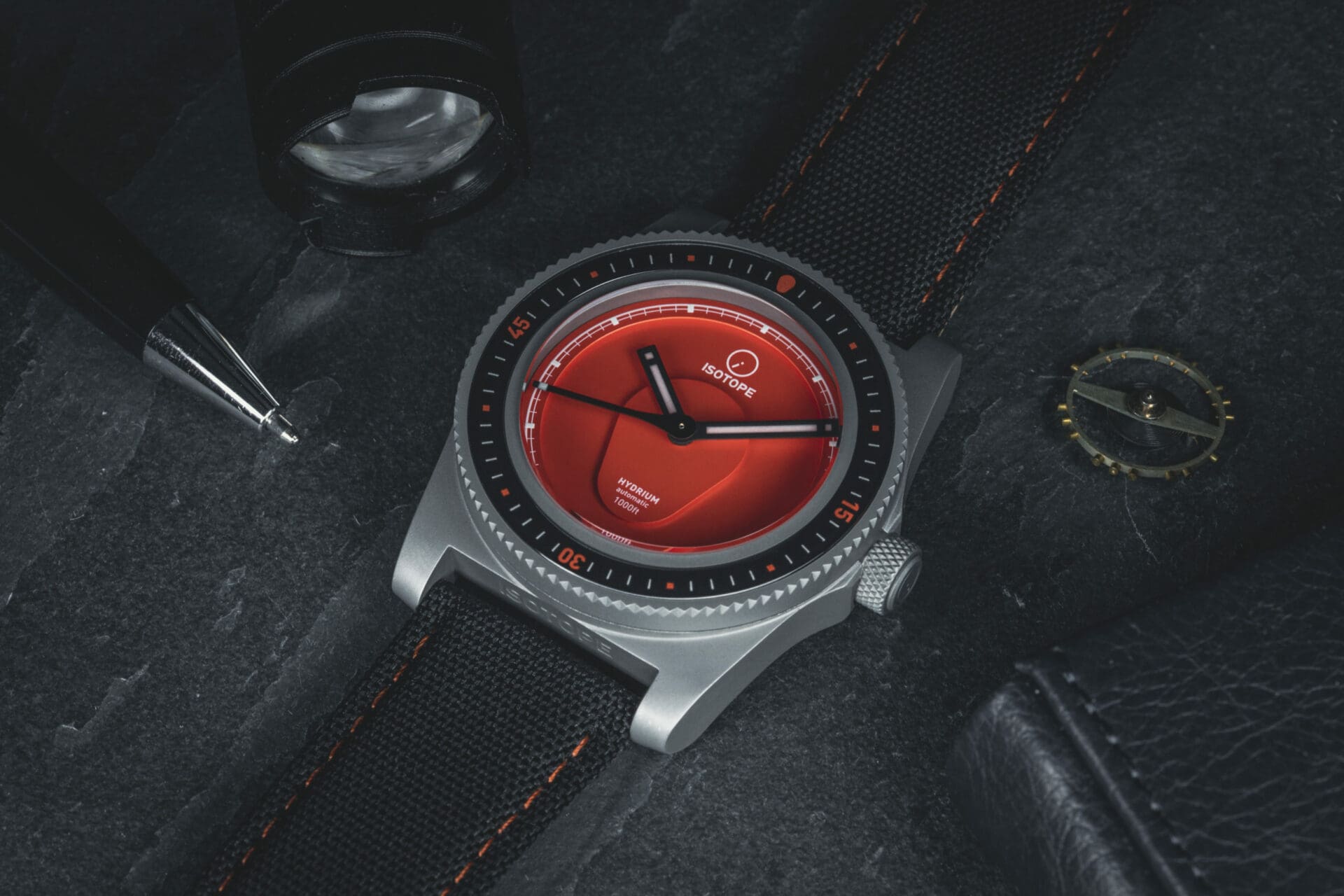 Both the Hydrium Burnt Tangerine and Will Return are dive watches at heart. As such, they exist on a similar platform. This consists of a 40mm micro-blasted case with a very comfortable 48mm lug-to-lug. Lug width comes in at 22mm. Thickness is 11.3mm, with an added 3.5mm thick anti-reflective coated sapphire crystal on top. The knurled crown is screw down and aids this case in achieving a robust 300 metres of water resistance.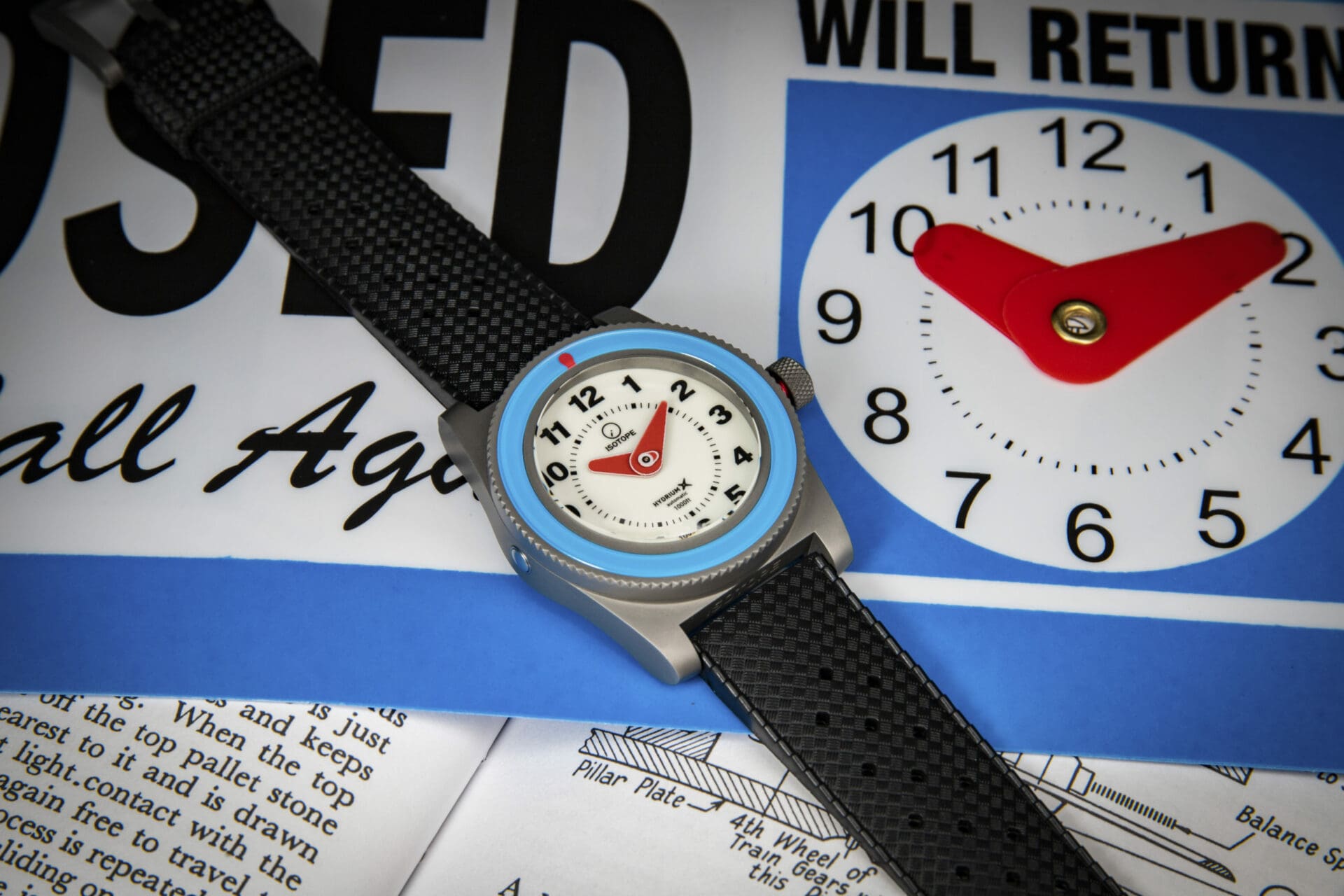 With this as a base, Isotope Watches founder and designer Jose Miranda really goes to work on the design. The Hydrium Burnt Tangerine is his take on the ultimate legible diver. Since only the hands and indexes are lumed, the burnt tangerine colour dominating the dial and accenting the 120 click bezel provides an extra boost of legibility. Surprisingly, the watch still remains tasteful and not too loud with its unique aesthetic.
For the Hydrium Will Return, Jose goes a completely different route; using nostalgia as a reference. The Will Return sign is a hallmark of small businesses where the owner, staff, and cashier tend to be the same person. It lets customers know that person had to step out and has designated a time in which they'd return. In the midst of a pandemic where multiple businesses hoped they could return, this watch is a perfect representation of what many of us felt. And to remain true to the original Will Return sign, with the lume necessary for a diver, the whole dial here is lumed.
The similarities return when we go behind the dial, as both watches were to make use of the automatic Miyota 9039 movement. However, recently the brand decided to instead use a swiss movement; the Landeron 24. This was done in response to early feedback suggesting a swiss made movement be used. The Landeron 24 provides 40 hours of power reserve and a frequency of 28,800 bph.  On the Hydrium Will Return, you'll be able to see the movement on full display through an exhibition caseback. While on the Hydrium Burnt Tangerine, we instead have a beautifully engraved and embossed caseback, with sharks, an anchor, an old diver's helmet and a ship wheel.
To complete the look of both divers, Isotope has packaged them with a pair of straps. These include a quick-release Cordura strap and an FKM rubber strap, both with signed micro-blasted steel buckles.
Overall, the Hydrium Burnt Tangerine and Will Return are a true representation of a designer letting loose. With both watches being made in a limited-edition batch of 100 each, the need to please the masses isn't a prerequisite here. Sure, the boldness of these designs, mean they won't necessarily be for everyone. And you know what? They don't have to be. I'm just happy to see some interesting watches in what can feel like a sea of same sometimes.
Isotope Watches Hydrium Burnt Tangerine and Will Return Price and Availability:
The watches are on pre-order, with delivery scheduled for March 2022. The Hydrium Burnt Tangerine is £435 with code HydriumBTangerine and the Hydrium Will Return is £450 with code HydriumWillReturn.  Both can be found here.
Made in partnership with Isotope Watches. However, the opinions expressed in this article are our own in accordance with our Editorial Policy.