Variety is the spice of life – we all love to change things up. As a result, to many enthusiasts the mere idea of the "Exit Watch" or the "one watch for all occasions" is a frankly laughable concept. How many of us finally obtain that elusive grail only to start hankering for another piece on a whole other level? To feed our fickle tastes we resort to strap swapping as any watch can change personality with a suede two-stitch or NATO. But one thing we can't change is the case.
So imagine being able to have your favourite black or blue dial, and choose an angular sports case on a Tuesday before swapping to a classic round case for the Saturday dinner party. Well, the entire Hegid collection offers exactly this possibility with its new EVOL(R) system.
This tempting metamorphosis is the premise behind the French brand Hegid's new Mirage model. Consider something similar in concept to the easy case-swapping of G-Shock squares and Casioaks, except this time it's steel-cased Swiss automatic wristwear with a goldilocks sizing of sub 40mm. Surely I'm not the only person who's had this secret wish..
Start with your first complete watch from Hegid, like the fresh blue or black dial Mirage, then add cases and straps for a brand new look – or, in fact, a brand new watch – whenever the occasion calls for it.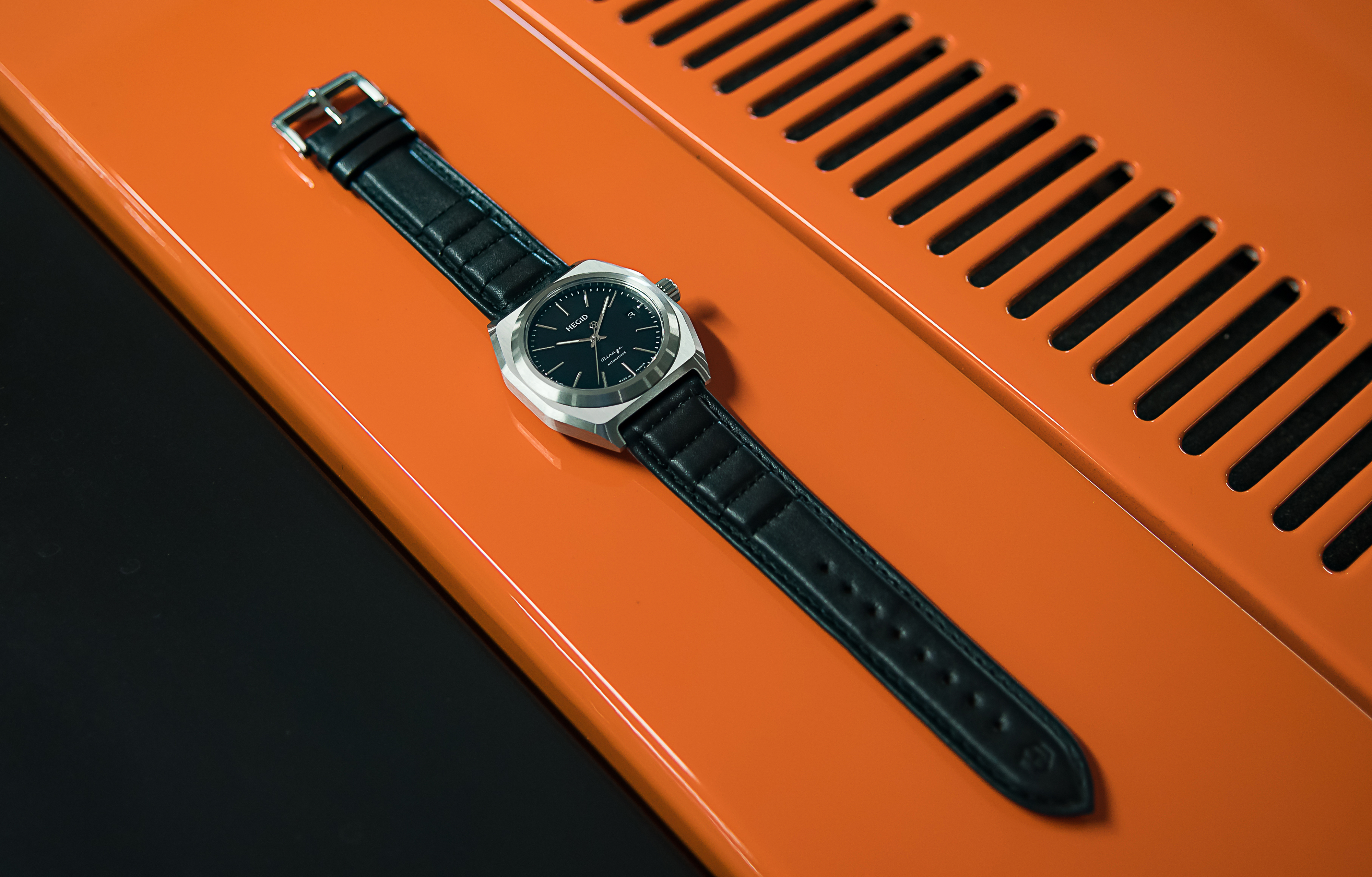 The Mirage's initial shape offers a sharply contemporary twist on vintage that's reminiscent of both the '70s Zenith Defy and Seiko. It boasts a very 2021 size of 39.6mm, a comfortably stubby lug-to-lug of 45.2mm, and a thickness including the swappable module of a mere 11mm.
The fact that Hegid can offer this case-changeable system that adds only millimetres does make you wonder why larger brands don't offer a similar option. I'm properly impressed, and if you add the 100m depth rating and sapphire crystal, this has pretty much all the boxes ticked for many. For an easy view of the twist and lock system of the module and case, check the video below – it's a system that's as solid as it seems intuitively simple. In other words, it's not a mirage of a swap-friendly case, this is profoundly real.
The Mirage case is a vision of angular proportions, the top distinctly brushed with broad, polished side facets and a lugless design. The only sign of the changeable nature becomes visible underneath the crown, as the case has a slot where it slides in, a part of the changeable module with a sapphire crystal.

The dial is a balanced, sun-ray finish in a formal black or fresh mid-blue with baton indices and hands, and the elegant touch of a logoed seconds hand counterweight. The applied polished indices are proportionate to the hands, and the image is one of cool intent.
The blocky leather strap is pure 60s exuberance and brings a toughness to the formal air of the Mirage. Meanwhile the Mirage Earth in brown with its vented pilot strap and a sector dial makes for a charmingly different take on a classic tool watch that blends a pilot's watch and luxury field watch.
So, whether you fancy a classic diver's watch with a clickable bezel, a round cased classic, or this angular tough guy, have a look at Hegid's online configurator. Here you can spend an indecent amount of time combining 5 modules and 5 case designs with up to 11 straps, from a tough square sports Expedition, to a stealthy Sèrie Noire Vision.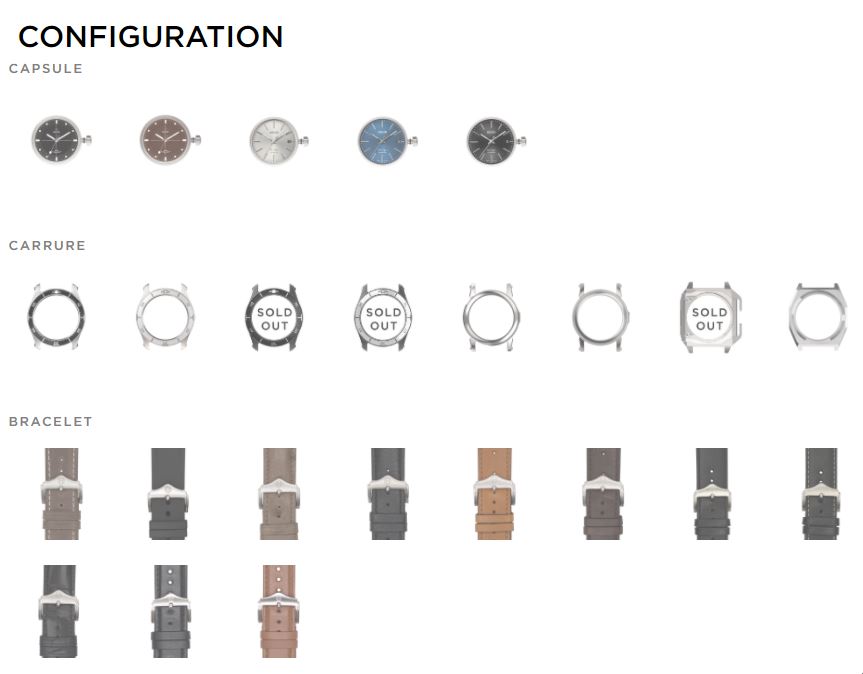 Combined with the strap choices, two watches with separate modules can turn into 10. Beneath this shape-shifting guise, the automatic movement is a specially adapted version of the top-grade iteration of the trusty Sellita Sw200 with a 40 hour power reserve. I have a strong feeling this idea will catch on, and look forward to further extensions of the Hegid range of interchangeable watches.
The Hegid Mirage, Price and availability:
The Hegid Mirage Ground is priced at 2,880 EUR on a brown leather strap, while the Blue Mirage is priced at 3,220 EUR on black leather. But with the online Configurator, the only limit is your own imagination. Available from Hegid direct, and selected retailers in France.
Made in partnership with Hegid. However, the opinions expressed in this article are our own in accordance with our Editorial Policy.