Let's face it, the fair has been a bit of a mixed bag. There's been a range of good, bad, and downright ugly watches lurking in these halls. I never expect to walk in the door and love everything, but as with most years I've certainly found a few odds and ends that grabbed my attention. The surprising element to this is where some of the watches are from — in the case of the three watches below we're talking about Patek. For years I've certainly had an appreciation for the brand, their technical prowess, their devout following and their ability to fuel a level of demand that borders on the astonishing. That said, at a personal level their watches seldom speak to me to a point of a desire to own, with the odd exception. However, I found this trio of watches from the brand's Basel 2019 releases caught my attention far more than in previous years.
Patek Philippe Ref. 5520P Alarm Travel Time
The latest evolution of Patek's pilot-inspired spin on the Calatrava is poised to be another hot-button topic among many, especially those more enamoured with the brand's more traditional offerings. I, on the other hand, warmed up to the model as of the Travel Time release last year, and the addition of this unique alarm mechanism puts this piece into my top few Pateks of all time. Rather than a conventional alarm mechanism, Patek borrowed kit from their minute repeaters to execute the alarm mechanism. They created a bell-shaped cut-out indication similar to their am/pm indicator to display whether or not the alarm is active, and most interestingly they opted for a digital display of the alarm set time in the position you would normally see the day and month indicated on a calendar watch. At 42.2mm in diameter and cased in platinum, she's a hefty one, but still totally wearable should you be able to stomach the — wait for it — 200k CHF price of entry.
Patek Philippe Ref. 5212A Calatrava Weekly Calendar
The Calatrava Weekly Calendar came as a bit of a surprise, but at the same time proves to be a very smart move on Patek's part this year. Demand for steel Pateks (esp. the Nautilus) remains through the roof, and while this piece doesn't speak the same language aesthetically, it is a great example of classic Patek design with just enough of a twist to attract a broader range of enthusiast. Both the choice of font and the pointer calendar configuration scream vintage inspiration (tastefully), and at 40mm in diameter and 10.79mm thick it is a very comfy fit for something that can split duty between dress watch and casual daily. Priced at 29,500 CHF, it undercuts the steel Nautilus by a few grand too, which is good math given its complexity, not to mention the fact that you're more likely to actually be able to walk in and buy this model, rather than sitting on a waitlist for eternity as you would if you remain fixated on either a Nautilus or Aquanaut.
Patek Philippe Ref. 5168G Aquanaut Jumbo Khaki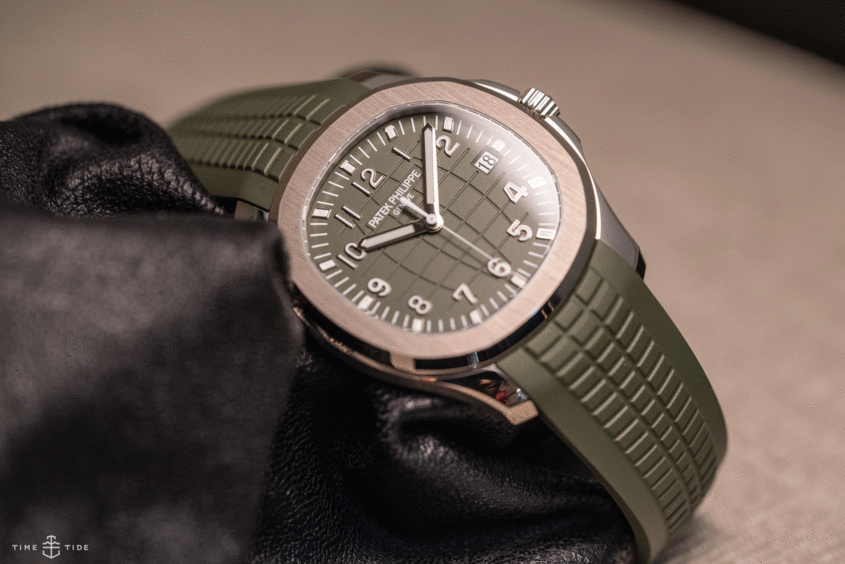 Much as we can get fixated on new innovation and invention, on rare occasion a fresh colour goes a long way. Last year we saw a punch of orange accents added to the Aquanaut, but for 2019 the brand opted to get on the green bandwagon, and it just works. The matt khaki green dial and matching strap give the Aquanaut an almost "military chic" vibe, making it a prime companion for pairing with more edgy streetwear, sneakers, etc. The big deal here is the fact that we have another Aquanaut in the mix in the first place. We mentioned above that it and the Nautilus have turned harder to track down than a watch nerd without a Black Bay, and though this will not solve the Aquanaut demand crisis, it will certainly help a little. If you're in the market, you're looking at $35,000 USD, and you're going to want to ring your local AD on the double.