Kickstarter can be a great place to find the weird and wonderful watches of tomorrow, as new brands battle for funding on what is basically a marketplace of ideas. A new player in the watch game who just hit their funding target is MVMNT, a brand who produces a range of different products with one common thread – they are all made from cannabis hemp.
The Edinburgh brand make everything from hemp activewear to hemp sunglasses and have just launched their campaign to produce the first-ever weed watch made from the fibrous stems of cannabis plants. In the first day of the Kickstarter funding push they reached more than 70% of their £10,000 target and have beaten that goal in the days since.
The collection is available in three different dial variations, that are basically charcoal, cream and white, that carefully mark out where 4:20 is on the dial.
The term 420 has become slang code for smoking weed with the result that today – April 20 or 4/20 – is now recognised as an unofficial national holiday for cannabis culture in the US. According to Time magazine, the term originated among a gang of Californian teenagers in 1971, who'd congregate at 4.20pm to get high. Their high-school slang later reached a wider audience when one of them became a roadie for the Grateful Dead.
All variations of the watch feature 37mm hemp cases that have no-lugs with the straps actually attached at the rear of the case. There are six different coloured straps to choose from all made from the recycled pineapple leather material.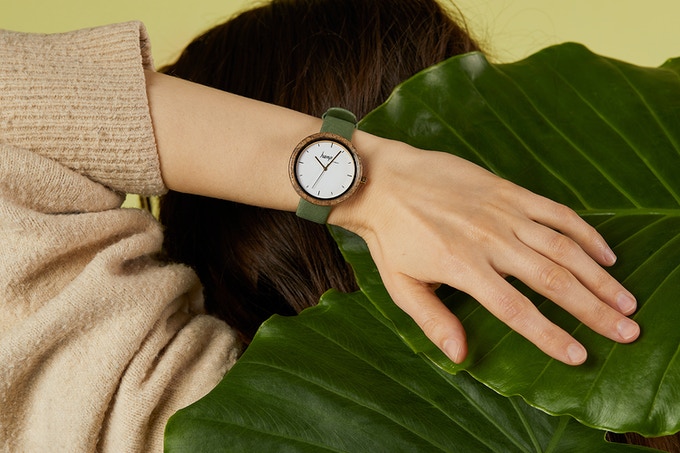 Powered by a simple Miyota 5Y30 quartz movement, the collection won't be winning any GPHG awards, focusing instead on the currently untapped market for high horology. The super early bird pricing of £68 also smokes most watches in terms of affordability, packing the proverbial bowl with pretty decent value.
So if you're a hemp product enthusiast due to the material's environmental sustainability or you just enjoy bucket bongs, rolling reefers and punching cones, this is an interesting new watch unlike pretty much anything else that comes across my desk. For more details, you can checkout their Kickstarter page right here.