A decade ago, overtly feminine watches that combined beauty and proper horology were a rare thing indeed. (There are more of them today – although still far from enough.) And when Jaeger-LeCoultre launched the Rendez-Vous collection in 2012 it really struck a chord. Here was a watchmaker taking women seriously, with good mechanical movements, elegant, grown-up designs and a load of refined detail. A little wink in the form of a tiny star on the dial perimeter that can be set to mark an appointment (rendez-vous in French), which gave the collection its name. And a confident, 36mm case diameter. Watches with brains as well as beauty. The line quickly became a pillar of the brand.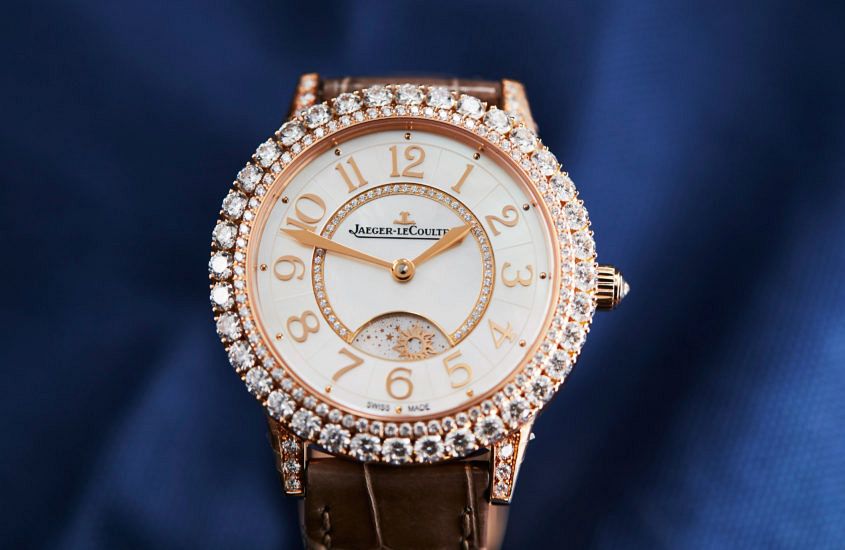 Although some elaborately beautiful artistic editions and complications have been added over the years, the core of the Rendez-Vous collection hits that aesthetic sweet spot: feminine but not fluffy; decorative but not elaborate; simple yet full of details; great for daily wear and dressy enough for evening. A fine balancing act. And then, this year, Jaeger-LeCoultre went large with diamonds. Literally large. With an extra ring of brilliant-cut stones set around the outside of the bezel. Dazzling Rendez-Vous, it's called. And dazzle it does.
Now, while most of us find a decent diamond hard to resist, sparkly stones are not an actual requirement for a watch to be feminine (the Rendez-Vous Night & Day in steel, with one of JLC's juicy-coloured alligator straps, proves that point). In fact, a sprinkling of little diamonds can too easily look like tokenism or, worse, patronising the ladies. "So if we're going to do diamonds, let's do them really well." I wasn't in Jaeger-LeCoultre's design studio when they were dreaming up 'Dazzling' but – based on the outcome – I can easily imagine that conversation taking place.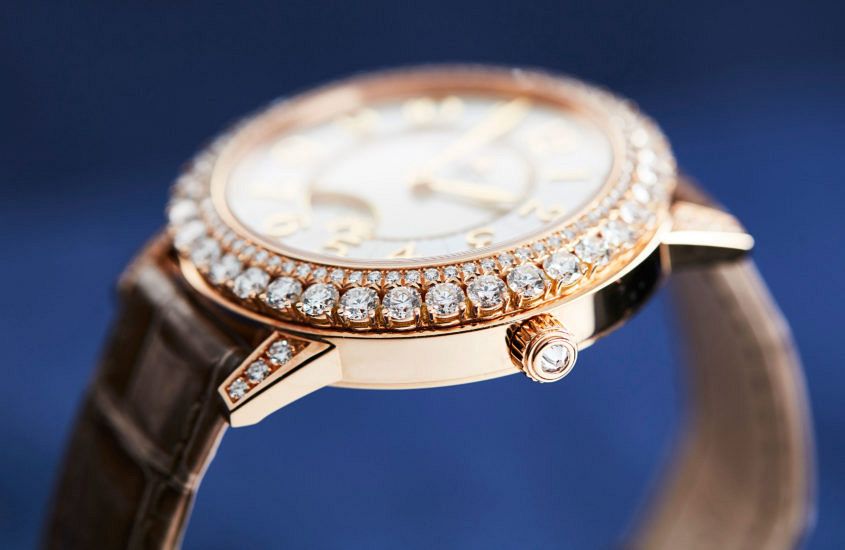 This watch packs a seriously sparkly punch – and yet, it remains firmly on the right side of tasteful. The colour palette is subtle and warm: pink gold, creamy-white mother-of-pearl, white diamonds and a warm peachy-beige alligator strap. And there's an airy – almost frothy quality – to those circles of diamonds, thanks to the way the outer ring of 36 stones has been set.
The claw setting is a classical jewellery technique, used to maximise the presence of the stone, allow the light to pass through it from every angle, and minimise the visible metal (think: traditional solitaire engagement ring). It's a setting you'd use only for good stones and Jaeger-LeCoultre's craftsmen have done an excellent job. The fine gold prongs hold the diamonds high, giving an impression that they're almost floating around the watch case, rather than anchored to it. The bezel itself is set with another 72 diamonds and there's an inner ring of 47 diamonds on the dial. (And, not to be stingy with the stones, another three on each lug and one on the crown.)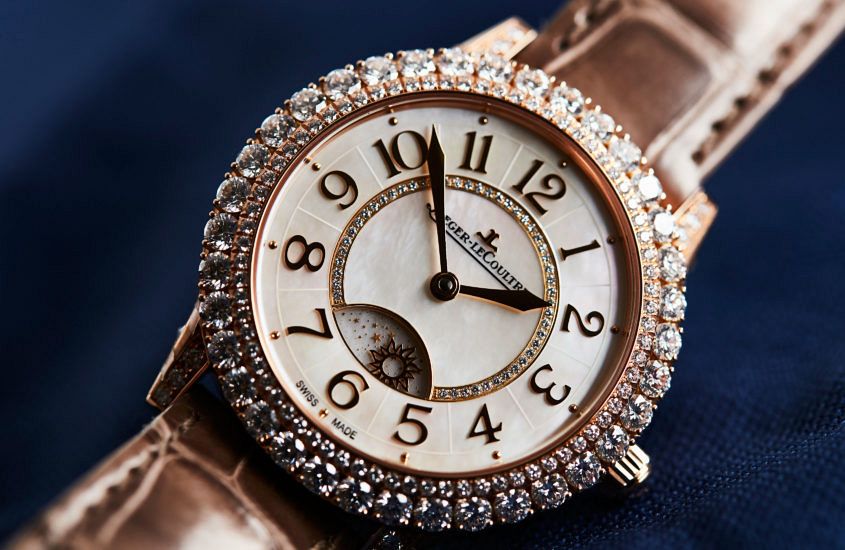 The dial is packed with detail: on an outer ring, mirror-polished gold spheres mark the hours; on the main hours ring, each of the numerals is set on a separate mother-of-pearl 'tile', with all 12 tiles slotted together almost seamlessly.
The applied Arabic numerals – a proprietary style that Jaeger-LeCoultre calls Floral – are curlier and more voluptuous than your standard font. To my eye, in the Rendez-Vous models where the colour contrasts strongly with the dial, the numerals can slightly overwhelm – but not here. The shape of the hands complements the curvy numerals and everything feels harmonious and subtle and beautifully judged. The whole peachy-pinky-silvery-ivory-sparkly ensemble just oozes class.
Ah, and let's not forget the Night & Day complication. Except as part of a GMT indication, it's probably the most delightfully useless complication in all of watchmaking (a quick glance out of the window will normally tell you if it's dark). But it's a great excuse to do something romantic and lovely – so that's what JLC has done. Against a mother-of-pearl disc sprinkled with gold stars, a sun with extravagantly curly rays slowly alternates with a pink gold crescent moon as day turns to night.
As for the brains, Jaeger-LeCoultre does not compromise. The movement is a technically upgraded 'B' version of its renowned Calibre 898 (cal. 898B/1 to be precise) – a self-winding mechanical movement developed and produced entirely in-house and providing a decent but not huge power reserve of 38 hours. The transparent sapphire caseback reveals some fine decoration and finishing in the classical style: blued screws, circular graining on the wheels, and Côtes de Genève on the plates and the open-worked pink gold winding rotor.
Did somebody say beauty and proper horology? With the Dazzling Rendez-Vous collection, Jaeger-LeCoultre has nailed it. As a "not really a diamond watch kind of girl", I can't stop thinking how much I would love to own and wear one.
Jaeger-LeCoultre's Dazzling Rendez-Vous price
Jaeger-LeCoultre's Dazzling Rendez-Vous, pink gold on leather, $70,500 AUD