Is a new official Rolex Supreme watch really incoming?
Zach Blass
The biggest buzzword in the watch world these days is "hype" – and nobody does hype better than New York-based streetwear brand Supreme. While their signature colour is red, everything they touch seems to turn to gold. While their own goods are immensely popular around the world, Supreme has engaged in all sorts of collaborations – everything from limited-run branded NYC Metrocards, a digital stopwatch with TAG Heuer, to a collection with Louis Vuitton. But, within the watch community, perhaps the most prized Supreme item would be their rare customised run of Rolex Submariner watches in 2013 that had engraved casebacks and dial text in Supreme red that said "Fuck Em". These friends and family Supreme Submariners pop up every now and again, commanding asking prices far above a Submariner's at anywhere between $50K-$100K. Now, nine years later, rumours are swirling that another Rolex Supreme watch will arrive Fall/Winter 2022 – and that it may even be an official factory customisation this time around.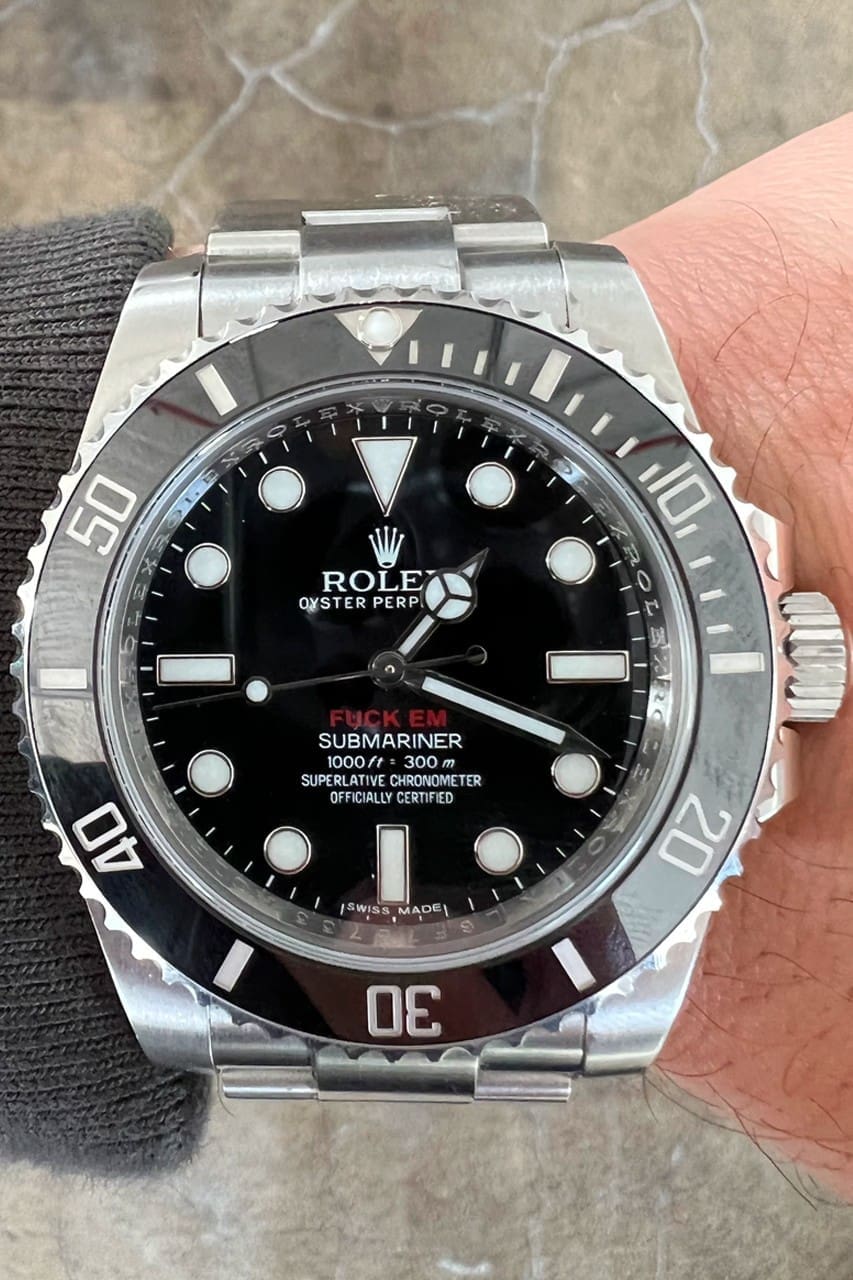 Rumours
View this post on Instagram
To be clear, the two circulating images are artist renders. They are not official images of any kind. The first render mockup imagines a Rolex Oyster Perpetual Date with a red Supreme dial, the Supreme text cut off rather than scaled to fit the dial. Were something like this to happen, it would mean, like the 2013 Submariner, these watches would be aftermarket customised.
Supreme/Rolex
Expect an official collab from these two this season, which is said to include a new designed watch along with possibly more pieces. Stay tuned for more details and news set to come soon.

Who's gonna be cashing out for this exclusive time piece? pic.twitter.com/pwDxcd92SD

— DropsByJay (@DropsByJay) August 20, 2022
The second, and far more intriguing claim, is that an official collaboration is incoming. In this artist's rendering, a presumably white-gold Day-Date is outfitted with a silver sunray dial that places a small Supreme logo at 6′ and the day-disc at 12′ conveying the familiar "Fuck Em" text rather than the calendar day.
Factory versus aftermarket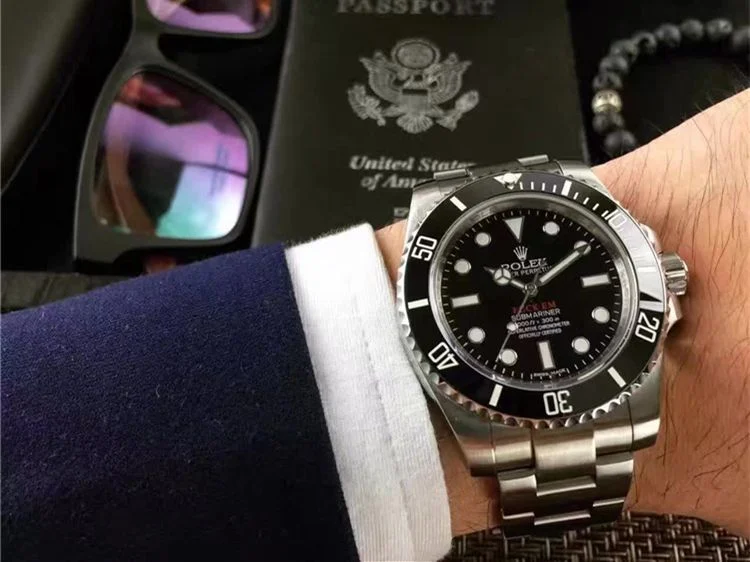 To ensure everyone is up to speed, there is a huge difference between aftermarket customisation and factory customisation – especially in regard to Rolex. For example, a watch, such as a Patek Philippe Nautilus completely covered in diamonds, is far more valuable if the diamonds are a factory configuration set at the manufacture, than if they are set by a jeweller at the request of a client. The Rolex Supreme Submariner of 2013 falls into the latter camp, the dial text and caseback engraving not added by Rolex at the factory – rather by a jeweller or watchmaker enlisted by Supreme.
Would Rolex really do a certified factory-made collaboration?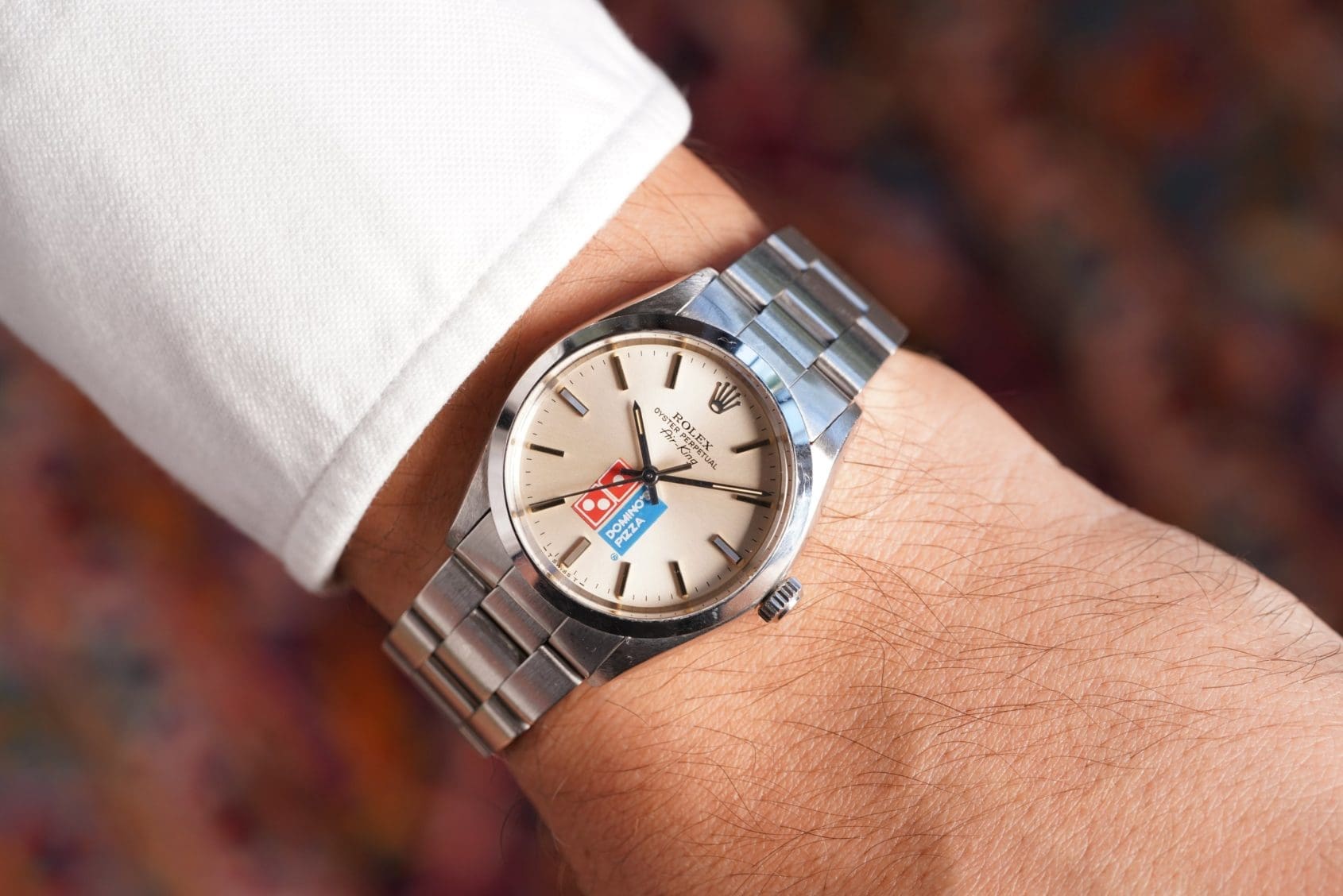 The factory versus aftermarket conversation is all more important considering that it is unheard of in the modern era for Rolex to co-brand their watches. Previously Rolex had many clients that they would co-brand watches for, the most well known being Domino's Pizza among many others. These watches were typically given by corporates to commemorate milestones for their employees, such as working for the company for 25 years (which was the case for Coca-Cola) or achieving franchise sales targets (the incentive to earn a co-branded Rolex from Domino's). These days, however, such co-branded watches have ceased to be made.
View this post on Instagram
Considering the recently revealed slate of Supreme collaborations above, notably sans-Rolex, as well as the fact that factory co-branded Rolex are basically unheard of today, I smell bull 💩 when it comes to an official co-branded Rolex Supreme watch. If a new Rolex Supreme watch surfaces, the overwhelming odds would be that it is another specially commissioned aftermarket customisation by Supreme with sourced Rolex watches. The Crown is a very strict and tight-knit brand, one I can't imagine would have any desire to plaster Supreme on one of their watches or the words "Fuck Em" for that matter.
As MB&F founder Maximilian Büsser said at last year's Horology Forum at Dubai Watch Week: "Rolex is actually the most authentic watch brand in the industry." As an artist, Büsser explained, he really respected the way in which Rolex is largely immune to trends. They create strictly what they want, when they want. For all the hype that's generated around their offerings, Rolex do not deal in opportunistic collaborations. They are not held hostage by consumer input when it comes to design or novelty debuts. This presumed philosophy, as well as the fact Rolex has no problem selling their nearly one million produced units each year with many scarcely seen in a retail case, leads me to believe there is zero reason Rolex would ever indulge such a partnership. If a Rolex Supreme watch came to market in a official capacity, I would be astronomically more surprised than I was when the Swatch x Omega MoonSwatch was revealed. Maybe if pigs can fly tomorrow…