Victorinox Swiss Army has come out swinging with the latest update to its popular I.N.O.X. Designed and built for adventure, the watch has always had the reliability, durability and strength to mix it with the most hardcore of explorers, but it's now even tougher than before, thanks to a new stainless steel bracelet option.
Ever since its launch, the I.N.O.X. has been well known as being strong as an ox. Forget the usual straightforward (read: boring) tests that watches undergo. Instead, this one can boast being run over by a 64-ton tank, a 10m drop, an ocean plunge to a depth of 200m and two hours in a washing machine at 90 degrees – and come out telling the time like nothing happened.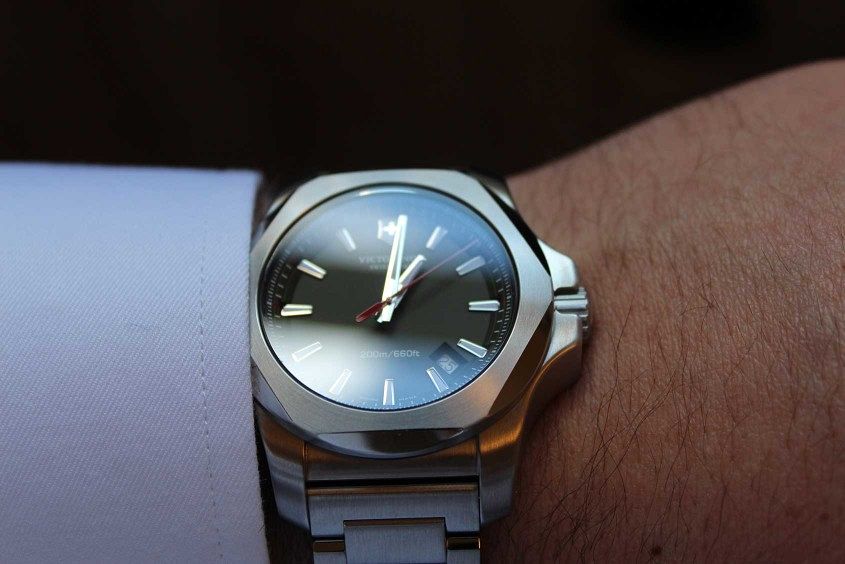 This uncompromising structural integrity is due to a combination of clever elements that form a clean and solid design, with a bezel reminiscent of Gerald Genta's classic octagonal cases. The case itself is a single 43mm piece of steel. The anti-reflective, scratch-resistant sapphire crystal is slightly recessed to protect it from head-on impacts, while the hour indices are stamped on the dial rather than applied, meaning strong impacts won't dislodge them. And if that's not enough for you? An optional silicone bumper can be fitted if you're planning on really pushing the limits.
The I.N.O.X. is available in black, blue, green and red options, and now, for the first time, all of these colours are available on a steel bracelet.
The product of two years' research and development, this bracelet can withstand the aforementioned tank and 10-metre drop treatment, but also a very brutal endurance test of up to 500,000 vibration cycles – 10 times more than your average watch bracelet. Aside from feeling sturdy, the bracelet is comfortable to wear, and we particularly like the well designed clasp.
But better still, the I.N.O.X. is both beauty and beast. It's an attractive, versatile timepiece you'd want to wear on a daily basis, not just for the purposes of subjecting it to abuse. After all, just because the watch is tough doesn't mean you want to look like GI Joe wearing it.
Victorinox Swiss Army I.N.O.X. Australian pricing
The I.N.O.X. in steel on a steel bracelet has an RRP of $975.