INTERVIEW: Panerai Central on Watches on Screen
Felix Scholz
Panerai Central is a force to be reckoned within the massive online world of Panerai lovers, AKA Paneristi. Founded by Khalil Ghorbani and David Tsai as a place to discuss and review the massive array of straps that is so central to the culture of the brand, Panerai Central has grown and are now a force to be reckoned with. Especially on instagram (@paneraicentral) – where they command over 23,000 followers. They provide some of the best 'risti content and shots out there, and we thought Khalil Ghorbani would be the best person to ask for the low-down on the close relationship between Panerai and the silver screen.
T+T: Can you tell us a little bit about the history of Officine Panerai?
KG: Panerai dates back to 1860 in Florence, Italy where the first shop was opened by Giovanni Panerai. Panerai supplied the Royal Italian Navy with precision instruments like compasses and was moving into the watch market. In 1916 they applied for a patent on the Radiomir which incorporated a radium based powder that gave off a luminous glow..This was one of the many innovations they came up with to meet the Italian Navy's needs. In the late 40's and early 50's Panerai moved away from the radium based pastes to a luminous tritium compound thus creating the Luminor.
T+T: Officine Panerai has closer ties than most watch brands to the silver screen. Can you tell us a little about the brands history and the role Hollywood had in popularising Panerai?
KG: In the mid 1990's most people in the watch world hadn't heard of Panerai. That changed because of one man – Sylvester Stallone. In 1995 when he was preparing for a role in the movie "Daylight". He was looking for a watch to build his on screen character and ran into the Panerai Luminor in a Jewelry shop in Rome. He has recalled that he immediately knew this was the one watch he would get. He fell in love with Panerai and actually bought several of the watches and gifted them to his friends, most notably, Arnold Schwarzenegger who wore the watch in his movie Eraser.
Of course when Arnie and Sly teamed up years later for the Expendables most of the stars were wearing Panerai.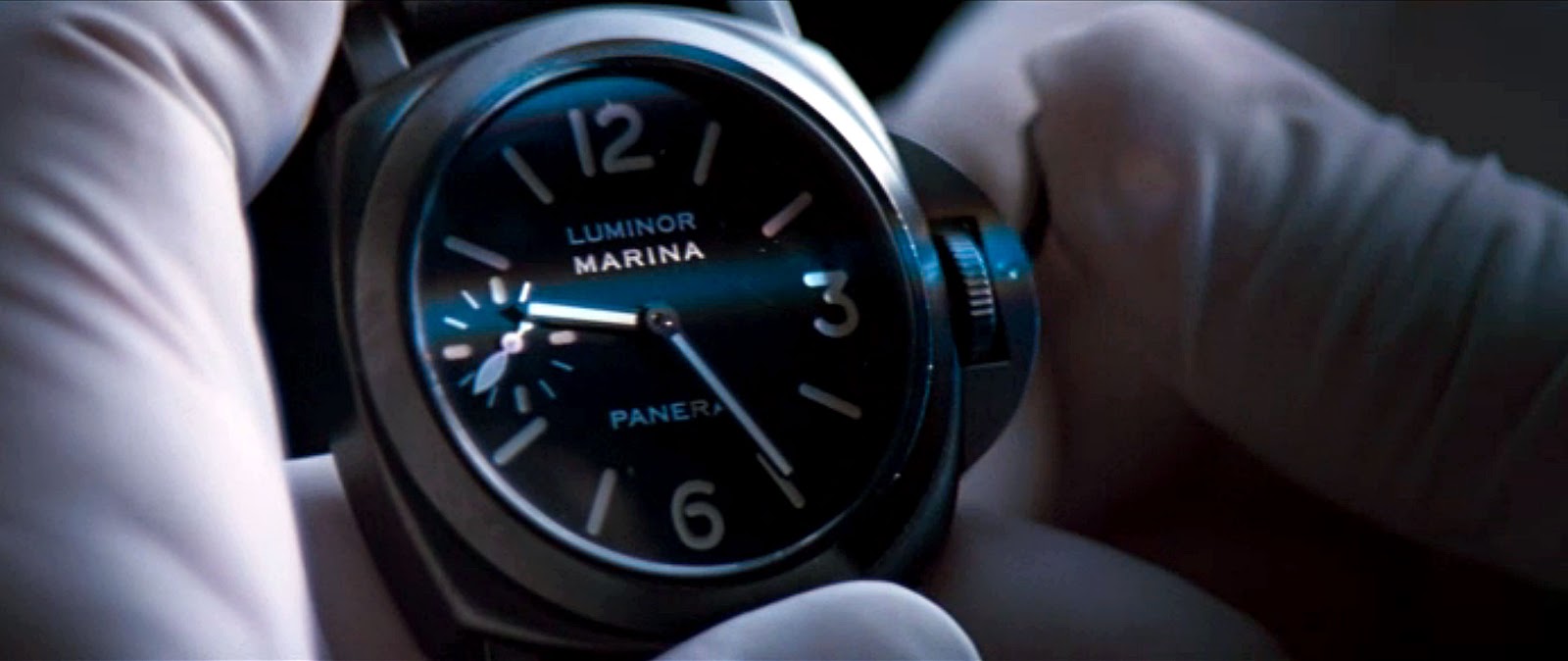 The First Panerai on Screen, from Eraser – image courtesy of watchesinmovies
T+T: How has Panerai (especially on the wrists of celebrities on and off screen) changed the watch industry?
KG: I think with anything else, star power drives a brand to another level. When people see a star with any type of clothing or accessory they will inquire about it and one day have a desire to wear the same thing. Product placement in movies and TV has grown all types of business and it is doing it for the watch industry as well. More and more companies such as Hublot (partnering with Jay Z and Kobe) and AP  (joining forces with Lebron) are trying to hit a younger demographic that might not have looked to a certain brand.
A Bronze in the Expendables II – image courtesy of watchesinmovies
T+T: What sort of characters/actors would you say were Panerai's key demographic?
In the early years of on screen appearances for Panerai, they were definitely on the wrists of the more macho men. That could be due to the bulkier look of the Panerai Luminor models. There is something just industrial and rugged about it and it works well with those type of characters. However in recent years you are seeing more of the dressy line of Panerai's make it onscreen and bringing along a whole new demographic of Panerai wearers.
T+T: Why would a costume designer choose a Panerai for a character? Would does this choice of watch say about a character?
I think if a costume designer picks out a Panerai, the most obvious reason would be to give the character a rugged and in your face look. Since most of the Luminor models are 44mm and have a crown guard on them that sticks out, they are definitely not a subtle watch and can be noticed from a mile away. These are not your typical dress watch you wear with a suit (even though they can be) They lend themselves more to the action guy in my eyes.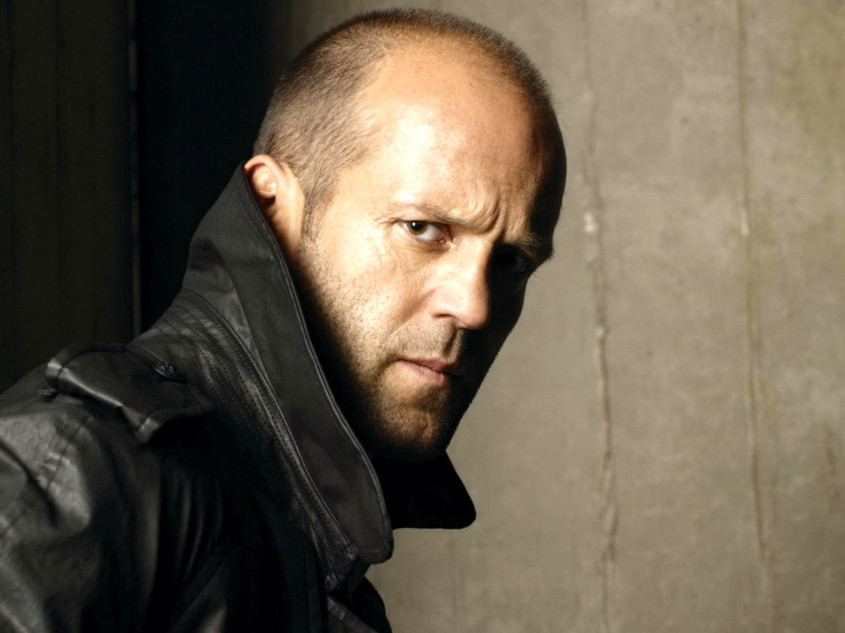 Jason Statham is an ideal choice for Panerai
T+T: Would James Bond ever wear a Panerai? 
I don't see James Bond wearing a Panerai Luminor. If they were to go with a Panerai he most likely would be wearing a classy and elegant Radiomir. It would go great with his Tuxedo while ordering a (Shaken, not stirred) martini.
T+T: Who are your three favourite on screen characters who have worn Panerai, and what PAMs did they wear?
Sylvester Stalone – Wearing the iconic PAM382 Bronzo in the Expendables 2
In the even more ridiculous sequel to the already ridiculous Expendables, Sly strapped on PAM 382 'Bronzo' – a very sexy bronze cased Luminor with a olive green dial. We're not sure if 30k luxury dive watches are standard issue for elite (aging) mercenary units, but they certainly look good.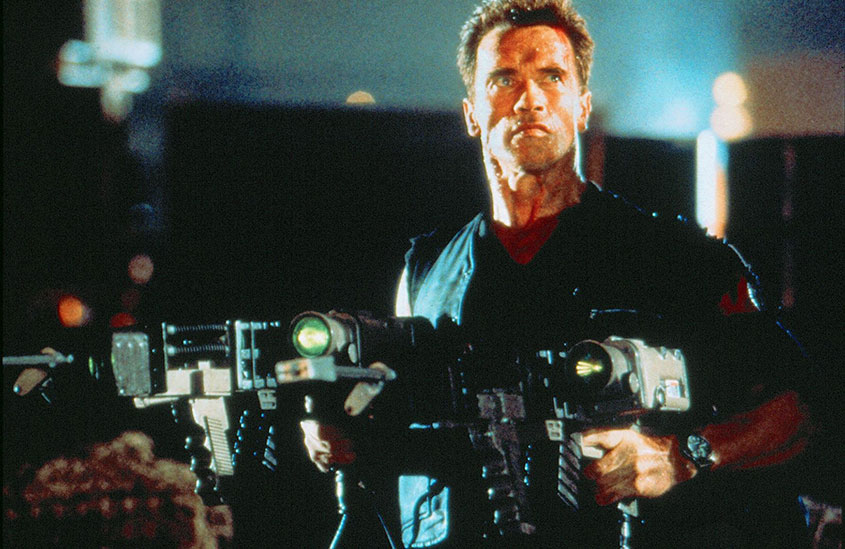 Arnold Schwarzenegger – 5218/203A in the Eraser
The Austrian Oak wore the wore the basic time only Luminor 5218/203A that was given to him by Stallone in his 1996 film Eraser. While the film may not be a classic, the watch certainly is.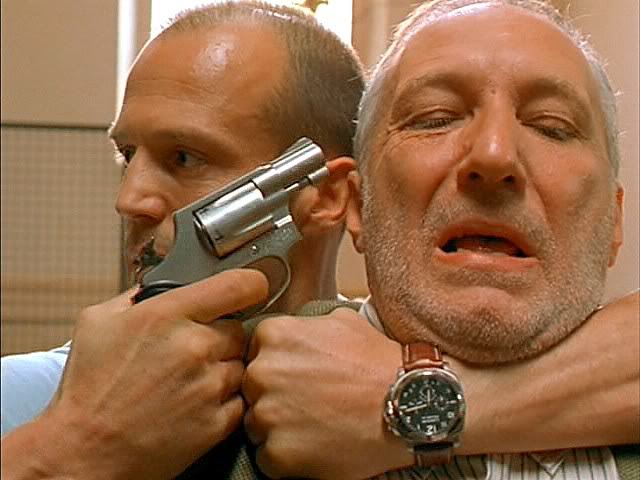 Jason Statham – Luminor Chrono in the Transporter series
Jason Statham is perhaps the leader of a new generation of well muscled actors with whom you wouldn't want to mess. It's only appropriate that he took his horological style cues from the elder statesmen of muscle when he took on the iconic role of the Transporter. Clearly he went with the Luminor Chronograph so he could conveniently track how long he had to deliver a package.