Odds are that if you've found your way to our website and landed on an article titled 'How to hide your watch obsession', then you're pretty passionate about your watches. After all, they say the first step to recovery is admitting you have a problem. But I'm not here to solve anyone's problems — I'm here to help you hide them.
To the uninitiated, spending what seems like abhorrent amounts of money on watches might seem ridiculous. To make matters worse, it can send the wrong idea. After all, fine mechanical watches are expensive, so lots of expensive things can easily create the perception of lots of money — which probably isn't what you're going for (if you are, then stop reading). In fact, I've noticed a lot of collectors go out of their way to avoid these sorts of perceptions, especially in their workplaces. It makes negotiating an end of year bonus – or a price rise to your customers – quite a bit more difficult. Just ask Mr 'Apple Watch' Turnbull.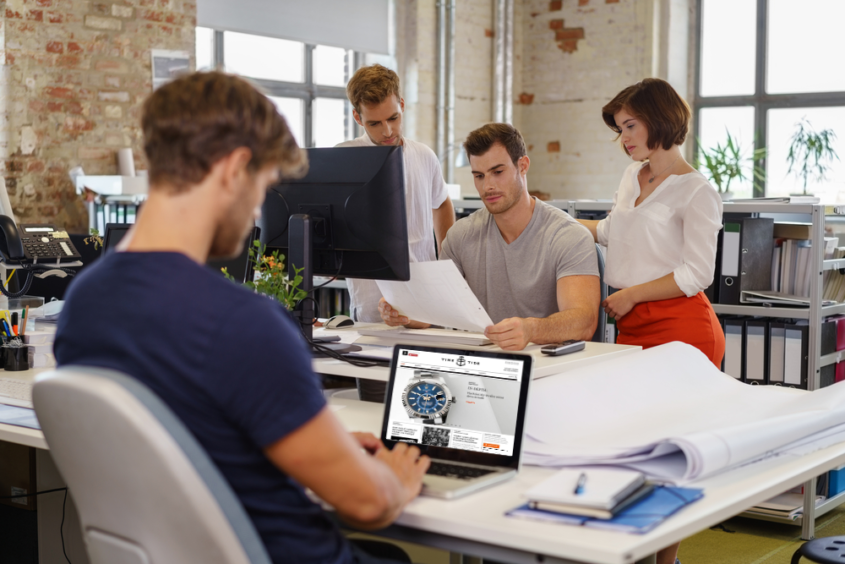 Let me set the scene. You're sitting at your desk, quietly tapping away at your keyboard – when a nosy colleague comes over, after noticing something sparkly poking out of your sleeve, and asks you what it is.
Your stomach sinks as you answer, 'oh, it's a Rolex', knowing exactly what question follows.
'Wow, aren't they expensive? How much was it?'
It's the question all watch lovers hate answering. There's no good way to explain why you spend five figures on a watch. Either you look like a pretentious ass-hat if you tell the truth, or you swallow your pride and lie to your colleagues.
So, here are nine great ways to hide your watch problem from your colleagues, and avoid answering that dreaded question.
1. Stick to stainless steel

Stick to the safe option: leave your diamonds at home, and save your yellow gold for the weekends. A stainless steel watch in the workplace is usually fairly low key, especially if it's on a fabric or leather strap.
2. Stealth wealth
If stainless steel isn't your thing, why not opt for one of the many 'stealth wealth' options out there. Think ceramic, carbon fibre, or even precious metals like white gold and platinum. Warning on the last two however: you'll fool your work pals right up until you step outside and your platinum president's bracelet lights up like a Christmas tree. Or until that point they ask to hold it. If you were an arrogant person how you'd enjoy that look of shock as the weight kicks in, and their hand drops like a broken elevator.
3. Be strategic with your work watch
Just because you have a steel watch, it doesn't mean you're green-lit here. Sorry about that. Whatever the material, you need to ensure the watch is still work appropriate, and sleek enough to fly under the radar. Will a 48mm Big Pilot get noticed? Probably. What about a Royal Oak Tourbillon Extra-Thin Openworked? Definitely.
This means picking a simple 3-hander dress watch or a vintage diver – something that you'll love wearing, and that sends the right message to your colleagues. Think a Patek Philippe Calatrava, a Rolex Datejust or a Nomos Club.
4. Don't rotate too often
This is super important. If you turn up to the office with a different watch every day, then it doesn't matter what watches they are, you're going to get noticed — especially if you're the kind to match a watch to your outfit. This applies to strap changes as well, as not only will it indicate that you know your way around a strap tool, but to the outside world, a fresh strap might as well be a whole new watch.
5. Get in early to check your watch news
Avoid alerting co-workers to your watch addiction by arriving early and taking in your daily watch news before they all arrive. This way you'll be able to resist the urge throughout the day, and avoid revealing your addiction. Even better, use a smartphone – apps like Watchville are great because it saves you from having 15 tabs open.
6. Avoid suspicious packages – get a post office box
Trust me, I know how convenient it is to get a watch shipped to your office. There is ALWAYS someone there to sign for it, there are plenty of cameras, and you can open it immediately. But this is also extremely high risk. No one believes for a second that you'll wait until you get home to open that new incoming, and the last thing any of us want is your colleagues getting too wise about your probably too-frequent Chrono24 acquisitions. The solution is a PO Box, and if your shipping company won't ship to a PO, find a helpful friend, or work from home (pull a sickie) on delivery day.
7. Clear your browser history
You already know how to do this. You'll thank me when you have IT support come around to check your WiFi connection, and they *accidentally* click 'reopen last session' — or when you're midway through a Skype meeting and are sharing your screen. Just trust me on this one. Perhaps a calendar reminder every few days?
8. Be smart online – set up an inconspicuous Instagram account
This is a big one, especially in this digital age. Why go to all this effort only to be busted by your employees and co-workers when they notice your cunningly incognito Insta account @watchy_mcwatchface? Your best bet is to choose an inconspicuous handle – something like a reference to your favourite watch and your birth year and/or initials work well (for example, @AG116610lv). It's something we're seeing a lot lately. Also, don't post pictures of your face, or any identifying features (car licence plates) for that matter – and you'll be all G. Oh, and never-ever-ever-ever check in or around your workplace.
9. Never take 'watch calls' at work
'Watch calls' — you know, the ones when a friend calls up asking for advice on a purchase, or your dealer has called you back to negotiate after speaking to their supplier? Those calls. If the call is pressing, leave your office as soon as possible to take it — you never know who is listening in. If you can't break away, then speak in reference numbers and codes, and avoid dropping prices and brand names over the phone.
Follow these simple steps and your secret should be safe from even the most perceptive co-worker. Good day, and good luck.