While we all know that Van Cleef & Arpels love a bit of poetry, I get the feeling that they also have a major thing for swans. Huh, what? You know, the way swans glide across the water, all elegance and beauty, no visible effort – while paddling furiously beneath the surface. Well, that's how Van Cleef & Arpels make their complication watches, whether for men or women. Refined, beautiful, often rather dreamlike on the outside; brain-bendingly complex on the inside.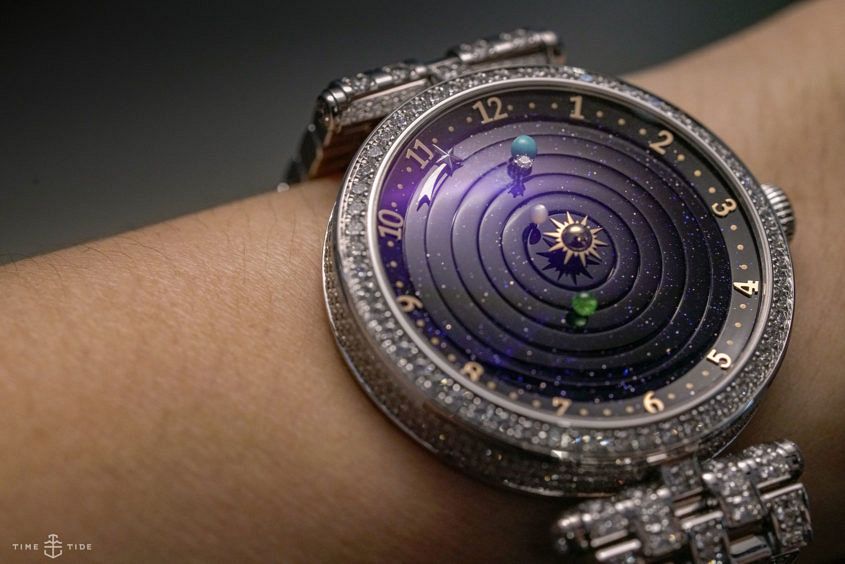 In 2014, you may remember, Van Cleef & Arpels launched an astonishing planetarium watch developed in collaboration with the master of astronomical horology, Christiaan van der Klaauw. It replicated the entire solar system, with each planet completing an orbit – a full turn around the dial – in real time (Mercury three months, Earth 365 days, Jupiter 142 months, and so on). It's a stunning watch. And, at 44mm, it's man-sized.
Now, the new 38mm version gives us girls a turn. To reduce size, only the inner solar system is represented: Mercury, Venus and Earth. Each is represented by a tiny polished bead –Mercury in pink mother-of-pearl, Venus in green enamel, Earth in turquoise – fixed to a rotating disc of sparkly dark-blue aventurine. As before, each moves at its actual speed, with Mercury orbiting the dial in 88 days, Venus in 224 days, and Earth in 365 days. And while we've lost some planets, we have gained a moon phase indicator – of a kind not seen before. Earth has its own moon – a brilliant-cut diamond that rotates around it in 29.5 days, passing from full light to shadow, as our moon does in reality.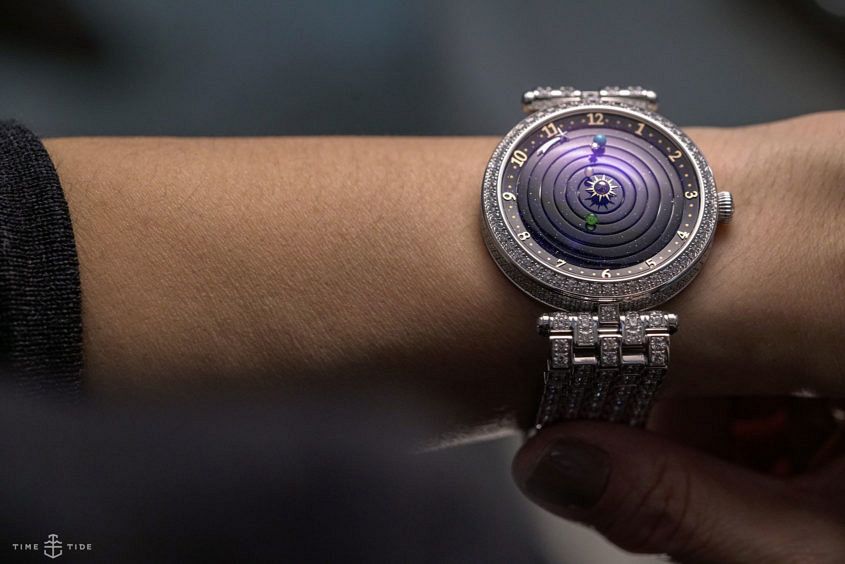 If you can drag your eyes away from the dial for a moment to look through the sapphire case back, you'll see the theme carried through on the winding rotor: a diamond-set crescent moon provides the off-centred weight that's necessary for it to do its job. It sits on a black PVD-treated "night sky", with a turquoise disc representing Earth at its centre. Around this is a ring of aventurine (that sparkly, starry-sky material again), with two apertures displaying the calendar.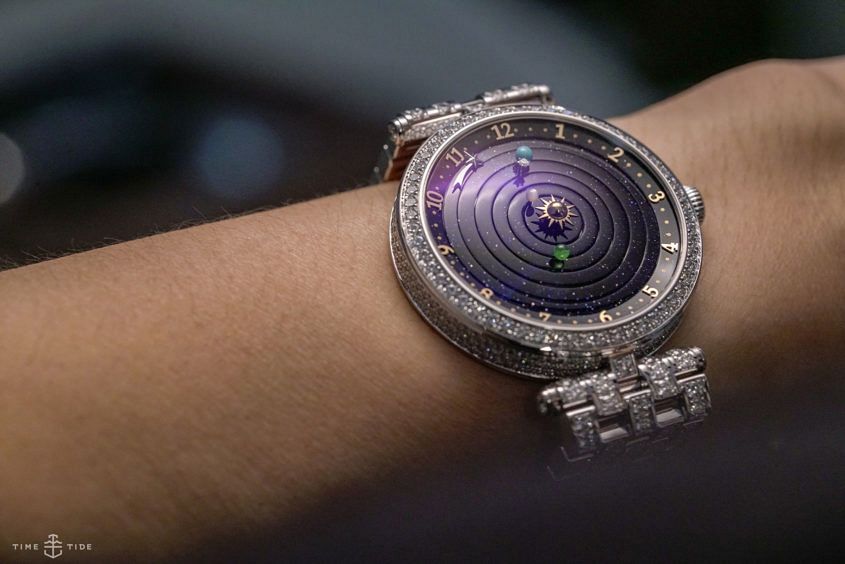 The case is white gold, beautifully iced-up with diamonds – in serti neige style – and my preferred strap is the midnight-blue alligator with a subtle sparkly finish. There is the option of a fully diamond-set bracelet but, to my eyes, it's a touch too much – a distraction from the beauty on the dial.
Beauty, she said? Oh yes: beautiful on the outside, beautiful on the inside; this is a watch so insanely gorgeous that I almost want to laugh.
Specifications
Case Material:
White gold set with diamonds in serti-neige style; sapphire glass front and back
Dial:
Aventurine, Sun in pink gold, shooting star in rhodium-plated gold, Moon in diamond, Mercury in pink mother-of-pearl, Venus in green enamel, Earth in turquoise
Strap:
Blue alligator, white gold pin buckle set with diamonds (Option of fully diamond-set white gold bracelet)
Movement:
Self-winding mechanical movement with a planetarium module; calendar; 40-hour power reserve. Oscillating weight in white gold and black PVD, with diamonds, turquoise and other stones
Availability:
Numbered edition (non-limited)