HANDS-ON: The Longines Spirit Zulu Time 39 offers a more compact and ergonomic take on the prior 42
Zach Blass
The Longines Spirit lineup has become a go-to collection to recommend when someone asks what a great option would be for an entry-level Swiss luxury watch. The collection, now three years into its current generation, has seen quite rapid growth with a variety of aesthetic and functional configurations. Born initially in 2020 with 40mm and 42mm time and date models, at present the collection now includes a flyback chronograph segment and a GMT segment. Within the time and date models, a more recent evolution was to introduce 37mm models to better cater to smaller wrist sizes and, perhaps, to extend an olive branch to women who wanted to break into the "men's" collection but found the 40mm/42mm too large. This same trend now applies to their Spirit Zulu Time segment, with a more compact and ergonomic Longines Spirit Zulu Time 39 collection making its debut.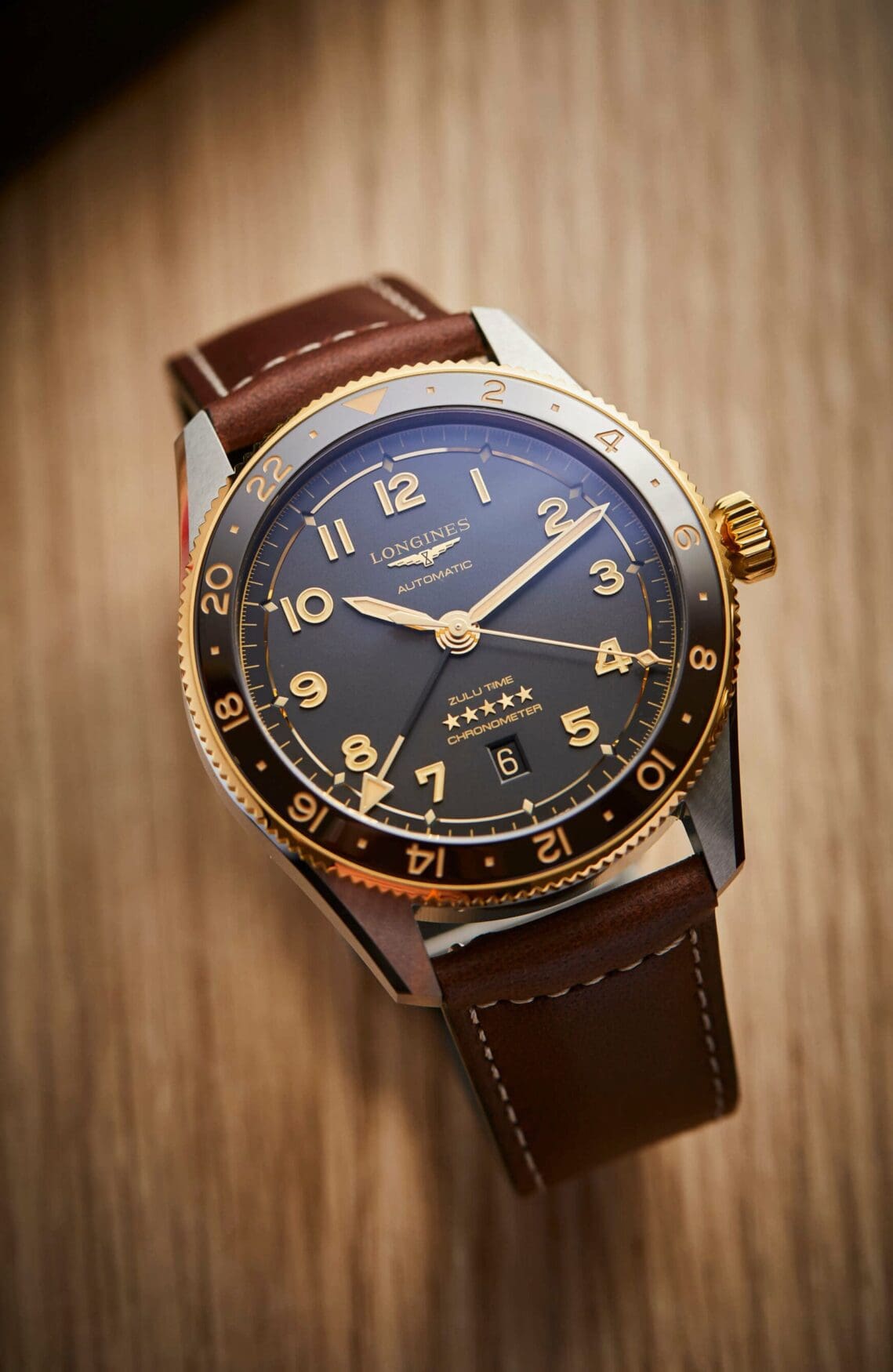 The case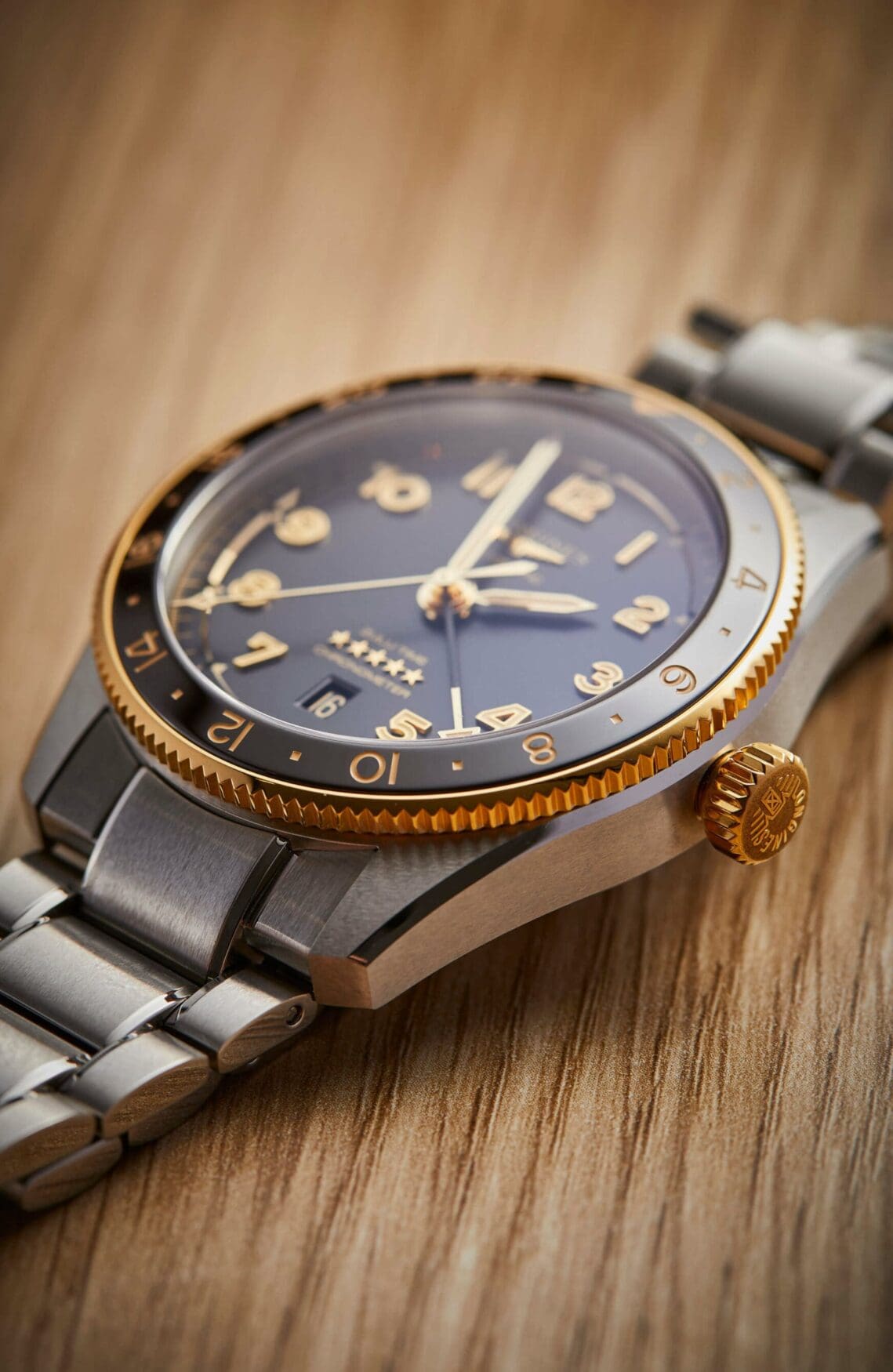 Looking at the geometric framework and aesthetic of the case, the lines and facets remain consistent with the previous 42mm model and you still have a handsome predominantly brushed finish accentuated by a bevelled and polished edge to the case lugs and case flank. The case is also equally water-resistant to the Spirit Zulu Time 42, with a screw-down crown secured 100-metre depth rating, and its 24-hour GMT bezel continues the usage of a ceramic insert. Really all that has changed here is the proportions of the watch, which clocks in at 3mm less in diameter and 0.4mm less in thickness than the prior 42mm version. The steel and gold model we have in hand today is also entirely new to the collection. While there are four Spirit Zulu Time 39 watches to choose from, the three steel models are aesthetically identical to the existing steel 42mm models. This configuration, which has a new chocolate brown ceramic insert and a 18K gold knurled bezel and screw-down crown, is the only new entry to the collection from a visual standpoint for both the 39mm and 42mm pieces.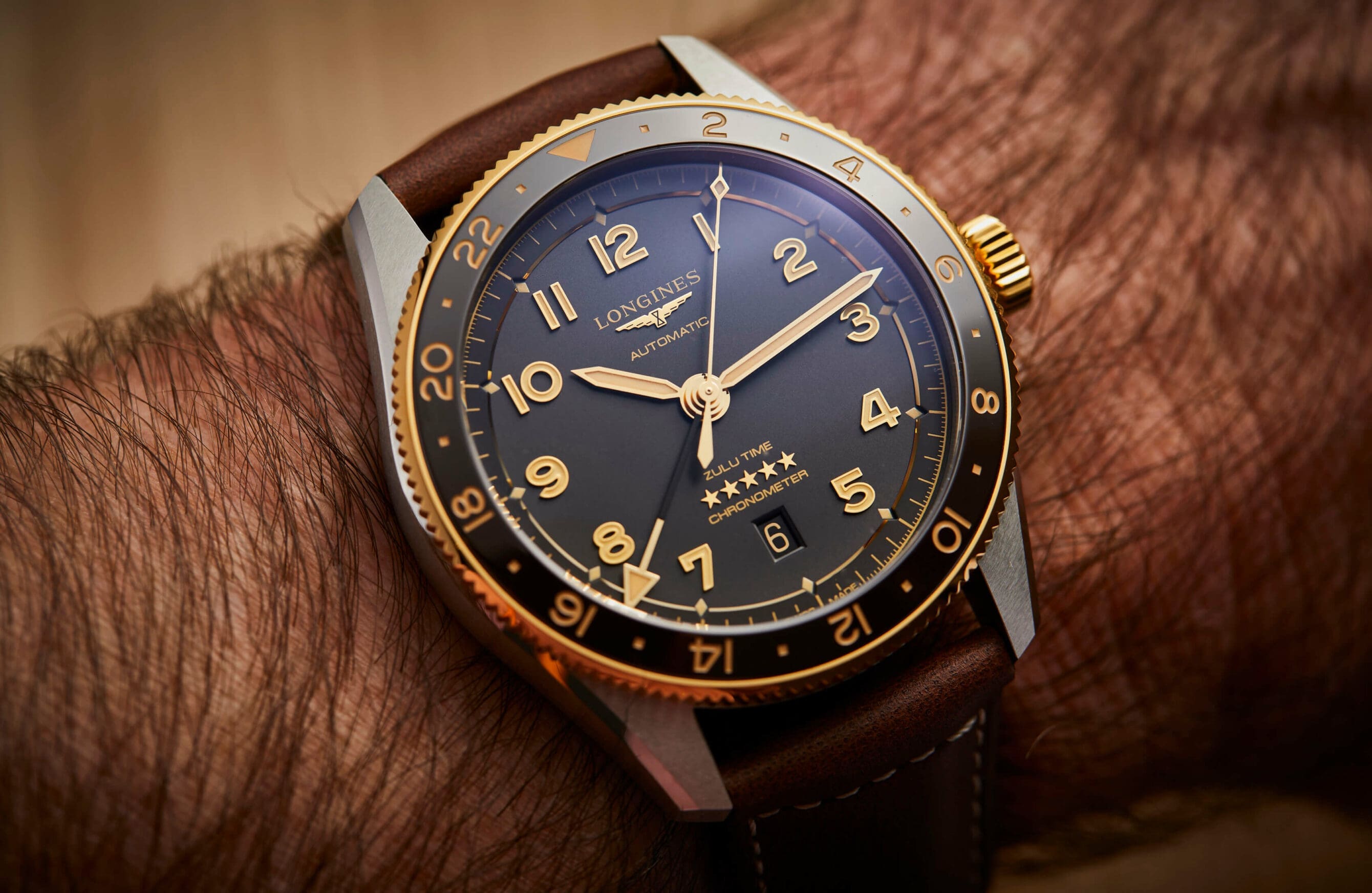 A claim to fame for the original Spirit Zulu Time 42 was that its lug-to-lug of 49mm was less than the time and date Spirit 42's lug-to-lug measurement of 52mm. A lug-to-lug measurement of 49mm is by no means too large for average or larger than average wrists. But, considering the flatter profile of the case, which does not really have a dramatic camber to wrap around the wrist, the new 39mm case offers a much more wrist-manageable presence for wrists like mine (6.5 inches or so) with its lug-to-lug length of 47mm.
The dial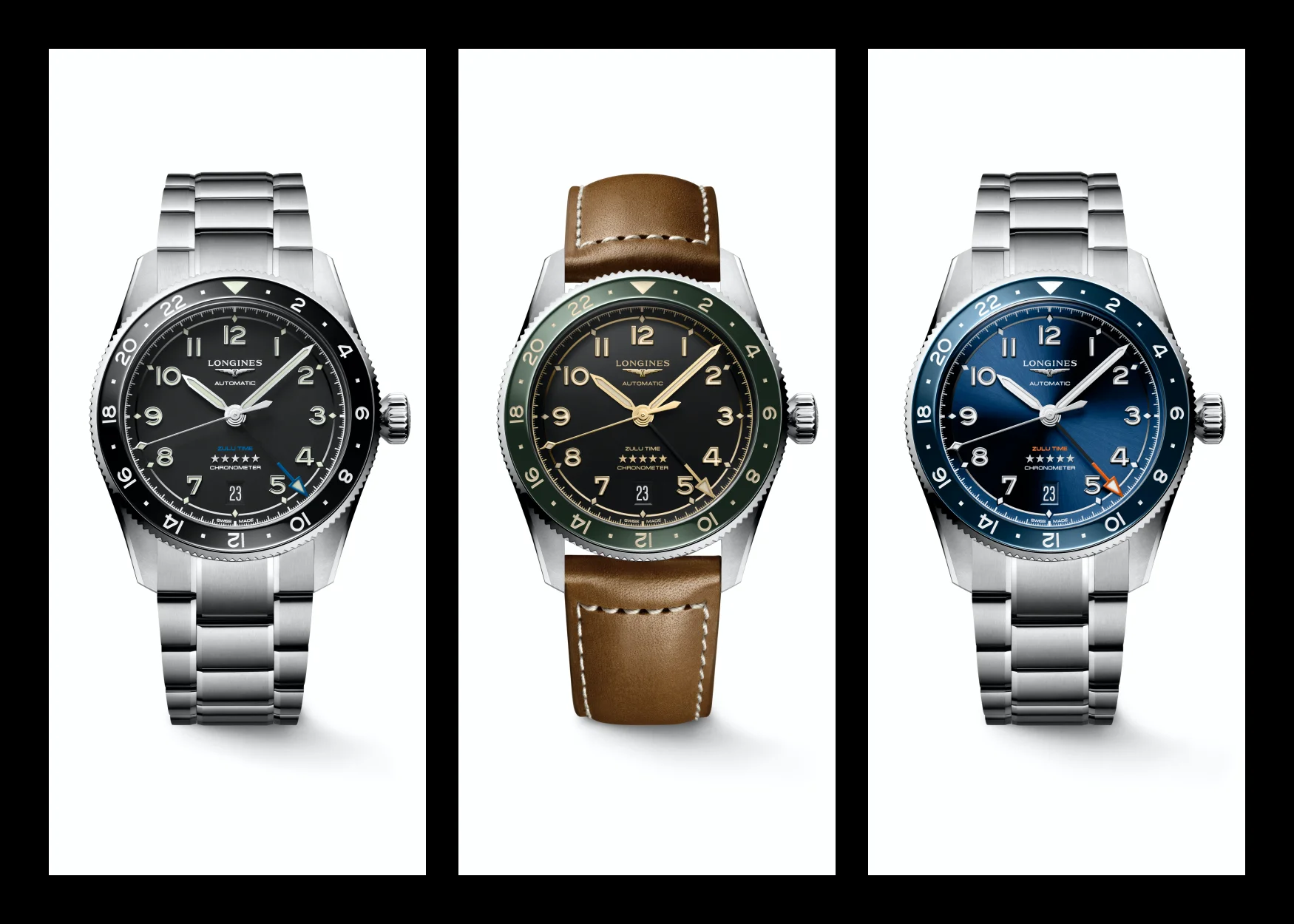 As I mentioned before,  the three steel Longines Spirit Zulu Time 39 models are presented in the same colour configurations seen in the Spirt Zulu Time 42 collection: black bezel with a matte black dial, green bezel with a sandblasted anthracite dial and gilt accents, and a blue bezel with a sunray blue dial.
The steel and gold model borrows the gilt-flavoured sandblasted anthracite dial colour scheme seen on the steel and green bezel model. This makes absolute sense considering the gilt accents are a perfect pairing for the gold accents of the knurled bezel and crown. The dial is really quite striking, with its stepped central medallion that then raises to the gilt outer minutes track. If you look closely at the stepped edge, you will notice a gold-toned chapter ring with recesses at each hour to accommodate the diamond hour indexes. This offers an elegant sensibility to what is otherwise a very sporty watch, giving it an edge of versatility that can be dressed up or down as you please. The SuperLuminova used within all four of the central hands, the hour numerals, and diamond hour indexes have a creamy-aged tone rather than the more typical pumpkin-aged tone we find on watches looking to incorporate a touch of faux-tina.
Here, however, it seems less about making the watch feel older and more so creating a harmonious gilt-flavour. Even the date numerals within the aperture symmetrically placed at the 6′ position uses a gilt on black colour scheme. I hesitate to declare something perfect, as nothing ever is due to subjective tastes. But, I have zero complaints about how Longines has designed the dial and would argue it is one of the most balanced dial designs you can find on a GMT watch. Some purists, however, would probably suggest the removal of the 6′ dial text and applied five stars. along with the "automatic" dial text at 12′.
The straps
The Longines Spirit Zulu Time 39 collection are all offered on two strap configurations: leather with a pin/buckle and a bracelet with a folding clasp. The steel and gold, however, is offered on leather, bracelet, and beige NATO configurations. As I am known to skew in such a direction, my personal favourite is the bracelet configuration – especially considering it is only A$175 / US$100 more than the strap-outfitted configurations. The mixed finishes are done exceptionally well, with three broader brushed pieces each bordered by narrower polished link pieces. That being said, with a premium of A$1,750 / US$1,150 above the full steel models due to the usage of a gold bezel and crown, I think it would have made the jump up more palatable, or offered less sticker shock, had the bracelet incorporated gold-polished link pieces rather than steel. To do so would have likely raised the price even further, but had they offered capped-gold intermediary links without raising the price I think that would have been really neat.
The good news is that whatever strap option you go with you can quickly swap between them should you purchase the strap or bracelet separately at a later time. Both the strap and bracelet have an interchangeable system that allows them to be removed simply with a finger rather than tools. And, should you desire aftermarket options to play with the lug width is listed at 21mm (which is odd considering the underside of the leather strap has '22' etched into it).
The movement
The Longines exclusive calibre L844.4 used in the 42mm is also used in the Longines Spirit Zulu Time 39 as well, so there is no drop-off from a movement perspective. The "true" GMT calibre is a COSC-certified automatic chronometer movement with an anti-magnetic silicon balance spring and a weekend-proof 72 hours of power reserve. Most GMT watches at this price-point would not offer "true" GMT functionality. A "true" GMT has a movement which includes a crown position that allows you to independently adjust the hours hand. This means you do not have to adjust the GMT hand each time you adjust the local time. While some people prefer an exhibited calibre regardless of the level of decoration, I appreciate the closed caseback and its engraved design. Were the calibre exhibited, the case may have then in turn became ever so slightly thicker. So in this instance I think it pays to keep the watch thinner in exchange for a hidden calibre.
The verdict
The introduction of a 39mm size is a real game changer for those looking for a "true" GMT from a reputable brand at the entry-luxury price-point. If the Spirit Zulu Time 42 was the direct competitor of the Black Bay GMT, this new Longines Spirit Zulu Time 39 is a great matchup against the Black Bay Pro. From a movement perspective they are essentially equal, both chronometers with silicon balance-springs. But, the Spirit Zulu Time edges ahead with an additional two hours of power reserve and the usage of more robust ceramic bezel inserts rather than the aluminium insert or metal bezel seen on Tudor's GMT watches. And, a bit of a cheeky dig, I do not see forums dedicated to the Zulu Time regarding a recurring date wheel issue. Ultimately, with all things considered, the collection's only Achilles heel was its 42mm size potentially being too large for some. With this new 39mm, however, there really is a Spirit Zulu Time for every wrist – and that is a wonderful thing.
Longines Spirit Zulu Time 39 pricing and availability: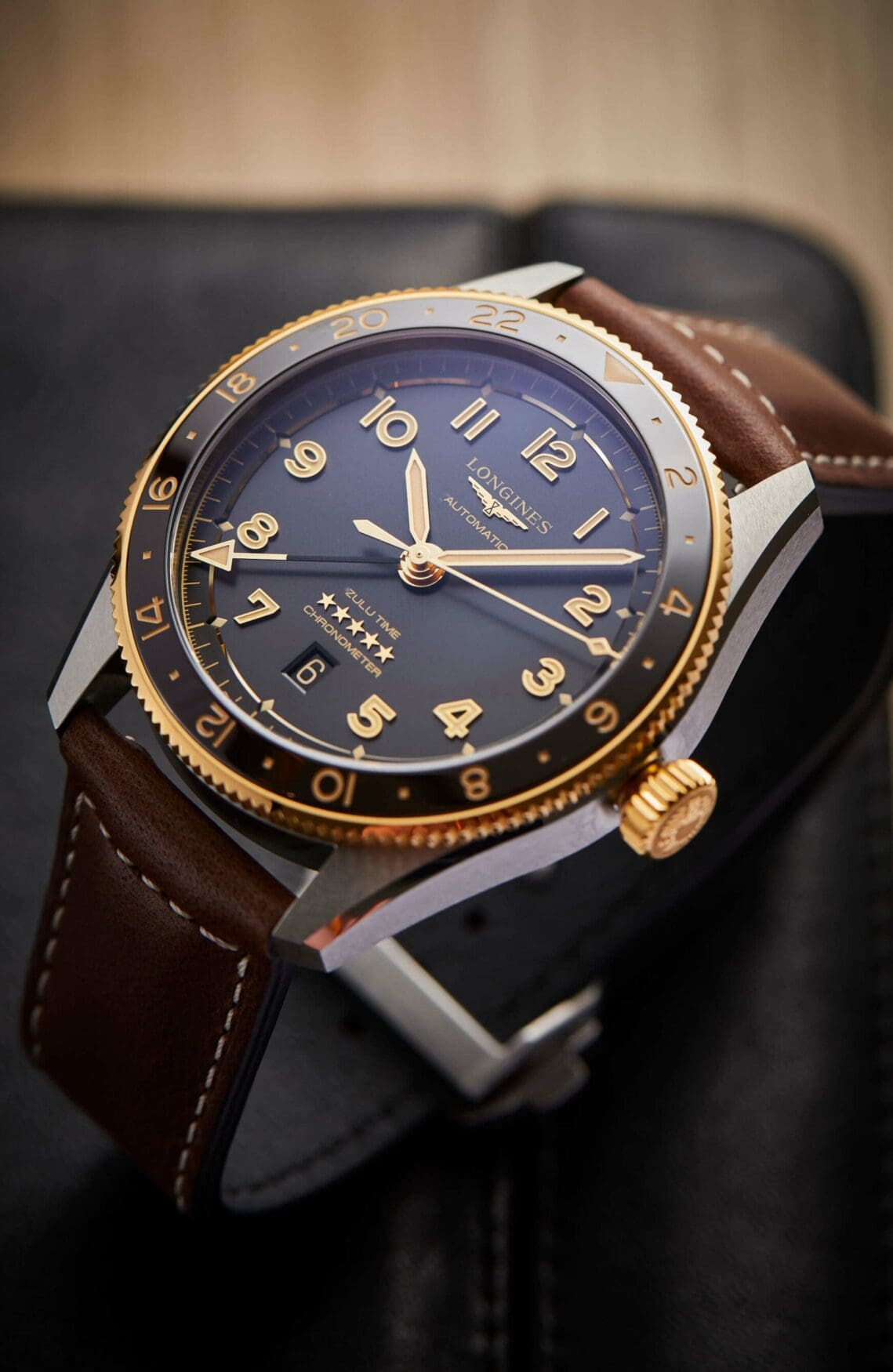 The Longines Spirit Zulu Time 39 collection is now available for purchase. Price: A$4,575 / US$3,050 – A$6,500 / US$4,300 (depending on the configuration). Full pricing details provided in the table below.
Brand
Longines
Model
Spirit Zulu Time 39
Case Dimensions
39mm (D) x 13.5mm (T) x 47mm (L2L)
Case Material
Stainless steel
Water Resistance
100m (screw-down crown)
Dial
Steel models: Matte black, anthracite. Sunray blue
Steel & Gold model: Matte black
Crystal
Sapphire crystal
Strap
Interchangeable leather strap or bracelet. Beige NATO exclsuive to Steel & Gold
Movement
Longines exclusive automatic calibre  L844.4
Power Reserve
72 hours
Functions
Hours, minutes, seconds, date, GMT
Availability
Now
Price
Steel models: A$4,575 / US$3,050  (Strap), A$4,750 / US$3,150 (Bracelet)
Steel & Gold model: A$6,325 / US$4,200 (Straps), A$6,500 / US$4,300 (Bracelet)