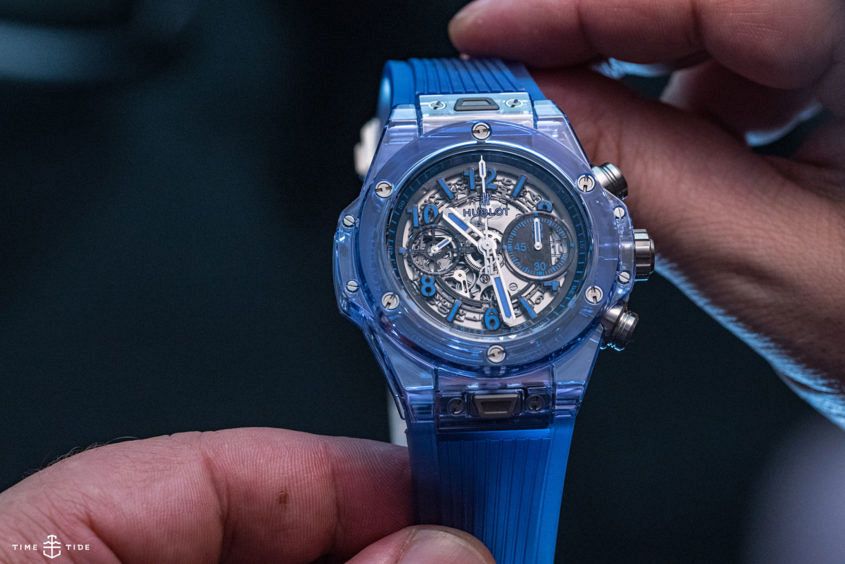 Hublot's sapphire journey began with their ultra high-end MP-05 LaFerrari, a horological engine in the truest sense of the word, with 50 days of power reserve thanks to 11 coupled barrels. It made perfect sense for Hublot to show this beast of a movement off to its fullest capacity with a full sapphire case. But it seems LaFerrari only whet Hublot's appetite for transparency, making a splash last year with the Big Bang Unico Sapphire, a limited edition of 500 pieces that eclipsed any previous sapphire production runs.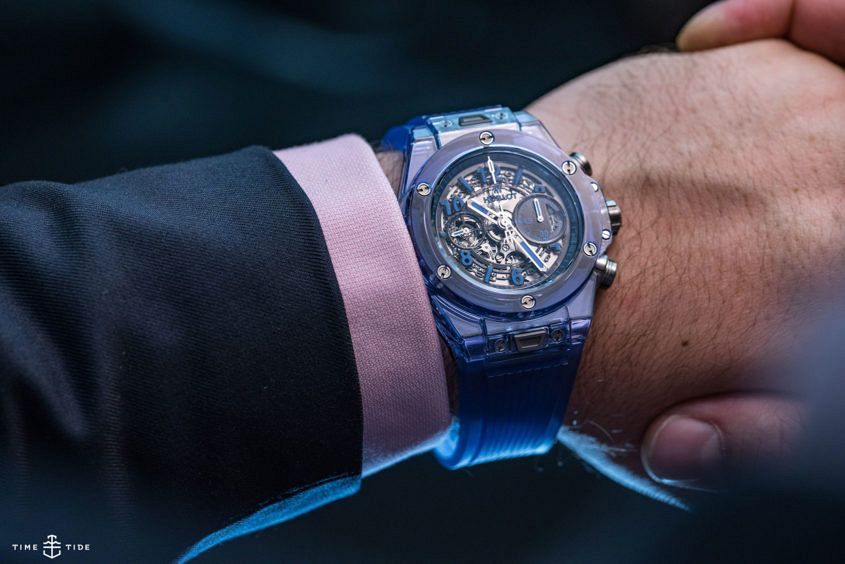 It's easy to see why Hublot is drawn to sapphire as a case material. Aside from the fact that its extreme hardness means it's virtually scratch-proof, the glossy, transparent material is a perfect fit for Hublot's art of fusion design approach – the see-through case turns expectations of what goes where on a watch on its head. Inside is outside, fragile is strong. Very Hublot.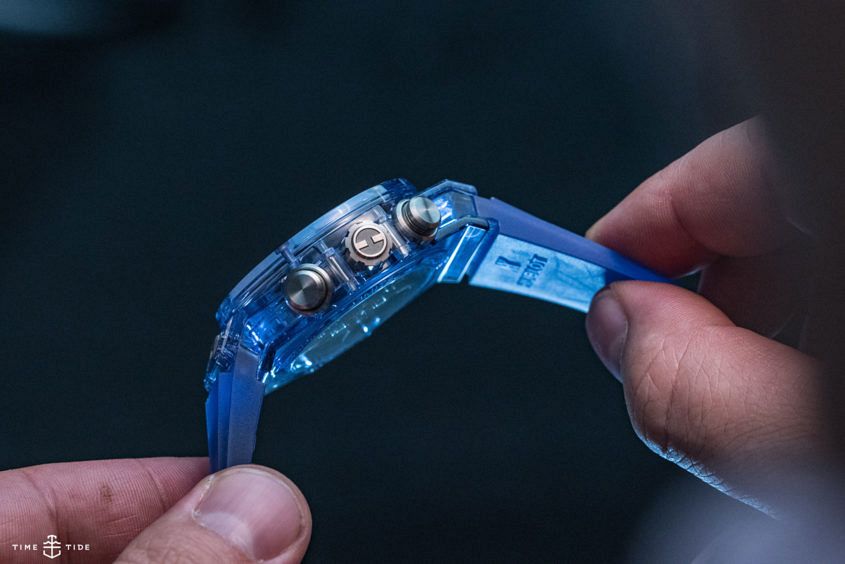 And from that initial sapphire Big Bang, we've seen the collection expand rapidly, with all black versions, stone set models (a particular favourite), a sapphire Spirit of Big Bang and this, the Big Bang Unico Blue Sapphire. This watch marks the first time blue synthetic sapphire has been used in watchmaking, a chemical engineering challenge not just in getting the right colour (achieved via a process involving melted iron and aluminium oxide), but also in getting a sufficiently even colour. Having nailed the technical challenge, the solid slabs of sapphire are cut down into parts for the 45mm case middle; bezel and back are then painstakingly milled and polished. The parts are secured by titanium screws, the Unico HUB 124 is placed inside, and a skeletonised dial made from composite resin, with some bold blue highlights (and blue lume, obvs) complete the watch. A blue resin strap on a titanium deployant seals the deal.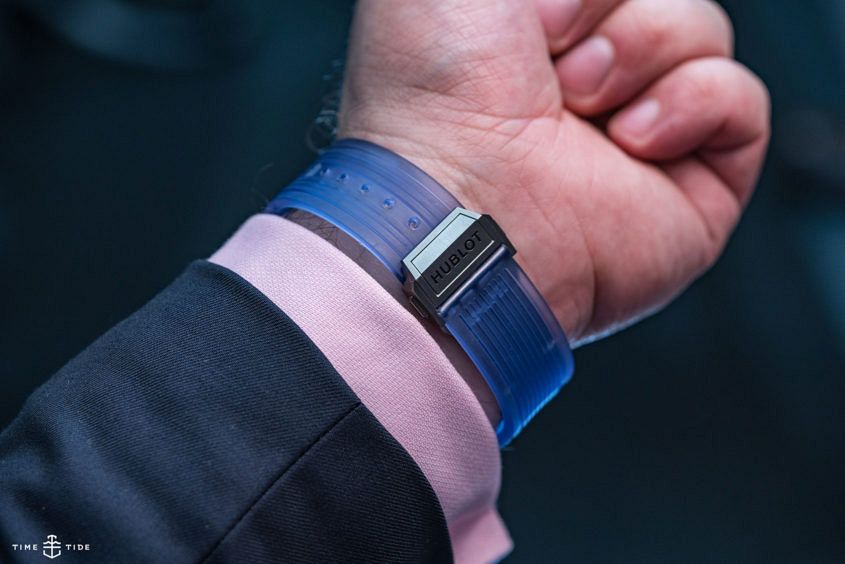 So that's the how, but the what is another question entirely: specifically, 'What's it like on the wrist?'
Well, it's no shrinking violet (or bluebell, for that matter), but given that you're talking about a bright blue sapphire watch, that's unsurprising. This is a watch for a niche audience, no doubt. Regardless as to whether or not it's your personal taste, you can't help but admire the chutzpah of this watch. You also can't help but be impressed that Hublot continues to push themselves, always offering a bold new look, and incorporating a crazy new material. And even though the blue is a lot more eye-catching than the clear sapphire, I think it works better on the wrist. It still possesses that slick translucent lustre, but the colour provides definition that only enhances the properties of the sapphire.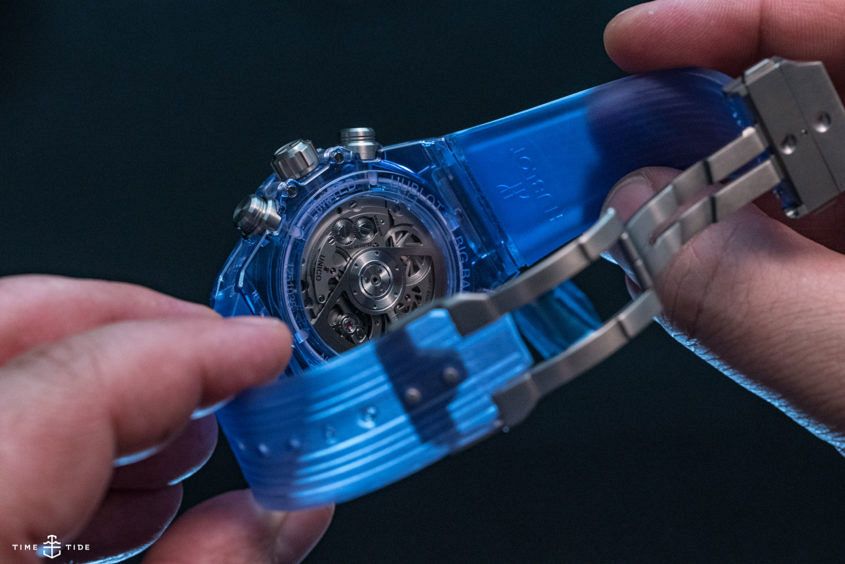 Hublot Big Bang Unico Blue Sapphire Australian pricing and availability
Hublot Big Bang Unico Blue Sapphire, limited to 250 pieces, $109,000