FRIDAY WIND DOWN: New Massena HOUSE, Father's Day watchmaking class coming to UK and Ferragamo watches
Zach Blass
I get it, it's the end of the week and you are probably rushing off to the pub to down a pint or slump on the couch to binge the latest Netflix series. But, before you wind down, here are three watch world highlights you may have missed.
Massena HOUSE to be a new hub for independent brands
View this post on Instagram
Certified watch geeks are probably familiar with Massena LAB, known for their own vintage-inspired and meticulously detailed pieces of their own name and collaborations with independent watch brands such as MING, Habring, Louis Erard and more. But now founder William Massena has announced the launch of sister-company Massena HOUSE that will serve as both a community and retail space for leading independent brands. The first brand Massena HOUSE has announced they'll be an authorised dealer for is Daniel Roth, which is an exciting development considering they'll be one of a few retailers in the world that will offer access to the newly restructured Daniel Roth brand.
William Massena explains: "Massena HOUSE is dedicated to creating an environment where enthusiasts can experience the craftsmanship and passion of independent watchmakers in a new and exciting way. Like La Fabrique du Temps Louis Vuitton, Massena HOUSE is committed to celebrating the creative spirit of Daniel Roth, and we are incredibly excited to have been named one of the very few authorised dealers of Daniel Roth in the world."
Start em' young: UK Father's Day watchmaking class on June 18
View this post on Instagram
As a niche hobby, watch lovers are always looking to find ways to justify their obsession. And, one way to do that is to get more and more family members on your side – ready to back you up with each #newwatchalert. In a more honourable pursuit, within the landscape of smartphones and watches and screen addiction, it remains crucial to curate initiatives that get the next generation into traditional watchmaking. So what better way for the watch dads of the world to get their children into watches than a Father's Day watchmaking class. On June 18 in the UK, at Epping Forrest, Windsor Prep is hosting a bespoke watchmaking class and experience where fathers and one of their children (12 years or older) can share some quality time (pun intended).
Windsor Prep explains: "Our exclusive watchmaking workshop is the perfect experience for fathers and one of their children. Led by experts in clock and watchmaking, you'll get a behind-the-scenes tour of our bespoke workshop, see live demonstrations of the precision tools and machines we use, and have the opportunity to design and build your own exquisite timepiece." Learn more at the link here.
Ferragamo introduces colourful and sustainably driven F80 Skeletons ahead of summer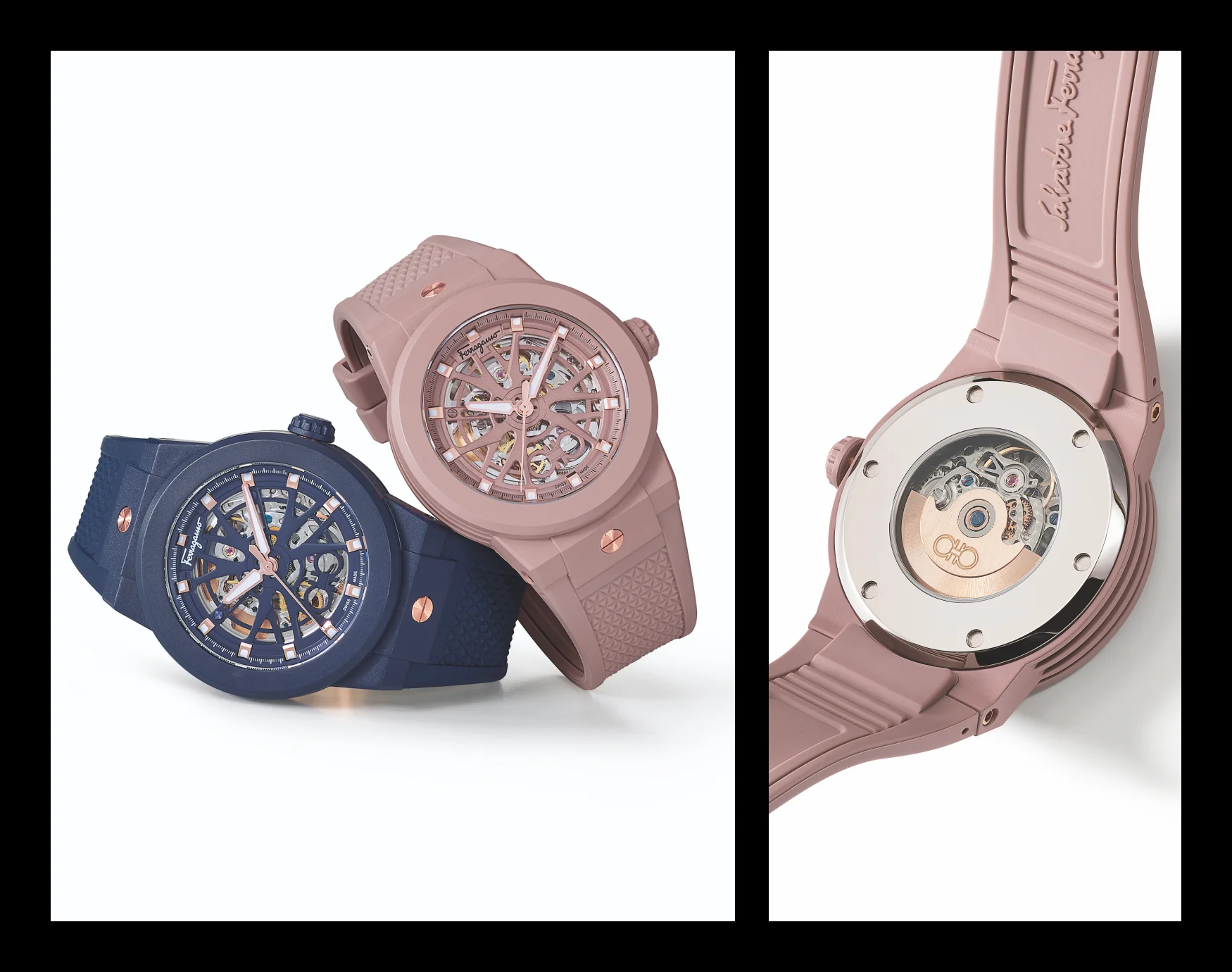 It's giving off Zenith meets Hublot meets Swatch vibes, but the colourful duo above has recently been launched by Ferragamo – a brand typically associated with couture and fashion. But, in fairness, these watches do have enough going for them to make watch lovers a tad curious. Powered by the automatic Landeron 24, they're housed in 41mm, bio-based ceramic cases with 100 metre water-resistance and rubber straps. Priced at US$2,195, the two Ferragamo F-80 Skeleton watches may be a harder sell to watch snobs. At the very least though, it is interesting to see Ferragamo up their horological game.
Hope you all have a wonderful weekend!
Zach
Watch meme of the week: Fly on the wall at corporate
View this post on Instagram
What do you guys think? Is it about effing time Swatch finally gives the people what they want?
Wrist shot of the week: Haagen does it again…
View this post on Instagram
Only Kristian Haagen could find a way to make the Day-Date feel more rugged and ripe for a safari. It seems simple, but pulling off that stack is for experts only.
Time+Tide Shop select of the week: Baltic Aquascaphe Classic Blue Gilt – Beads of Rice
Introducing the Baltic Aquascaphe. The ultimate vintage-inspired diver. Up to 200 metres of depth can be reached when diving with the Aquascaphe. The fact that tool watches are waterproof, scratch-resistant, shockproof, and fashionable in any setting makes them the ideal daily watch. The Aquascaphe is a watch that truly upholds the vintage norms while adhering to modern quality standards. Case diameter is 38 mm, bezel diameter is 39 mm, lug to lug measurement is 47 mm, and thickness is 12 mm. The double-dome sapphire glass of the Aquascaphe makes it nearly impossible to scratch. Because sapphire is among the world's strongest materials, this watch is extremely resilient. Sapphire has also been used in the bezel, improving the vintage design by giving it a contemporary "bakelite" appearance. It provides the bezel with a distinctive "depth." A rotating bezel with 120 clicks, a necessary component of a diving watch, is included on the Aquascaphe Classic. You can manage the dive time and adhere to the decompression stops as a result.
Order now in the Time+Tide Shop (AU deliveries only). Price: A$1200
Our favourite Time+Tide coverage of the week:
HANDS-ON: The Speake-Marin Ripples Blue Jeans & Ripples Date bring new colour and complication
At Watches & Wonders, we were not only introduced to one new Ripples reference, but two: the Speake-Marin Ripples Blue Jeans that further expands the colourways offered in the original format and the Ripples Date that introduces the complication into the collection for the first time. Video review above, but you can find both the video and written hands-on review right here.
WHAT IF… Grand Seiko finally made a smaller dive watch
In our new series WHAT IF… we explore "What If" scenarios within the landscape of the watch world, imagining what things could look like in the horological multiverse. First up: what if Grand Seiko finally made a smaller dive watch?
The 5 best bronze watches to buy
Bronze occupies a special niche for watch fans that love the antique look of a well-weathered tool. So, in this now-mature market space, D.C. looks at five of the best in bronze timepieces.