Watches By Material: Four super-tough watches that use DLC coatings
Zach Blass
DLC, or diamond-like carbon, is a great tool for watch manufacturers to leverage. It's capable of not only changing the aesthetics, but also the durability of a timepiece. To get an idea of how tough DLC is, the material typically measures at 5000-9000HV on the Vickers hardness test. Essentially, this means that DLC is as hard, and possibly even harder, than a diamond. That these coatings can be applied to cases and bracelets therefore results in some serious added benefits for the consumer. To explore DLC further, we have put together a list of four great watches that use DLC coatings.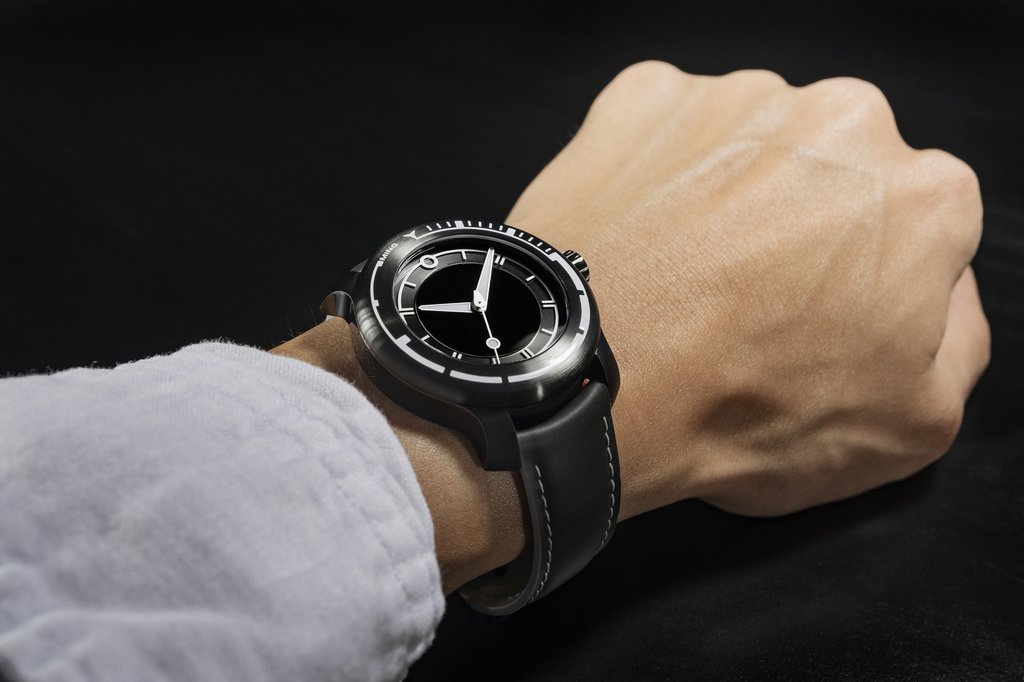 Bamford x Time+Tide GMT2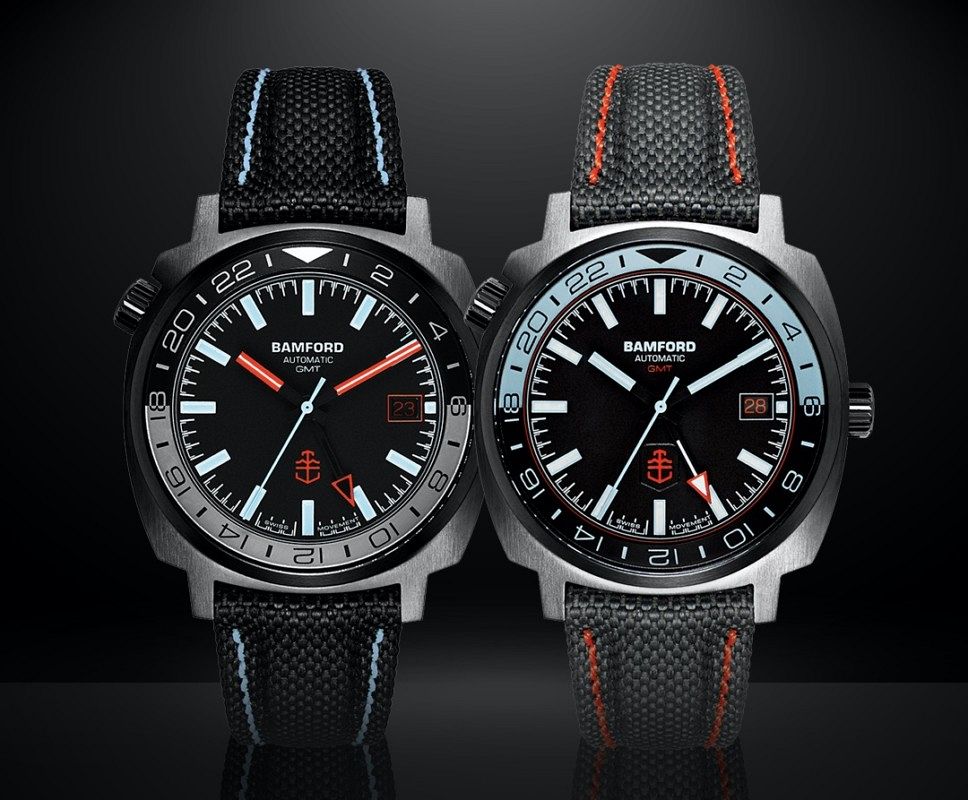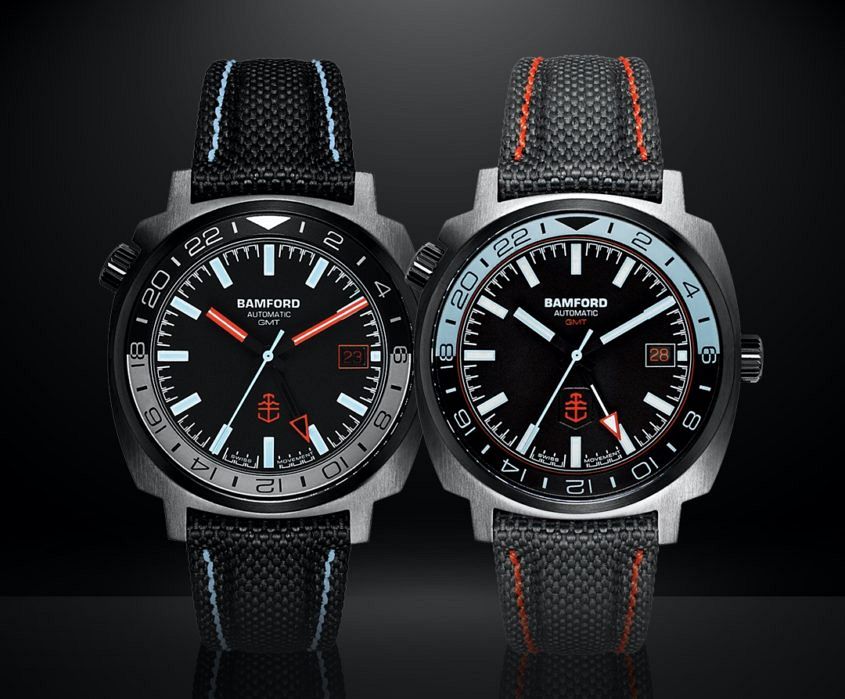 Yep, I know, shameless self-promotion alert. But let's be clear: of all the watches on this list, this is the most affordable. What's more, it was made in collaboration with George Bamford who pretty much made black DLC coatings the hot commodity for modification. With 100 metres of water-resistance, the GMT2 features a 40mm DLC-treated 316L stainless-steel case and a matching DLC-coated steel bracelet (along with a black Cordura Strap with blue stitching). At just 11.7mm thick, the Sellita SW330-1 powered watch will also slide under practically any shirt cuff, it's all-black look ripe for any wardrobe pairing. The stealth sibling to the Bamford x Time+Tide GMT1 (now sold out), the bezel colour duo is grey and black, with the only bursts of colour found in the Bamford blue indexes and central seconds along with Time+Tide's signature burnt orange found on the hours and minutes hands, date window, and logo at the six position.
Unlike the GMT1, the Bamford x Time+Tide GMT2 is not a limited model. It will be produced for the period of one year, ceasing at December 2021. Production times will vary, but we will aim to fulfill all orders within this period.
The Bamford x Time+Tide GMT2 is priced at $2195 AUD excluding taxes. Check out the watch right here.
G-Shock Full Metal Titanium GMW-B5000TCM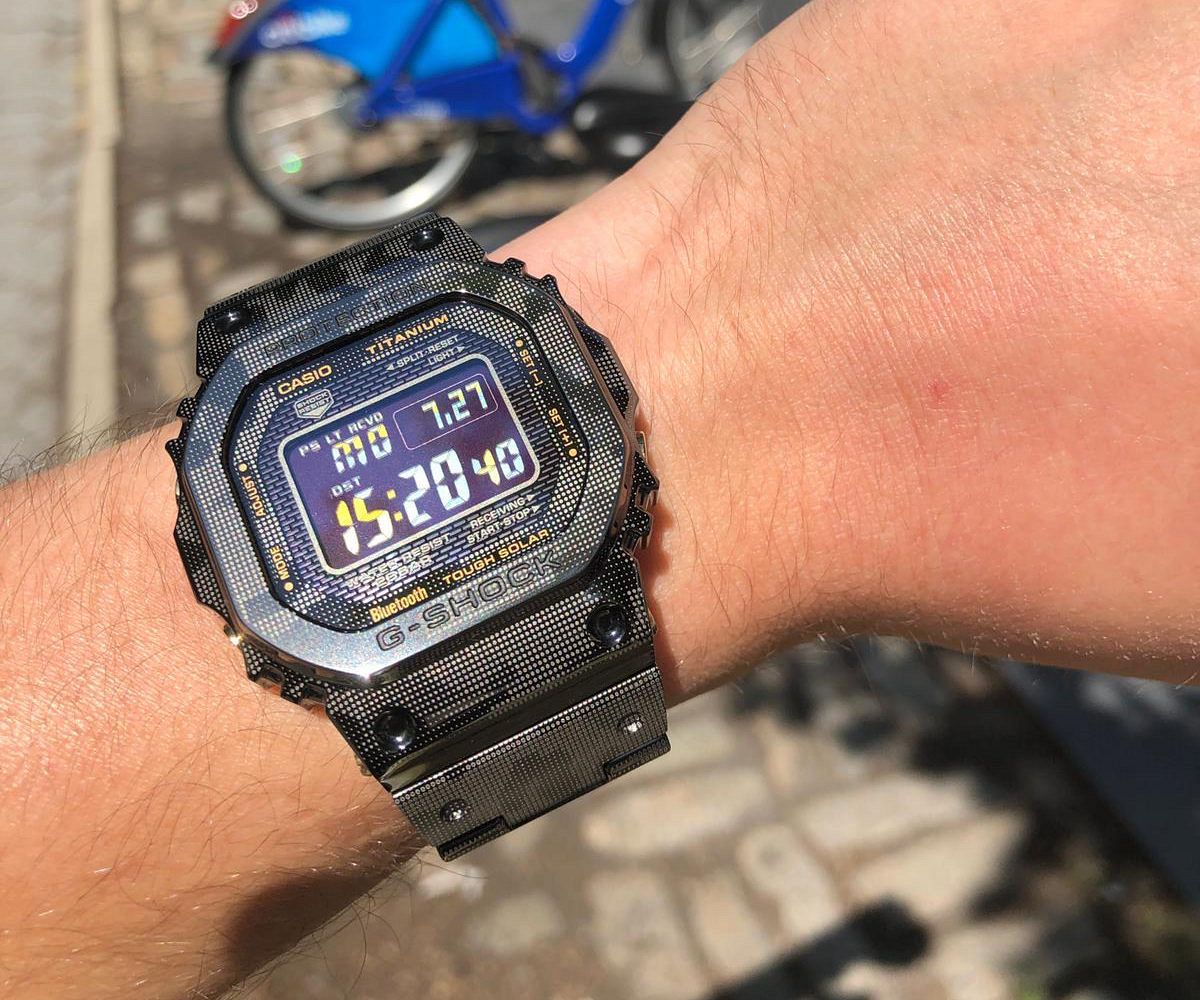 A watch I personally own, the G-Shock GMW-B5000TCM and the other Full Metal Titanium models are some of the most luxurious and robust G-Shocks available today. It may seem weird to use G-Shock and luxury in the same sentence, especially since they are known for affordable and reliable timekeepers, but Kikuo Ibe and his team really pulled out all the stops for this watch. To tame this unforgiving metal, they created a whole new manufacturing line to fabricate these premium titanium models.
Interestingly, the already robust titanium base is coated with DLC to up the ante when it comes to the watch's shock and scratch resistance. Going even further, G-Shock figured out a way to laser-etch a pattern of graduating dots into the DLC coating that result in an amazing camouflage finish for the watch. Months in after regularly wearing my G-Shock during activities such as tennis, I have yet to find a single scratch. Price: $1,700 USD
H. Moser & Cie Pioneer Centre Seconds Funky Blue
H. Moser & Cie. is anything but boring. It's an irrefutable claim due to their originality and bravery to experiment with designs, materials, and technologies. This is the manufacturer, after all, who made a watch to jab the Apple Watch, and even devised a watch case using resin and Swiss cheese. The Pioneer Centre Seconds Funky Blue is both a sports watch and a high-horology timepiece, using a robust DLC-coated steel case and gorgeous in-house manufacture caliber (with a full balance bridge to provide the shock resistance required from a sporty timepiece).
While the all-black scalloped case is certainly worth your attention, the star of the show is its fume blue dial that gives the sports concept a sophisticated look. This means the watch can handle both daily and formal wear, a wrist-chameleon that can pair with practically any attire. The steel DLC case is 42.8mm in diameter, 120 metres water resistant, and boasts 72 hours of power reserve. Price: 13,900 CHF
Ming 18.01 H41 DLC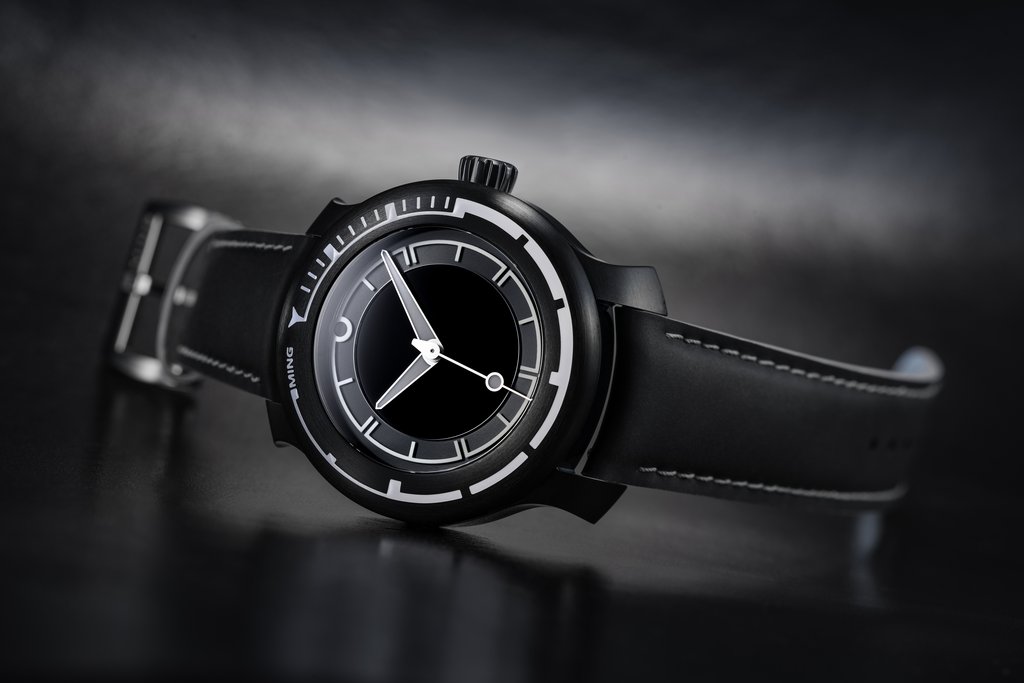 Another favourite of mine that did not win the GPHG it deserved, the Ming 18.01 H41 DLC is the first regular production diver from Ming Thein. Two divers were released, a titanium model with only the solid steel bezel DLC coated and another in smaller numbers that was entirely coated in DLC. Personally, the latter is my favourite – with the tone of the case more uniform and stealthy in its aesthetics. Considering the ample application of lume, the all-black look better compliments and contrasts the bright luminescent coatings when in darker environments.
Sized at 40mm in diameter, 12.9mm thick, and 46mm lug to lug, the watch has fantastic proportions on the wrist that most buyers (especially classically driven collectors) will love. It is also rated to a depth of 1000m, which is more than three times more water resistance than a Rolex Submariner and five times more resistant than a Tudor Black Bay. This means the watch not only has killer looks that are original and distinct to the Ming brand. It also boasts formidable specs that push the boundaries of what we expect for a watch of this size. Price: 3,250 CHF