In what could be seen as an appeal to Swiss watch collectors – or perhaps just those who prefer lighter watches – G-Shock decided to take their full-metal GMW-B5000 line to the next level. G-Shock has now introduced titanium into their lineup of square-faced design watches inspired by their historic G-Shock DW-5000C. I've owned mine for a month, and have plenty to say about it.
Firstly, the case, band, bezel, and caseback of this model are all made of very lightweight titanium, weighing in at 110g in total (with their previous steel models weighing 167g). Producing the Full Metal line in titanium was no easy feat for G-Shock. According to Miho Nishimura of Casio's Watch Development Department, this was not simply a matter of pouring new material into an existing mould and process. The titanium models required an entirely new mould, as well as its own dedicated assembly line, due to titanium being an unforgiving and difficult material to manufacture.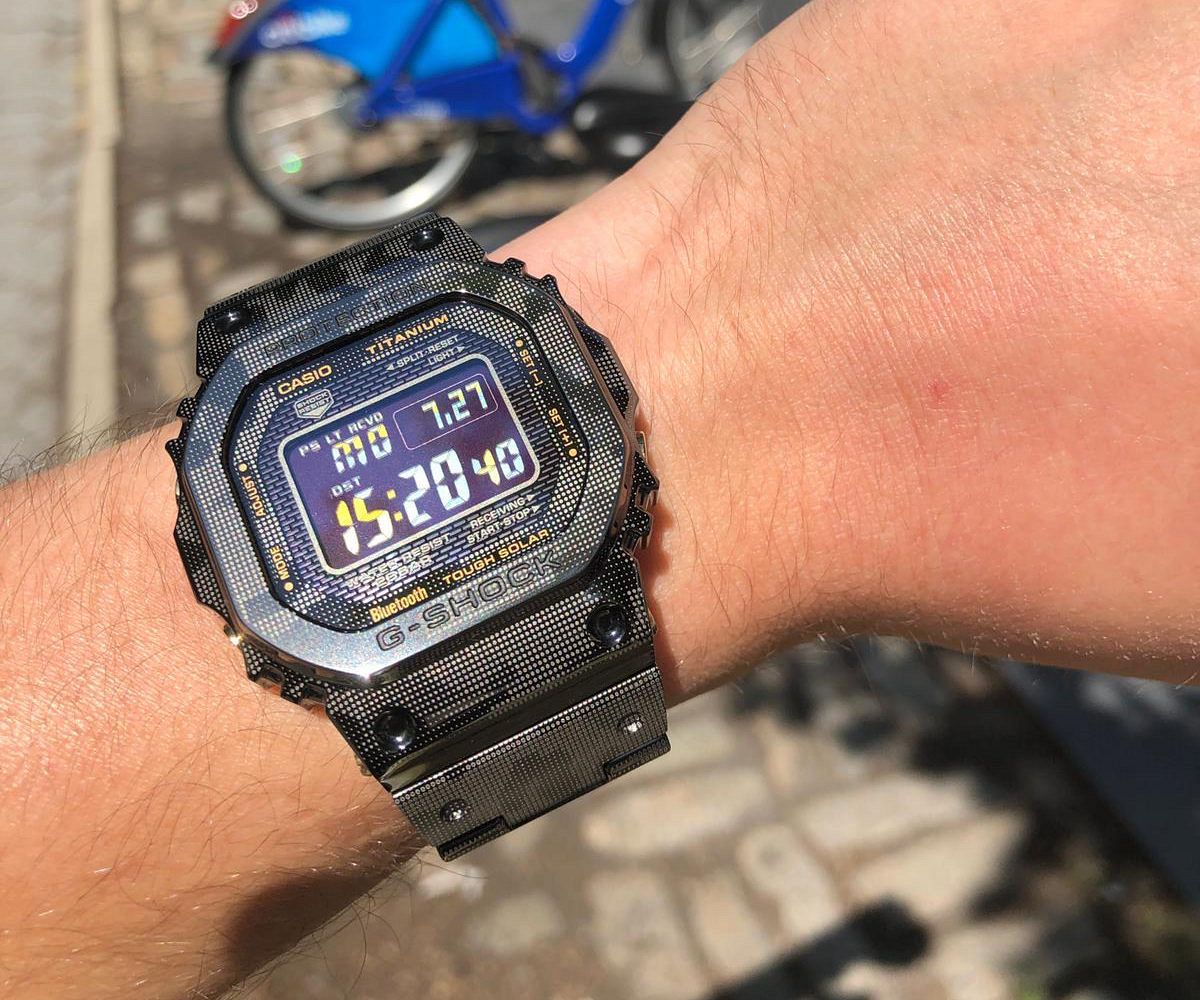 G-Shock, in their pursuit of ultimate robustness, has also upgraded the crystal from mineral glass (used in the stainless steel versions) to a sapphire crystal and treated the titanium with a diamond-like carbon (DLC) coating that protects the watch from scratching and other damage. The GMW-B5000TCM in particular takes things another step further from the GMW-B5000TB with a distinctive laser-engraved camouflage pattern. The gradations of the camouflage aesthetic are created by using dot patterns of three different sizes: small, medium, and large — all etched into the DLC coating by a laser cutter to create the camouflage effect.

Once I put it on the wrist, I felt … Whoa, it's light. Pleasantly light. While some may associate lightweight materials with a cheap build, the GMW-B5000TCM is definitely a premium upgrade from previous models. Its light weight is not a detriment, but rather a great benefit as this watch is meant to be worn and able to withstand exercise and outdoor activities. It allows me to forget the watch is even there, as it's not ideal to add any unnecessary weight to your body during physical activity.
Having a small wrist (a little over 6 inches), I was concerned that the watch would be huge on me, but it is in fact a very forgiving watch in fit. From first perspective, it seemed a little large at first, but any concerns I had were assuaged when I looked at it from a third perspective (what everyone else really sees) in a mirror. While 43mm in case diameter, its case height (or lug to lug) is a compact for its size, at 49mm. This means the watch effectively wears only a millimetre larger than a Rolex Submariner. While the bracelet does have fixed links that will not flare straight down due to its integration, they do however taper down and conform around the wrist quite well. This ensures the watch wears well both in size and fit on the wrist.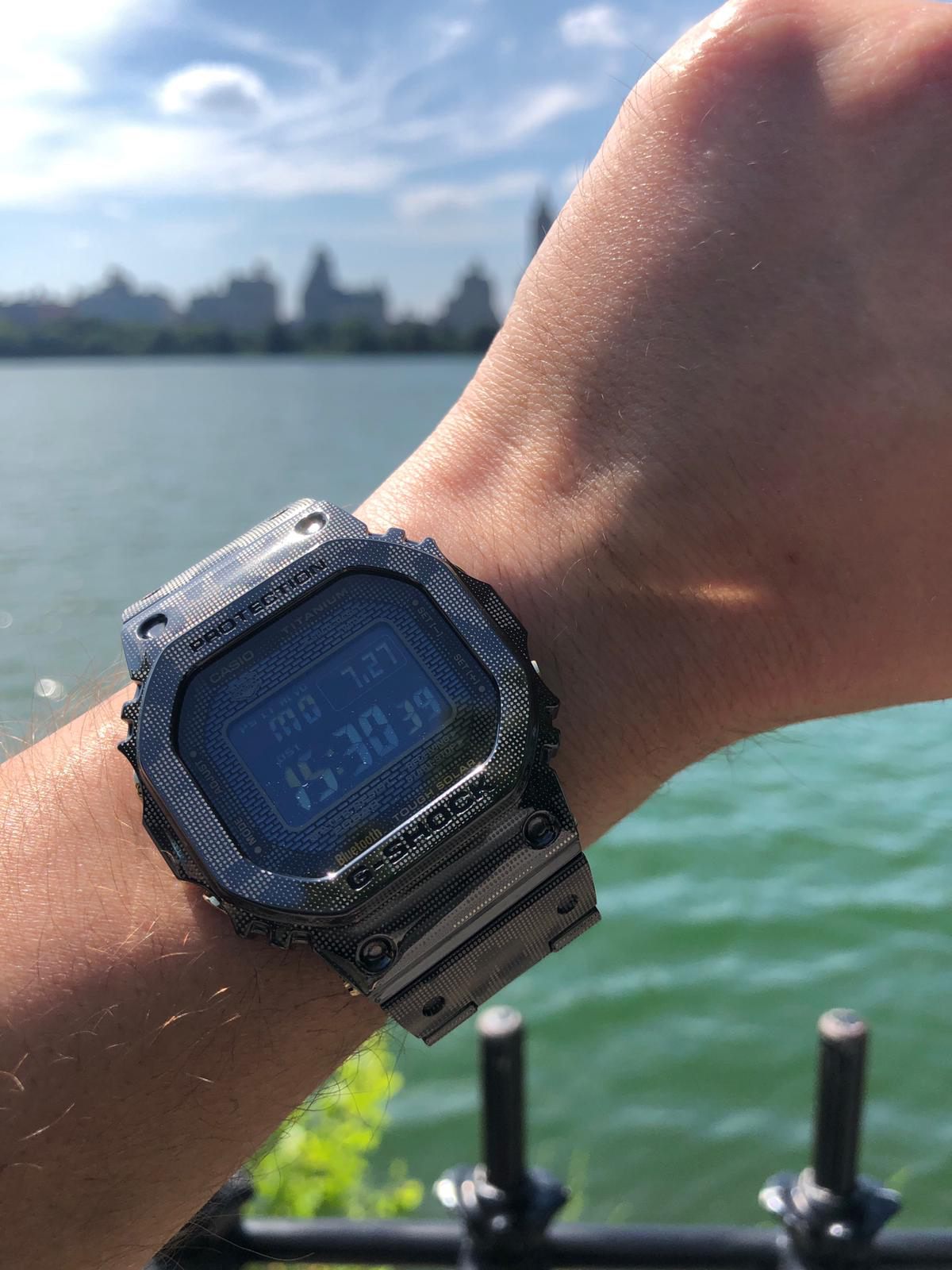 Looks-wise … Whether a frogman or fashionista, I think everyone can appreciate the camouflage finish to the watch. When you rub your finger across the bracelet and clasp, you can actually feel the small indents laser-etched into the DLC coating. The gold-tone buttons and screws really complement the design and give a small pop of colour to stand out from the camo print. The watch case has a gloss resin-like finish, while the bracelet is less shiny and more of a matte finish besides the top of the links which share the gloss finish of the case. It plays really well in the light and gives a luxurious look to an otherwise rugged and tactical watch.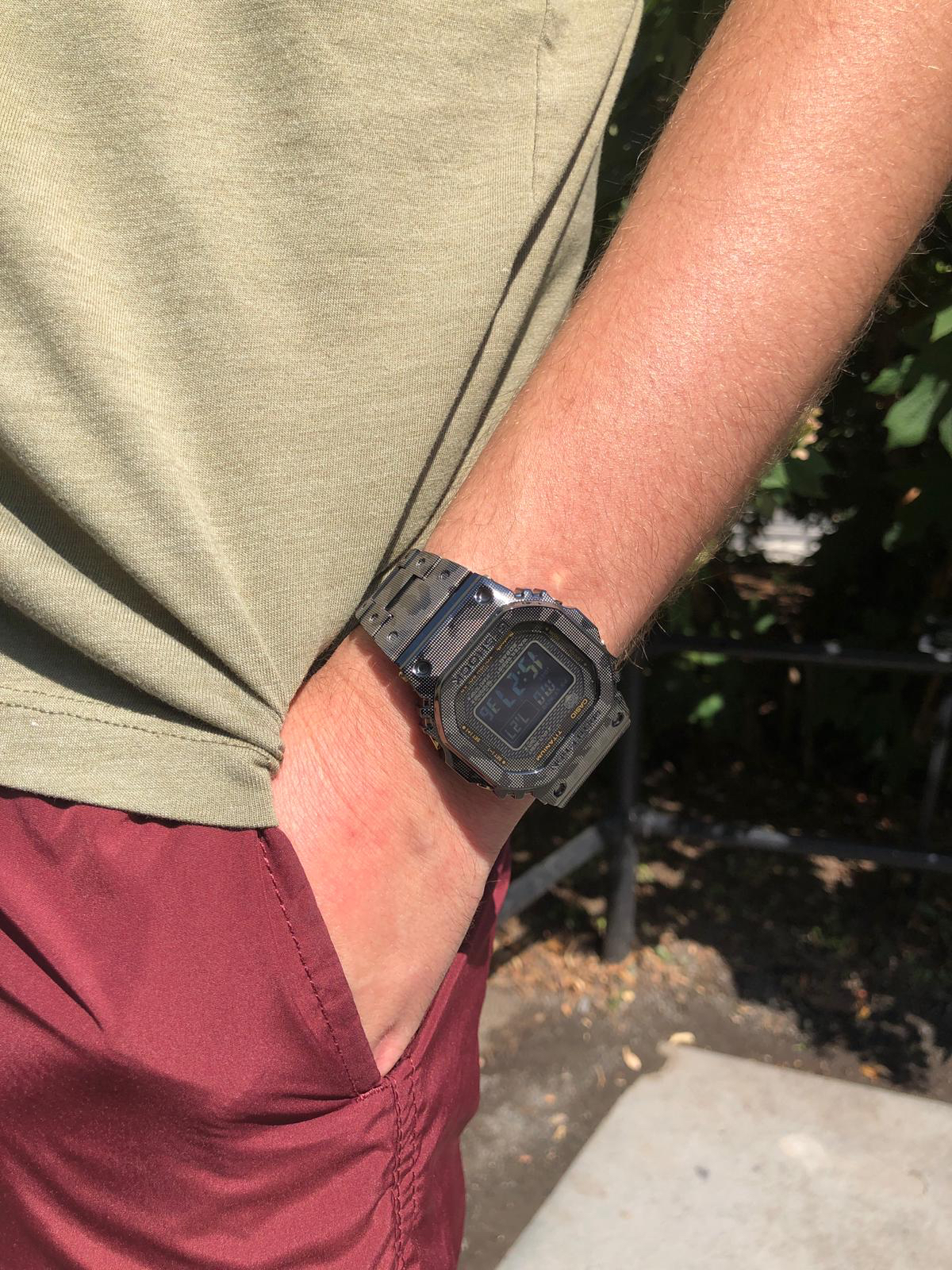 What stood out to me … was this watch has yet to scratch. Whether desk diving or diving into a lake, the GMW-B5000TCM is up to the task. The legibility on this watch is outstanding. I have yet to find a situation where I was unable to read the time on this watch. Whether hiking outside with the sun overhead or camping out for the evening under the stars, the time is easy to read thanks to both the AR-coated sapphire crystal and LED backlight. The backlight can be activated by a button press, or automatically by simply raising your wrist in darkness. I also love how it's a very low-maintenance watch.
With the watch self-charging in sunlight, as well as an auto-sleep feature when the watch is left still in the dark for 30 minutes, the watch will run for quite some time (up to 22 months without sunlight). The watch is also a very accurate timekeeper thanks to both its Bluetooth and satellite connectivity. This means I never have to worry about setting the time, whether at home or travelling abroad. One thing I have yet to mention, that I am extremely thankful for, is the amount of micro adjustment on the folding clasp. With compact links and four positions of micro adjustment, it is easy to achieve a great fit on one's wrist as the design makes it easy to incrementally remove links until the fit is to one's liking. I personally like to wear my watch tight enough that it does not move around too much on the wrist, and the lightweight titanium really caters to that style of fit.

I'd wear this with … The watch is more suited to active and casual wear, but if one was tempted to wear under a shirt cuff, it will slide under quite easily as the GMW-B5000TCM is only 13mm thick (0.5mm more than a Rolex Submariner). That being said, the likelihood I would pair this watch with formal wear is quite low. I personally find myself reaching for this watch anytime I need something rugged for a walk, jog, swim or even a session on the tennis court. Being extremely shock and scratch resistant, as well as the absence of a mechanical movement, I am able to have a worry-free wearing experience and can be more present during my activities as a result.

If I could change anything … The only thing I can really nitpick in an otherwise fantastic watch is the slight mismatch of a glossy case with a predominantly matte-finished bracelet. As a more tactical style piece, I can't help but wonder if it would look a tad better if the finishing was a bit more uniform. That being said, the contrast is by no means a dealbreaker for me in this offering, especially considering the presence of a subtle gloss finish on the top parts, or top flanks, of the links.
One month on … While my personal watch collection is for the most part mechanical, I have a deep respect for the design and utility of my GMW-B5000TCM. Although the price may seem high for a G-Shock, especially at twice the price of its steel brethren, I can say with absolute certainty that it is worth the premium, as the watch is a limited edition that had its own dedicated assembly line built for its introduction. Titanium, while lacking in heft, does not lack in strength and is definitively one of the best materials for a watch meant for physical and outdoor activity. I cannot think of a single activity I would be afraid to wear this watch during, besides a black tie/formal event. All in all, I think it makes a great addition to anyone's watch collection. I know I love it in mine, and don't see it leaving anytime soon.
G-Shock GMW-B5000TCM pricing:
The G-Shock GMW-B5000TCM has an RRP of $1700 USD and $2382 AUD.